Here is the most updated news about WIPHA Storm – the latest storm in Vietnam and how not to taken by it!
Current Updates About WIPHA – The Most Recent Storm In Vietnam
Sat (3/8)
After landing in the northern region of Quang Ninh province, the storm has weakened into a tropical depression. Heavy rain in the North and North Central region.
In the morning of August 3, the position of tropical low pressure center is located in the areas of Quang Ninh – Hai Phong province with the strongest wind in the area near the storm center, strong level 6-7, level 8.
Fri (2/8):
According to the newsletter at 5am of the Vietnam National Center for Hydro-Meteorological Forecasting, the storm is 180 km from the mainland of Quang Ninh – Hai Phong provinces to the east.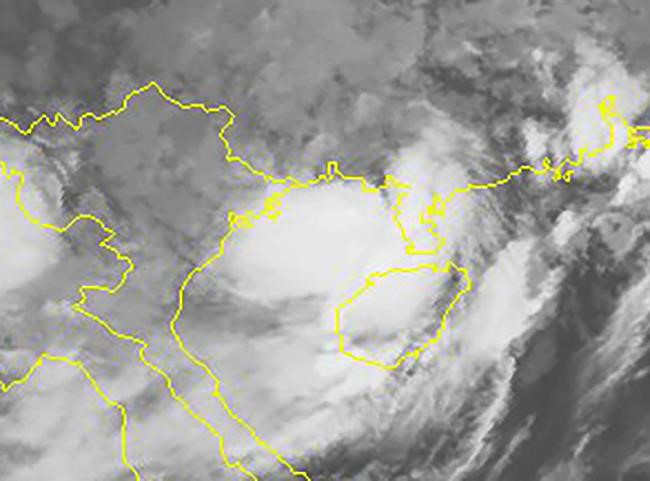 Satellite image at 6 am this morning shows that the stormy area is almost completely in the Gulf of Tonkin.
About 16h on 2/8, the storm is located right on the waters of Quang Ninh – Hai Phong with strong winds of 8-9 degrees, shock level 12.
Typhoons advancing to the mainland will cause a heavy rain for the North and North Central regions that will last until August 4. Hanoi is warned to have heavy rain from the afternoon and tonight, the inner city has strong winds to level 5, level 6-7.
Thur (1/8): 
The storm is moving in the West-Northwest direction, with the speed 15kph. As forecasted, the dangerous zone is expected to enter the Gulf of Tonkin today before moving in the territorial waters along provinces from Quang Ninh to Hai Phong.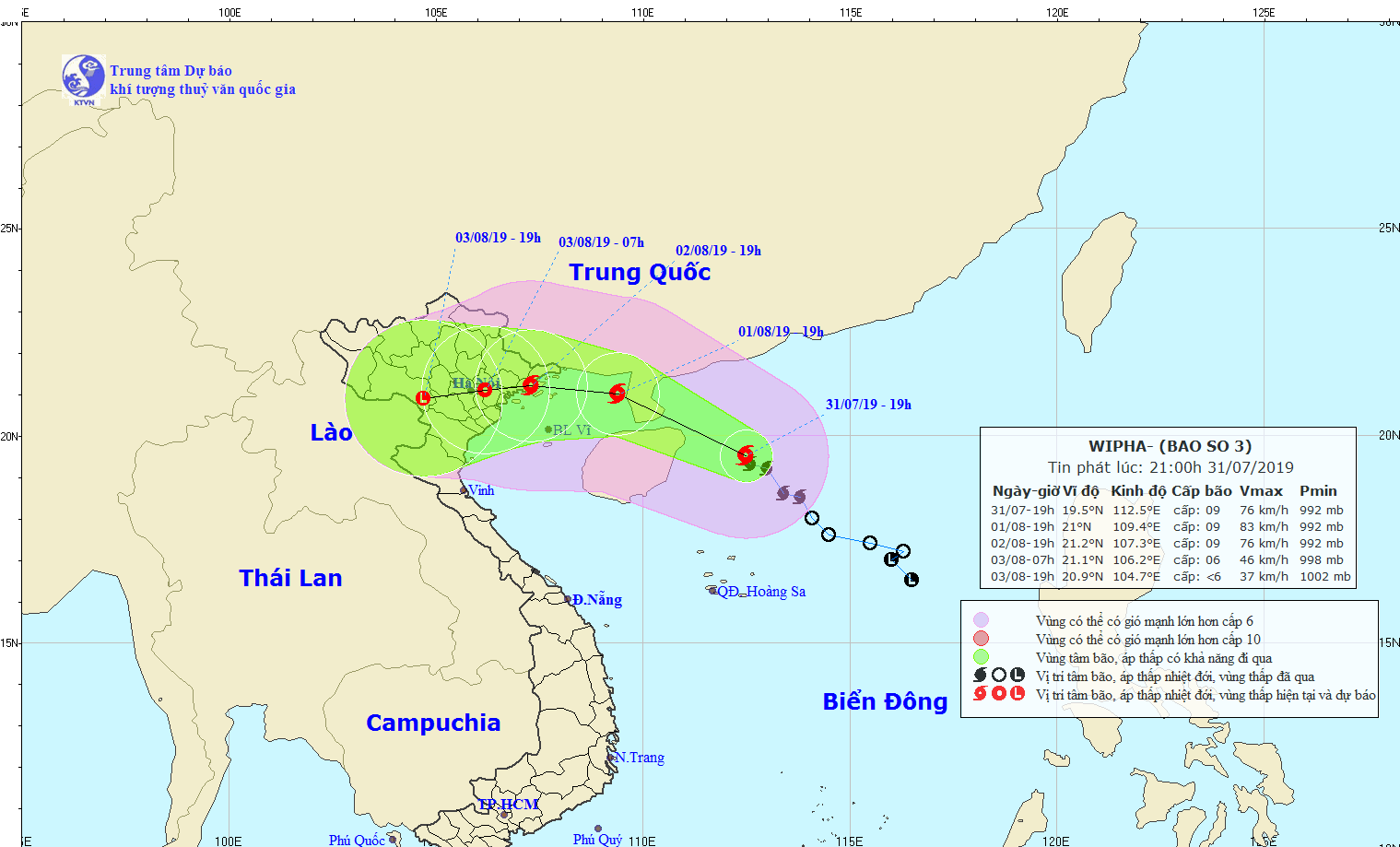 Weather forcast in some areas:
– Northeast Vietnam (including Ha Long, Quang Ninh): Cloudy, showers and thunderstorms in some places, afternoon and evening have showers and scattered thunderstorms, very heavy rain to night. Moisture from 63 – 98%. Lowest temperature 24-27 degrees Celsius; highest 30 – 33 degrees, there are over 33 degrees C.
According to the forecast, from the afternoon of 1/8, this area will have thunderstorms with the possibility of tornadoes and strong wind.
Note: All cruises in Ha Long Bay are prohibited from operating during this period.
– Hanoi: Cloudy, showers and thunderstorms in some places, evening and night showers and places with thunderstorms. North wind to northwest level 2-3. In the thunderstorm there is a possibility of whirlwinds, lightning and strong wind.
– Because of the storm effect, Northern and North- Central provinces will suffer thunderstorm, cyclone, gusty wind and heavy rainfall of 100- 300 mm, even up to 400 mm in Quang Ninh and Hai Phong.  A huge flooding is able to follow the rainy and storm days in Thanh Hoa and Nghe An provinces.
Wed 31/7: According to The National Center for Hydro-Meteorological Forecasting, a tropical depression in the North of the East Sea has intensified into a strong storm. It is entitled as WIPHA, which means "splendor" or "luster" in Thai.
Currently, WIPHA lays its center at 230 kilometers away from the northeast of Paracel Islands. It is moving toward the west-northwest with a speed of 15-20 kph.
Predictions About WIPHA
The weather bureau forecast that on Thursday morning (1/8), the storm will make landfall over China's Leizhou Peninsula with 90 kph winds. On Friday, it is expected to go west toward the North of Vietnam, and the coastal line in Hai Phong and Quang Ninh Province (home to the popular Ha Long Bay) will be under the storm's influence.
As a result of WIPHA, downpours may happen from Thursday to Saturday in Northern Vietnam, including the Northern highlands and the north of Thanh Hoa province.
More than 65,000 Vietnamese boats and ships have been informed of the storm to find necessary refuge.
Preparations Foreign Travelers In Vietnam During WIPHA Storms
If you book your trip in a destination within the storm zone, here are a few notes for you to somewhat enjoy the typhoon season.
Check the weather forecast regularly to update about the destination's situation.

Put your important documents and devices into waterproof cases during your journey.

Be ready for some delay in transport, especially flights. If possible, you should rearrange the schedule either before or after the storm hits the land.

Avoid going to remote places with a sparse population like some areas in the northern mountains.


Remember to charge your phone and bring an additional battery or a portable charger to stay connected.

Outdoor activities are not appropriate during rainy days. Instead, get some indoor fun in shopping malls or recreational centers.
=> Here we have a detailed article about What you should do in Vietnam storm season.
In Case of Weather Emergency, How Travel Sense Asia Handle?
As an experienced tour operator, this is definitely not the first time we deal with such situation. Our travel experts always update the weather situation and inform our guests as soon as possible to make necessary changes. This helps to minimize the cancelation cases and make sure you will have a nice and smooth journey.
Here we have created some resolutions to conquer the fear of storms with you.
#1: If the pre scheduled destinations are subject to the affected zone, the travel expert who take care of your tour will contact you in advance and give you other options to visit. Otherwise, you can suggest other destinations for us and we will tell you if it's safe to go there.
#2: In case of sudden change in the weather, which puts a halt to the tour activities, you will get a refund for the part of your package that has been canceled.
#3: When the rough sea prevents you from a overnight cruise on Halong Bay, a spectacular site in the Northern Coastline, we will arrange a convenient hotel inland for you. And so as not to waste your time, we suggest a short trip to explore Halong Park. Or else, traveling back to Hanoi and going sightseeing in this ancient capital is another excellent alternative.