Unlike the busy and modern life in Thailand or Malaysia, Laos always fascinates visitors by the peaceful beauty of each locality in this country. Among them, Luang Prabang is actually a fully interesting highlight for tourists in this journey.
Located about 425km from the north of Vientiane, Luang Prabang was the capital of the Kingdom of Laos from the 14th century to 1975. Nowadays, Luang Prabang is a city directly under Luang Prabang province and the ancient capital of Laos that was recognized as a world cultural heritage by UNESCO as well. However, there are also a lot of things that tourists do not know when visiting to Luang Prabang besides its exciting sites. For this reason, the following are some useful experiences to help tourists have an advantageous itinerary to discover the attractive features of the culture and the simple and natural life of people in Luang Prabang.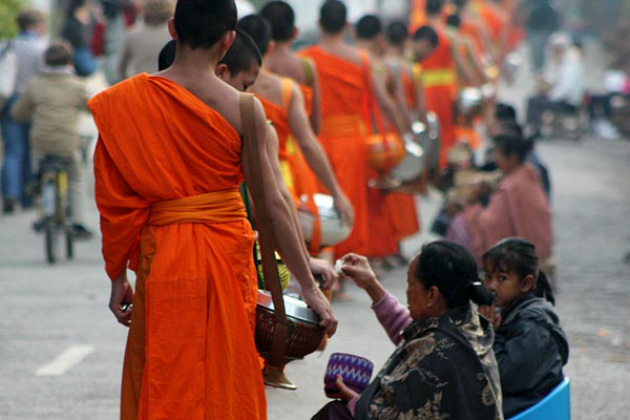 1. Transportation
Now, tourists can easily travel to Luang Prabang in 2 ways: The first way is to travel by coaches or buses. You can leave at the border gates along the Vietnamese – Laotian border such as Cau Treo (Ha Tinh), Lao Bao (Quang Tri), etc and catch the coaches to Luang Prabang. You can buy tickets from Hanoi to Vientiane at 3A Nguyen Gia Thieu Street, near the Laotian Embassy, or at 35B Nguyen Huy Tuong Street or Nuoc Ngam station. These buses usually depart at 8pm at the previous night, and stop in Vientiane at 4pm on the next day. Also, it takes about 10 hours from Vientiane to Luang Prabang by car.
Nevertheless, the second and also the fastest way is to travel by air. Lao Airlines and Vietnam Airlines are the most convenient choices for you to travel to Luang Prabang. It's too easy to book the tickets at the airport in Vietnam and fly directly to Luang Prabang airport.
2. Currency
The second but not least noted thing when coming to Luang Prabang is the currency. The currency unit of Laos is Kips (Laos Kips/LAK). Its par values include 500 Kip, 1000 Kip, 2000 Kip, 5000 Kip, 10,000 Kip, 20,000 Kip, 50,000 Kip and 100,000 Kip. The exchange rate between Lao and Vietnamese currency is about 1000 Kip equivalent of 2,700 VND. It's not difficult for you to pay some sorts of cashes such as USD, Thai Baht (THB), or you can also use Vietnamese money in some places in Luang Prabang that Vietnamese people live. In addition, visitors can exchange money in Vietnam or change money at banks, airports and currency exchange offices in Luang Prabang, too.
3. Travelling in Luang Prabang
There are many types of transportation in Laos; however, you should consider getting around by some following sorts. Firstly, it's very amazing for you to move around Laos by a 3 -wheel vehicle known for a strange name "Tuk-tuk". Unlike in Vietnam, there is no motorbike-taxi and very few taxi in Laos. Therefore, the most ideal means of transportation in Laos in general, and in Luang Prabang in particular is "tuk-tuk". It will be nothing more wonderful when sitting on a tuk-tuk and seeing the ancient temples under the sunlight in the early morning or enjoying the fanciful landscape of Luang Prabang at night. In addition, taking this vehicle, you can get a clearer overview of the surrounding scenery and have opportunities to contact the friendly people or the interesting pleasures along the two sides of the roads as well.
Besides, you can rent a bicycle to ride around the city with a reasonable price of 1-3 USD/day. This not only helps you save money for your trip but also makes you feel happier and more comfortable when visiting anywhere you want to go. Moreover, most hotels, restaurants, coffee shops or shopping centers are concentrated around the city so the best way for you to explore all of this beauty is surely cycling.
4. Hotels in Luang Prabang
In facts, it's not difficult to find a suitable accommodation in Luang Prabang. There are many types of motels, hotels, guesthouses, and even resorts here with the price of more than 10 USD/day. And it's completely possible for you to stay more than one person per room to save money.
The following are some hotels in Luang Prabang for your reference:
– Le Bel Air Boutique Resort & Villa
Address: Phetsarat Road, Luang Prabang, Laos
– Vangsavath Hotel
Address: Ban Nongkham Phetsarath Road, Luang Prabang 856, Laos
– My Dream Boutique Resort
Address: Ban Meung Nga Village, Meung Nga Street, Luang Prabang 85671, Laos
– Symongkoun Guesthouse
Address: Ban Khili, LuangPrabang, Laos
– Villa Maydou Boutique Hotel
Address: Near the old Nam Khan Bridge, Ban Meunna, Luang Prabang, Luang Prabang, Laos
On the other hand, to save more money, you can come to the central zone near the market and ask for some motels or guesthouses with the cheap price in the lanes, too. It's also very convenient for going shopping and taking a walk along the banks of the Mekong River if you choose to stay in these accommodations.
5. Making calls
Actually, the price of services in almost hotels in Laos is quite high, so it's saving for you to buy Lao SIM cards to call. You can get the SIM cards bought by the tour guides with a price of more than $ 2/SIM card and the cost for a call is approximately 2,000 kip/minute.
6. Luang Prabang cuisine
Mostly, the food in Laos is very various, easy to eat and nearly similar to the Vietnamese cuisine. However, there are some special things in the cuisine of Luang Prabang. Luang Prabang is extremely famous for grilled fish (also called "fish barbecue") and some food made of chicken and pork. You don't consequently miss any occasions to enjoy these dishes when reaching to Luang Prabang. Food in Luang Prabang is not only delicious and cheap but also guaranteed following the food safety standards. Furthermore, there are a lot of places selling the local specialties of cakes in this city. Besides, it's also great for you to enjoy Lao coffee – one of kinds of high-class coffee in the world, at many coffee shops in Luang Prabang, for example, in the morning or evening.
Indeed, it's a pity if tourists pay visits to Laos without having a stopover in Luang Prabang. Nonetheless, it will be much more regrettable if you visit to Luang Prabang but owning these experiences. We hope that the above provided information will be greatly helpful for your trip. Have a nice trip!
Recommended Luang Prabang Tours