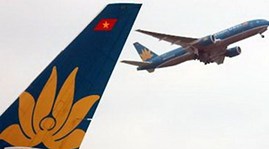 A ceremony was held in Moscow on January 28 to announce the official opening of a direct flight route between Moscow and Nha Trang.
Present were Minister Councilor of the Vietnamese Embassy in Russia Pham Thi Ngoc Bich, representatives from the Ministry of Transport of the Russian Federation, and other partners of Vietnam Airlines.
Vietnam's national flag carrier announced that its first direct flight from Moscow to  Nha Trang will start on April 5.
It will have serviced one Boeing 777-200 flight per week in summer and two in winter.
Vietnam Airlines will also offer 10 percent airfare discount for return tickets from January 28 to June 30.
Nguyen Tien Nam, representative of Vietnam Airlines in Russia, said the new route aims to maintain large numbers of Russian visitors to Vietnam in the face of global economic slowdown.
In 2012, the number of passengers on the Moscow-Hanoi-HCM City flights rose by 10,000 over the previous year to 79,000.
At the ceremony, the representative office of Vietnam Airline in Moscow presented 4 business-class tickets to ERORKO and PAKECOM (two for each outstanding agent).