Vietnam can be half the equator from the USA. But such long distance wouldn't challenge the wanderlust souls, especially with the help of detailed guideline from travel experts of TravelSenseAsia.
Over thousands of years of civilization, Vietnam has transformed itself from a peaceful region to a bustling city with soaring economic growth. Speaking of Vietnam, we shouldn't miss narrow yet hustle streets with a variety of cultural highlights, from historical sites to traditional cuisine. What will be more fantastic than admiring the vibrant world of rice terraces and turquoise beaches on private guided tours in this country?
This article is dedicated to U.S. passport holders, one of the most powerful passport in the world to achieve an easy and smooth journey to Vietnam and discover its ultimate beauty.
Do The American Need A Visa To Get To Vietnam?
Unfortunately, the Vietnamese government does not exempt visa for U.S. passport holders. If you are:
100% American origin.

American with no Vietnamese relatives by blood.

American without a marital relationship with Vietnamese nationals.

Never having Vietnamese nationality.
You will likely have to apply for a Vietnam visa.
However, modern e-visa makes the visa process much more convenient. This is a hassle-free procedure to reduce the paperwork as well as a red tape with a view to bolstering Vietnamese tourism. It's simple to apply for an e-visa via the official website of the Vietnamese government at https://www.immigration.gov.vn/web/ 
Vietnam e-visa applies to all visa classes, including business and tourist and for specific types like single entry and multiple entries as well. Nowadays, there are up to 33 ports that allow foreigners to enter and exit Vietnam using e-visa. You can either choose a big international airport, some land ports or most of the seaports for your entrance and exit.
But wait, there's more good news.
If you are planning to visit Phu Quoc, you will get a visa exemption for 30 days. Even though you land in another port rather than Phu Quoc, this policy is still applied as long as you provide enough information to prove that you will go to Phu Quoc afterward.
Phu Quoc Visa-free policy for tourists with foreign passports
In accordance with the Decision 80/2013 / QD-TTg of the Vietnam Prime Minister, tourists will receive visa exemption with temporary stay on arrival in Phu Quoc under 30 days since March 10th, 2014.
Foreigners and Vietnamese holding foreign passports who enter, exit and reside in Phu Quoc Island are exempt from visas with a temporary stay not exceeding 30 days under Decision 80 of Prime Minister.
If foreigners enter an international border gate of Vietnam (including by air and by sea), stay in the transit area at that border gate, then transfer to Phu Quoc island, they will be exempt from visa as prescribed. This has created more favorable conditions to attract international tourists to come here for tourism.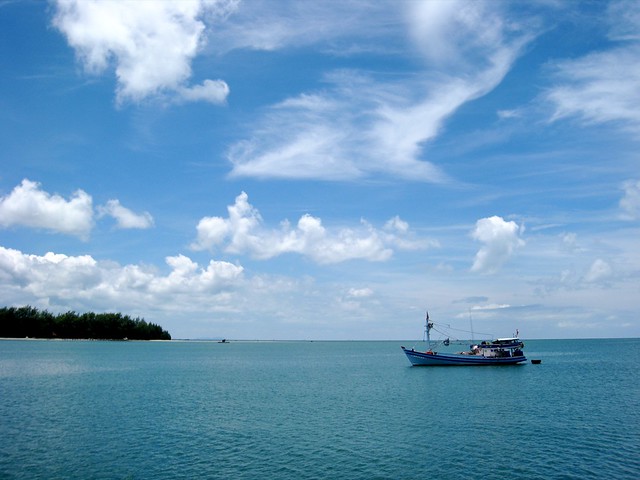 Travelers from USA can consider Phu Quoc Island
>> More of this: All About Vietnamese Visa Policy
What Is The Best Way To Transport From the USA To Vietnam?
The distance from America to Vietnam varies significantly as we all know, the U.S. is a big country. The two capital cities are around 13,359 km away from each other. The distance from Hanoi to New York is 13,142 km, while the distance from Ho Chi Minh City to Washington DC is 14,448 km. Other big international airports in San Francisco, Los Angeles, Chicago… also offer flights to Vietnam. So you can check them out.
Due to the enormous distance, there is no direct flight between Vietnam and the U.S. The flying time ranges from 16 hours to more than 30 hours, depending on the number of stops.
To take advantage of your time and make the best out of your Vietnam travel, we suggest you land in big international airports in Vietnam such as Hanoi, Ho Chi Minh, and Danang. There are quite a lot of airlines to operate between the U.S. and Vietnam. You can pick some mid-range air operators like Qatar Airlines, Emirates, Cathay Pacific or let the moths out of your wallets with Air France, Vietnam Airlines, Singapore Airlines.

Which Are The Differences Between American Culture And Vietnamese Culture? 
Cash Is More Versatile Than Card
In the States, you probably go out with your smartphones and a bank card. But, here in Vietnam, especially when you come across local restaurants, they don't often accept the card. So, you should bring cash if you want to dive into the local culture in small markets. The good news for you is that ATMs are quite available. Most of them accept international cards like VISA, Mastercard. If you happen to have only cards, find an ATM.
Tipping Issue
If you were born and grow up in the U.S., you must have been accustomed to the tipping culture after eating out. Tipping is not customary in Vietnam although nowadays many Western-style restaurants and coffee shops have a tipping box at the counter. Still, customers are not required to tip for the service. It all depends on how you rate the service quality. Sometime the best way to praise the cook for excellent culinary techniques is to give him or her a thumb up with compliment like "Ngon lắm", "Tuyệt lắm" or "Cảm ơn".
Social Affection
As an indigenous Asian country, Vietnam is quite reserved in terms of public affection. Intimate contact like hugging, kissing in public places is not welcomed. It would be very rude to the natives if you are half-naked anywhere rather than the beach although the weather is boiling hot.
>> Find out more: Vietnam Dos And Donts
What's The Weather Like In Vietnam And How To Pack For A Vietnam Adventure?
The weather in Vietnam is characterized by four seasons. It is within the tropical climate zone with the influence of monsoon. Each season has its unique beauty and all worth a visit. Moreover, due to the difference in latitude, the weather varies among the three regions.
Spring
The beginning of the year can be called the festive season of Vietnam with the most prominent holiday, Tet. Hence, there are a lot of things to expect:
Various colorful festivals, such as rice-cooking competition, buffalo fighting
Flower blossoms, especially in Hanoi and Sapa
Chilly weather in the north and lukewarm days in the south
Rain is expected, but it will not last very long
As a wide range of festivals will be carried out during Spring, colorful outfits are highly recommended. If you wear red color during Lunar New Year, it will bring luck and prosperity according to Vietnamese tradition. Sometimes, the temperature can suddenly hit a low. So, a couple of warm jackets are never redundant.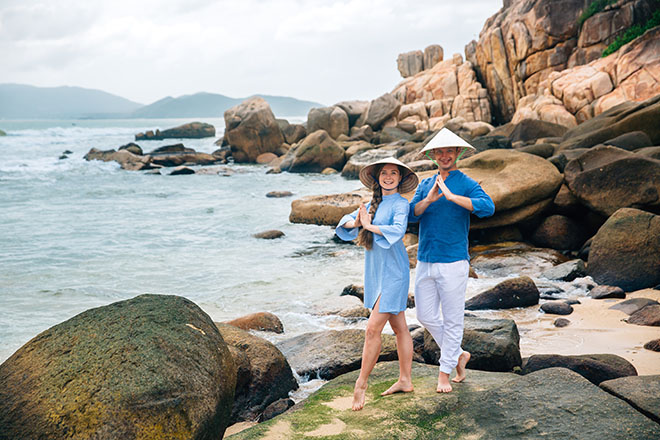 Summer
Summer is the most fabulous time for beach lovers to spend your honeymoon in gorgeous beachfront resorts alongside stunning ocean views in Vietnam.
The coastline in Middle Vietnam turns into a blue magnet with a wide range of summer activities such as snorkeling, parachuting, bungee jumping… Although the temperature is really high, sometimes passing 40 degrees during the days, it cools down quickly after sunset.
In the last months of the summer, Northern Vietnam will enter the typhoon season so there can be storms and downpours. The weather in other parts of the country is still nice and dry.
When it comes to summertime in Vietnam, you shouldn't miss out the stunning coastline from Hue to Phan Thiet. If you go there, don't forget to bring a pair of flip flop, a wide-brimmed hat to ward away the dreaded sun-stroke. An umbrella or a raincoat is necessary in case it rains. Still, you can easily buy these items in convenience stores on the street. Finally, keep yourself hydrated with a reusable bottle of water.
Fall
Don't like the sun?
Can't stand the cold?
Then, come to visit Vietnam in the fall.
This is when
Terraced rice fields in Sapa turn into beautifully golden.
The sky in Hanoi becomes its bluest.
The southern delta is in its particular flooding season.
The weather in autumn is extremely suitable for a leisurely walk or outdoor activities. Therefore, pack your sportswear before your trip. A good pair of sneakers will do a good job if you join trekking or mountain climbing. A backpack is also more versatile than a tote bag or crossbody bag.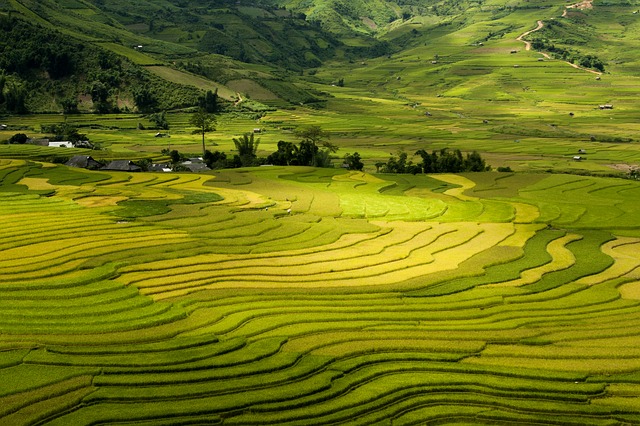 Winter
The temperature during winter in the north of Vietnam can slump down below 10 degrees.
Walking hands in hands in a freezing day, trying super hot Vietnamese food especially served in winter.
What can be more romantic?
In Southern Vietnam, the weather doesn't change much, but there will be sudden downpours to reduce the heat of the daylight.
If you head to Northern Vietnam during winter, prepare some heat-tech clothes to keep your body warm. The super-low temperature in the north may not be a problem if you are already accustomed to climate in the temperate zone. But, if you come from the torrid zone, the blustery winds of Vietnamese winter may cut right through you.
>> Realted Content: Best Time To Visit Vietnam
Where To Stay In Vietnam For American?
This stunning country offers a party of accommodation for international visitors. You can easily spot giant hotel and resort branches such as J.W Marriott, Pullman, Metropole, InterContinental, or the most luxurious resort Amanoi Ninh Thuan. However, it's not difficult to find an affordable stay in a lovely, rustic homestay, especially in Hanoi, Hoi An. One particular thing you can experience in Sapa, Vietnam is to live with the ethnic minorities on their own houses.
If you are making your accommodation booking on your own, it's better off using quality certified service such as Airbnb or Booking instead of wandering on the internet. Still, the best way is to have a local agent to arrange your accommodation. All you need is to tell them your requirements and your budget. As they are native, the chances are that what they find will satisfy your need.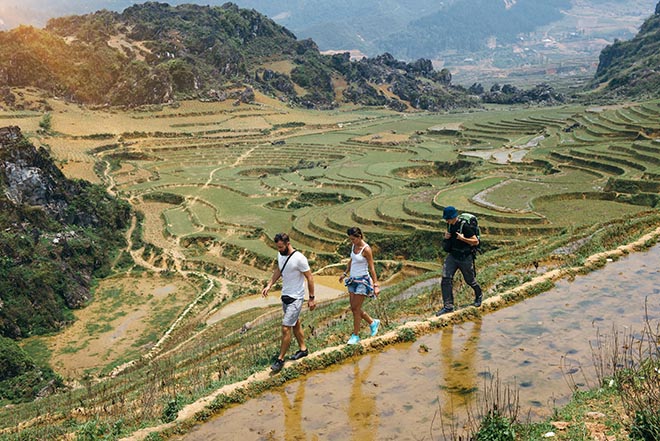 Where To Visit?
Hanoi
The capital city of Vietnam, with more than 1000-year-old history, is always a top-of-mind destination for any visitors. 
For foreign travelers, Hanoi builds a sentimental surrounding where the vibe of a bygone era meets with the fast-paced growth of a dynamic city center.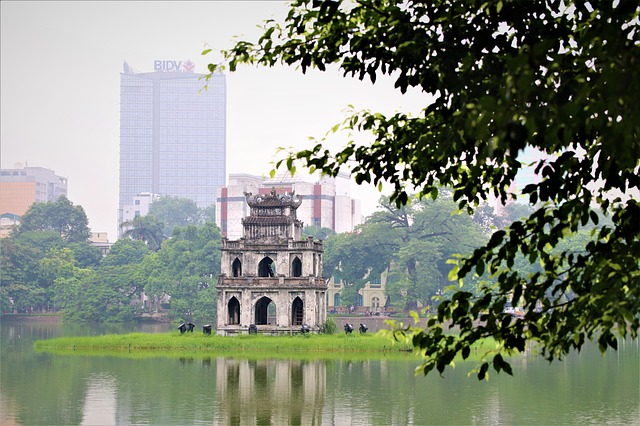 Sapa
To the northernmost of Vietnam, amidst the significance of the Tonkinese Alps, Sapa looks like a hidden gem with brilliant colors from ethnic minorities.
Sapa is definitely a must when visiting the north of Vietnam for honeymooners in 2019.
Halong
When it comes to holiday travels, turquoise beaches are always on the top search. And Vietnam has this World Heritage Site by UNESCO, Halong, to offer beach lovers like you in your romantic adventures.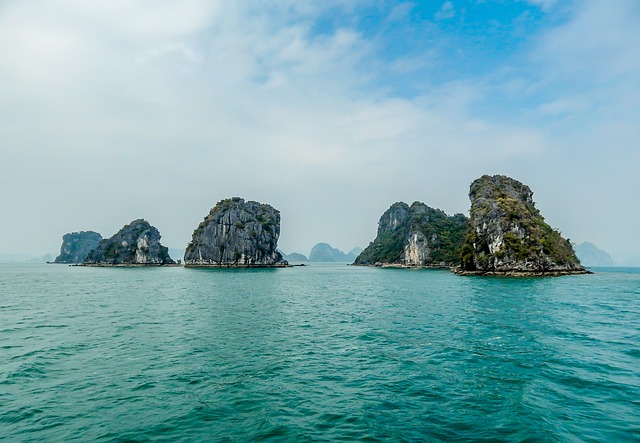 Danang
Further to the middle of Vietnam, you should never miss Danang city. It is gaining more and more popularity among honeymooners with best-class amenities, giving unforgettable experiences for couples.
Saigon/Ho Chi Minh
Do you enjoy cosmopolitan cities?
Do you fancy bustling nightlife?
We have this city to introduce to you.
Saigon or Ho Chi Minh will give you a closer look into the dynamic spirit of Vietnam with plenty of romantic things to do.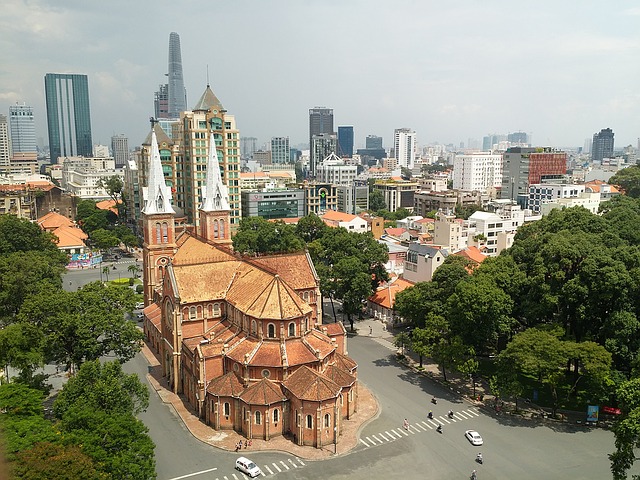 Phu Quoc Island
The top 2 beach stop in Asia, according to CNN Travel never fails to amaze tourists with white sand dunes and crystal blue seas.
But it's not everything.
Phu Quoc is also home to some of the most luxurious beachfront villas in Vietnam where all visitors can have a romantic escape from the bustle and hustle of city life.