Today, travel demand is a highly increasing trend. We often travel to take rests or to explore, to experience and enjoy the life. However, to get the most perfect and meaningful journey, we need to prepare and arrange the most reasonably. Are you in a divided mind where to go and what to do for your holiday? There are so many things to research for such a holiday. If you have not still thought out any places to visit or any countries to drop in, why don't you try 10 day itinerary in Vietnam, a beautiful country in the Southeast Asia to experience the different colors from the north to the south? What have you been waiting for? Now, follow me to discover Vietnam's highlights and the colorful culture of each region in this country.
>>Recommendations for a 7 day itinerary in the North of Vietnam
>>Suggestions for 2 day tours Hanoi – Ha Long Bay – Cat Ba Island
1st and 2nd DAY: HANOI ARRIVAL AND HANOI CITY TOUR
On the first day when you come to Hanoi, you should have a rest in any hotels in Hanoi after your flight to prepare for the next long trip. To check in the hotel, have meals and then overnight in the hotel are the best thing to do for that. On the next day, you should wake up early, have breakfast and prepare some necessary things for the first itinerary: Hanoi City Tour. To visit Hanoi City, a capital of Vietnam with a one-thousand-year cultural history in a cool early morning is really a wonderful thing to do, so you do not ignore that. Your trip starts with many interesting and important historical sites including Ho Chi Minh Mausoleum, and His Stilt House, Presidential Palace and One Pillar Pagoda. After that, you continue to visit Temple of Literature, a leading relic of Vietnam now located on Nguyen Thai Hoc Street, known as the first university in Vietnam that still maintains a great number of unique architectural features and the ancient space that reminds us to the proud history of Vietnam. After visiting all 5 zones of the Temple of Literature, you should have lunch in any local restaurants and take a short nap. In the afternoon, you will visit Ethnology Museum, a famous place keeping a variety of cultural and spiritual characteristics of Vietnam and concurrently this site is also in top 6 attractive destinations of Asia. After visit Ethnology Museum, you drop in on the beautiful West Lake with Tran Quoc Pagoda and QuanThanh Temple, end of the day by water puppet show. In the early evening, you will have dinner in the restaurant or in the hotel as you expected. Finally, return to the hotel to take a bath and rest for the next trip.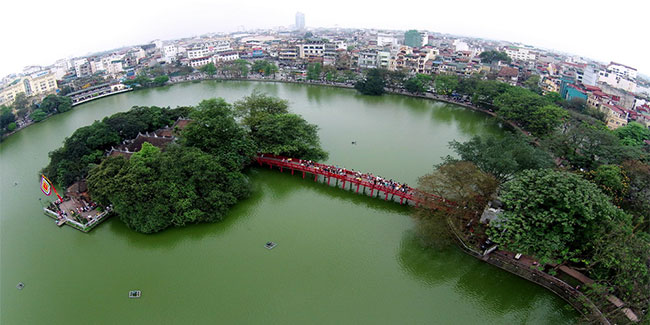 3rd DAY: HANOI – HA LONG TOUR
On the 3rd day, you will reach to Ha Long Bay at about half past eight in the morning. It will take you about 4 hours to reach to Ha Long. You will come here at about 11:30 – 12 o'clock, and then board a boat, have lunch and prepare for an interesting cruise around Ha Long Bay. Depending on the cruise you choose, the detailed itinerary will include many exciting sites such as wonderful caves, kayaking (if any), swimming and diving to explore the busy life of creatures under the sea. At the end of the day, you will have dinner and overnight on the cruise. To get more detailed information about this Hanoi – Ha Long Tour (or above Hanoi City Tour), you can refer to the article with this similar tour Recommendations for a 7 day itinerary in the North of Vietnam.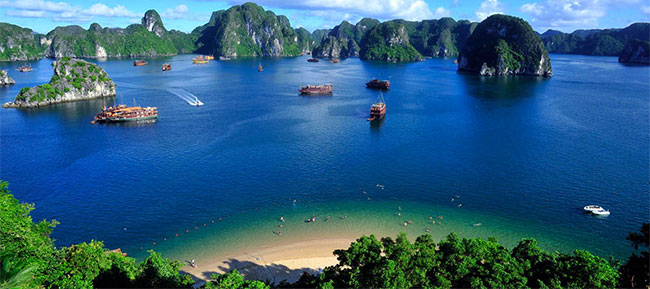 4th DAY: HA LONG – HUE TOUR
On the 4th day, you will get up early and have a delicious breakfast on the deck of the boat in the warm atmosphere of the morning on the bay. The boat will turn back to Ha Long City. When coming back to Ha Long City, you will move to the airport for flight to Hue. You must be sure that the ticket is booked and all the procedures are completed. After the flight, you continue to move to any hotels in Hue, check in and overnight here to be willing to explore Hue on the next day.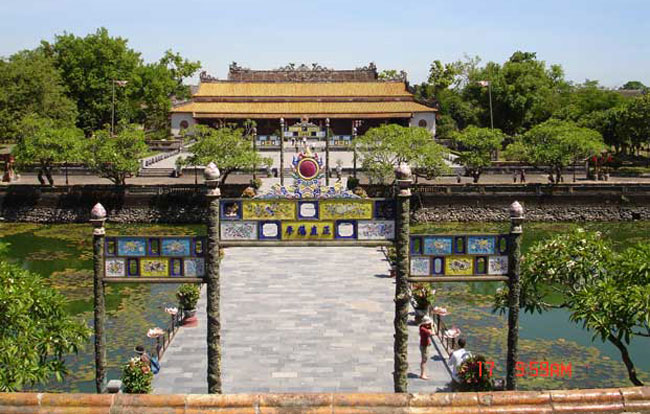 5th DAY: HUE CITY TOUR
On the 5th day, you will start a new journey with new experiences in Hue City, a charming city in the Middle of Vietnam. Hue is known as an ancient capital of Vietnam. It will be wonderful to get a boat trip on Huong River to visit Thien Mu Pagoda, a monument built in the top of Ha Khe Hill. After that visit the Old Citadel, one of places in the relics of Hue recognized as the world cultural heritage by UNESCO in 1993. After having lunch in the local restaurant and taking a nap, in the afternoon, you will get chances to visit Minh Mang, TuDuc, Gia Long and KhaiDinh Tombs. In the evening, you will come back to the hotel to have dinner and take baths and rests.
6th DAY: HUE – HOI AN TOUR
On this day, you will reach to Lang Co Beach in Lang Co Town, PhuLoc, Hue, an amazing beach with a 10 km stretching sank bank and surprisingly clean blue water. This is an ideal site for you to soak under the cool water and take the warm sun on the beach. After leaving Lang Co Beach, you will get through Hai Van Pass, Marble Mountain to reach to Da Nang to start the next itinerary. Coming here, you will have opportunities to visit Museum of Cham Sculpture, a cultural monument built in 1915 and officially inaugurated in 1919. In the afternoon, you will get to Hoi An, a mysterious stopover in Da Nang after having lunch and taking a rest. The first thing to do when setting foot on this land is to visit The Ancient Quarter. You should get to some famous destinations such as Chua Ong Pagoda, Chinese Assembly Halls, the 200 year old Tam Ky Ancestral House and the Japanese Bridge, etc. Moreover, there are other destinations including the Historical and Cultural Museum, Tan Ky Old House and The Tran Family Chapel in Hoi An.
7th DAY: HOI AN TOUR
On the 7th day, you continue to explore the featured characteristics of Hoi An. What do you think about joining a cooking class with a cruise on Thu Bon River? That's interesting, isn't it? To prepare for it, you will go to the market to buy food and main ingredients for cooking. It is really an unforgettable experience for you that you should not ignore. Especially, after this exciting cruise on Thu Bon River, you will get opportunities to self-explore this nice town. If it's necessary, you can also visit the Cham Island and Cua Dai Beach to realize the interesting differences among the beaches that you went through.
8th DAY: HOI AN – DA NANG – HO CHI MINH CITY
From Hoi An, you return to Da Nang to take a flight to Ho Chi Minh City. A new trip is waiting for you after checking in the hotel and having lunch in this famous city. Take a walk around Independence Palace, a place which stored a lot of historical hallmarks, built in 1962 and officially inaugurated in 1966. In addition, you also have an occasion to visit many other famous destinations in Ho Chi Minh City such as Ben Thanh Market, Duc Ba Church, also called as the Big Church, a famous French-styled architectural monument located in the city center; Ho Chi Minh Theater.
9th DAY: HO CHI MINH CITY – BEN TRE – HO CHI MINH CITY
Leaving Ho Chi Minh City, you will take about 2 hours to travel to Ben Tre, a plain province in the lower course of Mekong Delta. This land is known as a big granary of Mekong Delta with many agricultural products as well as fruits such as corn, rice, potatoes, pineapple, custard-apple, durian, rambutan, star apple, etc. You will get on horse carriage ride along the villages of Mekong Delta. This trip will make you feel simple andpeaceful lives of people in the south of Vietnam through the rustic beauty of the villages and hamlets here. After an exciting itinerary by horse carriage with nearly first experiences, you will continue to enjoy a boat trip along the Delta's canals to visit orchards and sample some tropical fruits, visit historic temples and pagodas of the area. Especially, Ben Tre is a homeland of coconuts and famous for the special dish "Ben Tre coconut candy". You can buy some candies to make gift for your friends or family. That sounds wonderful. Moreover, you can also join a hick tourism in Ben Tre. Entering the gardens with heavy fruits, you can enjoy all types of fresh and delicious fruits here with the cheap price. I am sure that you will never forget this enjoyable time here.
10th DAY: HO CHI MINH DEPARTURE
Coming back to Ho Chi Minh City after a journey back to the homely countryside and making the most of friendly and close atmosphere of the land and people here, you will freely enjoy the last day in Vietnam. Walking around the city, enjoying food on the streets, going shopping for clothes or lovely souvenirs are popular activities that tourists often do when staying here in the last days.
It's time to finish the Vietnam itinerary 10 days; I'm sure that all above special experiences will strongly attract you. This journey is not only an occasion for you to take a rest after your hard working days, but also a special chance for you to learn new things, new lives and new people because our life is journeys. No one predicts what will happen in the future; and perhaps, after this trip you can find something actually special for your life. That can happen, cannot it? So, think about that and if anything makes you unclear, contact us via email: ….to be cleared up queries.
by Thanh Nhan