Worry about overspending for your Vietnam journey? Let me tell you my secret destinations for a budget trip. With a developing country in Southeast Asia like Vietnam, cost-saving while traveling is never impossible. And your choice of stops plays a crucial role in reducing the charge. Scroll down to explore top Vietnamese cities to have an affordable and memorable expedition.
Hanoi
As the capital city of Vietnam, Hanoi is the biggest transport and commerce hub in the Northern region. Traveling to and from Hanoi is easy and cost-saving thanks to extensive choices of airlines and public transports.
Also, with a long tradition, history, and culture, the city is a legendary icon of Vietnamese tourism. The Old Quarter captures the heart of international tourists with the antique beauty of the narrow streets and outstanding monuments such as Van Mieu – Quoc Tu Giam. Meanwhile, modern buildings such as the Sofitel Metropole Hotel are imprinted with the French colonial period. Opera House inspired by French architecture and One Pillar Pagoda resembling a lotus flower is two famous sights not to be missed when traveling to Hanoi. Other monuments and landmarks in Hanoi include Ho Chi Minh Mausoleum, Ho Guom, Ngoc Son Temple, West Lake, Huong Pagoda and famous museums like the Museum of Ethnology.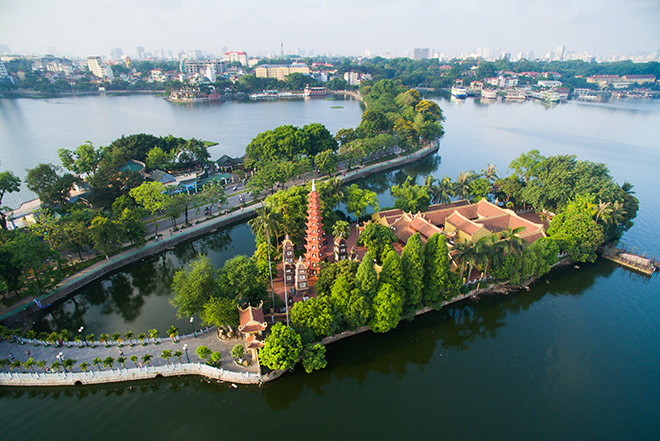 Besides, Hanoi is among the top cheapest destination in the world. In 2016, it was voted in the top cheapest destination. Accordingly, the average spending of international tourists in Hanoi is about 110 USD per day and domestic tourists at about 55 USD per day.
Ho Chi Minh
If Hanoi is the center of the North, Ho Chi Minh is a metropolis in Southern Vietnam. In the past, it was named The Pearl of The Orient, which emphasized the great location in Southeast Asia. Nowadays, Ho Chi Minh is among the most developed cities in Vietnam. It is where the essence of Vietnam gathers and combined. 
Traveling to the more than 300 years old Ho Chi Minh City, you can come across the high-rise buildings, the entertainment areas, busy shopping centers lying closely. But it's not difficult to walk pass ancient villas, traditional markets that have existed for hundreds of years.
Most of the tourist attractions in Ho Chi Minh are free.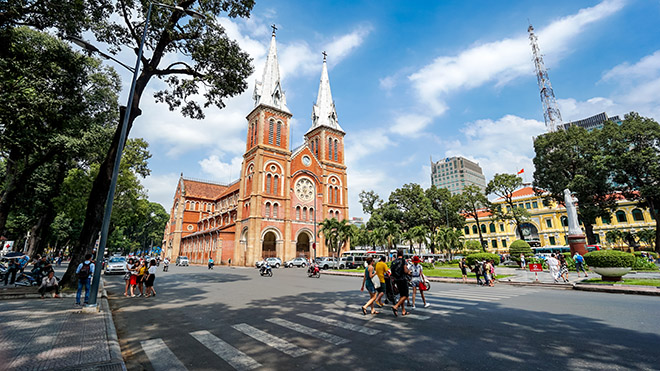 As one of the most beautiful and ancient structures in Ho Chi Minh City, the city post office gives you a look back in the time when things were not digitized. Notre Dame Cathedral is another popular tourist site, which requires no entrance fee. Here you can admire the red brick walls, stained glass windows glowing under the sun. Binh Tay Market was built by a Chinese businessman in 1928 with Asian-style architecture but applied modern Western techniques. This market is also one of the most beautiful markets in Saigon together with Ben Thanh Market. Ancient architecture, friendly vendors and unique items make Ben Thanh Market a symbol of Ho Chi Minh City.
Phu Quoc
Phu Quoc Island is the largest island in Vietnam located in the Gulf of Thailand. It is famous for many beautiful scenes, rich ecological environments, and many beautiful beaches, which have become one of the favorite tourist destinations of both domestic and foreign tourists.
More importantly, the Vietnamese government is applying such an open visa policy to visitors to Phu Quoc. Foreigners who enter, exit and reside in Phu Quoc island are exempt from visas for a temporary stay of fewer than 30 days. In case foreigners enter an international border gate of Vietnam (including air and sea borders), staying in the transit area at that border gate, then forwarding to Phu Quoc island, they are also exempted from visa.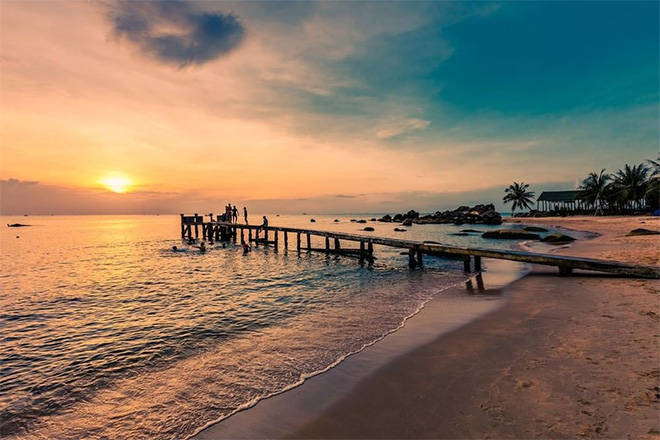 This helps you save such a considerable budget for traveling, as a Vietnam visa for a single entry costs around 41 bucks.
With subtropical monsoon tropical climate, the weather in Phu Quoc is mild and pleasant all year round. Therefore, the largest island in Vietnam has been recognized by UNESCO as a world biosphere reserve. Furthermore, Phu Quoc is also blessed with many pristine beaches along with a rich primeval forest system, making it an ideal destination for anyone.
In addition to entertaining games in the amusement parks for both children and adults, there are countless outdoor picnic activities suitable for all ages. Some of the most popular are fishing, scuba diving to see corals, night squid fishing, hiking, sun-bathing.
​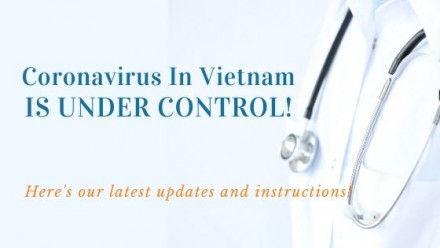 Facing the spread of Covid-19, the Vietnamese government has been taking drastic measures. These policies will have a lot of impact on the lives of people, as well as foreigners in Vietnam at this time. Travel Sense Asia helps you capture those changes most quickly! By the morning of April 22, in Vietnam: A total of 268 confirmed […]
0 comments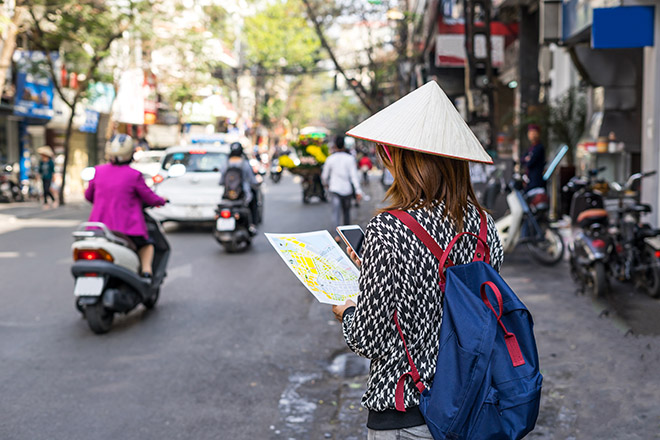 Known as a top tropical tourist paradise, in recent years, Vietnam tourism has become the trend of many wanderlust souls. To help the trip become smooth, avoid overspending, today Travel Sense Asia will guide you through the detailed expenses for a Vietnam journey. Keep reading till the end to find out useful budget-saving tips. Passport […]
0 comments
Sapa
Situated above 1600 km from sea level in the North – West of Vietnam belongs to Lao Cai Province, Sapa is considered an attractive destination when tourists visit the S-shaped country. Quiet and modest as it may seem, Sapa undoubtedly owns a host of natural wonders and distinctive culture.
This is a budget-friendly destination of the North thanks to the low travel fare and accommodation cost. 
You take a train from Hanoi to Lao Cai at the price of about 500,000 VND – 750,000 VND ($20-$30) depending on the seat. From Lao Cai to Sapa you can take the bus, which costs around 25,000 VND (1 buck) or rent a motorbike to drive yourself with a charge of 80,000 VND – 120,000 ($3-$5) per day. Another option is to catch a bus directly from Hanoi to Sapa with fares from 250,000 – 500,000 VND ($10-$20) for a one-way ticket.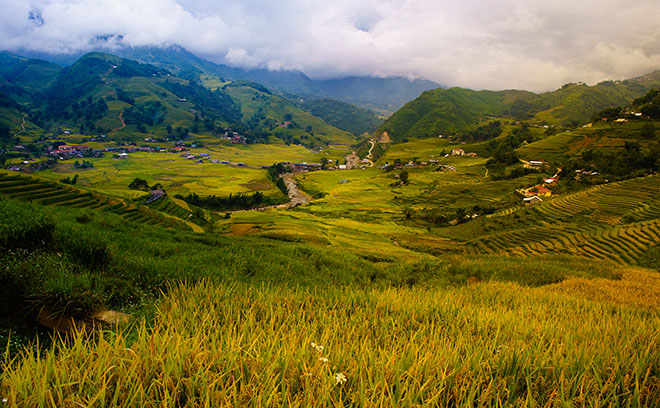 Also, you can save quite a lot of expenditure on accommodation because Sapa features extensive choices of homestay or hostel. Most of them have a unique design inspired by traditional stilt houses of the Northern ethnic groups. While staying with ethnic families, you also have a chance to indulge in their indigenous culture.
Pu Luong
Pu Luong is about 130 km northwest of Thanh Hoa city. It is located in Quan Hoa and Ba Thuoc districts. From Hanoi, you will reach Pu Luong after 5 hours of driving. This is attractive to the wild beauty of primeval forests and terraced fields of ethnic people.
In general, Pu Luong is an untouched destination. The majority of the traditional villages still remain the ancient design of stilt houses. Local residents live mostly in agriculture. Therefore, one of the most iconic attractions here is immense rice terraced fields spreading mountains to mountains.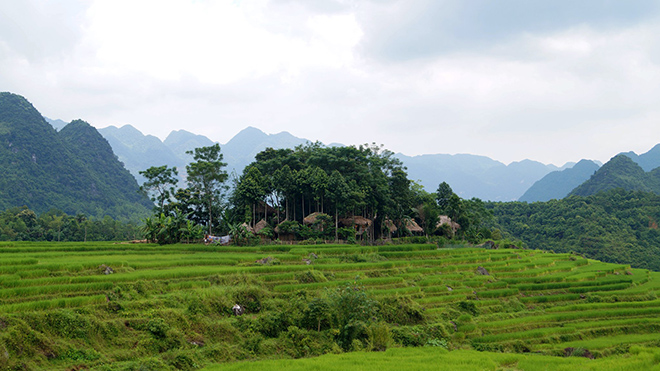 Although there is no direct bus from Hanoi to Pu Luong, the transportation cost is pretty low thanks to the convenient location. Hotels in Pu Luong don't offer a lot of choices. But unique homestays with Thai or Muong people are a special experience that you will never forget. Their way of living is exotic and will certainly arouse your curiosity.
Separated from the industrialization, this is also an ideal stop because you will have a chance to experience the life of hill tribes deep in the woods. 
Ninh Binh
Located about 100 km to the south of Hanoi, Ninh Binh is a province in the Northern Delta. This land was once the first capital of a Vietnamese dynasty. It is honored to possess many beautiful landscapes and historical sites with the national cultural identity.
Thanks to the convenient location, Ninh Binh can be reached via buses from Hanoi. The ticket fee is less than $10. Since 2005, the homestay model has been put into operation in Ninh Binh to allow visitors to experience and integrate into the daily life of the local people.
As the province is characterized by the rural life of the Red River Delta. You will be witnessing such ordinary but very typical as grinding rice, cooking with wood oven, shopping in traditional markets. The price of the homestay is extremely cheap, so it is increasingly popular with young people.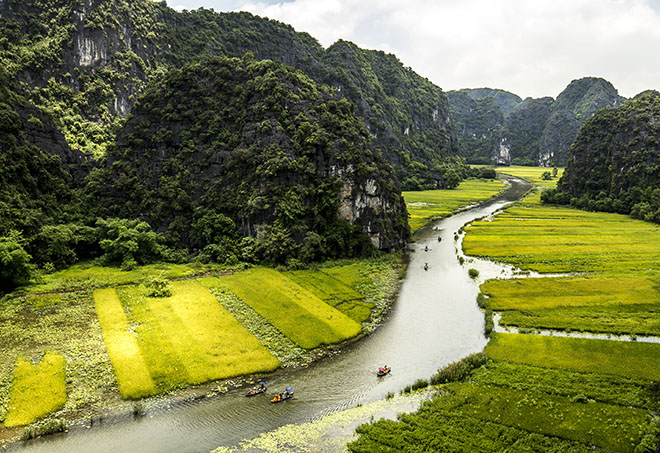 When it comes to Ninh Binh tourism, Trang An tourism complex is the most famous. With beautiful pristine natural scenery, Trang An Ninh Binh has been recognized by Unesco as a world natural and cultural heritage. The scenery here is made up of winding rivers flowing through limestone mountains, creating countless natural mysterious. To explore Trang An, you will be sitting on a hand driving boat, admiring the surrounding mountain nature.
Located 15 km from Ninh Binh city, Bai Dinh pagoda is the largest pagoda in Vietnam with many records. It used to be the largest pagoda in Vietnam with the tallest and heaviest bronze Buddha stupa. It is the temple with the largest three-dimensional statue, the largest well in Vietnam as well as the largest number of stone statues in Vietnam.
Quy Nhon
Quy Nhon – Binh Dinh belongs to the South Central Coast region of Vietnam. It is about 1,065 km north of Hanoi capital and 649 km from Ho Chi Minh City to the south.
Quy Nhon Beach stretches in a bow shape, embracing the sandy coastline from the center of the city. Harmoniously combined with the low mountains, it is an ideal place for you to spend your summer vacation. Due to the formation of mountains leading to the edge of the sea, Quy Nhon topography often has wind channels with attractive beauty, the most famous is the Queen's Sea (Bien Nu Hoang) and Phuong Mai Peninsula.
The cost of living in Quy Nhon, as well as Central Vietnam, is lower than the rest of the country. This makes the cost of accommodation and other services within your budget. Recently, direct flights to Quy Nhon have been expanded by many airlines, in order to meet the needs of Quy Nhon tourism. With the affordable price compared to other domestic destinations and regular promotions, it will help you save quite a lot for the trip.

Ellie

I didn't have many opportunities for travel during my early childhood, so I decide to dedicate my young adult years to exploring the world. "Set off with a pure heart". That's my motto for any adventure in my life. And as sharing is caring, I love writing about my journeys so that the audience can gain an objective view of the destination. That's what I do before travelling, set the right, open mind to welcome both obstacles and blessings. So stay tuned for my new stories.