Have you heard or tried this special cake with such a special name yet? Vietnamese mooncake is a kind of cake with sweet filling, often used during the Mid-Autumn Festival. 
With the date of this important festival about to come, let's find out more about this special cake!
The origin of Vietnamese mooncake
Mooncake originated from China and spread widely around the world, including Vietnam. In China, there are many interesting stories about the origin history of mooncakes.
In the peasant uprising at the end of the Yuan Dynasty, led by Chu Nguyen Chuong and Luu Ba On, while passing on the news and secret orders, people made round cakes, inserting additional papers stating the time of the uprising.
After that, these cakes with the news of exhortation were transmitted and became a safe and effective means of communication.
The estimated time on the cake is the full-moon night, which occured on the 15th of the eighth lunar month. Later, the Chinese took this day and this special cake to celebrate the event.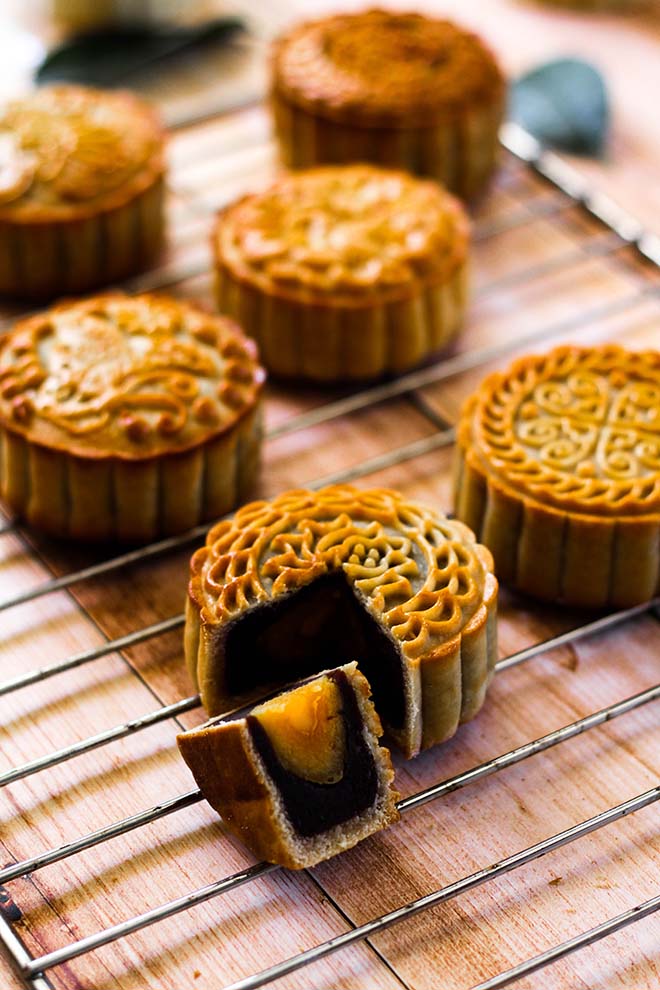 Photo: Huong Ho/Unsplash
The Hidden Meaning Of Vietnamese Mooncake
With a round shape full moon, mooncake symbolizes the reunion of all family members, who gather together after many days of separation.
However, traditional mooncakes in Vietnam consist of two main types: square and circle. It is believed that the square represents the Earth, the circle represents the sky.
Detail Description Of Vietnamese Mooncake
Brief description
Mooncake in Vietnam are usually in the shape of a circle, about 10cm diameter or square with an edge length of about 7-8 cm, width of about 4-5 cm. Compared to Western cakes, mooncakes are much sweeter. 
Types of mooncake
– Based on shape:
To repeat an earlier point, Vietnamese traditional mooncakes consist of 2 kinds, which are square and circle shape.
The top of the moon cake is printed with many beautiful stylized patterns and simple but delicate words.
In addition to the two basic shapes, now there are also moon cakes with the shapes of carp, chicks, bears or rabbits based on the favourite animals of kids.
– Based on crust
There are 2 main types: Glutinous crust and baked crust
+ Glutinous soft crust: The crust is white, using cooked glutinous flour, grinded and sifted (sometimes a part of corn or wheat starch may be added)
Other ingredients for this crust include sugar water, grapefruit attar, cooking oil, which help to prevent the dough from becoming dry.
The crust has more flavors and attractive colors, with the support of food coloring, green tea powder, pineapple leaves, passion fruit, coffee, strawberries …
+ Baked moon cake: unlike glutinous cakes using sticky rice flour, the dough for making baked goods is wheat flour. The better the flour, the softer the crust is.
Other ingredients for baked goods include sugar water, cooking oil, baking powder and a few drops of coconut water if it is available.
To add flavor, color and determine the sweetness and softness of baked mooncake, a good sugar water should be used. Sugar water for baked goods is relatively sophisticated, it is often cooked very early to have time to become dark, dense, rich, and helps the cake to be soft and golden brown.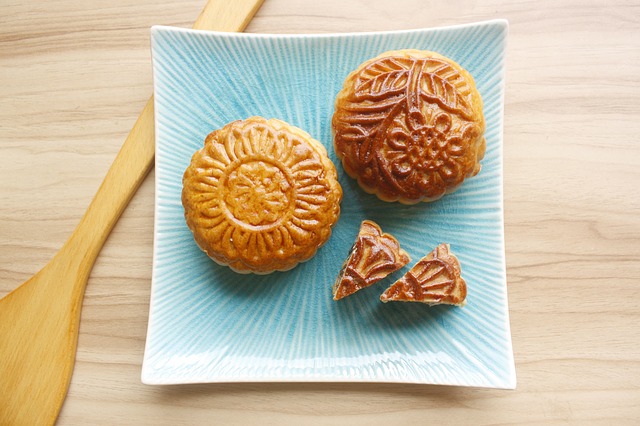 – Based on stuffing
+ Sweet mooncake
This type of mooncake are often filled with green beans, red beans, lotus seeds, mangoes and coconut milk, taro, chocolate, green tea, cheese …
+ Salty mooncake
This is the most popular cake market on the market with a variety of flavors and stuffings to meet the needs of the majority of customers. Salty mooncake have different kinds of fillings such as: mixed, roasted chicken, jambon roasted chicken, sausage, lean meat, … accompanied by the taste of salted eggs, the sweetness of the crust will give customers a flavor The taste is perfectly mixed.
+ Vegetarian mooncake
Since recent years, the demand for enjoying vegetarian mooncake has increased. Because some customers no longer like the fatty taste of the grease found in salty mooncake or traditional baked mooncake, they have switched to this line. 
Vegetarian mooncake with ingredients mainly from green beans, pineapple, lotus seeds or taro which will bring a light flavor to customers, not causing anorexia, no grease, as well as reduce the risk of using preservatives.
Photo: Chinh Le Duc/Unsplash
The Difference Between Traditional Vietnamese Mooncake And Nowadays Mooncake
With a long history, traditional mooncakes have become familiar and loved by Vietnamese people. Traditional mooncakes include two types of shapes symbolizing the sky and and the land, often displayed on the nights of Mid-Autumn Festival. With the delicious taste of golden puff pastry, sausage, lean meat, peanuts, sesame, … with the sweet, delicious taste of plastic cake, each of them is made with traditional recipe, creating distinct rich flavors in the reunion.
Besides traditional mooncakes, the popular brands that produce big and small mooncakes have introduced a lot of different types of mooncakes. 
In addition to the three popular above-mentioned mooncakes, modern mooncakes are innovated in style to both baking materials, bringing new wind into the moon ake production technology. There are strange and special moon cakes such as:
– Fresh mooncake: with the shape of the mooncakes but the main material for making it is from fruit jelly with colorful colors. Or the presence of fruit-flavored Mochi cake: kiwi, passion fruit, honey, ..
– Jelly cake moon cake: The crust is made from soft, cool jelly jelly, which is popular with many people, has outstanding colors and quite eye-catching shapes. Especially the moon cake made from chocolate will help young people change the taste.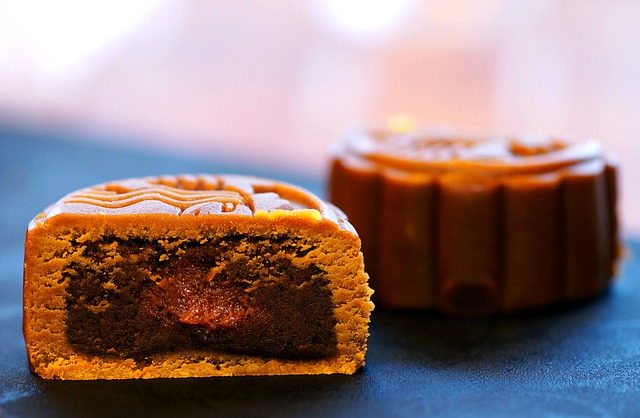 Photo by: xiaofei hou/Pixabay
Best Places To Purchase Vietnamese Mooncake
In Hanoi: 
Bao Phuong store: Bao Phuong moon cake is also an ideal destination for those who love traditional mooncakes. inherently this is a place to sell mooncakes perennial and a lot of favorite customers choose.
Address: 
Branch 1: 201A Thuy Khue, Tay Ho, Hanoi; 
Branch 2: 183 Thuy Khue, Tay Ho, Hanoi. 
Opening hours: 7am – 9pm 
Price: from 25,000 VND – 70,000 VND / 1mooncake
Kinh Do mooncake shop: It has a variety of cakes for you to choose. In addition to traditional flavors, this year's Kinh Do moon cake has made a breakthrough with Western-style flavors.
Address: 451 Lac Long Quan, Xuan La, Tay Ho, Hanoi. 
Opening hours: open all day. 
Kinh Do mooncake: range from 40,000 VND – 480,000 VND / 1 box.
In Ho Chi Minh city:
Givral Bakery: This mooncake shop will give you a lot of interesting choices. From affordable mooncakes to premium mooncakes. More specifically, Givral mooncakes not only have many attractive flavors but also elaborately refined in design so it is very suitable to choose it as a gift.
Address: 499 Quang Trung, Go Vap district, Ho Chi Minh City 
Opening hours: 6am – 10pm 
Price: ranges from 454,000 VND – 865,000 VND / 1 box.
Phuc Long mooncake shop: It attracts customers with very special cake flavors. Besides, Phuc Long mooncake has an extremely luxurious and delicate design 
Address: 4th floor, Food Creative cuisine area, Bitexco building – 2 Hai Trieu, District 1, Ho Chi Minh City 
Opening hours: 7am – 10:30 pm 
Price: VND 290,000 – VND 790,000 / 1 box.
When coming to Vietnam during this special festival, I hope you will remember to try eating at least one type of mooncake to feel entire Mid-Autumn spirit in Vietnam. Special stuffings and unique flavors will make it an unforgettable experience.