Have you travelled abroad? Are you going to visit a foreign country? Out of all matters necessarily taken into consideration for your trip, travellers are often confused with passports and visa procedures. What are the differences between these two documents? Why do some people merely need a passport to enter a country while others are acquired to show their visas? This article can help you with useful knowledge about these worries.
The first and foremost problem is the differences between passports and visas. When traveling between different countries, a passport is required to gain access and cross the country's borders. The purpose of a passport is to show other nations that you are a legal citizen of your particular nation. For instance, if you are American and want to enter Vietnam, you must show your passport in Vietnam to prove that you are a U.S. citizen before they will allow you entry. Importantly, a passport permits you to cross their borders and become a part of their culture, even if it is temporary.
As for Visas, they are another document which allows people to enter into other countries. The difference between a visa and a passport is: a visa specifies certain reasons for staying in the country with a certain time frame. Most of the time, visas are granted to people who work or plan to attend school in a nation for a select amount of time. The visa is usually stapled or attached to the passport and shown at the time of entry into another country. Most visas have time limits, and typically that time extends to about six months. Just like passports, a travel insurance policy is recommended in case the paperwork is misplaced. Hence, passports are designed by your own home country while visas are granted by the country you want to visit.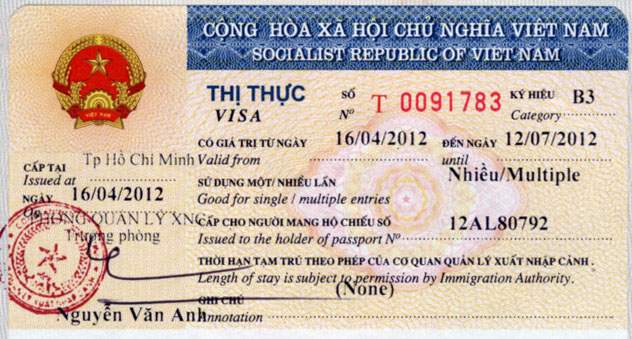 Who need a visa? Almost all foreign citizens are required to get an entry visa before departure or a pre-approved entry visa before arrival in Vietnam. However, there are some cases as bellow that don't require visa when visiting Vietnam:
– No visa required for travel less than 30 days: Citizens of Thailand, Philippines, Malaysia, Singapore, Indonesia and Laos.
– No visa required for travel less than 21 days: Citizens of Philippines
– No visa required for travel less than 15 days: Citizens of Japan and South Korea, Sweden, Norway, Denmark, Finland and Russia.
– No visa required for travel less than 90 days or several visits within 6 months: Citizens of France holding valid diplomatic or official passports- No visa required for travel less than 60 days: Citizens of [updating] holding valid diplomatic or official passports.
– No visa required for travel less than 60 days: APEC Business Travel Card (ABTC) Holders from Asia-Pacific Economic Cooperation (APEC) member economies.
Next, we'll show you how to get a visa for Vietnam. There are two different ways:
1/ Getting Vietnam Visa-On-Arrival (recommended): All you need to do is to  get Vietnam visa-on-arrival at the immigration checkpoint in Vietnam international airports and wait for an Approval letter within 2 days or even 8 working hours or 4 working hours. You can ask any Travel agent in Vietnam to have an online application form. The Approval letter is used to get on board and together with your passport and 2 photos to get your visa stamped at Vietnam airport.
2/ Getting Vietnam visa at Vietnam Embassy: Before coming to Vietnam. You can contact Vietnam embassy directly for applying Vietnam visa, or get your visa stamped at embassy with pre-approved letter with code (Vietnam Embassy Visa) to pick up Vietnam visa stamp at embassy from Vietnam Immigration Department. For the purpose of tourist travels, you will need a tourist visa. Getting a Vietnamese visa is relatively cheap in comparison to any other countries. The fee is ranging from just 30 – 80 USD.
To sum up, it's very simple to get a visa for Vietnam We do believe that the simple visa process also plays a great part in attracting tourists to a country, and Vietnam has been doing a good job of it.
contact us if you have any further questions: sales@travelsense.asia