Fall in love with the Buddhist temples and monasteries, pristine white beaches, and ancient Asian culture? Then, it is time to visit Myanmar, or commonly known as Burma. Here is a must-see destination for those who are fond of Buddha and beaches. What makes the country apart from the crowd is a collection of numerous Buddhist temples gorgeously constructed in the olden times.
Today, more and more visitors are inspired by the golden beauty of Myanmar. The country is slowly opening up its door to tourism with a lot of opportunities to see its highlights. Some of the enigmatic attractions include Yangon, Golden Rock, Ngapali Beach, Mandalay, Inle Lake, etc. So, if it is a new land to you, then it is a good idea to equip yourself with "Visit Myanmar 2018 Tips" so that your mind can be clear of where to head and what to do. Furthermore, our Myanmar holiday package will even go far beyond your expectations, which can even elevate your joy and satisfaction to the highest notch.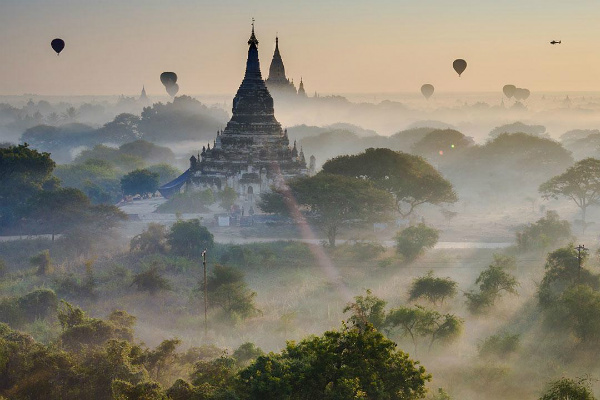 Visit Myanmar 2018 Tips On How To Have A Successful Shopping Experience
Travel to Myanmar brings you an opportunity to contemplate plenty of holy and gold-plated pagodas as well as enhancing your understanding of the country's local culture, art, and cuisine. In addition, each destination can remind you of the time being in the beautiful country. Hence, lots of the visitors want to save their nice memories in every area they set foot on by distinct souvenirs. Wonder what to buy in this mystic Buddhist country? How to secure your money at best while shopping? The following information can be helpful for first-time travelers to consult.
List of must-buy things you can consider during a trip to Myanmar
Wind bell: You can find such item in most places in the country, especially around the pagodas and temples.
Paper Umbrella: Paper umbrella can be found in the local workshops around Inle Lake.
Jewelry: The shining jewels are so eye-catching and attractive that you can purchase in Yangon, Bagan, Inle Lake, and Mandalay.
Sand Painting: It is a lovely souvenir that you can see in Bagan.
Burmese Cigar: It is worth noting that the Burmese cigar is totally produced with natural materials.
Puppet: Another exciting item for purchase is a collection of cute puppets with the figures of the prince, princess, horses, and so on.
Buddha Image: Convince your beloved that you have visited Myanmar by gifting them one of the impressive Buddha images which are on display in the local souvenir shops.
Try bargaining while shopping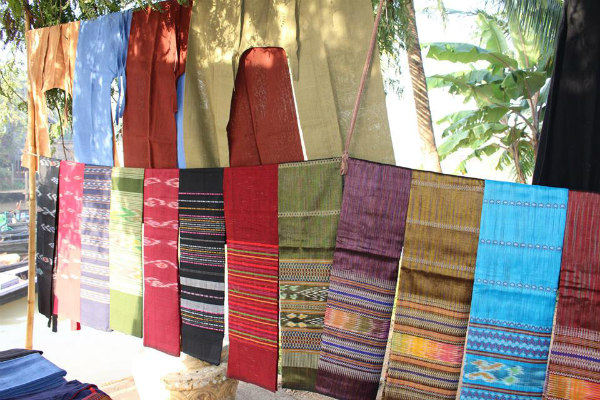 It is quite normal to practice haggling when you go shopping in Myanmar or even any other country in Southeast Asia. Nevertheless, it is unnecessary to bargain if you purchase something in the modern shopping malls and commercial centers. That's because every item has its own price's tag. While you go around the streets and markets for shopping, the merchants tend to sell at the higher prices, particularly in case you are an overseas guest. As a result, before buying anything, you should refer to the cost of some shops and practice bargaining. If possible, try to haggle at about 20-40 % discount of the selling prices.
Avoid buying the fake items by taking high precaution
During the shopping, there is quite a chance that you may purchase the fake products at the costly prices. The best way to stay away from this case is to only buy the luxury items at the reliable malls and centers. For instance, if you consider buying gems and antiques in Myanmar, then it is better to visit the certificated shops where you will get the guarantee paper and receipt for what you bought. One important thing to remember that antiques are not permitted to bring out of Burma. As a result, when you purchase something whose look is similar to the antiques, try to ask the vendors to provide a certification that may prove that it is not the antique at all.
A fascinating itinerary for a Myanmar Package within 4 days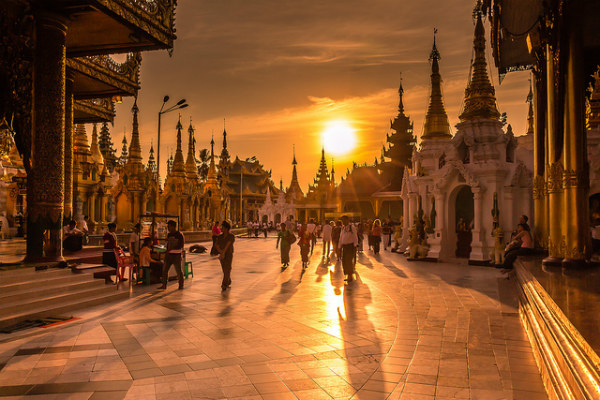 As a country of color and diversity, Myanmar is a hot destination for visitors worldwide to come and explore. Every time you check in Burma, it surely amazes you with the impressive mix of history and modernity. What makes the country stand out from the rest is a number of spectacular colonial-era buildings as well as ancient pagodas and temples. In general, a Myanmar Package is designed to cater for those who are fond of trekking to far-off lands, enjoying a balloon ride, discovering a cave where thousands of Buddha images have long been housed, soaking up to the crystal clear seawater, witnessing a giant golden rock, etc. As unique and mysterious, it's indeed a hidden gem you might feel pity not to unearth! Here's what you can expect from our 4-day package:
Welcome Yangon on Day 1
Yangon is known as the largest city and most important center of commerce in Myanmar. After coming here, your interest will be won by the number of the colonial buildings. In addition, the land is proudly attractive in the eyes of tourists with its sleepy charm, peaceful parks, stunning lakes, and a wide range of the religious attractions of Buddhism. As the city of the glittering golden pagodas and special colonial mansions, you should follow "Visit Myanmar 2018 Tips" on what to remember when visiting pagodas and temples for the best experience, such as removing footwear before entering holy places, dressing politely, avoiding sitting with your back against the Buddha statues, having a proper manner, and so on. What should not miss while in there? Let's see!
Chauk Htat Gyi (Reclining Buddha) Pagoda
Karaweik Hall at Kandawgyi Lake Yangon for stunning photos
Sule Pagoda
China Town
Shwedagon Pagoda
Day 2: Have a short trip to Mandalay and Sagaing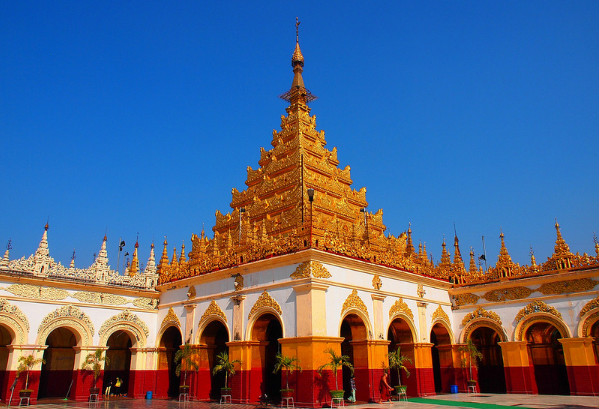 In the morning, you will be led to Mandalay. Formerly known as the last royal capital of the Burmese Kingdom, Mandalay in Myanmar is said to hold the major significance in the country's history. If wondering the biggest magnet of the city, then it should be some of the best pagodas in Myanmar. While setting foot on the land, your mind will be evoked by the vistas of a romantic and age-old era with its royal palace and breathtaking moat at the foot of a high and pagoda-topped hill. However, here is also a bustling and economic center for business. It is worth noting that Mandalay is located within easy distance of ancient cities, former colonial hill stations, and other striking cultural attractions. The information below is what to see in the city:
Mahamuni Pagoda
Kyauktawgyi Pagoda
Shwenandaw Monastery (Golden Palace)
Kuthodaw Pagoda
Sulamani Pagoda
Mandalay Palace
Mandalay Hill
In the afternoon, the Myanmar tour takes you to the next destination, namely Sagaing Hill – the living center of Buddhist faith in the country today. Far 20 kilometers away from south-west of Mandalay, Sagaing can be reachable by crossing the Irrawaddy River. It was the capital of Burma for 2 brief periods, from 1315 to 1364 as well as from 1760 to 1764. Considered the center of Buddhism in Myanmar, such small town leaves a strong impression on you with more than 300 religious buildings, including spires, temples, stupas, and monasteries dotted about Sagaing Hill. Although it is certainly a beautiful place with lush, peaceful, and tree-covered hills, most of the visitors just spend a half of day discovering two or three main sites. During this package, we just guide you to contemplate Khaungmudaw Pagoda and enjoy the sunset from Sagaing Hill. Sounds great, huh?
Day 3. Head towards Mingun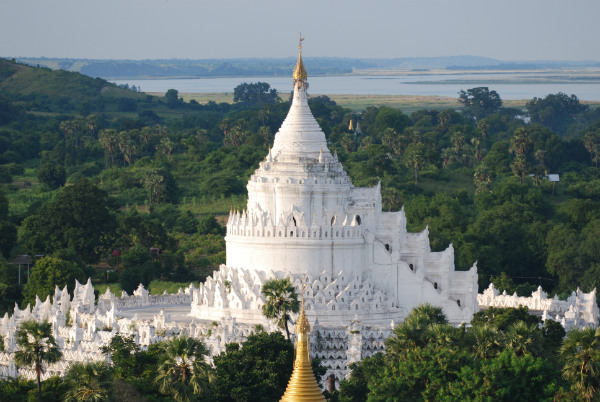 Settled on the western bank of the Ayeyarwaddy River, Mingun is a small village that can be reached by ferryboats across the river. The village is well-known for lots of the Buddhist shrines, monasteries, historical and cultural monuments, and meditation centers. Of course, a boat trip to Mingun is always a nice idea since you have a chance to admire the scenery and learn the local life on the river. It generally takes about 30 minutes from Sagaing to get there by road. Interesting attractions you should check in after visiting here include:
Settawya Pagoda
Mingun Pahtodawgyi
The famous Mingun Bell
Myatheintan Pagoda
Come back to Yangon and end the fun trip on Day 4
Yes, it is time for shopping. You will be led to Treasure, Gems and Handicrafts shops. Let's buy something unique and distinctive as gifts for your loved ones. To gain the best benefits and secure your money, don't forget to consult our "Visit Myanmar 2018 Tips" on how to shop above. You are also able to arrive at Bogyoke Aung San (Scott) Market where a lot of souvenirs are on display at the affordable prices. How wonderful it is!
Since every destination inside and outside Myanmar is interesting, you can feel overwhelmed by what to do and where to go. Without a doubt, our Myanmar holiday package should be your first choice when you make a plan to this spiritual country. It will surely never lack joy, comfort, and knowledge. One thing for certain that traveling is a useful way to learn something new about the world. And here, what we want to emphasize is about the knowledge of the mysterious land of Myanmar. Let's wake up your travel passion and book the favorite tour right away!