Travel Northern Vietnam, Water puppetry performance is the show you should not miss in your vacation. The water puppetry (used puppet trick on the water) that is the intangible cultural characteristics of Vietnam's people. This is a type of  folk art tradition in the Red River delta since long time ago, which happen in the Festival, village festival, funny day or Lunar new year Festival. Nowadays, this intangible culture was saved and preserved.
Enjoy the performance, you will see the Vietnamese countryside images appear in front of your eyes: old temple, small pond, the areca trees beside  the porch, the bamboo trellis fences… The familiar image of  countryside daily life appear in your eyes. Moreover, when the melodious sound of traditional music resounded, all of audiences keep quite and listen the music. The traditional music is attracted everyone by the sweet tunes of the traditional folk songs. The girls are dinky in traditional costumes and the charming sight eyes. Dropping immersed my soul in the folk songs, I am losing in the rural life of Vietnam's countryside from the last century. What a unique culture! What an amazing travel Northern Vietnam trip!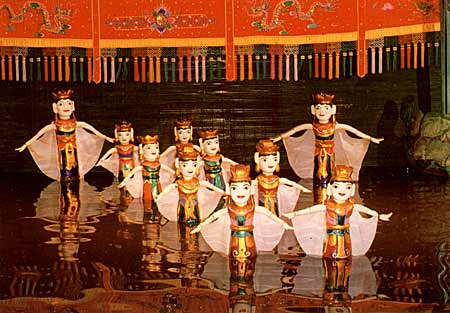 The Water puppetry is performed up next. The Teu character comes and introduce and say hello to everyone. He make the atmosphere is warmer, noisier. After that, many special performance are being continuous. The excited perform of four great mascot dancing ( Dragons, unicorns, turtles, phoenixes). That's interesting because the sound of music is always make us feeling stay in the top of the mountain. The melodious tunes mix with the flexible peacock dance, the vibrant of the Dragons and Unicorns dance or the lovely of the Turtles. What's amazing!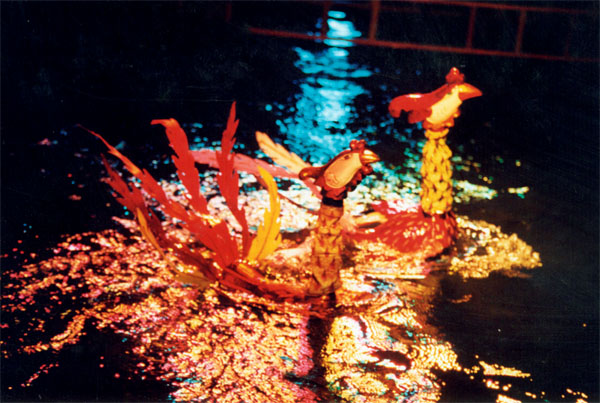 So, enjoy the Vietnam's traditional play, you will know more about our cultural diversity in the past.  Watching this Water puppetry performance, I recognize that in the past, all of families were allway work together. They used to spend all day to work on the field, shared their hard work. All of these things made the deep affection of Vietnam's people.