If you get a chance to visit Hanoi, please stop at West Lake one day. This landmark is associated with the history of the capital, thousands of years of civilization and is also one of the scenic, airy space in Hanoi.
West Lake was created from a curved part of Red River and appeared in several Vietnamese legends. One legend suggests that West Lake was shaped after the battle between Lạc Long Quân and a nine-tailed fox spirit, that's why the lake was once called "Fox Corpse Swamp". Another folk story claimed that original name of the lake is "Golden Buffalo Lake" because it was formed from struggle of a buffalo after the disappearance of her calf. In the 11th century, the lake was named "Foggy Lake" from its misty condition and ultimately its name was changed to "West Lake" in 1573 to avoid the given name of king Lê Thế Tông which was Duy Đàm.
Around the lake there are more than 20 temples and pagodas have been ranked with many famous monuments with many valuables as writing more than 100 stone steles, 165 sentences, 140 horizontal board, nearly 20 ancient bells, 60 colors deified, over 300 statues of bronze, wood and stone. Especially is Trấn Quốc – the oldest pagoda in Vietnam, was built in the 6th century by Lý Nam Đế – peace and quiet stands on an island of this lake. Near Trấn Quốc Pagoda is Quán Thánh Temple, one of the Four Sacred Temples of ancient.
Each dawn, hundreds of people, young and old find this place to inhaling fresh air and exercise. There are so many bicycles loaded with flowers, make Thanh Niên road full with color.
On the first days of summer, you will see lotus blooming in lake. There will be so many people with all kind of costumes like: Áo Dài, Áo Bà ba, Áo Tứ thân, Áo yếm – come to take some photos with Viet Nam's national flower. It is really amazing when walking near the lotus pond in the afternoon, the light wind pushed the lotus scent faintly. Let sit in a roadside teahouses, sipping lotus tea and enjoying summer of Viet Nam.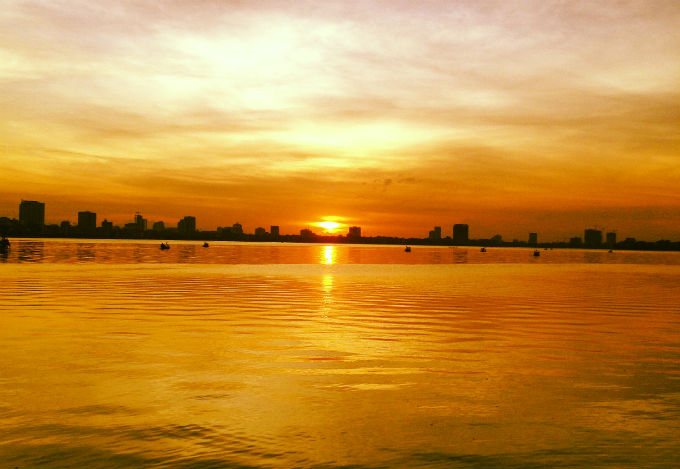 Westlake always attracted by the dazzling beauty of the sunset reflected in the lake; along with the scene where diverse activities such as fishing, kayak rowing. Let's linger till end of the day to catch dazzling moments when the sky changes from blue to yellow, and finally from red turn to purple. And when the night comes, enjoying a cup of coffee in the charming cafe, watching the street lights up, reflecting on the lake and listening to music, singing along to many songs about West lake…
West Lake is not only known by the vast blue water, not only by each petal flamboyant on the summer, the melancholy of space, of the drooping willow winter afternoon, the shimmer of pure morning … but also by it as a heart that embrace so many emotions of people.