If you have a plan to discover beaches in Vietnam in February, you should search the forecast weather before deciding what is the itinerary. In this country, February is the coldest month as the temperature ranges from 8°C to 17°C; thus, you want to visit some beaches like Halong Bay, Cat Ba,… in Northern Vietnam, you should check the temperature. In Central Vietnam, My Khe is a good idea for foreigners when traveling in February. Next, it's still warm and sunny in the southern part of Vietnam, travelers still can fully enjoy a wonderful beach holiday in places such as Mui Ne, Nha Trang, and Phan Rang. The temperature hovers between 27-32°C.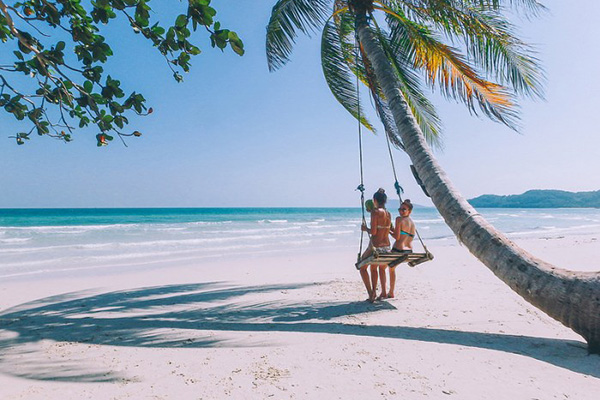 February in Vietnam is known with the perfect weather with dry, bright weather throughout the whole country. There are multiple beach options as southern and central of Vietnam all enjoy warm weather, perfect for sunbathing. Whilst the north still experience the winter time, however, skies are clear with just a little rain, making it a good time for trekking and adventure activities. Besides, February is also the time of  Lunar New Year, you can expect to enjoy the festive atmosphere as well as participate in some traditional activities in Vietnam at this time. Thus, February is amongst the best time to visit Vietnam. The temperature in Northern Vietnam in February will be quite cool with an average temperature of 17°C. Hence, you expect the sunshine and clear blue skies. Rainfall is at its lowest, it is quite cool with an average temperature of 17°C. In the highlands, it is dry but chilly and sometimes foggy.
In Central Vietnam, the average temperature is flexible around 25°C. The climate will be cooler and warmer so you should bring suitable clothing. Nha Trang beach is also enjoying blue skies and higher temperatures.
In South Vietnam, good weather is expected in the south throughout February. It is clear blue skies, plenty of sunshine and little or no rain (avg temp: 27 °C). Temperatures in this region will be highest with avg temp at 28°C.
Vung Tau beach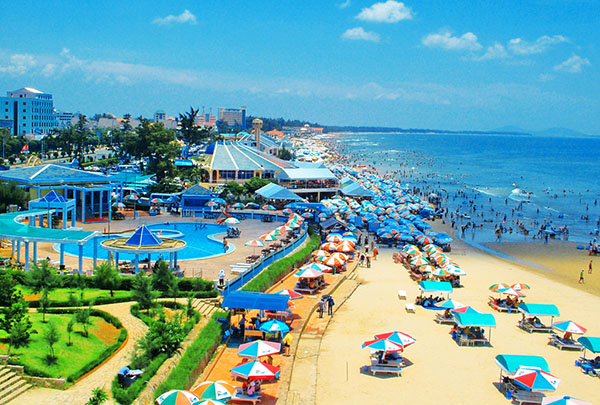 One of the best beaches in Vietnam in February is Vung Tau beach which attracts crowded during the months of December through to May. It has long been known as one of the most famous beaches in South Vietnam. Of course, the oceanic beauty of the city is pretty underrated. There are up to 4 beaches in Vung Tau, each beach is unique in their surroundings and thus will vary your experience with the city. Greatly, all beaches are clean and safe for leisure activities.
Surroundings of the city still keep protecting the pristine beauty of the landscapes. This infectious appreciation of Mother Nature, as well as the locals' hospitality impressing tourists all over the world and you, should be equally impacted by this positivity.
Phu Quoc Island
Phu Quoc Island is known as a Vietnam paradise island for any travelers. It is famous for the white-sand beaches to the deliciously cheap beer. Phu Quoc is the largest island in Vietnam, it includes 22 islands in this population. A relatively new international airport and flexible visa rules for Phu Quoc visitors make this paradise resort island the most accessible to international tourists it's ever been.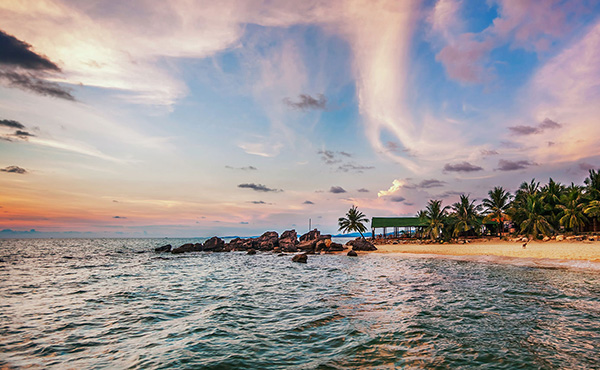 In February in Phu Quoc, it is clear blue skies with low humidity and the average temperature is around at 28°C. This weather is ideal for outdoor activities. It also has the unique wildlife on the northern part and pristine beaches on the southern. Why Phu Quoc is one of the best beaches in Vietnam in February? As it is clear water, peaceful streams, and much unique seafood.
If you love the wildlife, Phu Quoc island is the best choice for you as it owns the National Park protected the marine environment, providing a memorable experience, with plenty of exciting activities and places to visit. You will love the sun on the long white sandy beaches and playing under blue water, walking in the night market. Then you should visit the scenic spots such as Dinh Cau, Sao Beach, Long beach, myrtle forest, pepper garden, fish sauce production facility. One of the suggestions for you is to enjoy the fresh seafood and visit Phu Quoc prison are also need for your trip.
Nha Trang Beach
Coming to Central region, one of the most famous beaches in there is Nha Trang which is famous for a six-mile stretch of beautiful fine white sand beach, blue water. Moreover, you can grace the lush green mountains, and gently swaying palm trees. This international beach destination has clean, clear water, excellent diving conditions, and it has a great reputation for having some truly spectacular party boat cruises. Almost travelers spend a full day on the boat in order to join in the home-cooked meals and loads of ice-cold beer. Nha Trang Beach is famous for both blissful nature and the touristy enthusiastic atmosphere. It has the crystal-like waters and the pristinely white sand of Nha Trang's 6 kilometers beach but also for the many idyllic surrounding islands, which will definitely guarantee you an exotic get-away from the bustling city. The energetic modern city brimming with tall green mountains and natural beauty comes together with the amazingly clear water, blue sky at the faraway horizon. The beachfront is looked after pretty parks, the sculpture gardens and long lines trees.
Nha Trang gets quite crowded with tourists who come for the stunning views, beautiful new resorts, and superb seafood. Nha Trang is a number of island getaways within the area, with trips to its outlying islands being some of the most popular activities with visitors.
You should spend time on traveling Cham temples. It is blue water and colorful fishing boats more than makes up for the hustle-bustle atmosphere of the temples. Nha Trang is known as numerous dive shops in the area where you can become paid-certified. Snorkeling and diving trips are reasonably priced and come highly recommended by most drivers who have been to the area. There are diving packages for both novice and experienced divers.
My Khe beach
Another beach in Central Vietnam in Danang City is My Khe beach which attracts both local people and tourists. It owns 900 m in length and large space, nice sunrise view and the good service serving by the hospitable locals, My Khe beach is really the best choice for you when visiting central Vietnam.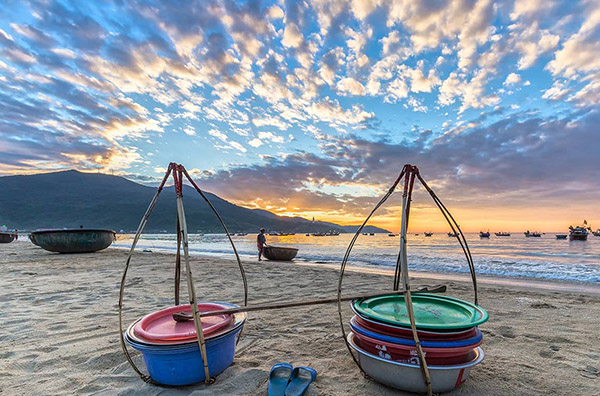 The temperature in My Khe beach in February is about 25°C with a little wave so visitors can bath most of the time. The lack of a large wave, the cool water, the good service makes the beach a safe place for both adults and children. My Khe is fascinating by the blue color of water. Especially at the sunsets, it creates a beautiful scene.
My Khe is one of the most beautiful beaches in the world. It is convenience in the swimming or and some activities like diving, water-skiing, diving, and race activities. You will try sunbathing under the sunny, nice wave, cool water, and fresh air. Continuously, you approach the life of local. Besides, you should taste a lot of special kinds of seafood like shrimp, crab, squid, and abalone.
Halong Bay
Halong Bay is best known for the sea, stunning sunsets, and authentic junk boat tours. You will probably be surprised by several small beaches that will simply blow your mind away.
The UNESCO World Heritage Site of Halong Bay is one of the best places in Northern Vietnam. It is famous for hundreds of stunning islands and features dozens of caves and innumerable deserted beaches.
Coming Halong Bay, you have an opportunity on visiting the caves on the cruise. While having the lunch onboard, your cruise passes several caves like Fighting Cocks, Duck, Finger, Incense Burner, and Stone Dog. You come to Dau Go cave in Halong Bay beaches. You will discover three main parts in the grotto, which bring the surprising feeling by a colossal pillar supporting the huge vault. The grotto as the picture of the ancient citadel and a scuffle of horses, elephants, and people. After that, you should visit other cave, like Sung Sot cave called" Surprising cave" is a large cave including two chambers.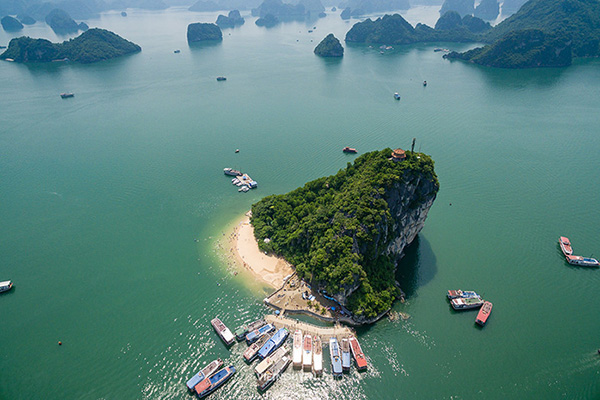 One of the most attractive things in Halong Bay is Sun World Park. Sun World Halong Park is the largest complex entertainment of Vietnam. Coming Sun World Halong Park, you feel living in a "Dragon Land" with plenty of captivating and novel attraction. Queen Cable car system and Sun Wheel in the park which has reached the world's record the most capacity cabin. You will admire the background of Hon Gai Port, Cai Lan port, Bai Chay Bridge and the entire of Halong Bay on the other side. For complexity, while the young are playing adventurous games, adults can relax by going for a walk in Zen Garden. Additionally, the suggestion for you is visiting in Halong Bay Tour is the Sun's wax museum.
They will offer a meal including many delicious Vietnamese foods and great drinks while the junk moves slowly toward Bai Tu Long Bay to visit Vung Vieng village. This village is one of the largest fishing villages in Halong Bay. You will be departed by rowing boats or kayaks to enter Vung Vieng village. Tourists will have an opportunity to experience the villager's daily life as well as observe the traditional culture of the fishermen. In the late afternoon, you will come to Pearl Farm. There are a lot of water activities you can try such as Sunbathing, swimming, squid,… You can join leisure. If you have free time, you can come to Ban Chan island to kayak by yourself. Ban Chan beach brings a unique masterpiece, bewitching any public mind had and many rocks and trees of green forest covered around Ban Chan. You will admire a poetic beauty but also the fresh air, blue water, and white sand. This island is very attractive as you can enjoy yourself on the beach, swim and play some volleyball or try your hand at some kayaking in the magnificent setting of Halong Bay.