New Year's Eve is the time of transition between the last day of the old year and the first day of the new year. This has always been known as one of the important ceremonies in the customs and cultures of many countries and  ethnic groups. On this occasion, many Western and Eastern countries often set off fireworks or organize many different unique festivals
However, for a country like Vietnam, a country that has a bigger holiday than New Year's Eve, which is Lunar New Year (Tet holiday), have you ever wondered where you can go and welcome 2020 with your friends?
Some important notes when participating in crowded events
Choosing safe destinations and convenient transportation: When going to crowded places, you need to pay special attention to safety and convenient traffic points. In New Year's Eve, when traffic is very crowded and there are frequent congestion in public places, the choice of spacious destinations will be an important factor for you to consider
You should bring your mobile phone and try to maintain contact with relatives and friends over the phone if you are stuck in the crowd. Also remember to fully charge your device battery before going to the event. However, make sure the phone is stored carefully in a closed position to avoid thieves,
Do not bring too much money because these events are also a good opportunity for crooks to appear.
Hanoi
Hoan Kiem Lake and the surrounding
In recent years, Hoan Kiem lake has been the most popular place for both locals and visitors, which is often chosen to organize many interesting activities on New Year's Eve. Therefore, it is expected that Hoan Kiem Lake will still be an ideal venue for activities such as music and dance, folk games, art programs to welcome the new year at Ly Thai To Monument. And the areas around Hoan Kiem Lake like Dong Kinh Nghia Thuc Square and August Revolution Square (in front of the Opera House), there might be a Countdown Party like Countdown Heineiken 2019 taking place. 
This is the place often chosen to organize countdown activities to welcome the new year, along with vibrant music parties gathering famous DJs and artists across the country. They will definitely stir up your New Year's Eve. If you are a person who likes to gather friends and welcome the new year in a vibrant, bustling atmosphere, this will an extremely suitable destination.
Moreover, we can also expect a fireworks display on New Year's Eve 2020, because the fireworks display made in Hoan Kiem Lake in previous years has been praised by many domestic and foreign tourists and Hoan Kiem Lake is located in a beautiful and well-ventilated location, giving visitors many different views the fireworks. The location of Hoan Kiem Lake in the heart of the capital is a very famous tourist attraction, so it is difficult for to find a second location that can set off the spectacular fireworks better than Hoan Kiem Lake.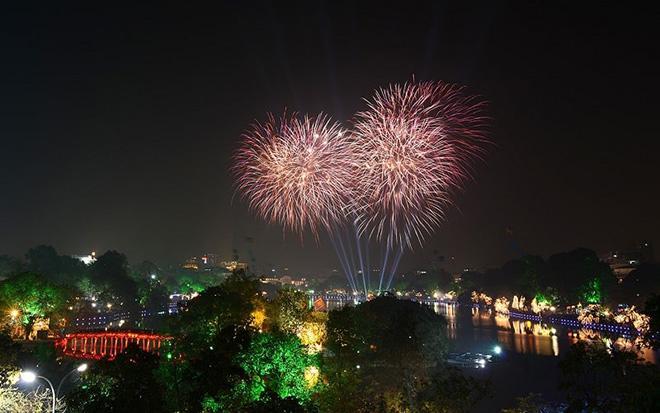 Ancient Son Tay citadel
This destination is located 45 kilometers west of Hanoi capital, on the outskirts. The ancient citadel of Son Tay might still be chosen to be the venue for fireworks on New Year's Eve because of its favorable location and the ancient beauty of the castle giving viewers such majecient and quaint feelings.
Those who come to see the fireworks at Tay Son Ancient Citadel will find it a well-worth scene that is both epic and spectacular at the same time when the special fireworks displays shot up in the middle of an ancient feudal landscape here.
Lotte Centre – Top of Hà Nội
This building in Hanoi is also an interesting and new destination for you to welcome New Year's Eve. Here, you can enjoy drinks and food with Brasserie space served by the outdoor kitchen.
The building with views of Hanoi through the surrounding glass stalls and the double seats in the center, surely you will have special moments spanning the whole city. Surely this will be a great experience that everyone wants to have on such special moment like New Year's Eve.
Ha Long city
30/10 Square
It is located at Tran Quoc Nghien Street, Hong Hai Ward, Ha Long City, Quang Ninh Province
October 30 Square is known as one of the key projects of the province, has a beautiful space with modern lighting systems, where major events, cultural activities and entertainment events are held. 30-10 Square was put into use at the end of 2012 including garden items, flowers, ceremony yard and internal traffic.
This year, 30/10 Square is expected to be the place where The countdown event to celebrate the New Year 2020 will take place. With a series of famous Vietnamese singers and DJs gathering at this festival.
On the yachts of Paradise Cruises
If you're in Ha Long on New Year's Eve, why not do something more special. Sailing on a warm, luxurious yacht, next to your loved ones, to welcome the New Year's Eve amidst the poetic scenery of a world natural heritage will surely be an unforgettable experience in life.
On this year occasion, Paradise Cruises will host a New Year countdown gala dinner on Paradise Luxury, Paradise Elegance and Paradise Peak.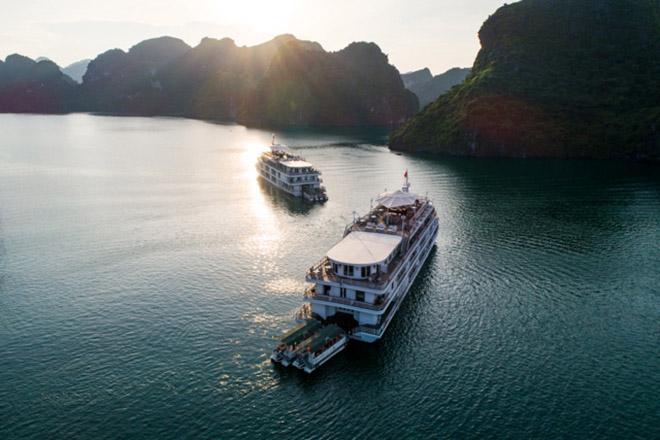 There will be Extremely attractive menu with smoked Atlantic salmon, fresh Ha Long oysters served with Sauvignon Blanc wine jelly and sturgeon eggs, spiced tiger shrimp served with brandy, grilled lamb leg, baked turkey and tenderloin Premium Australian beef.
New Year's Eve will be more lively thanks to the live music performance of the band from the Philippines with genres from jazz, pop to Vietnamese classical music. Guests will have unforgettable moments when receiving the first sunrise through the majestic limestone blocks jutting between the immense turquoise bay, and starting the day with fitness exercises born on the deck to celebrate a peaceful and energetic new year.
Contact us right away if you want that special experience!
Danang
29/3 Square at 2/9 street
Just like every year, Da Nang will hold a countdown party to celebrate New Year 2020 in the 29/3 Square at 2/9 street. This is considered to the event that every youngster in Danang most look forward to at the end of the year.
The audience will have the opportunity to immerse themselves in a vibrant atmosphere with the impressive performances of famous singers and the most anticipated DJs that will be announced a few days before the show. Along with that, unique sound and lighting effects will bring to the youth a truly memorable Da Nang countdown party 2020 event.
Nguyen Van Troi bridge
The location of the New Year 2020 fireworks festival in Danang is likely to be Nguyen Van Troi Bridge like in 2019. Nguyen Van Troi Bridge is currently the only pedestrian bridge.
If this year, the location of the New Year's fireworks is still the Nguyen Van Troi Bridge, please save the address of the 2 most beautiful fireworks view in Danang near Nguyen Van Troi bridge, which is the area of Dragon Bridge and Tran Bridge. Thị Lý.
In addition to the above 2 locations, visitors can also watch fireworks in the open spaces along the extended Tran Hung Dao and Bach Dang streets. Because there are no tall buildings in this area, visitors can still clearly see the spectacular fireworks fired from the area of Nguyen Van Troi Bridge.
Song Han Bridge
SongHan Bridge is a one of the most unique bridge not only in Da Nang but also in Vietnam. Song Han Bridge is the first rotating bridge in Vietnam.
It seems that all the poetic beauty of the Han River and the most spectacular scene of fireworks are only displayed in the bridge space. Bach Dang street with wide view and the reflection of lightness of firework on the crystal clear water face.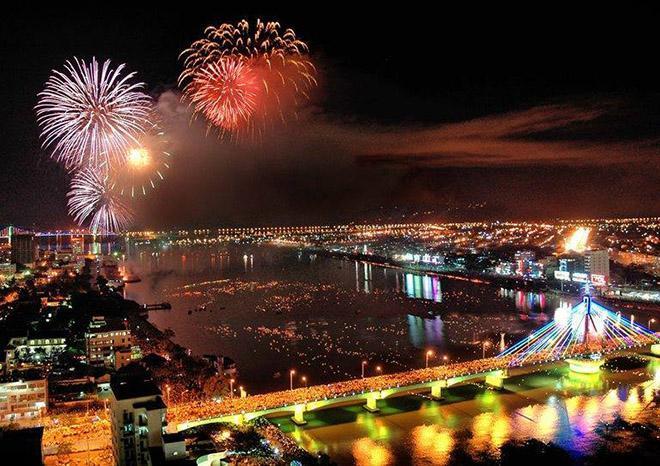 Bach Dang street
It is one of the places that are very familiar with Da Nang people. This is considered the most beautiful street of the city with beautifully decorated and beautiful lights, flags, and banners that will bring you a New Year's sense in a Vietnam's traditional way.
You can come here, take pictures and even have a little talk with locals and admire the exciting atmosphere around here.
Ho Chi Minh City
Nguyen Hue pedestrian street
On Nguyen Hue pedestrian street, there is often a Countdown festival on December 31st  , which will gather the participation of many famous singers and musicians all around Vietnam.
Every year, there are exciting entertainment activities Vietnamese New Year culture such as Southern fruit festival, musical shows to celebrate the new year
There is a countdown program in the transition between the old year and the new year and will probably show 3D art lighting on the People's Committee of Ho Chi Minh City and Timesquare building as in previous years.
Bui Vien "Western street"
This is also a pretty interesting option for a lot of people, especially foreigners to join the atmosphere of the night party on New Years' Eve
On the evening of December 31st , thousands of Saigonese and foreign tourists flocked to Bui Vien Walking Street (District 1, Ho Chi Minh City) to welcome the moment to enter the new year in a warm, loving atmosphere. .
Bui Vien Walking Street is one of the busiest streets in Ho Chi Minh City both day and night. Especially on New Year's Eve, 'this Western street' is even more exciting by the presence of thousands of locals and people of all colors and nationalities. They choose Vietnam as a place to welcome New Year 2019.
Two scheduled venues for fireworks display
It is expected that  Ho Chi Minh City will organize fireworks from 0:00 a.m. to 0:15 a.m. on January 1st of 2020. Two high-altitude firework spots are the top of the Saigon River tunnel (District 2) and Landmark 81 building, the area of Vinhomes Center Park (Binh Thanh District).
Landmark 81 is currently the tallest building in Ho Chi Minh City, which possesses a perfect height and airy space, this is considered the most ideal location for Ho Chi Minh City to organize a fireworks display to celebrate the New Year. With such a high position, if you shoot high-level fireworks here, the area of Binh Thanh District, District 1 and District 2 near Saigon Bridge will be the best viewing places for fireworks.
2020 is on its way, I hope all of you will get prepared and have the best preparation for the upcoming New Year's Eve through the information above. I will try to give you the latest official announcement, so keep yourself updated with our latest posts.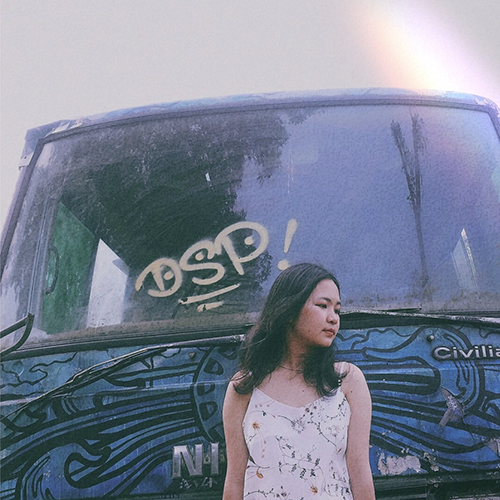 Alida

A wanderlust who is into photography and has special interest in chasing clouds and admiring the sky. Hoping that someday I will be able to see the sky from every part of the world.