Ho Chi Minh City or called Saigon is known as the business and financial city of Vietnam, which is accumulated history going back hundreds of years. Walking around Ho Chi Minh is like seeing the past come to life with so many famous places of interest scattered throughout the city. Today, Travel Sense Asia will show the best things of Ho Chi Minh tourist attractions in this article.
The stunning destinations in Ho Chi Minh City
Saigon Opera House, Duc Ba Church, and Central post Office are located nearly together in Dong Khoi street. Saigon Opera House has been constructed by the French architect, which is now a venue including 468 seats offers a good view from every seat for many high-profile events in the city. Duc Ba church where is a famous age-long cathedral in Southern Vietnam. Following the French structure, it is a wonderful building situated in the Paris Square in Saigon downtown. Next, the Central Post Office is one of the oldest buildings in Saigon, which has long been the busiest post office in Vietnam. The Post Office is also one of Ho Chi Minh tourist attractions by it offers all types of the postal services such as selling postcards, stamps with cheaper prices and mailing. Especially, foreigners completely use the money exchange service in there.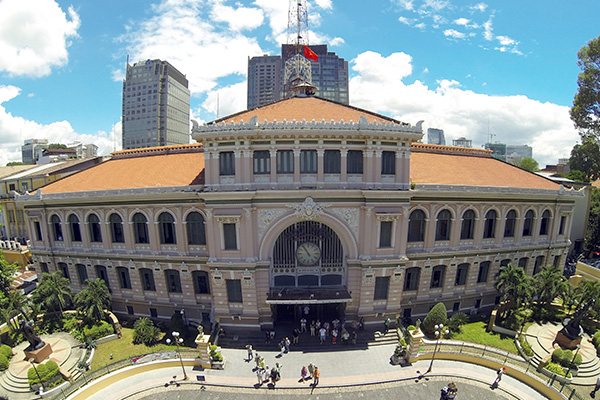 Independence Palace and War Remnants Museum where are two historical places accumulated of symbols in the war for veterans. Independence Palace was built for a long time but it has just changed since 1975 the name like that when the big event happens the successive South Vietnamese president. The Independence Palace is constructed including tunnels, telecommunications center, and a war room. The war command room will be set up maps on its walls and equipment. And then, the War Remnants Museum is situated in 28 Vo Van Tan St, District 3 nearly the Independence Palace, which was launched in 1975 by the government. The War Remnants Museum is well-known as the exhibition relating to the American phase, which is the house for displaying War Crimes of American Imperialism.
Next, Ben Thanh market in district one is a great place to find local handicrafts, branded goods, Vietnamese art and other souvenirs. However, you should bargain the price of goods you want. There are the popular products in Ben Thanh market such as clothes, textiles, luggage, watches and an assortment of electronic goods. Here, you will find eating stalls inside the market where you can get a taste of traditional foods and drinks. Of course, Ben Thanh market is the place you should not miss as it has a lot of delicious foods like spices, nuts, meat and local fruits.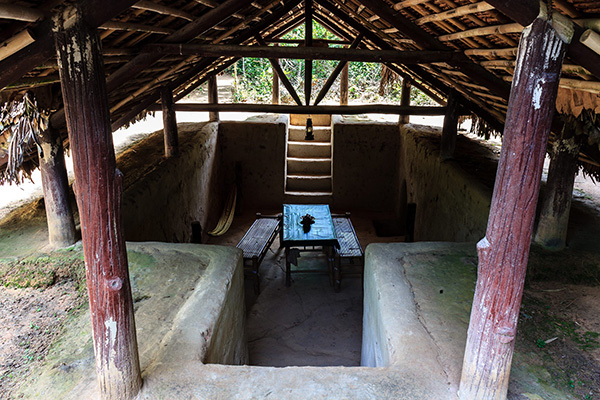 Cu Chi tunnels complex is one of the best things to do in Saigon in 3 days, where is to discover Can Gio. Coming here, you have a chance to explore the system of tunnels being famous from the win a war. And it helps you to know how it works the destructive power of the bomb was attacked in the American military. The villages of Cu Chi have been presented with numerous honorific awards and decorations by the government so they have been voted 'heroic villages' brand which is one of the most historical places.
Suoi Tien and Dam Sen Park are two entertainment centers to make Ho Chi Minh tourist attractions, which are constructed toward the most modern to attract many foreigners come here. It ensures that you feel comfortable to spend your whole half of day walking around the park. Otherwise, you also join the activities under water in there.
Various delicious foods
Vietnam's reputation as one of the world's tastiest street food nations is well deserved
Coffee is not only a drink of local people Vietnamese, street-coffee but also looks like a culture. Black coffee with ice is strong and sweet with an almost chocolate-like richness.
Pho is served with flat rice noodles in a beef broth that usually takes several hours to prepare. Accompanied with the soup is an array of garnishes that consists of bean sprouts, lemon, basil, onion, chili sauce.
Bread consists of butter, soy sauce, pickled daikon sprouts, meat, and vegetables. The meat options are aplenty and a slew of them are listed here: Cha Ca, Cha Lua, Heo Quay, Pho Mai, Pate, Xiu Mai, Thit Ga, Thit Nuong and Trung Op La.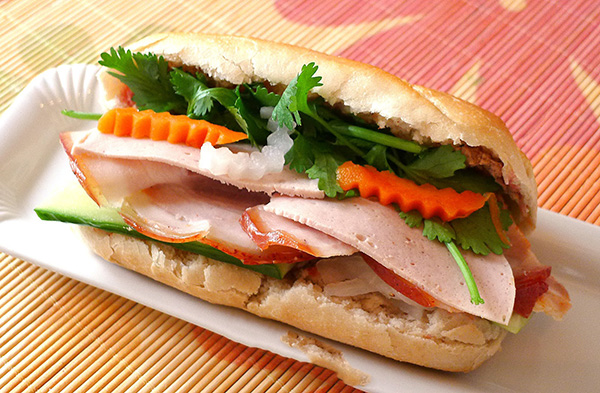 Broken rice is usually served with many different meat options such as Suon Nuong, Cha Trung and Trung Op La.
Barbecue noodles is a great alternative to the heavier pho or com dishes served in Saigon. You can also get the dish with Cha Gio or Nem Nuong.
Hu Tieu consists of pork as the main meat ingredient or stall features their own specialties.
Note: High recommendation for you is to come to Ta Hien and Ben Thanh market to enjoy the special foods in Saigon.