Welcome to Hanoi – the beauty capital of Vietnam, where has the long history of 1000 years and is remaining the ancient vestiges. Hanoi has been surviving against ravage of wars as well as the harshness of the time. Come to Hanoi, you will discover the diversity of its monuments, people, traditional culture and find Vietnam tours Hanoi in order to understand more about this land. There are some itineraries for discovering Hanoi, we will suggest a suitable option for you to visit all highlight destinations in 1 day.
Before going to travel Hanoi, you should find more information about this place and choose a suitable route for your day. Besides, depending on the weather, you should prepare your small luggage during the day, even until night, because Hanoi is very bustling and hustling at that time and you may not miss it.
In the morning – Start Vietnam tours Hanoi
You and your friends will visit  all the most outstanding sites including historical, cultural sites and art exhibition, you will have a chance to look back some highlights of Vietnam history and learn about the unique feature of Vietnamese culture. 
Ho Chi Minh Mausoleum, known for honoring the national hero: President Ho Chi Minh. It is located in Ba Dinh square, where our President read the Declaration of Independence on 2/9/1945, giving birth to Vietnam. The complex includes other sites: the Presidential Palace, Ho Chi Minh Stilt House, Ho Chi Minh Museum, One Pillar Pagoda, Ba Dinh Square, and Dien Huu Pagoda.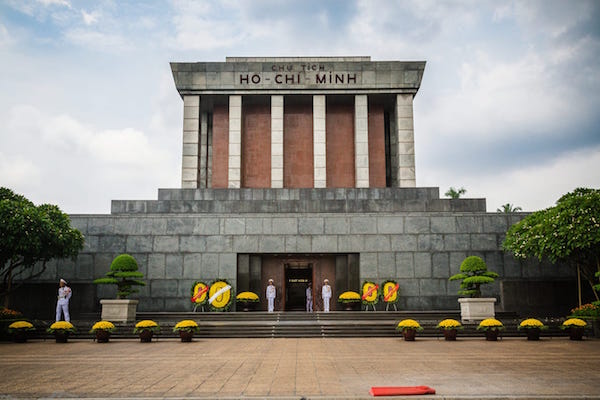 However, you should check the schedule because it opens only from 8.00-10.30 every day, accepting Monday and Friday so you will visit the surrounding area of this complex. When visiting here, you must wear formal clothes and do not make noise during the time.
Note: Entrance fee is 40.000 VND/person
Move to Temple of Literature – the first to honor Confucius before the establishment of Quoc Tu Giam as the first University of Vietnam.  From Ho Chi Minh Mausoleum, you can either go for a walk about 20-25 minutes or take a taxi with 10 minutes to get to this historical site (the distance is around 1 kilometer). Temple of Literature is the place where usually celebrates the doctorates and high-rank scholars of Vietnam. It is famous for not only the oldest university but also the ancient structures. It will take you about 1 km to visiting all Quoc Tu Giam.
Note: Entrance fee is 30.000 VND/person
After that, you will have lunch at a restaurant near Temple of Literature and drink coffee to relax after preparing for the afternoon trip. We will suggest you having Bun Cha, Pho or Bun Rieu – the usual food of Hanoians. The price is quite cheap, around 30.000-50.000 VND/bowl, and price of Vietnamese coffee is from 20.000-35.000 VND
In the afternoon
On Vietnam tours Hanoi, the next destination is The Vietnam Museum of Ethnology. From the restaurant (if it is near Temple of Literature), you can catch a taxi to Vietnam Museum of Ethnology, the route is about 5 kilometers (taxi fee about 60.000-80.000 VND for a 4-seat car). The museum focuses on the 54 officially recognized ethnic groups in Vietnam, you will know more about the culture and Vietnamese people. However, Museum of Ethnology is close on Monday so Ho Lo prison will be the alternative site to visit for you. If you want to visit both, you should arrange your time.
Note: Entrance fee is 40.000 VND/person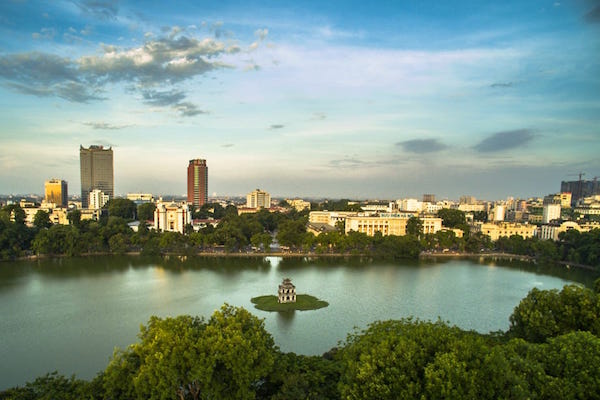 In the mid-afternoon, you will move to old quarter to take a cyclo – a traditional type of vehicle to go around the Old Quarter and Hoan Kiem lake, experience a bustling corner of Hanoi. The unique type of transportation would give you the best feeling and views to take photos and easy to watching Hanoian daylife. Afternoon is the best time to try out Hanoi's street food, which is very delicious and available on each street in the old quarter. If you have more time, you can go for a walk around Hoan Kiem lake and visit Ngoc Son temple with Ngoc Son bridge.
Note: Cyclo fee is 100.000 VND/person/hour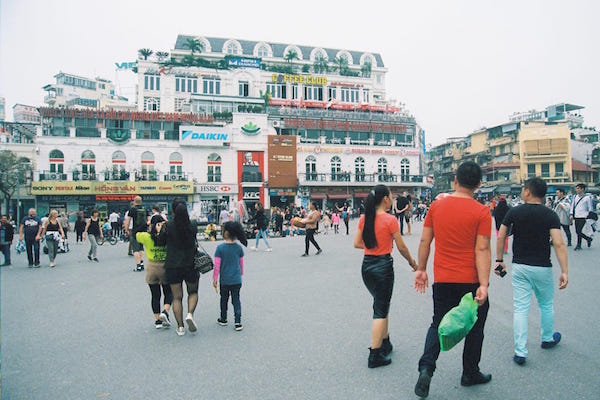 This unique type of transportation would give you the best view to take some photos while watching Hanoian life. Also, it's would be flexible if you want to stop by and try out Hanoi's street-foods or buy souvenirs in the Old Quarter. Visitors should also go in Ngoc Son Temple on Hoan Kiem Lake to explore the legend about the preternatural Turtle who helped Le Loi King won against Chinese invaders.
Note: Entrance fee of Ngoc Son Temple is 30.000 VND/person
From Evening to night
Vietnam tours Hanoi is extremely impressive when it is dark… There are many activities in the old quarter. However, before join in the bustling atmosphere, you will choose a restaurant for dinner. You can find some famous restaurant like Cha Ca La Vong, Sen, Khai Silk Restaurant, Madam Yen… it is very easy to find them.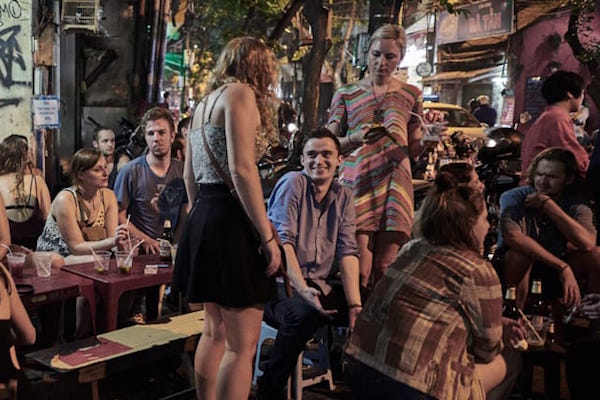 After your dinner, you prepare for the evening activities like:
Walking on the walking streets around Hoan Kiem Lake such as Ly Thai To, Hang Dao… There are many Vietnamese traditional games with the fresh air (without means of transportation)

Drink fresh beer, have street food again and enjoy the special street decor in foreigner streets like Ta Hien, Dao Duy Tu…

Participate in some street music band in some famous streets

Drink cafe from above (around Hoan Kiem lake) or join in a bar/pub – they are available in all streets at old quarter.
After a busy day discovering Hanoi, Vietnam tours Hanoi 1 day will help you know more about the people and their lifestyle as well as the historical structures. We hope you have memorable moments in other regions of Vietnam – They are really beautiful and the people are always friendly and hospitable.