7 days itinerary North Vietnam will provide you the value experience by specific sites. You discover North Vietnam's cultural diversity and breathtaking scenery. For example, from Hanoi's colonial charm to Sapa's the superb mountains and finally, the strange caves in Halong Bay bring the best trip for you. Travel Sense Asia has been designed the detailed journey to showcase the main Vietnam's quality for foreigners.
The best experiences you will have chance to discover
Visiting the Ho Chi Minh complex and Museum of the Cultures of Vietnam Ethnic Groups
Discovering and shopping in Hanoi Old Quarter
Enjoying the sublime natural beauty and cool climate of Sapa's mountains and valleys
Trekking to the top of Fansipan Peak called the Roof of Indochina
Exploring several strange caves on the cruise
Participating the water-activities on the Halong Bay
Visiting Hanoi – bustle/hustle city
After landing at Noi Bai airport, you will spend two days to discover the most popular places in Hanoi. Hanoi is an architectural treasure and has been the political and historical center of Vietnam for over a thousand years, with a wealth of sights to explore. Heavily influenced by French colonial architecture, Hanoi is both historically beautiful and a vibrant capital city sure to entice you. The city tour will start with well-known sights of the Ho Chi Minh places complex including the Mausoleum, his former stilt-house residence, and one-pillar pagoda. The next stop will be Tran Quoc pagoda, a beautiful pagoda, located by the side of the West Lake.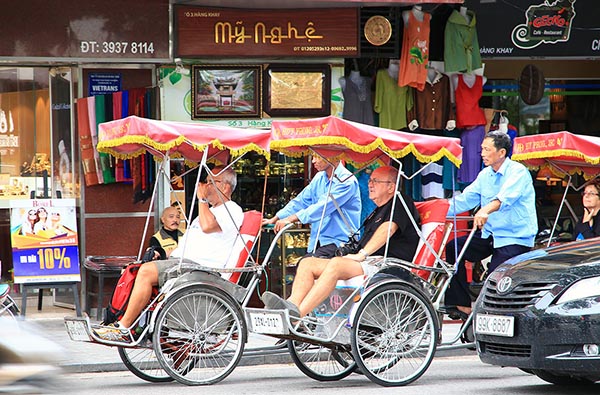 Hanoi Old Quarter
The next destination you shouldn't miss is that Hoan Kiem Lake (or is called Turtle Lake) located on the central place of city attracting locals and tourists throughout the day. Den Ngoc Son is dedicated to the spirits of the soil and literature. At the southeast corner of the lake and is opposite to the lake, the enormous Hanoi Post Office stands, which marks the northern fringe of the French Quarter. This is a great chance to observe the daily life of the locals and capture some memorable pictures. Then, you start to explore the diverse architecture and the famous 36 streets of the Old Quarter on a walking tour. And you should go to Dong Xuan market to buy some necessaries for trekking mountains in Sapa like clothes, shoes, medicines, and so on.
You should go to Ta Hien street called foreign street to enjoy the Vietnamese foods. If you come to Hanoi for the weekend, let's walk to the night market to satisfy the atmosphere.
Temple of Literature
Temple of Literature is seen as an old-traditional appearance, which is one of most 7 days itinerary North Vietnam destinations for tourists. Coming here, you will learn more about the historical and cultural events at the peaceful temple.
Museum of Ethnology 
You will continue visiting the Museum of Ethnology to get the knowledge about the country. This museum contains an extensive display of life-size structures dedicated to Vietnam's 54 ethnic minority peoples. However, Museum of Ethnology is closed on Monday so Ho Lo prison will be the alternative site to visit for you. If you want to visit both, you should arrange your time. Next, you should go to Thang Long Water Puppet Theatre to understand about the historical culture in Vietnam.
Discovering Sapa – rice terraces, ethnic groups destination
Cat Cat, Sin Chai village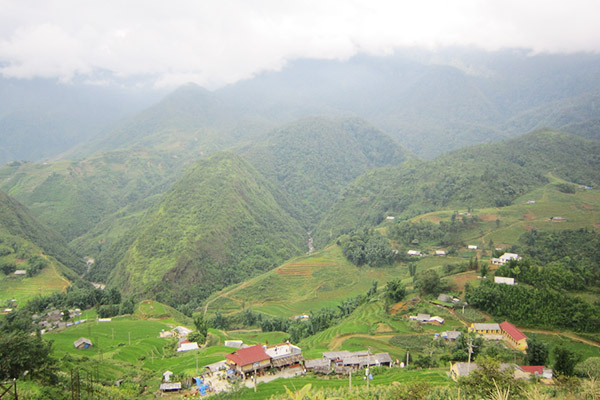 When you come to Lao Cai station, you take a taxi to your hotel. After the breakfast, following to your local people, you have a plan trekking the hill tribe villages of Cat Cat, home to the H'mong ethnic minority peoples. For a long time, local people still keep many traditional handicrafts like weaving fabrics, planting cotton and so on. It ensures that you will enjoy picnic lunch by the side of the river, and then walk nearly 3 kilometers to Sin Chai Village located at the foot of Fansipan, "the roof of Vietnam and Indochina". You can have experienced in the life of Black Hmong and Dzao people by staying at homestays in minority villages who situated at the foot of Mount Fansipan. High recommendation for you is to enjoy the massage service or take a bath of ethnic groups in order to relax.
Ta Van village
You trek to Ta Van village where you can see the H.Mong, Zay, Dzao… dressed in the traditional costume that is unique to the Northern region. Witness a truly simple but traditional way of life that exists as it has done for centuries. You tour their villages and traditional houses surrounded by the unspoiled beauty of nature as well as enjoying the hill tribe hospitality before you return to the town.
Giang Ta Chai village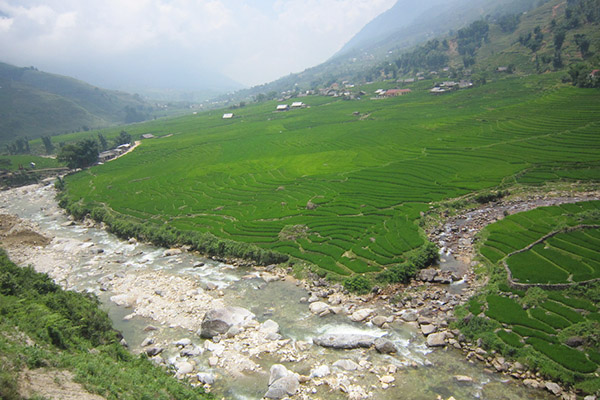 Walk past beautiful terraced rice fields, you will also trek through a gorgeous bamboo forest which belongs to Hoang Lien National Park to a picturesque waterfall in Giang Ta Chai village. Giang Ta Chai located in the opposite to Muong Hoa stream and was hidden by old trees and bamboo groves. You can explore the life of ethnic minorities; admire the spectacular natural scenery with the terraced rice fields. You visit Sapa's ancient rock with engraved images, both big and small – unique patterns of the ancients. Approaching the life of H'mong local people, you can know how they make their clothing. They buy the yarn at a local market; they still typically weave and embroider the fabric themselves. Their many crafts, their embroidery is stunning. Giang Ta Chai village offers the rice paddy fields and the stunning views on the other side of Muong Hoa Valley.
Bac Ha market
Bac Ha market – the most destinations in the Northern Vietnam itinerary which is always the colorful meeting place for the hill tribes. You can have breakfast in this market as it has many delicious foods and drinks. You explore the Sapa daily market and then trek along buffalo paths and trails and through several hill tribe villages of Lao Chai and Ta Van, home to H'mong, and Dzay people. This colorful market opens only on Sunday and it always delivers very photogenic display costumes of ethnic groups such as Black Hmong, Dzao, Giay, Lu, Nung and Phu La. You will learn more the about the Vietnamese Ethnic peoples.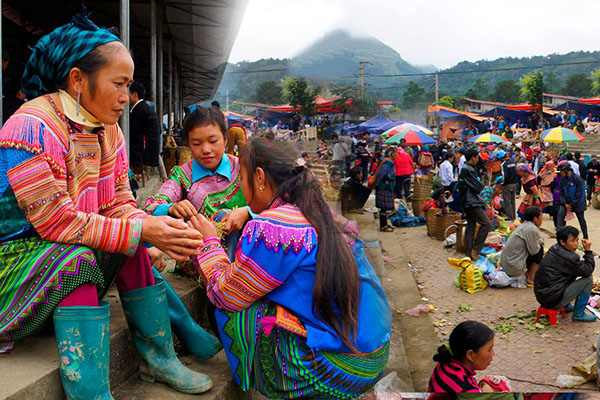 Traveling Halong Bay – one of the seven Natural Wonder of the World
To get the best trip in Halong Bay, you need to take two days to explore the most destinations in here. We note highlight places in the above for you.
Vung Vieng village
Vung Vieng which is one of the largest fishing villages in Halong Bay. After climbing up the mother boat, you will be departed by rowing boats or kayaks to enter Vung Vieng village. This village offers a great opportunity for visitors to experience the villager's daily life as well as observe the traditional culture and customs of the fishermen. Moreover, you have a short visit to Pearl Farm to learn how natural pearls are created and return to Paloma Cruise for your leisure or join one of the following optional activities: Sunbathing, traditional massage, swimming and so on. You will take 30 minutes to freshen up and finish packing then upon return to the boat. Otherwise, you have another option in there, it is going kayaking by yourself at Ban Chan island. Ban Chan beach brings a unique masterpiece, bewitching any public mind had. Its landscape is the harmony between the clouds and water. Ban Chan is surrounded by rocks and trees of green forest covering along the sea, nature points with a poetic beauty and charm to heart with the fresh air, blue water and white sand stretching for kilometers beneath blue casuarina pines. It ensures this place is very attractive as you can enjoy yourself on the beach, swim and play some volleyball or try your hand at some kayaking in the magnificent setting of Halong Bay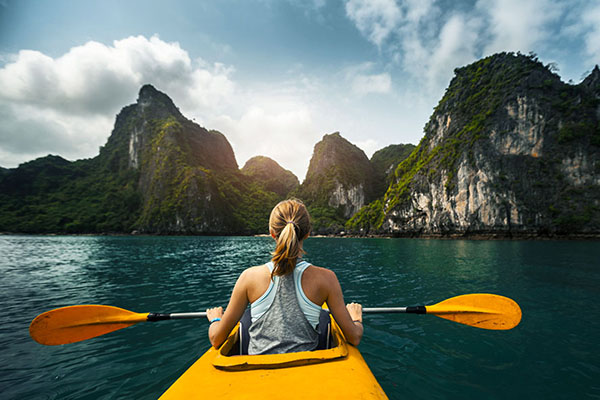 Besides, you can participate the activities such as the light music for dancing in the dining room, film entertainment and playing cards are provided, and massage services are available. Additionally, you may also try squid fishing and fishing from the boat. The entertainment activities are available till 22:00 a.m.
Additionally, Tai Chi exercise on the sundeck is a combination of deep breathing and relaxation with slow, deliberate movements, meditation, and breathing exercises. Tai chi is very good for your healthy and safe for all ages and fitness levels. This session is a great benefit for relaxation and wakes up your body in the morning. It is a very practical way for you to refresh from a mind.
Thien Canh Son Cave
Another destination in 7 days itinerary North Vietnam is Thien Canh Son Cave called Dong Co by local. This cave is a wild cave located on Bai Tu Long Bay, in the center of Cong Do Island. You have the feeling like climbing toward heaven as the pathway to this cave is set below the forest canopy and a stone cliff. Clearly, inside the cave, it is an ethereal wonderland with naturally carved images resembling a lotus, and a baby elephant. You would walk up about 100 stone steps, placed under the foliages and craggy cliffs which bring in a new feeling like climbing on the heaven gate's side. The ceiling of the cave is covered with a shiny 'gem carpet' and a large number of sparkling stalactites like 'hanging lamps'. Stone of seals and flowers build a paradise in the world. Thien Canh Son Cave offers a wild and mysterious beauty. Coming here, you can discover the geological value of the bay, and to enjoy a cozy dinner with family and friends in sparkling candlelight. It attracts so many tourists both domestic and overseas by a rare natural beauty, pristine limestone stalactites and beautiful surrounding landscape.