A golden time to visit Vietnam such as Hanoi, Ho Chi Minh, and other nearby destinations, the sky is clear and the wind is gentle. No doubts about the weather in December, temperature lightly decreases by 2-3 degree Celsius and one cannot realize that they are in a tropical country anymore. Coupled with the many colonial buildings here and there in the downtown area, there are four destinations in two areas including Hanoi and Saigon in this month very interesting with the beautiful views and huge cultures with several important holidays. You shouldn't trouble about coming to Vietnam in the first time because we will mention the powerful information about the famous Vietnam holidays December 2016.
In December, there are two famous holidays such as Christmas and the New Year which are two of the most important festivals during a year in Vietnam.
Christmas in Vietnam
Hanoi capital
The average of temperature in Hanoi is 17-22 degree Celsius, but the lowest temperature at night usually only 13-15 degree Celsius. Therefore, you have the plan to bring some waterproof shoes, warm socks, a waterproof jacket, sweater and so on. Christmas is the time for your family gathering, almost of streets, hotels and restaurants in Old Quarter are all well-decorated with sparkling lights, specific tools.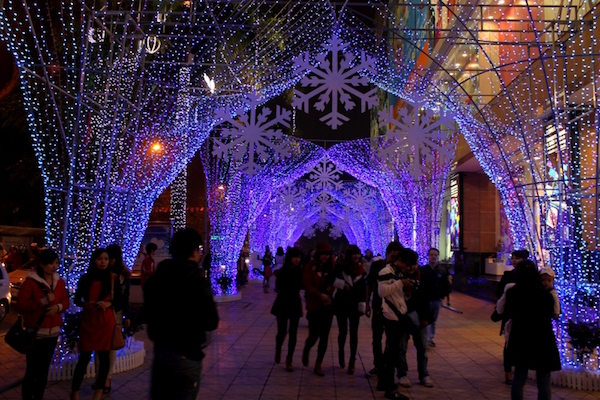 For example, Hang Ma is one of the famous streets in Old Quarter, which is the most bustling at this time thanks to the large numbers of souvenir shops decorated magnificently. Visitors can freely take the photographs with the decoration tools such as pine trees, snowman templates and space in here. Nearly Hang Ma is "Foreign street", which is Ta Hien comprising of many bars and restaurants where guests are able to sit on the pavement without obstruction, talking with friends and enjoying some delicious foods and beers. In Merry Christmas, people tend to visit the churches and specific places. For instance, Nha Tho Lon (the Big Cathedral) and Ham Long Church are two most well – known churches that are appreciated by not only their architecture but also spiritual belief. The night of the 24th is the most eventful time in Christmas, which supports all of you feel the modern and traditional atmosphere in Hanoi.
Ho Chi Minh City
Ho Chi Minh City enjoys warm weather in December with temperature ranging from 22 to 28 degree Celsius so it is hotter than the North area, Ho Chi Minh is the busy commerce capital of southern Vietnam, usually welcomes the start of the dry season in December. It means that you won't need to pack your wellies for this trip. Ho Chi Minh, being the growing country's most bustling and international city, which is a great place to celebrate the end of the old year. On Christmas, Saigon as a formerly Catholic city, the grand old cathedrals are fantastic, and the world-class hotels completely contribute to the spirit of the holiday with displays and events not only for Christians but these for all fans of Christmas as well. Different with local people in Hanoi, thousands of people tend to go to in front of the Diamond Plaza shopping center in District 1, Ho Chi Minh City posing with Christmas decorations. In some areas of Ho Chi Minh City, usually in Catholic parishes, people have big scenes in front of their houses and decorate the whole street and others Christmas area! These are popular for people to visit and look at the scenes.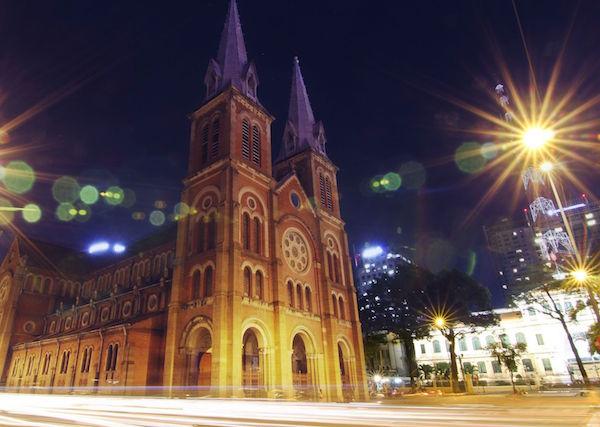 Traveller can spend the last time of the second day on Bui Vien Street. Actually, Bui Vien is known as a place for tourists to be able to feel the soul of Saigon, which is simple and the connection of the old and the new, of the East and the West. You don't trouble about drinking beer and eating some special foods which are suitable with foreigner's favorite then you should come to your hotel and have a good night. During holidays, you completely can come to famous clubs or bars to feel free the atmosphere in Ho Chi Minh City.
New Year in Vietnam
Hanoi Capital
New Year holiday is one of the most famous Vietnam holidays December 2016. The streets in Hanoi in this holiday are not noisy like others day because thousands of people come back to their hometown with their family or have a journey out of city. New Year holiday is a good chance to travel and feel other experiences in the city. As you know, Vietnam is a country with a lot of beautiful landscapes and attractive destinations. Taking a trip Vietnam from North area to South area will give you a deep understanding about culture, custom as well as specialties of the country. The most popular annual countdown and music party are organized in these holidays with world-class lighting, amazing sound systems and mind-blowing visual effects, featuring top-notch Vietnamese and international singers and DJs. Let's come and enjoy with us based on the following highlights: culture foods, visit handicraft villages and some streets on Christmas day. There are many traditional foods such as glutinous rice cake (Bánh Chưng), dried young bamboo soup(Canh Măng), sticky rice (Xôi Nếp), spring roll (Giò) and rice cake (Bánh Tẻ), bean cake, soybean sauce, peanut cake,etc. Besides, tourists should visit some handicraft villages such as Bat Trang and Duong Lam to discover traditional business and culture in there.
In the North area, beside of being a romance destination, Sapa is also the best choice in these holidays because a lot of people tend to visit this destination to relax. As you know, Sapa always attractive more tourists by full of fog and the traditional markets with several colorful activities and products. You completely go to the Church's area for living the ethnic's Love market and feeling the clear atmosphere in the mountains Sapa.
Ho Chi Minh City
For New Year's celebrations, the city turns out in force to party with the rest of the world. And some restaurants in the city give travelers a front – row view of the colorful explosions filling the sky. No doubts, you should check out The Rex Hotel's iconic Rooftop Beer Garden on Dong Khoi Street because of its quality services. Actually, it is a fantastic place to start off Lunar New Year holiday in the busiest city in South of Vietnam. Other destinations are parks in Ho Chi Minh City like Dam Sen Park, Suoi Tien Park which are great choices to spend your holidays. There are a lot of activities organized in these parks during the holidays like the festivals that you can play many games and the music shows. Especially if you travel with your family and children, they will surely enjoy the colorful decoration and festive atmosphere at these theme parks. Besides, there are many beautiful temples where a numerous of people come to pray for good things in New Year.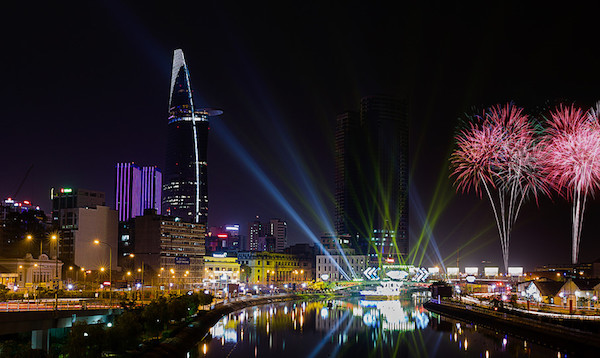 Da Nang
But they are not all destinations in Vietnam, Da Nang is a large city with a lot of events in Christmas and New Year. The temperature also increases by 10% compared to the South area, and fluctuates between 20 and 23 degree Celsius.  Hoi An has two churches that you can attend such as Catholic church on Nguyen Truong To street and Protestant Church on corner of Hung Vuong street and Phan Chau Trinh street. Traveller also can enjoy the special foods in the center area, which are very delicious.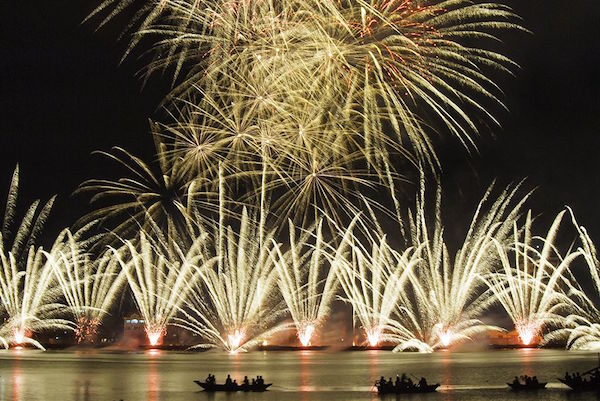 Especially, over one month later, this time is to happen the Lunar Year called Tet holiday is the most traditional and important festivals in Vietnamese calendar. Therefore, all of people are living in the atmosphere holiday with a historical culture and special custom. We recommend you to visit Vietnam in Lunar year to feel about the interesting.
To conclude, discovery to the Vietnam holidays December 2016, I ensure that tourist has a huge knowledge and experience about local people. As a result, they want to come back there again because of beauty landscapes and friendly citizens. Otherwise, the travelling costs are not higher as you think. Please contact us to receive some suggestions for a dream trip.