The taste of cuisines in each of regions from Northern Vietnam to Central Vietnam is different. However, you can choose any restaurants in Hanoi to enjoy almost authentic foods in all three areas. Coming to Vietnam country, you not only like the traditional foods in here but also you will try the favorite foods from Western and Eastern countries. Here you will have the chance to taste Vietnamese dishes that go along with the city's history, with a little elegant Western touch sometimes. Hanoians prefer their food saltier with more fermented sauces than their southern counterparts. This is in part a legacy of the harsher climatic and agricultural conditions of the north and the relative scarcity of fresh and high-quality ingredients. Northerners have had to make do with less throughout history and exotic sauces were one way of creating a tasty meal from basic elements all through the year.
The top 5 authentic cuisine restaurants in Hanoi
1. Duong restaurants
In the recent time, the hotkey restaurant is found so many is Duong restaurant system. Different with other restaurants, Duong restaurants not only bring many delicious cuisines but also offer some cooking classes. The chief – Hoang Duong who is voted in the Top Master Chef Vietnam prepared and the restaurant is beautifully designed in traditional Vietnamese style. If you want to take some of their skills home with you, be sure to sign up for one of their acclaimed cooking classes. After that, they will teach you how the subtle blend of spices which are the key element to creating the outstanding flavors that are found in some of the favorite dishes of the Hanoian. Duong restaurant is a traditional food court where can bring the regional specialties from across Vietnam, all cooked fresh to order.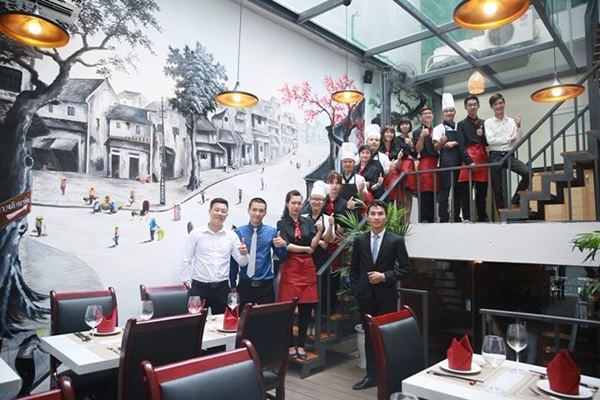 2. Green Tangerine Restaurant
One of the famous restaurants in Hanoi is Green Tangerine – one of the most favorited restaurants for people who want to enjoy French cuisine. This restaurant combines both of Vietnamese's fresh ingredients and  French's subtle cuisine and Vietnamese's fresh ingredients. You can enjoy some European dishes that are cooked in Vietnamese style such as pineapple, mango in French dishes.
During the day, the cookers offer the two-course or three-course lunch set, which comes with a starter, main, and dessert. You will be satisfied with the homemade desserts in this restaurant such as apple crumble with red fruits sauce and Calvados, both of which are served with a scoop of ice cream. Green Tangerine Restaurant is one of the places Where to eat in Hanoi in order to make a reservation.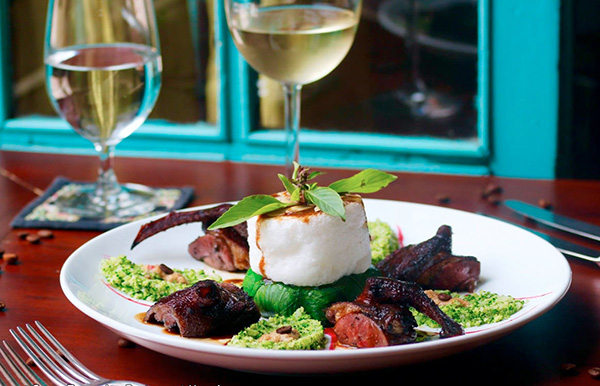 3. La Verticale Hanoi
La Verticale is a French-cuisine restaurant found by the famous Chef Didier Corlou. This restaurant is designed to France style such as floral floor, wooden shelf and big pole with patterns. Thus, it always provides the comfortable armchairs and excellent views from the center of the capital. Western cuisines are carried the strong touch of Vietnamese flavors will be offered by the Chef. You will be offered bottled spices such as peppercorns, wild pepper, star anise, and aged nuoc cham sauce. With its unique combination, La Verticale really provides a high-class cuisine experience.
Many delicious foods are set up on the menu with desserts and optional wine pairing. When you enjoy the foods here, you will love a stylish spice shop that resembles an apothecary. La Verticale is evaluated excellent food-and-beverage, romantic ambiance, and old-world charm, but the price range is much higher than others.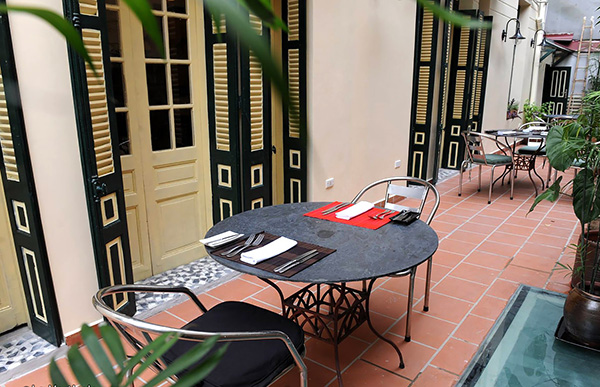 4. KOTO
Established by an Australian with Vietnamese origin in the 90s, KOTO is not only a famous restaurant but also a training school for disabled people. The restaurant is located near the Temple of Literature, brings the Vietnamese cuisine experience to the historical site. Here the traditional dishes are twisted a bit in flavor and presentation to make it more Western-friendly and beautiful. KOTO stands for 'Know One, Teach One' where you can enjoy powerful Vietnamese coffee and all Vietnamese dishes. The atmosphere of KOTO is pleasant as it is a charitable local where offers the chance to learn a trade and earn a living by working in the restaurant. Coming here, you will get the happy atmosphere and a willingness to provide the best possible experience of staff team. You should try a Vietnamese Ice Coffee here and have renewed energy all day!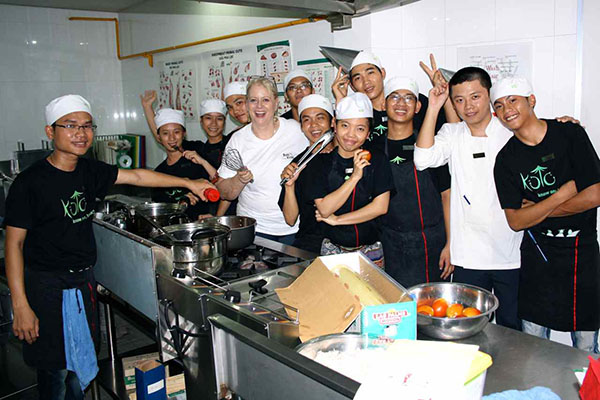 5. Home Hanoi restaurant
If you choose a luxury restaurant, you can find Home Hanoi restaurant. This restaurant is a perfect place which combines the old-world splendor and edgy sophistication. The finest traditional Vietnamese foods are served by the famous chefs in the warm service within spectacular surroundings.
With brick, wood and a deep, inviting yellow, this classic villa sets the perfect atmosphere for you to enjoy some of the finest seafood in the city – but that's not all. Their menu is remarkably varied, with a delightful wine section and enough choices to keep you coming back again and again. It's no wonder celebrities dine here, as Home Hanoi elevates the dining experience in this city.
List of most popular cuisines in these restaurants in Hanoi
1. Bun Cha
Bun cha, and cha ca are tasty, accessible local dishes that shouldn't be missed during a visit to the capital. Try and push yourself beyond the stench and sample the exquisite mam tom (fermented shrimp) sauce with your cha ca. You won't forget it. You may become a fan for life.
As the home of Vietnam's most well-known dish, Hanoians are very protective of their pho offerings and will be displeased with unfavorable comparisons to the different version from the south. Detractors attribute MSG to be an excessive feature of Hanoian dishes and some say it defines the pho. Check if you react badly to MSG.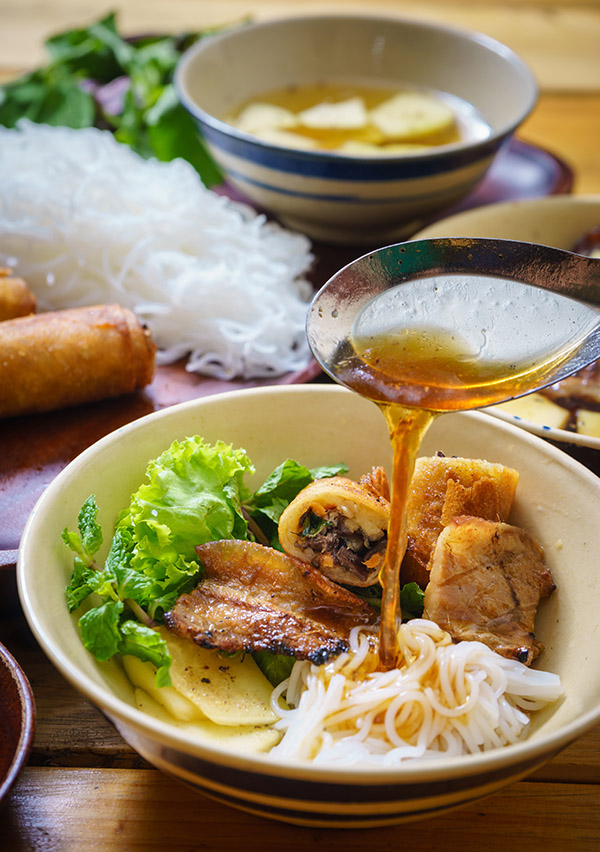 While dog and snake are eaten throughout the country, Hanoi is the city where their consumption is most common. If you want to explore these exotic flavors, Hanoi's a good place to do so. Bear in mind though that even for Vietnamese, eating dog and snake is usually a rarity. These are not stapled dishes and plenty of Vietnamese across the country would never touch either
Hanoi may well be the best place in Vietnam to sample street food.  You can barely walk a block in the Old Quarter without stumbling across a rundown opening packed with tiny plastic stools, low tables, and enthusiastic diners. These places are so abundant that it would be ridiculous to list favorites.
2. Cha ca (Grilled Fish with Dill and Tumeric)
Cha Ca is one of the unique specialties of the Hanoian, which you must eat in Hanoi. All above restaurants serve a great cuisine for clients. Almost foreigners love this dish so much and can absolutely say it is a Hanoi food worth flying for. World-renowned, The New York Times followed its history from Vietnam to the United State.  "Hanoians even have a saying that … "someone should try this once in their life before leaving this world."
The main ingredient in Cha Ca is grilled fish and other ingredients are vegetables, special spices. This dish is cooked directly on the table and the savor of foods will be better when enjoy.
3. Pho – Vietnamese Noodle Soup
Pho is the most popular food in Vietnam. All three regions in Vietnam have the particular types of Pho like beef, chicken, fish, pig. The dish includes several ingredients with slices of beef, rice noodles and a plateful of fresh herbs.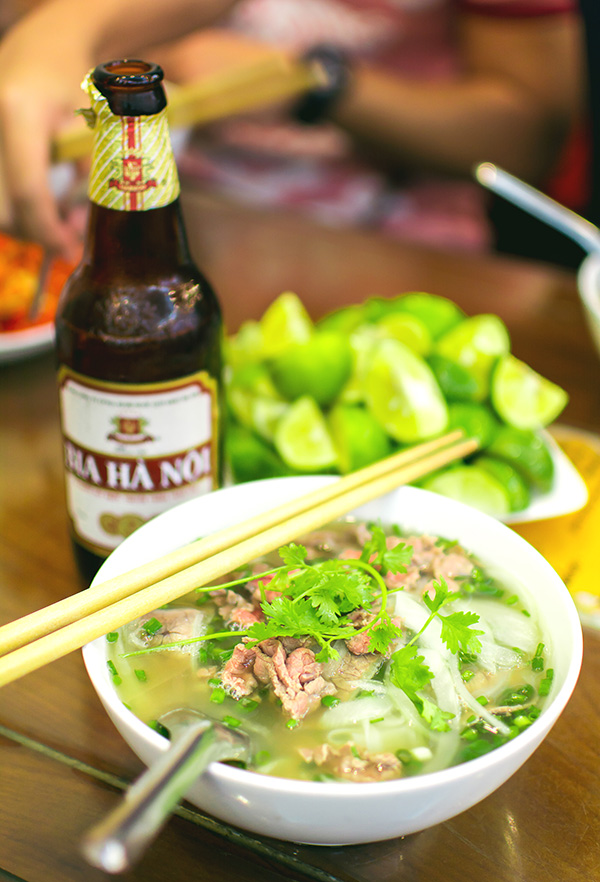 There are many restaurants, street-corners that sell this cuisine. When you choose one of above restaurants, you can enjoy the good taste. You have just paid 20$-35$ a bowl. The people get a cheap bowl of soup with ultra-fresh ingredients and slow-cooked, melt-in-your-mouth slices of beef. The taste of bowl cooked by each of the chef is different so you can try second times, it is still.
4. Banh cuon (Steamed Rice Rolls)
Steamed Rice Rolls is another traditional food in Northern Vietnam that you shouldn't miss. Whenever you want to try this food, you can select one restaurant or others. However, it usually eats for breakfast in Vietnam. And you can call add the egg with this cake.
Banh Cuon is made of a thin rice sheet rolled and mixed with small meat and dried onion. It is served with fried shallots and cilantro herbs on top.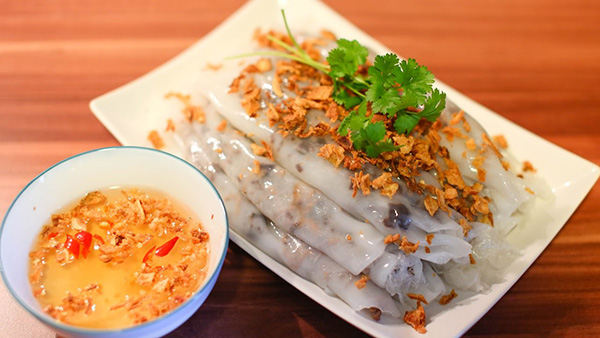 As with most Vietnamese dishes, Nuoc Mam of fish sauce is used in the dipping sauce. The rice sheet is made by steaming fermented rice batter on a cloth stretched over a pot of boiling water. Of course, people fell in love with the big pieces of fermented rice noodles served with fresh herbs and bowls rice rolls. The most important factor evaluated the best cuisine is the dipping sauce may have been flavored with "Ca Cuong", the essence of a giant water bug. The chef must get the awesome sauce which made from the good shrimps. It is also the secret flavor of this Hanoi food. If the rumor is true, then we got some extra protein.
5. Xoi (Sticky Rice)
Without noodle, rice, tourists can enjoy the sticky rice may be the ultimate Hanoi comfort food. You will like the original version of Xoi Yen, where they flavor the glutinous rice with green mung bean paste and lots of chicken fat. There are many kinds of sticky rice like pig, bird, chicken, spring,… Hanoi sticky rice is a true guilty pleasure by the attractive rice.
6. Che (Sweet Dessert Soup)
After finishing the main foods in the meal, Che is a Vietnamese dessert. There are many types of Che for your option, which offer the sweet dish in Hanoi. You can enjoy both of hot or cold, and it is cooked a wide range of ingredients like beans, fruit and tapioca beads. All restaurants serve a fantastic bowl for clients with free costing at the end of meal. But if you visit the street-corners you have just paid 15$-30$ a bowl. The favorite of clients was this hot sugar cane brew with a porridge-like texture and a strong ginger taste.