Vietnam is owning stunning natural landscapes, untouched islets and quaint villages to war museums, ancient citadels and cultural attractions of chaotic highland markets to the hill-tribes in the far north.  Vietnam country has not only famous for stunning destinations but also it offers a lot of delicious cuisines and particular souvenirs. In this article, you will have a general view of North Vietnam attractions.
What Are the Most Popular North Vietnam Attractions?
List of the most memorable places in Northern Vietnam
Hanoi capital
Hanoi capital is keeping an exhilarating blend of eastern and western culture. It is still trying to retain its original and distinctive rich history, heritage and attractiveness.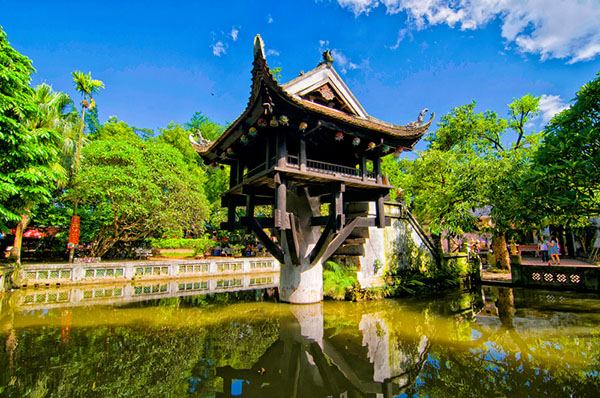 Vietnam Museum of Ethnology: Vietnam country is actually coagulation of 54 different officially recognized ethnic groups. The Museum of Ethnology becomes a popular destination helping tourists gotten more knowledge about the culture of Vietnamese people. It is displayed a combination of art, and historic artifacts to better tell the story of each unique culture. Thus, it is known as the best of modern museums in Vietnam.
Temple of Literature: This is the nation's first university, which is meant to honor all scholars. Today, calligraphists will come and write goodwill wishes in Han characters during the Asian New Year at the steps of the temple, to give as gifts. The temple was built with five courtyards and various temples and other buildings throughout the expansive grounds. In the tradition, honor the names of all who pass the royal exams.
Hanoi Old Quarter: Spending two hours on complex of Ngoc Son Temple, The Huc Bridge, and Pen Tower, you will get more knowledge about Vietnam. With influences from all over the world, the city's Old Quarter still keep the interesting architecture and history. The old quarter is a mesh of the old and the new, as antique narrow streets snake between old brick buildings, covered in modern motorbikes and street vendors. In the late afternoon, one suggestion for you is to watch the water puppet show to its street market. As the quarter was designed around the market, you will find that the streets here are all named for the kind of products that were once sold along with its sidewalks, from wood to silver to paper.
Sapa
Sapa is famous for its culturally diverse population as well as its proximity to incredible scenery. Sapa is home to the members of many hill tribes, including the Hmong, the Dao, the Muong, and the Tay. You can hike out to the more remote villages and then spend the night, dining and learning from the hill tribe residents.
Cat Cat village: It is the old village of ethnic groups which attracts tourists from all over the world for its distinctive customs and practices. You will have an opportunity to see farms and techniques used by the people in the area. Black H'mong people live in Cat Cat village who have the large income from the brocade weaving craft as well as its gold and silver jewelry making. You can buy several traditional souvenirs from the local hosts with cheap price.
Ta Van village: This village is an exciting place in the Muong Hoa valley, located about 10 km from the town of Sapa. This village owns the biggest valley with the awesome landscape of the golden rice terrace field in Vietnam. Dzay people live in Ta Van village. It is a small group of ethnic people and they still keep a rich and traditional culture.
Fansipan: The most difficult challenge for trekkers in Sapa is conquered the top of Fansipan Peak. Thus, you will need to spend two days and one night finishing the hike. You should follow a local experienced guide and porter who brings your luggage as well as understand the route deeply. One suggestion for you is to overnight in the tent on the mountain slope facing west, near a mountain stream. After all, you will conquer to the peak of Fansipan Peak, with the height of 3143 meters. After that, you need to spend three hours to pass the dense bamboo forest, but it is worthy as from the peak, you can grace the best panorama of Vietnam.
Bac Ha market: It is the big Sunday market of the Flower Hmong people. You can meet with the people of the local ethnic minorities in the neighborhood, mostly with the Flower Hmong and Tay. There are many ethnic groups come here to exchange the goods such as Flower Hmong ethnic group is Tay, Dzao, Tu Zi, Nung, Phula, La Chi, Lo Lo, Xa Fang, Lachi, Nung, Phu La. Bac Ha market is the place displayed animals and the products of the local people such as different textiles, saddles for horses, cushions, figurines and other handcrafted items.
Halong Bay
One of the best north Vietnam attractions is Halong Bay as it is truly beautiful. You should buy a ticket to travel the Bay on the cruise in order to get the experience the beauty of Halong Bay and to see as many of the islands as possible. You can explore or find some of the more remote, uninhabited islands while cruising through Halong Bay.
Sung Sot cave and Dau Go cave are famous caves in Halong Bay that you do not miss when coming here. Sung Sot cave is famous for the spectacular and magnificent beauty. To enter the cave, you must pass the long stone staircases to pass the luxuriant forests. Thus, you will have an interesting opportunity of climbing the mountain. The cave is a wide range of stalagmites and stalactites in mysterious and various shapes. You may be attractive when contemplating the pristine beauty of this cave.
Vung Vieng Village: One of the most attractive things in Bai Tu Long Bay is driven rowing boats or kayaks to enter Vung Vieng village. You will be transferred by a tender to a fishing village to experience the daily life of fishermen in Halong Bay. From here, you have some choice to discover the beauty of the bay like rowing a bamboo boat with local people or kayaking around the Luon cave…
List of the traditional foods in Northern Vietnam
Pho (Vietnamese noodle)
Pho is a typical dish of Hanoi people existed for a long time. To cook a perfect dishes, it is required to have sweet but pure bouillon, soft but not crashed noodle, soft and sweet-smelling meat. Especially, you will get the most feeling in the cool day as you enjoy a hot and sweet-smelling bowl of Pho (Vietnamese noodle) to complete flavor of the special dish of Ha Noi.
Cha ca La Vong (grilled fish pies)
This is a unique specialty of Hanoi people, therefore one street in Hanoi was named as Cha Ca Street. Cha ca is made from mud-fish, snake-headed fish, but the best one is Hemibagrus (Ca lang). Fishbone is left away to keep fish meat only, then seasoning, clipping by pieces of bamboo, and frying by coal heat. An oven of coal heat is needed when serving to keep Cha hot. Cha ca is served with roasted peanuts, dry pancakes, soft noodle soup, spice vegetables, and shrimps paste with lemon and chilly.
Bamboo sticky rice
Coming Sapa, you will know "Com lam" food which is popular and favorite dish of the locals. Different from others, the rice is cooked in bamboo sections so that this food has the fragrance of bamboo, the harmonious combination of rice, stream water. In fact, local people need to collect the bamboo then cleaning and chopping them into small sections at about 30 centimeters in length. The locals mix rice with a little bit of salt in order to make the best work that stuff up bamboo. The water is cooked in this dish which is brought from the streams which are fresh and a little bit sweet. A most difficult thing in here is that you need to resolve the bamboo sections while cooking. When the dish is well-cooked, the burnt bamboo steam outside will be removed and thanks to the delicious taste of the sticky rice
Grilled food
The weather in Sapa is cool all year, that why every tourist never forgets to try grilled dishes when visiting here. If you are fond of spicy food, you should try skewers. Chunks of meat are coated with spices, oil, and chili powder and skewered on bamboo sticks and grill. Each skewer has its own spices, you feel boring. Moreover, you can enjoy some other perennial grilled food like corn, sweet potato, cassava, and other birds. The prices just fluctuate 3,000 VND- 15,000 VND per dish.
Thang Co
Thang Co is one of the most famous dishes of H'mong which one of monitories groups. Thang Co shows the ingenuity and cultural beauty of ethnic. It is cooked from meat, organs of the horse, vegetables and special kinds of spices. However, to attract more foreigners, the Dao, Tay people also know how to cook the dish.
Sea-food in Halong Bay
Visiting Halong, you shouldn't miss Sea snails which are made from sea snails, but this is to emphasize the significant contribution of this irresistible food. There are types of sea snails in this beautiful bay.
List of the popular souvenirs in Northern Vietnam
Vietnam is no exception since there are so many beautiful handicrafts and traditional things that you want to bring back home. Vietnam offers plenty of souvenirs which are useful as great gifts for beautiful home decor.
Silk
One of the most popular souvenirs in Vietnam is silk which brings the deep meaning. It is used in a scarf, paintings and many kinds of traditional costumes in Vietnam. Silk is made by the ethnic groups which have beautiful patterns, along with distinguished colors and sizes. In the tourism area, you can buy woven silk or products made of silk. The price is various for your choice.
Ceramic products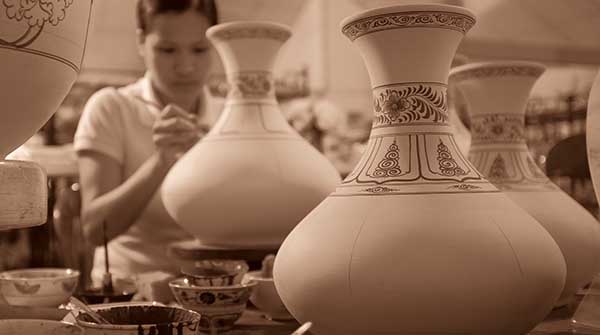 Ceramic products appear for a long time, which is a special gift for a Vietnam journey should be a ceramic vase, lacquer vase or such variety in a plethora of sizes, shapes, and colors. They are a reasonable price to buy for your friends and family.
Brocade
Sapa is famous for colorful handicrafts, especially brocades. You can see a variety of brocades varying in shapes and sizes including scarfs, purses, bags, clothes, dresses and so on. All are meticulously handmade products involving a careful and long process. It said that these products show the unique culture, tradition and the soul beauty of local people.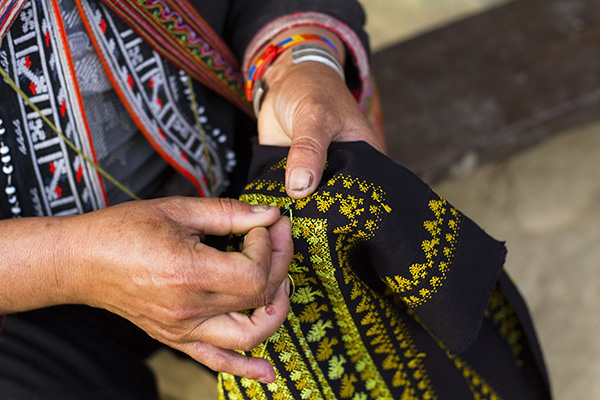 Local fruits
Vietnam is developing the agriculture field especially, grow the fresh fruits to export. Therefore, coming here, you should taste some fruits and bring to your home. In addition to those fruits, tourists paying a visit to this 'city in fog' also should buy some dried mushroom – the famous specialty of the region with the unique taste.