Vietnam has one big advantage for travelers trying to work out an itinerary – it's long and narrow. It pretty much means Vietnam is a country with a rich history as well as a past filled with turbulence. Starting the trip with Ho Chi Minh city, it is a welcoming atmosphere where visitors can mingle with locals and experience everything from the city, villages, and beaches. Reading carefully this guide, you can expect to get to know the most Vietnam vacation deals in two weeks, including its biggest cities and landmarks, as well as see some of the most scenic views.
>>> Best Time to Visit Vietnam
Spending 5 days in the Southern region
Ho Chi Minh City
Ho Chi Minh City is still commonly referred to as Saigon. After American troops left the city in 1975 during the Vietnam War, Ho Chi Minh City shrank in size, since many of the residents fled. There are many attractive places in Ho Chi Minh City such as the Reunification Palace, the French colonial City Hall and the Notre-Dam Cathedral, Saigon Post Office. They offer a lot of breathtaking views of the expansive city below.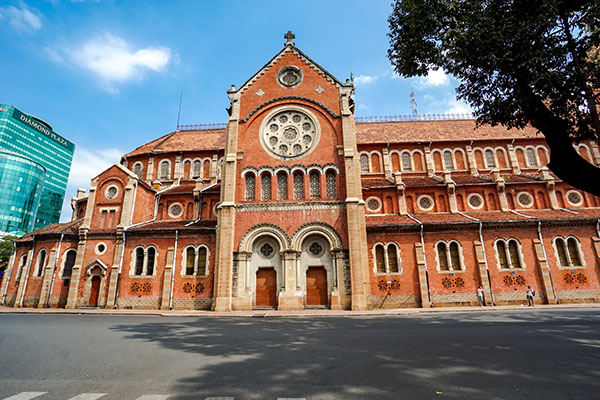 After finishing almost places, you should come to Saigon Opera House. This opera has been constructed by the French architect then you will be offered many high-profile events in the city.
Mekong Delta
You move to Ben Tre approximately two hours, and a gateway to the delta. The most famous transportation in here is a small boat, so you can use the one to start your sightseeing around the waterways of Mekong Delta. You should to wake up early and take a boat to the Cai Rang market. Coming here you will see the hustle and bustle of a floating market. From a boat, you can grace the background of vendors display their wares from boats teeming with produce and buy a coffee from one of the floating cafes. The vendors can exchange the goods. For example, they usually change the fruit to rice or daily tools. Especially, you can buy particular items such as fruit, daily tools, traditional foods,…It is believed that the price of these is quite cheap. After that, one recommendation for you is walking around the village and meet the friendly local people and experience how to pass a "Monkey bridge" which is built by only one stem of bamboo.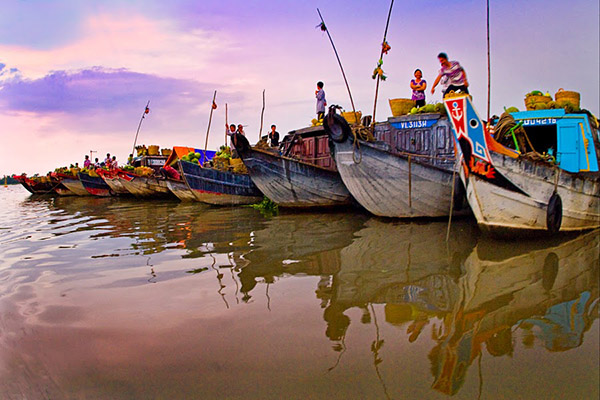 Vung Tau beach
To most tourists in Vietnam travel, Vung Tau is one of the most interesting destinations and loved for its extensive beaches. Meaning "bay of boats", Vung Tau sits on a hilly promontory of land that juts out into the ocean. One of the most famous places in Vung Tau city is Back Beach (Bai Sau), a three-kilometer stretch of sand catering to the needs of Vietnamese tourists: sun loungers, umbrellas, jet ski and tube rentals, seafood, beach toys and beer for sale. Besides, you should visit Front Beach (Bai Truoc) is located on the western side If you're adventurous, there's a small kiteboarding scene or, during low tide, you can walk over to Hon Ba islet which lies to the east of the very southern tip. It has a small temple dedicated to the goddess that protects fishermen and sailors.
Visiting Central region in 4 days
Hue
Hue is located on the side of Perfume River. Hue holds the beauty of a Vietnamese feudal empire which had vanished. Hue Citadel is considered as the representatives of the authority of Nguyen monarchy. The Citadel is the harmony of the Western architecture, which creates a charming view of the city. And Tu Duc's tomb is the most popular and impressive of the royal mausoleums. The enormous expenditure of the tomb used in its construction spawned a coup plot that was discovered and suppressed Hue owes its charm partly to its location on the Perfume River. The Imperial Citadel displays a unique South-East Asian culture.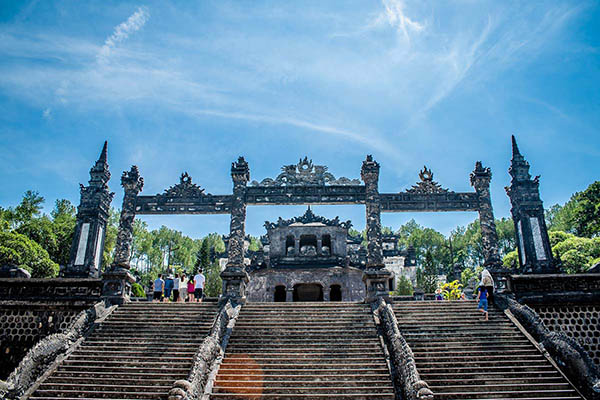 Next, the charming Lady Pagoda (Thien Mu Pagoda) will be the first stop of the day. Coming here, it gives you a great view of the Perfume River and surrounding area. In the evening, you should join the boat trip on the Perfume River to enjoy the romantic moment by the traditional sounds.
Hoian town
Another destination in Vietnam vacation deals 2018 is Hoian. Hoian is very impressed with the town interesting lines of the lamp and is Vietnam's most atmospheric and delightful town. Almost houses are turned on with colorful lamps. Not only that, you also grace a lot of floating candles appeared on the river. You will visit the Japanese Covered Bridge which is the long aged bridge and is an invaluable property and has officially been established as the symbol of Hoian. For a long year, the Fujian Assembly Hall has created all the fundamental features in the structure of a Chinese Assembly Hall.
Danang
Bana Hills is one of the most attractive destinations in Danang city. Coming here, you can see the mountains, streams… which is very impressive. Fantasy Park is the largest state in Vietnam and satisfies the entertainment demands of all ages. Then, you shouldn't miss an entertainment paradise with all kinds of game: 4 – 5D film, skiver, the death race, dinosaur park…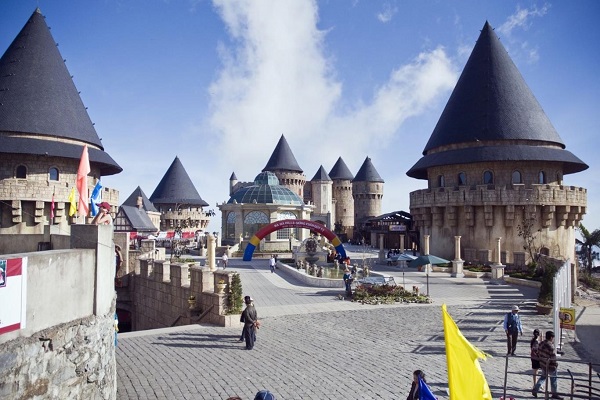 My Khe is one of the most beautiful beaches in the world. It attractive you by so many harmonious facilities supplied for tourism. The weather in My Khe beach is very suitable for swimming. And you also can take place the water sports like diving, water-skiing, diving, and the yacht race. Not only that, completely try many special kinds of seafood like shrimp, crab, squid, and abalone, …
Experiencing in the Northern region during 5 days
Hanoi
Hanoi is famous for the huge of culture and long-time historical sites that attract a lot of tourists. Ho Chi Minh complex includes several historical places like the Mausoleum, his former stilt-house residence, and one-pillar pagoda. All places where the national hero lives, namely, President Ho Chi Minh. These places are located in Ba Dinh Square. Vietnam Museum of Ethnology concentrates on the 54 officially recognized ethnic groups in Vietnam.
You should take a cyclo tour of Hanoi Old Quarter will continue your trip in the capital. Hanoi Old Quarter is constructed following the two styles like old-style and modern – styled streets to adapt to the dynamic atmosphere. You also shouldn't miss Hoan Kiem Lake, which is located inside a complex of Ngoc Son Temple, The Huc Bridge, and Pen Tower.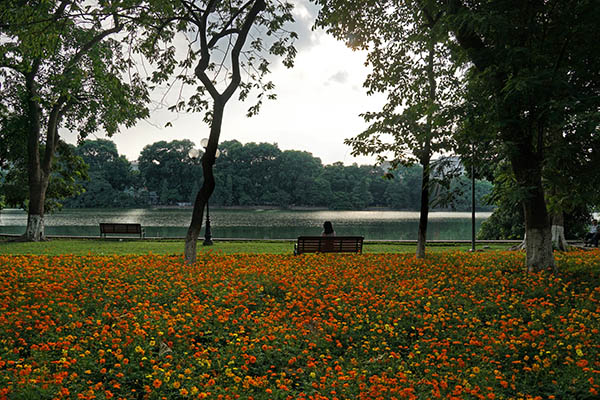 One suggestion for you is coming to the center of the Water Puppet show which is a traditional show of Vietnam country. These shows are very interesting by the activities like farming or legends like the golden turtle and the Emperor. Especially, guests of the theater can sit and enjoy a meal during discovering this ancient dramatic art.
Halong Bay
One of the most popular destinations in Halong Bay is Vung Vieng village. It is said that this is one of the largest fishing villages in Halong Bay, which is also an attractive destination in Vietnam vacation deals. Checking the cruise or boat, you will be departed by rowing boats or kayaks to enter Vung Vieng village. It is a great opportunity for you to experience in the villager's daily life as well as observe the traditional culture and customs of the fishermen. Moreover, you have a short visit to Pearl Farm to learn how natural pearls are created and return to Paloma Cruise for your leisure. Not only that you also join optional activities such as Sunbathing, traditional massage, swimming and so on. Otherwise, you have another option in there, it is going kayaking by yourself at Ban Chan island. Ban Chan beach brings a unique masterpiece, bewitching any public mind had.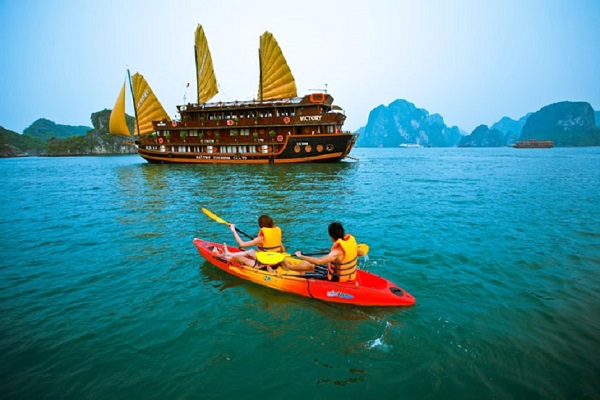 Secondly, Thien Canh Son Cave is a wild cave located on Bai Tu Long Bay, in the center of Cong Do Island. The ceiling of the cave is covered with a shiny 'gem carpet' and a large number of sparkling stalactites like 'hanging lamps'. Coming here, you will admire Stone of seals and flowers built as a paradise in the world. Thien Canh Son Cave offers a wild and mysterious beauty. It attracts so many tourists both domestic and overseas by a rare natural beauty, pristine limestone stalactites and beautiful surrounding landscape.
Sapa
Sapa is famous for many beautiful scenes and the unique food of the Northwest forests. Cat Cat village is the old village of ethnic groups which attracts many tourists from many countries for its distinctive customs and practices kept for a long time. Come here, you will approach the life of Black H'mong people where you can discover many interesting facts about their daily life as well as culture and architecture. In Shin Chai village, the woman wears the beautifully embroidered clothes with distinctive an enormous red turban and the silver jeweler so it is an attractive point. They will be around all the time, singing, dancing or anything to make you smile. Moreover, you can teach them songs, poems that you used to love when you were a child.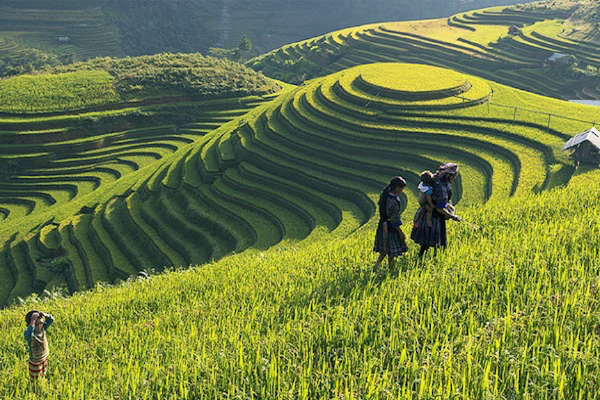 Sapa is famous for its markets, and on almost every day in the week. Therefore, you don't worry about missed any markets during the coming time. For distance, Coc Ly Market opens on Tuesday which is a great place to buy traditional costumes and to learn more about the local culture. There are two largest markets organized in the weekend like Can Cau Market and Bac Ha market. Can Cau market is located only 7 kilometers from the Chinese border, and just like the other markets, a fascinating and authentic experience. The most famous market is Bac Ha. You can buy several products, such as handicrafts, traditional costumes, and food.
Ta Phin village is surrounded by mountains with the rice terraces. You come to Ta Phin can find many distinctively handmade brocades made by ethnic people. All of the products have numerous bright colors and patterns such as a bag, purse, skirt, and even backpack and coat. You will have a lunch cooked by the ethnic group.
Finally, Coming back to Hanoi capital and finishing the Vietnam vacation deals 2018, Travel Sense Asia hope that you will have the best trip in 2 weeks.
Read more:
– What Are the Detailed 7 Days Itinerary North Vietnam?
– How to Get the Best Vietnam And Cambodia Itinerary 16 days?
– What Is The Best Vietnam Cambodia Itinerary 2 Weeks
– Discover the Beauty of Cambodia Vietnam Laos Tour