Can Tho is the most popular of the Mekong Delta destinations, which is the rice basket of Vietnam. Can Tho City is in the heart of the Mekong and main source of country's sustenance. As well as a potential spot for tourists. From Ho Chi Minh to Can Tho visitors can take 2 hours bus from Western Bus Station. One of the most famous tourist attraction here is Can Tho Floating Market.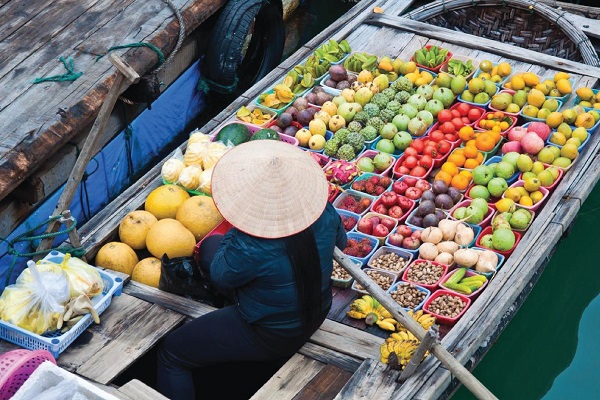 What is the main reason why tourists tend to enjoy Can Tho Floating Market atmosphere?
The main reason visitors come to Can Tho is to Mekong delta tour the nearby floating markets. Floating markets have existed for a long time in the region. With these are highly recommended, the markets on the water are well-known to make the most of experience in the countryside. The article mentions to what insiders say about Can Tho floating markets.
Almost of tourist is beginning to have doubts about what Can Tho floating market is. It basically is a market where people sell and buy things above water. Since rivers are the main way of transportation, ferries and boats are very popular for traveling and transporting. Gradually, people gather together at one or some certain places on the river to sell fruits mostly picked from their own gardens. Then they make business by selling foods, goods which are brought from other places.
Actually, there are two landscapes for you choose such as Cai Rang Market and Phong Dien Market. However, you can spend full day to visiting both of them because of its difference. For example, The first was a half-day tour of Cai Rang, a large wholesale floating market on the Hau River. We also heard great things about the Phong Dien retail market, a much more intimate market on the smaller Can Tho River.
Cai Rang floating market
It is one of the famous floating markets of the Southwest, specializes in selling fruits and agricultural products of the whole region. Cai Rang Market is 6km far away from the Can Tho City center or if you start from Ninh Kieu wharf, it's only 4km away. It is opened all day but it is busiest from sunrise to about 9am and at this time, hundred boats gather together where their owners start to sell agri – products.
To be recognized easily, they hang out product samples on a long bamboo (called Cay Beo) in front of the boats, so that they do not need to cry their wares as in mainland market. The main sold items are farm products and specialties of Cai Rang Town, Chau Thanh District and neighboring areas. Every boat has a long upright pole at its bow on which samples of the goods for sale are hung.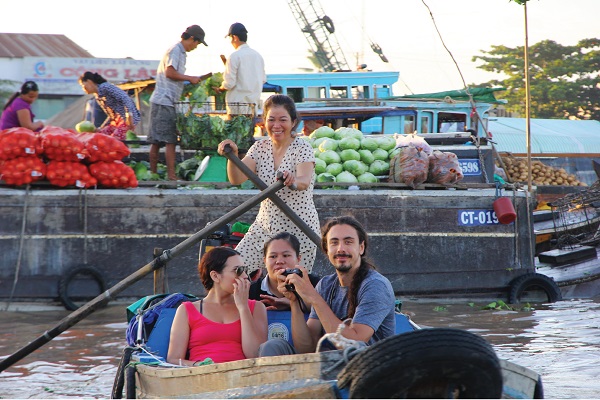 The most interesting sights in the Delta are the floating markets and associated river life.
During the early morning market hours, larger sized boats anchor and create lanes that smaller boats weave in and out of. The waterway becomes a maze of hundreds of boats packed with mango, bananas, papaya, pineapple, and even smuggled goods like cigarettes. Travelers should rent a private boat floating market also cheap around 300k/boat to experience the operating in this area.
Actually, the tourists can approach the market, it's an impressive site. Not really a place for souvenirs, people come here instead to buy large quantities of goods, mostly foodstuffs, and you will get an idea of what water commerce in the Delta looks like. Your guide on the boat will usually give you tidbits of information about Cai Rang as you weave through the hordes. You complete buy something if you want, which include traditional foods and drinks. Therefore, activities at the market are also an occasion for tourists to study the cultural aspects of southerners. You can see the market in the distance, it does not look like much, just a mass of boats.
To visit Cai Rang Floating Market, visitors can join a tour of the Mekong Delta. On the way to Can Tho, visitors can stop to visit My Tho and take a boat trip to visit orchards, bee farms and coconut candy establishments in Ben Tre. Have you been to the Cai Rang Floating Market? If not yet, let's take a 30 – minute boat ride to the market. You will be actually awake and enjoy it! You wind find it very peaceful floating down the river in the early morning. Then, tell us why you think this market is a great place!
Phong Dien Floating Market
The second market is Phong Dien market which is further than Cai Rang Market. It is located roughly 15km away from the Can Tho City center. While Cai Rang is a wholesale market, Phong Dien abounds in huge heaps of diverse commodities. Additionally, there are oil-charging stations surfacing the river, for ships and boats having convenient travel.
Unlike Cai Rang Floating Market, Phong Dien Floating Market does not just sell agricultural products, but also other various ones. In the market, there are boats selling household and working tools such as canoes, boats, roofing sheets, knives, hoes, machete, and fishing tools like fishing nets, or weaving products as baskets, and all kinds of general domestic and foreign cargoes. In addition, the market also sells many types of food: noodle soup, noodle with toasted meat, rice soup, Hu Tieu, and coffee, etc.
One of the unique features of boats in floating markets in Mekong Delta is the pillar with products hung on in front of the boat. This kind of promoting products is a unique culture feature of floating markets. Without noisy and gushy "ad language" it still appeals buyers. They just need to look the pillar to find what to buy. Sellers do not have to cry out about their goods because their goods can be seen in a distance and their cries would not be heard in the vastness of the river and the noise of boat engines.
By visiting Phong Dien Floating Market, you will have the opportunity to see the local real life in Mekong Delta. Whether markets are located on land or on vast rivers, the market retains its own characteristics. Phong Dien Floating Market is so special and bring a lot of amazing sense for tourists.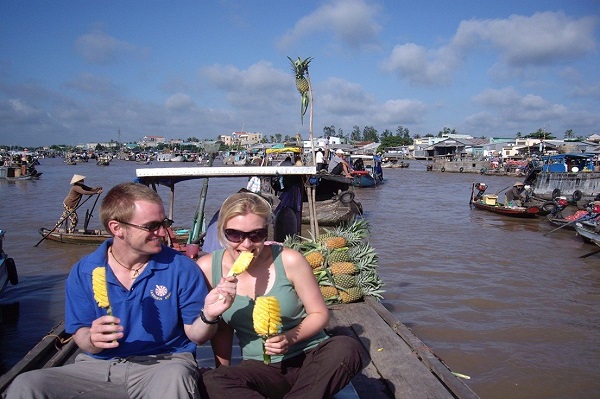 One of difficulties for travelling is what you never know the accurate of landscapes as it is hyped by advertising. Can Tho's floating markets does not only deliver awesome views, but also provide sensation-filled memories.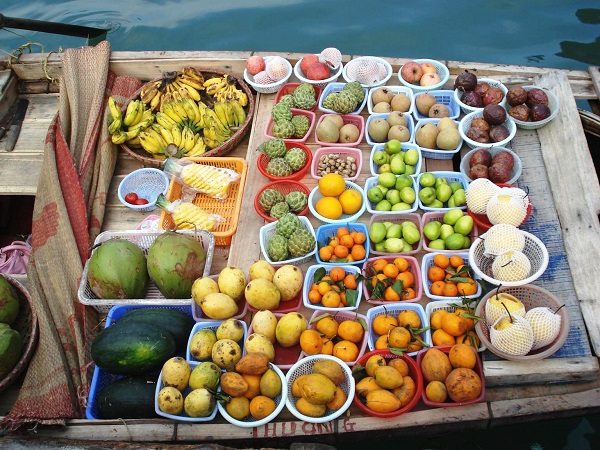 If the tourists visit Can Tho floating Markets, we believe that you can't forget some real experiences there. It is a unique culture of Mekong River Delta. Cai Rang Floating Market is one of the most fascinating attractions in Can Tho. This is a very special cultural feature in Mekong Delta, attracting tourists, especially foreign ones.