Vietnam is the beautiful country with stunning landscapes, a various of delicious foods and a long historical culture. Therefore, this country is more and more attractive foreigners coming here. One of the most popular destinations in Vietnam is Ho Chi Minh City – the largest city.  Nowadays, we will give you the detail Ho Chi Minh day tour package for you getting the best trip.
First of all, you need a visa or passport before coming to Vietnam. If you come from Asian countries and stay in Vietnam less than 30 days, you have just needed a passport. Others must prepare for a visa.
Our tour guide and driver will pick you up at your hotel and start the tour. No doubts,  we have almost of tour guides who speak English fluently to tell you the historical and specific of destinations. Depending on your time, you can choose the number of tour days. And you can separate the delegation to have the active on a trip.
List of destinations in the city
In Ho Chi Minh city, there are many attractive destinations. Your itinerary will start from the cultural site like Reunification Palace was the house where the President stayed in the South Vietnam until the end of April 1975. The Independence Palace is designed with the characteristics of basement housing of these including tunnels, telecommunications center, and a war room. The war command room will be set up maps on its walls and telecommunications equipment on display, while basement rooms feature war propaganda materials. Next, the third floor is very interested in the featuring a card playing room and the above this floor makes a casino and a rooftop terrace with a heliport to entertain for guests. Nearly, War Remnants Museum is formerly known as the Museum of American War Crimes, this is a poignant display of the futility of war. Some of the black and white photography in the exhibition is particularly touching, dedicated to both foreign and Vietnamese journalists and photographers who perished during the conflict.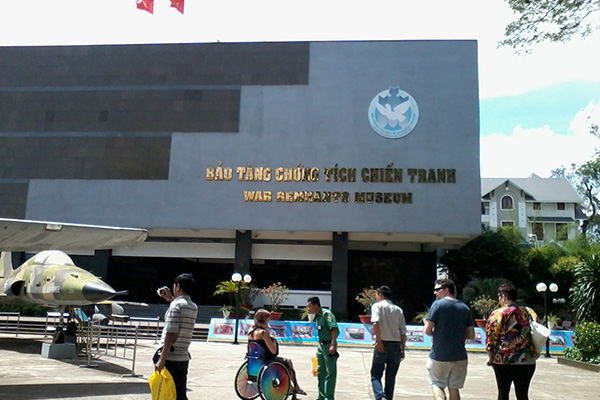 Thirdly, Notre Dame Cathedral and Old Post Office are two near places you can walk. Notre Dame Cathedral (or called Duc Ba church) is a wonderful building situated in the center of Saigon. This destination is attracting almost tourists by its sacred atmosphere and neo-Romanesque style architecture. Duc Ba church is constructed by French which includes two bell towers nearly a height of over 58 meters. One more interesting in the church, every stone used in the construction was shipped from France to Vietnam. Just some minutes from Duc Ba church, you can catch up the Old Post Office which is another example of French colonial architecture and is also the country's largest post office. This office is providing many services for clients such as mailing, telephone, exchanging money, collecting stamps, coins and so on.
Giac Lam Pagoda: This is Saigon's oldest pagoda, appeared on 1744 and one of the finest in Vietnam. When entering in the inside of pagoda, you can see 98 pillars and 113 statues and a myriad of mini-Buddhas. You should not miss the amazing tree of Wandering Souls where people pray for their sick relatives by writing the names of their loved ones on slips of paper and then attaching them to the tree. Especially, Giac Lam is a great place to keep the traditional structure of pagodas, where you can explore the cultural characteristics of Vietnam.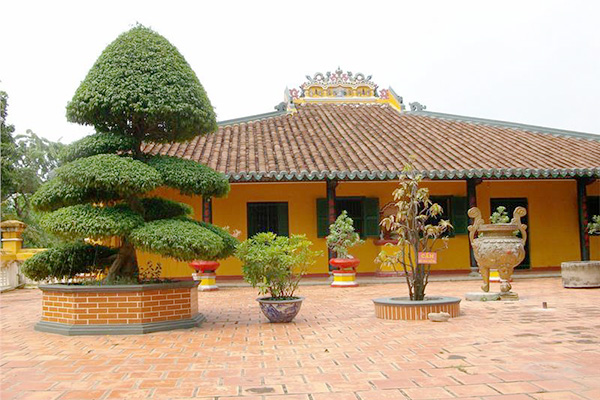 Ben Thanh Market is the bustling market which is very popular with foreigners, primarily due to its central location. As one of the earliest surviving structures in Saigon, it is considered one of the symbols of present-day Ho Chi Minh City. It is a place where both foreigners and locals can find some of the best products the country produces. Ben Thanh Market is home to more than a thousand stalls and shops where you can seek the range of products such as handicrafts, souvenirs, clothes, traditional Vietnamese dress, fabric, local cuisine and more. In the late afternoon, food stalls are set up around the sides of the market that serve many traditional food specialties of Vietnam at a reasonable price.
List of foods in the city
Bread is available almost everywhere in Ho Chi Minh City, has the price in the range of VND 15,000 and VND 25,000, with pickled vegetables, pate, butter, soy sauce, cilantro, chilies, and hot peppers. You can also choose from a variety of meat fillings for your bread including roasted pork belly, boiled sausages, meatballs, boiled chicken, fried egg, grilled pork loin.
Noodle (called Pho) is rice noodle that's served in a flavourful soup with beef, bean sprouts, lime wedges, and spices such as salt, chili sauce, lemon juice, … A popular bowl contains beef slices, meatballs, but you can require more exotic ingredients such as beef tendon, pig stomach, and flank with cartilage. This normal noodle is priced between VND 20,000 and VND 30,000 at any local restaurant or street market in Ho Chi Minh City.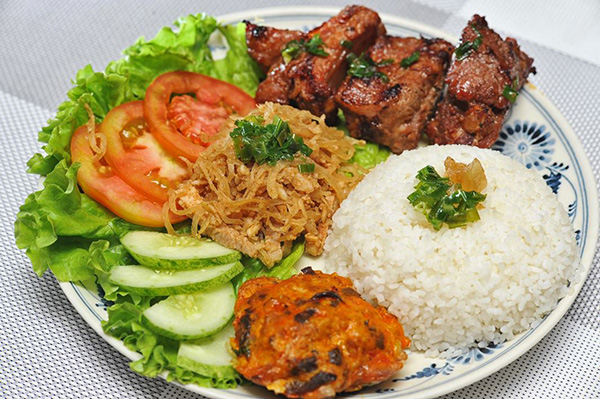 Broken rice (called Com Tam) is made from many combinations with eggs, green onions, and a variety of meats such as pork chop, pork skin, and the egg patty. You can also enjoy this dish with a side of pickled vegetables, cucumber slices, and Vietnamese dipping sauce. You can seek broken rice from everywhere with both of restaurants and street restaurants which sell for about VND 20,000 per bowl.
Pancake (called Banh Xeo) is a savory pancake that's made of rice flour, coconut milk, and turmeric, stuffed with ingredients such as pork slices, shrimps, sliced onions, bean sprouts, and button mushrooms. Banh Xeo in Ho Chi Minh City is much smaller than in other areas. The best way to enjoy Banh Xeo is by wrapping it in mustard leaf, lettuce leaves or rice wrappers, together with many spices to make the sauce.
Rice noodles (called Hu Tieu) belongs to the types of noodle made by a clear pork-based broth, flat rice noodles, and an assortment of pork toppings. There are also countless variations available in Ho Chi Minh City, though the most popular one is Hu Tieu topped with pork ribs. Otherwise, you can enjoy Hu Tieu with shrimp, squid, or fish if you do not like a fan of pork. A bowl of hu tieu is usually priced at VND 18,000 at street restaurants and VND 25,000 at the brand restaurants.
You have a chance to do some last-minute shopping before your transfer to Tan Son Nhat International Airport for your departure flight. Finally, you completely finish Ho Chi Minh day tour package.