Sapa is a beautiful region in the northern part of Vietnam, one of the most attractive tourist destinations in our country. Before visiting Sapa, you should find what is the best homestay Sapa Vietnam for you. Although in Sapa, you can choose several accommodations to stay such as a hostel, hotel, homestay, resort,… But nowadays, a lot of travelers get the good option like homestay because it's not only cheaper but also closer to the local living than others. Here are some good homestays in Sapa for you to choose.
1. Eco Palms Homestay Sapa Vietnam
We'll start with a homestay Sapa Vietnam that has the best views of the Muong Hoa Valley and the Hoang Lien Son Mountain. Eco Palms House located right in a Black Mong Village, Lao Chai, It will take about 30 minutes to Eco Palms House from the town center. With 6 private Bungalows on a beautiful paddy rice field, guests will be close to Mother Nature and get away from busy life of city center.
We also offer traditional dress of each minority that guests can wear when they join us in a Market Tour every morning
A traditional wooden House of the Tay ethnic group with a fireplace and roof of palm leaves is a perfect place to greet and meet each other and make everyone feel at home.
Cooking Class will be held every morning, and guests can join us during a visit to the Sapa Market to buy fresh vegetables, fruits, and foods, followed by cooking class at noon
You'll love this place because of its peaceful and quiet with an incredible view, hideaway, friendly staff, feeling like home, nature architecture, authentically designed, comfortable bed… It is good for couples, solo adventurers, business travelers, and families…
2. VietTrekking Homestay
If you are long to admire the gorgeous nature, the dance of the clouds, the wonderful sunrise… let's check Viettrekking Homestay Sapa Vietnam, the favorite of both domestic and international travelers. View trekking is one of the most beautiful homestays you can choose when coming to Sapa.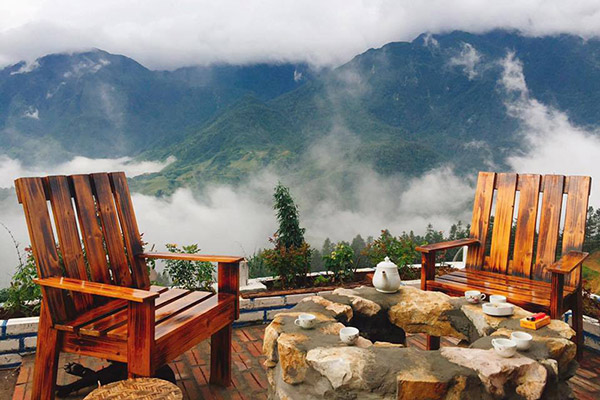 Located at the end of Hoang Lien St, this homestay will make you feel like getting lost in heaven with cloud view, not in Sa Pa anymore. This small pretty house is the perfect choice to enjoy the very first sunlight of the day with the clouds. On the left side is the sunrise on cloud background and on the right side is Fansipan Peak with Hoang Lien Son Mount. Therefore, VietTrekking becomes the ideal destination for photographers, nature lovers, and anyone who loves sightseeing.
VietTrekking Homestay has 4 single rooms, 1 double room, and a gym room. To get here from Food Street, go straight ahead to Fansipan – Cau May crossroad, turn right then go straight ahead to the end of the road. You will see a house with a white fence.
3. Sapa Heavenly Homestay
Sapa Heavenly Homestay is a family run eco retreat in Ta Phin Village, about 10 miles (17 kilometers) west from Sapa. Sapa Heavenly Homestay is beautifully designed, entirely made of high-grade wood. Sapa Heavenly in a special location can see the whole romantic scene of Sapa.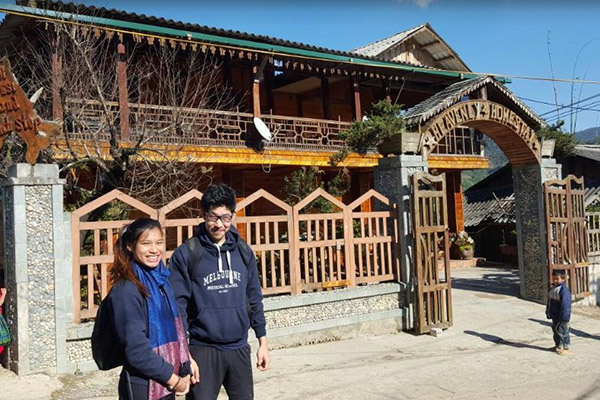 Dat, his lovely wife, and two children are the hosts of this homestay Sapa Vietnam during your stay. They are members of the Black Hmong tribe and are known to be amazing chefs, so you're really in for a treat. Dat has also worked as a tour guide for the past 10 years, having summitted Mount Fansipan over 180 times.
Upon request, overnight trekking tours through the rice fields and valleys can be arranged along with transport in and out of the city. While staying here, you can also get involved with the local community – past visitors have helped the tribesmen with farming and repair work or volunteered to teach English to the local children. It's really an opportunity of a lifetime. Here, you will experience the activities with local people such as rice transplant, vegetable planting, the evening will be burning fire, baking food, extremely cozy and close. In addition, enjoy the medicinal bath of the Red Dao will also be an activity not to be missed when coming to Sapa Heavenly Homestay.
4. The Little Hmong House
The Little Hmong House is a beautiful homestay Sapa Vietnam, located in Ta Van Village, nestled in the Muong Hoa Valley, where is 10km away from Sapa Town and only 100m away from the main road. The house is made of a traditional wooden frame of the Mong people with delicate decoration. Private rooms and dormitories are available for couples, families, and backpackers.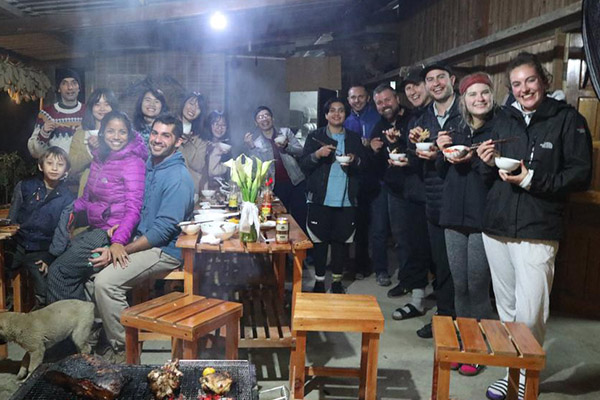 Here, you will be immersed in nature and admired the majestic mountains in front of the house as well as learned the customs and lifestyle of the Mong People.
If you are an animal lover, you will absolutely love staying here because you will be surrounded by chickens, ducks, pigs, dogs, and water buffalo, sometimes even running after them through the common area. Your stay in Sapa will be extra special.
5. Tavan Ecologic Homestay Sapa Vietnam
Tavan Ecologic Homestay is just 10 km far away from Sapa center. Homestay Ta Van is located in the heart of Ta Van commune so it is very convenient for you to visit Ta Van because this is the place visitors cannot miss when coming to Sapa.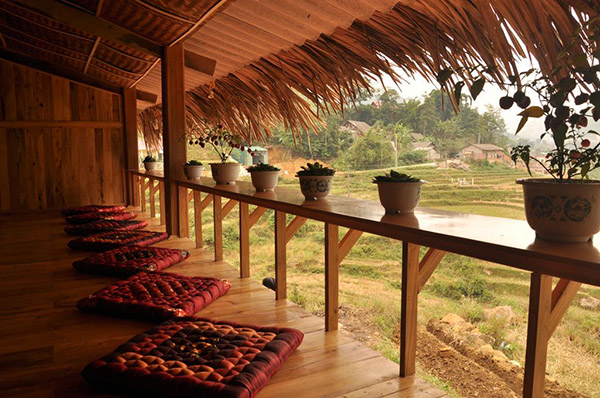 The bungalows and home are located within meters of the family's tiered rice fields and within a stone's throw of Muong Hoa Valley's river.
Here, you will have the chance to participate in activities with the local people here such as rice planting, vegetable planting, shifting cultivation, fishing, farming … will make visitors feel close friendly, close, and love the local people here.
Beside resting service, there are food services. You will be served ethnic foods such as hill chicken, salmon sapa (this is the specialty of the land Sapa), buffalo meat… It will definitely satisfy you not only delicious food but also by the friendly, open style of service. Other facilities at Tavan Ecologic Homestay Sapa Vietnam include a barbecue and children's playground. Guests can also enjoy a drink at the bar.
6. Sali House
Sali house is located in Ta Van village, 9.5 km from Sapa town center, in front of Muong Hoa stream, below is terraced fields. Sit relaxed and take a long breath, listen to the stream, sip a cup of tea and a book, leaning his eyes to the high mountains in front of the clouds. See life is not rushed as you think.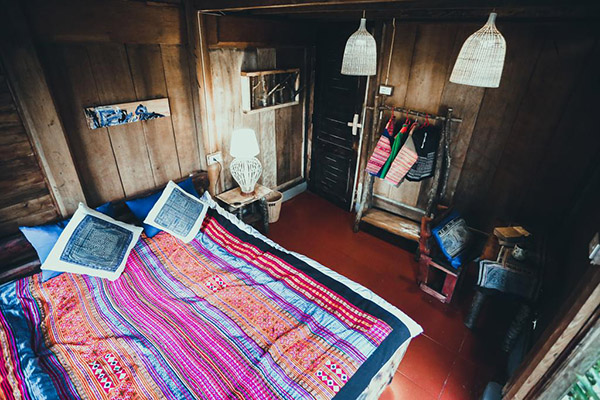 At any corners of this homestay Sapa Vietnam, you can admire the view of green nature. This will definitely be an unforgettable experience for any guest staying here.
In the evening, you can go to the gathering area of Sali House to chat with new people and make new friends. Or if you like being alone, you will still admire a sparkling starry sky and relax while enjoying the peace that you can't find in the urban area.
There will always be a lovely kitchen in Sali House, and that means you can go to the market and cook for yourself at no additional cost. In addition to the prepared breakfast, Sali House also offers you free rice, coffee, tea, boiled water, candles, and essential medicines to ensure you have the most complete holiday.
If you're planning to visit Sapa, don't forget to stay in Sali House to get to know why this place is called ''the wood house in the dream.''
If you want to find what is the best homestay Sapa Vietnam, here are the top 6 homestays most popular today in Sapa, hope you will choose the one that suits you best! Wish you have a pleasant journey to discover Sapa and have many memorable memories!