Vietnam is packed full of wonderful sights and experiences that are not to be missed. Because of this, coming up with an itinerary that fits such an array of beauty and culture into just a week or so can seem pretty daunting. But if you're short on time and don't have much annual leave, you don't need to worry. Coming here, you have an opportunity to discover both of the strange nature and modern city. Spending 5 days on traveling almost the destinations in Northern Vietnam, you will have the best memory in the trip.
Visiting Hanoi capital on the first day
We head to the capital city of Hanoi. Expect buzzing markets, chaotic streets and an abundance of motorbikes to greet you. In fact, to save feeling overwhelmed, you might want to read our light-hearted guide to crossing the road in Vietnam!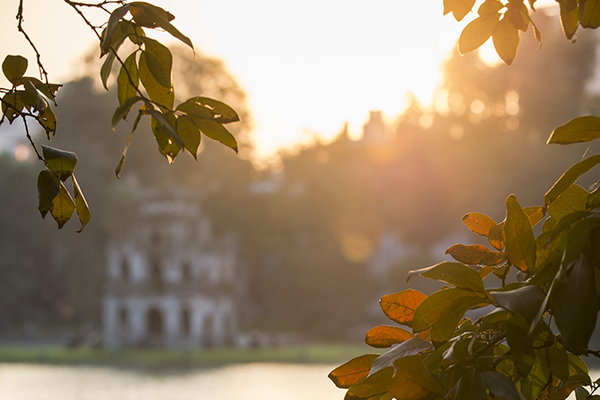 You will pay a visit to Ho Chi Minh mausoleum, is a building to commemorate the merits of Ho Chi Minh Uncle – a great leader of Vietnam, and the surrounding sites of One Pillar Pagoda and his ancient house. However, you should check the schedule because it opens only from 8.00-10.30 every day, accepting Monday and Friday so you will visit the surrounding area of this complex. When visiting here, you must wear formal clothes and do not make noise during the time.
After 2 hours, you will go to the next site of the Temple of Literature, which is the first University of Vietnam and dedicated to Confucius. Especially, almost the students in the university will take photographs before graduating. Coming here, you can know the stories in education in Vietnam for a long time.
Next, you will firstly leave for The Vietnam Museum of Ethnology, which focuses on the 54 officially recognized ethnic groups in Vietnam. This place is displayed so many items accumulated the customs in all monitories. Of course, you will know more about the culture and Vietnamese people.
It is estimated to be 2 hours at the museum then you will be transferred back to the old quarter and visit the Temple of Jade Mountain sitting on a small island in the northern part of Hoan Kiem Lake. One suggestion for you is to try a Hanoi dish Banh Cuon at a local eatery. Our next two snack stops are at outdoor barbeque stalls. Next, if you want to tastes some daily the foods in the local, you should select the street restaurant and call various meat, vegetable and bread specialties that are flame grilled over hot coals for extra flavor. After finish the lunch, you can take a dessert in Vietnam as it is made from many fresh fruits join in the local and smothered with crushed ice and condensed milk – this specialty is one not to be missed!.
After that, you will spend around 45 minutes in the theater enjoying the Water Puppet show – a traditional show of Vietnamese people. Getting out of the theater, you can choose one the famous restaurant to enjoy the dinner. Don't worry about the tastes, because many restaurants provide the menu suitable for the tastes of foreigners. Finishing the dinner, you should walk around the Hanoi Old Quarter to grace the street at night and enjoy the coffee. It is very especially.
Traveling Trang An and Tam Coc in Ninh Binh on the next two days
One of the best destinations in Northern Vietnam itinerary in 2018 is Ninh Binh – fascinating place where apart from an inspiring scenery. Coming here you have an opportunity to approach the most rural and authentic side Vietnam. Alluring tourists by a complex of both ancient and new pagodas is Bai Dinh Pagoda. This pagoda is so famous by the largest pagoda in South East Asia has recently been listed as a top attraction in Vietnam and the region. The Bai Dinh pagoda is built by many parts such as Tam The Temple, Phap Chu Temple, Quan Am temple, Bao Thap, Bell Tower and dormitory area for Buddhist monks.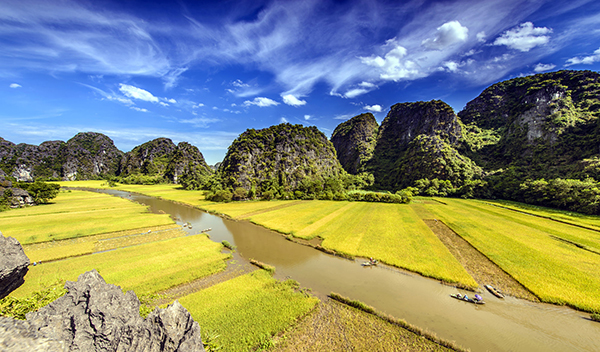 A UNESCO World Heritage Site, Trang An Landscape Complex is an impressive set of large limestone karst cliffs covered by forest. Why you shouldn't miss this destination as you can find temples, dozens of valleys and about 50 different caves. This is the population of River, Mountain, and Cave. When visiting Trang An, tourists can travel along the Ngo Dong River and through the cave. It takes about 2.5 hours to travel around Trang An.
Next, Tam Coc is the great place you must visit if you come to Ninh Binh province. The same as visiting Trang An because tourists also have to sit on the boat and visit caves. If tourists don't have time, they should visit Trang An.
The best ways to enjoy the scenery are to rent a boat trip. Especially, small boats will be driven by the local woman along the river through caves and past paddy fields and karst formations. Once time, you can combine two places including Tam Coc and Thai Vi Pagoda. Whether one route is better than another is open for debate, we would like to suggest choosing whichever suits your travel plans better. Tam Coc and Trang An are big tourist attractions if you avoid weekends and Vietnamese holiday periods it's not too overwhelming.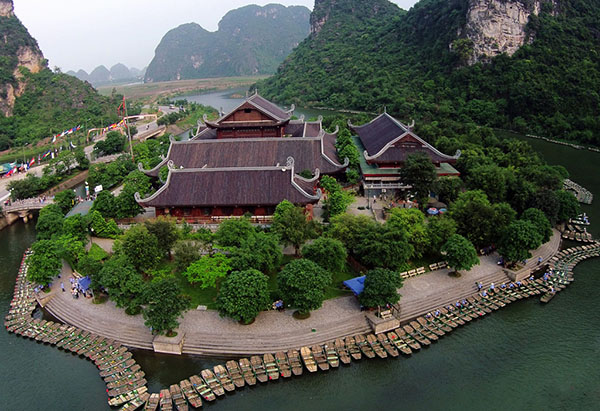 The prices of two places are different. For distance, at Tam Coc you pay 150,000 VND for the boat and 120,000 VND per adult, with a maximum of two foreigners per boat, whereas Trang An charges 200,000 VND per adult and 100,000 VND per child, with no apparent maximum, other than the number of seats though they may expect a minimum of four passengers, meaning you might need to wait around. Use these prices as benchmarks if you decide to rent from one of the other operations. There is also a 15,000 VND scooter parking fee.
At the end of the boat trip, if eco-tourism is your thing, you won't want to miss Thung Nham. Also known as Bird Valley, it's a bicycle ride away from the boat jetty to a beautiful park with lakes, caves, mangroves, a 1,000-year-old tree and over 40 species of bird.
Discovering a natural UNESCO World Heritage site in the last two days
Being one of the most well-known destinations in northern Vietnam, it has to be crossed off the checklist. The landscape is famous for its huge limestone karsts that take you can admire from beach or boat. Halong Bay ensures belong to the list of the best Northern Vietnam itinerary in 2018.
You will check in the room on the cruise and enjoy the welcome drink from the staffs. While having the lunch onboard, your cruise passes several caves like Fighting Cocks, Duck, Finger, Incense Burner, and Stone Dog. Following the tour, you come to Dau Go cave in Halong Bay beaches. The grotto is given name from the remaining wooden pieces in the cave. There are three main parts in the grotto, which bring the surprising feeling for you by a colossal pillar supporting the huge vault. Looking at the top of the pillar, there is a monk draped in a long and dark cloak. The grotto seems to be wider with the image of the ancient citadel and a scuffle of horses, elephants, and people with sword and spear.
The harmonious combinations of cool weather, natural environment, and ideal geology have made Halong become the rich biological spot that is highly perfect for ecotourism. While you make a travel plan to the bay, it seems a big pity to overlook some fascinating activities.
Besides, you took a swim, relaxed on the deck and admired the view, you can watch the sunset over the bay followed by a freshly prepared seafood dinner served under the stars. Next, you should join some activities on the cruise such as squid fishing, watching movies, karaoke and enjoying wines in the relax time.
You should come to Sun World Halong Park to have more experience in the destination. Actually, Sun World Halong Bay is the largest tourist- recreational complex of Vietnam. You can reach here can have a chance to enjoy the mysterious life in the "Dragon land" and try plenty of captivating and novel attraction. Both of Queen Cable car system and Sun Wheel in Sun World Halong Park bring the chance for you to experience in the capacity cabin. Tourists can easily grace overview from above to get a perfect look at Hon Gai Port, Cai Lan port, Bai Chay Bridge and the entire of Halong Bay on the other side.