Welcome to Ho Chi Minh City, which is also known as Saigon and you will have an awesome trip both of beautiful landscape and diversity shopping. For the time being, Ho Chi Minh City (HCMC) is considered to be one of the most dynamic areas of the country about a social, cultural, landscapes and economic center of the South. Therefore, there are numerous visitors from two other regions in Vietnam often book tickets come here to have a relaxed time with beautiful destinations and shopping. This article will give you some essential information about the best things to do when you travel in Saigon in 3 days to get the awesome trip.
What to do in Saigon the first day?
In the morning
Saigon Opera House has been constructed since 1898 by the French architect. The theater was set to be two meters higher than the street with two door layers in order to prevent traffic noise. The theatre is now a venue including 468 seats offers a good view from every seat for many high-profile events and cultural – entertainment activities of the city.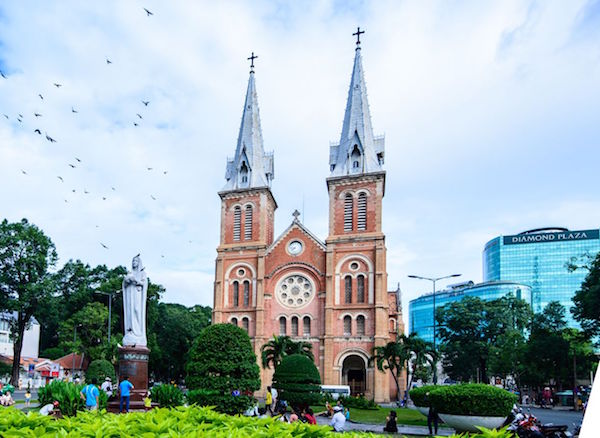 After that, you can walk to Dong Khoi street to grace Duc Ba church where is a famous age-long cathedral in Southern Vietnam. It is a wonderful building situated in the Paris Square in Saigon downtown, where is attracting almost tourists by its sacred atmosphere and neo-Romanesque style architecture. Duc Ba church is constructed by French colonists during the period 1863-1880. It includes two bell towers nearly a height of over 58 meters. Following the French structure, Duc Ba Church established a community and religious services for French colonialists.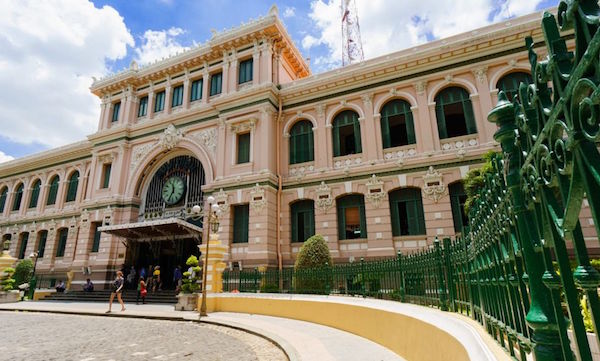 Nearly, the Central Post Office is one of the oldest buildings in Saigon, which is built around 1886 – 1891 with the design of Gustave Eiffel who is a famous French architect then it has become a significant symbol of the city. Actually, the Central Post Office has long been the busiest post office in Vietnam. The Post Office offers all kinds of traditional postal services like mailing, selling postcards or stamps with cheaper prices. Especially, foreigners completely use foreign money exchange service in there.
Coffee at La Fenetre Soleil located on 44 Ly Tu Trong and you can discover boutiques in Hochiminh City such as gemstone, clothing,…
You can enjoy the meal at L'Usine at 151/1 Dong Khoi, District 1
In the Afternoon
You arrange the schedule to take a taxi to Independence Palace and War Remnants Museum where are two historical places of special interest for veterans. Independence Palace was built for a long time but it has just changed since 1975.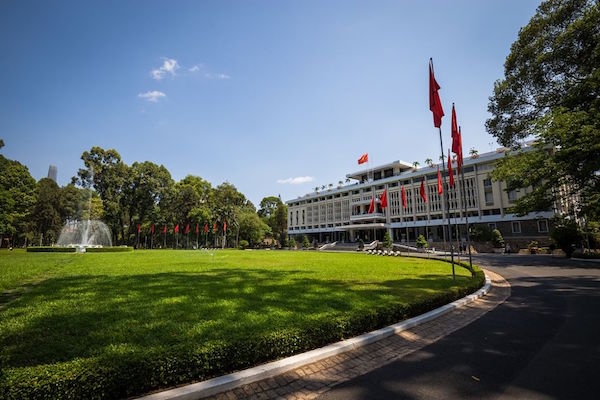 The Independence Palace is called a five-storey building with the characteristics of basement housing of these including tunnels, telecommunications centre and a war room. The war command room will be set up maps on its walls and telecommunications equipment on display, while basement rooms feature war propaganda materials. Next, the third floor is very interested in the featuring a card playing room and the above this floor makes a casino and a rooftop terrace with a heliport to entertain for guests.
Tourist should visit one of the most famous history museums is the War Remnants Museum is an intellectual yet remarkable trip which you have totally transformed your ordinary visit to Ho Chi Minh City. The War Remnants Museum is situated in 28 Vo Van Tan St, District 3 nearly the Independence Palace. The museum was launched in September 1975 by the government. The War Remnants Museum is focusing on the exhibits relating to the American phase, which is the house for displaying War Crimes of American Imperialism.
In the evening
You should choose one of the famous restaurant to have dinner. Luong Son Quan at 31 Ly Tu Trong, District 1 is the  enjoy some special foods. Nearly Luong Son Quan is Phuc Long Tea, which is located on 325 Ly Tu Trong, District 1 and belongs to the top best coffee & tea attracting a lot of customers. The price of tea is medium but so very good. You will feel comfortable during 2 hours then take a taxi to EON 52 Heli Bar – Bitexco Tower. This bar is created with a beautiful view in the highest tower in Saigon. It opens from 10 p.m to 2 a.m
Visit some entertainment places in HCMC in the next day
Starting a new day
You should book a tour to visit some historical destinations in Saigon. The places will be guiding such as French buildings, the mixed style of ancient architecture and Khmer. Then, you also visit San Art where is an art gallery in Vietnam.
The tourist has a lunch with Banh Xeo at "An La Nghien" restaurant at 74 Suong Nguyet Anh. If you want more options, go for the famous restaurant: Quan An Ngon.
Afternoon
If you travel with your family and children, you should visit Suoi Tien or Dam Sen theme park. These entertainment centers are constructed toward the most modern to attract more international guests in Ho Chi Minh City. It ensures that you can easily take up your whole half of day by walking around the park. However, if you prefer somewhere more cultural, let's go to one of the many famous pagodas in town such as Giac Vien, Jade of Emperor and Xa Loi.
Besides, you completely take a coffee in the street, which is special drink in Saigon. It's interesting.
Evening
Then, you come back to your hotel and go to the bathroom change your convenient clothes after one tired day.
Traveller can spend the last time of the second day on Bui Vien Street. Actually, Bui Vien is known as a place for tourists to be able to feel the soul of Saigon, which is simple and the connection of the old – the new, the East – the West. You don't trouble about drinking beer and eating some special foods which are suitable with foreigner's favorite then you should come to your hotel and have a good night.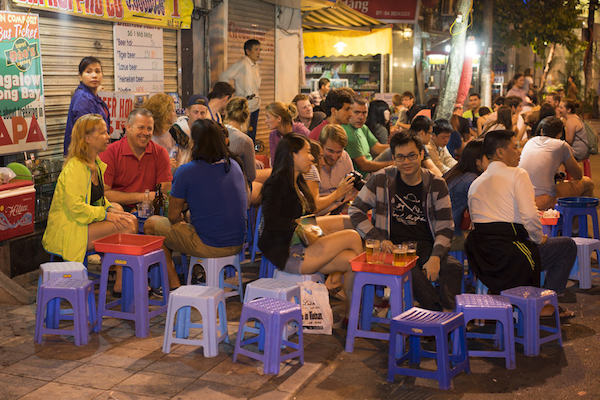 What to do in Saigon the last day?
Morning – Afternoon
Cu Chi tunnels complex is one of the best things to do in Saigon in 3 days, where is to discover Can Gio. You should take a Cu Chi Tunnels Tour ticket that will introduce its history as Vietnamese war. Especially, you have a chance to explore the system of tunnels being famous from the win a war. And this is also an opportunity to know how it works the destructive power of the bomb which was attacked in the US military. The tunnels of Cu Chi were built over a period of 25 years that began in the late 1940s. The villages of Cu Chi have been presented with numerous honorific awards, citations and decorations by the government so they have been declared 'heroic villages' which is one of the most historical places.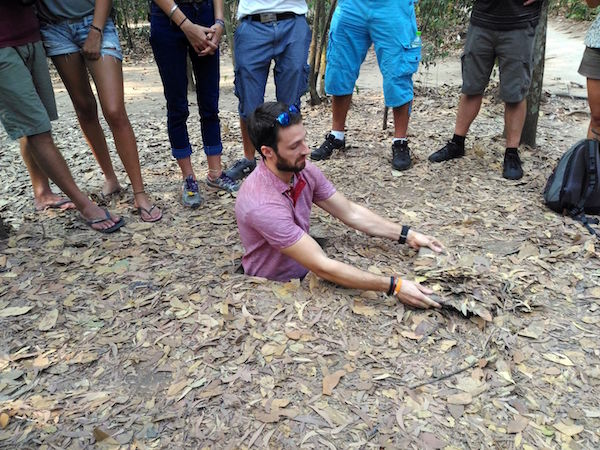 You will enjoy the lunch in Cu Chi tour which includes the traditional foods in South area. After that, you come back Saigon.
Having an advice for you that massage at Ngoc Anh Spa 31/1 Nguyen Binh Khiem, Da Kao street, District 1. This Spa is quite famous with the high price and the good quality services.
Evening
Take a taxi or " Xe Om" to Nguyen Hue walking street, go for a walk and enjoy the hustle and bustle atmosphere. After that, walking to Night Market – is in front of Ben Thanh market. Practiced my haggling. Not a bad time. The night market is displayed shopping-wise, the fashion items such as inexpensive t-shirts, handicrafts, accessories, sunglasses and so on. Therefore, customers feel free to buy souvenirs with a lower price than other shops. However, the overall environment is very lively and bargaining 75 percent off the opening price. The items are not too good but almost foreigners prefer to buy a gift for their family. Of course, you can buy souvenirs with cheap price for your family and your friends.
To conclude, Saigon is the modern city with beautiful destinations and for a long time, it has become a paradise shopping by willing to provide a various clothes and accessories for customers.  If you come to Saigon on the first time, make sure you check out our helpful guide on what is the best things to do in Saigon Travel in 3 days. We hope that you will have a safe trip and an awesome holiday is Saigon.