Coming to the paradise, you will have many opportunities to admire the stunning landscapes like the famous rice terraces populated by many ethnic minorities, several villages, mountain, Fansipan peak, local markets,… a little effort to think outside the big trap will be necessary, but there are still plenty of corners well preserved. Three criteria must be set up in planning trips like the weather, the rice harvest cycle and market days. Although Sapa and the local there went through a lot in the past, it has become a wonderful place in Vietnam with many outstanding sceneries and unique cultures.
"The best time to travel to Sapa" is questions which tourists ask frequently would like to come to this place, this post will answer your question.
The best time to visit Sapa
In March-May: In this time, you will feel the fresh air of nature, cool weather, dry night, in the morning, the weather is cloudy, you will see the cloud will go front of you and this make you feel like you are in paradise. This is rice cultivation time of local people, you will see the image of farming of Sapa residents. The weather in March-May is not rainy, so you can go everywhere in Sapa in order to enjoy this beauty. The weather becomes very pleasant, good to hike and visit the ethnic minorities. It is also the season of flowers, but you will not see the famous landscape of verdant rice fields as it is when you plant rice.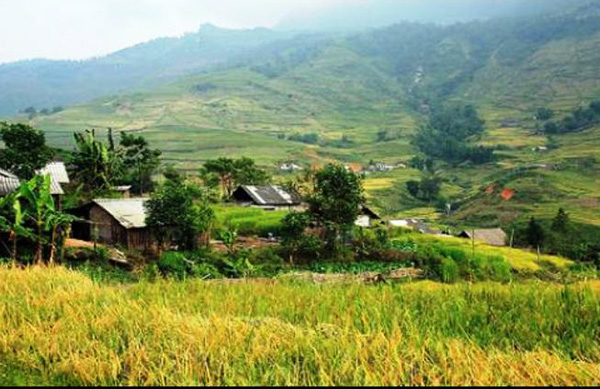 The wet season lasts for around 3 months, from June to September, and it is not a wise choice paying for Sapa tours at that time. Sapa is a highland town, so it is not easy to go there. Especially, the rainy season makes wet for the roads and so it is dangerous for tourists. Thus, it is not a wise choice of time to visit Sapa. In July, it is also very hot and it is still raining a lot, but the rains are strong and fast. The rest of the time, the sky is blue and sunny. You can try a trip to Sapa as long as you stand the heat. Next, in September, the magnificent rice paddies are tinted yellow and the crops begin. This period is an ideal time to visit Sapa.
At the end of September – November: You will see the gorgeous Sapa because at this time is Autumn – everyone is so great such as warm and sunny, cold dry air,… You can walk with your friends, your family, your love,… to view Muong Hoa valley, rice terraces or going to Ta Phin ward.
When you travel to Sapa at the end of November, the winter is coming, the weather is cooler not too cold, if you walk to the town, you will feel the town is floating on a cloud, you have to be close to see the face of people or everything around. It is really cold with an average temperature of zero degree and cold breezing winds. Thus, you can admire the snow down. But the air at the end of November at Sapa is so clear, it is suitable for visitors always live with noise and dust.
Actually, you can visit Sapa anytime when you want because this is one of popular Vietnam destinations. But the best time to travel to Sapa we mentioned is the time you will see all of the most beautiful sightseeings of Sapa, the weather in this time is also good, especially for people prefer taking photos, they will have got many great pictures.
What are the best places in Sapa?
Cat Cat village
Cat Cat Village is located on the Muong Hoa Valley, which is a home of the H'Mong. It is far from Sapa Town about 3 kilometers and takes you 45 minutes to walk here. It is easy to trek village in order to admire the rice field and corn. Visiting this village, you can have an opportunity to visit a big waterfall on the stream. Not only that, you will know how to make the clothing, they are dyed and embroidered with beautiful designs. A noteworthy is that H'Mong women use plants and leaves to dye these brocade fabrics.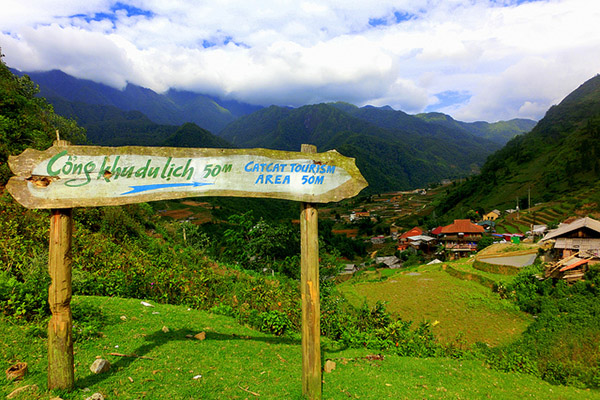 Ta Phin village
Though Sapa has long been familiar with tourists, Ta Phin Village is a new village. Located about 17 kilometers to the west of Sapa, Ta Phin is a village of Red Dao's people possessing a rich culture that has not been damaged by the modern life. The mountainous road can make it difficult for cars to move, so you should hire a "xe om", or taxi, and the experienced driver will take you to the right place at a very reasonable price with many useful pieces of advice.
Coming here, you will immediately catch sight of groups of Red Dao's women gathering together. They keep inside their hand's colorful reels of thread and cloths. The local people offer the goods to the customers. Amazingly, most of them can speak quite well, some use Vietnamese less than English. This village is known as the "brocade village", so you can know how to make the distinctively handmade brocades by ethnic monitories. All of the products are made by the numerous bright colors and patterns including the bag, scarf, purse, to skirt, and coat. Ta Phin is providing brocades for shops and exporting to foreign countries as well.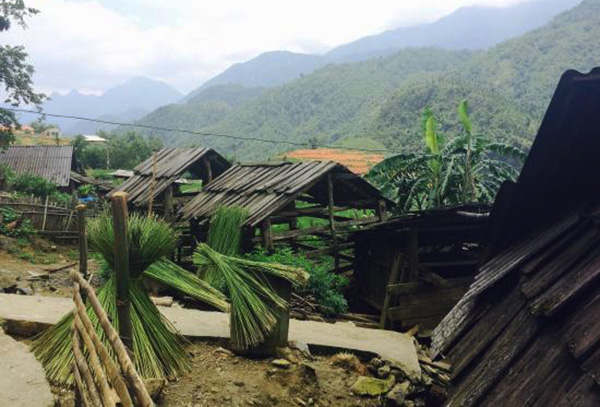 Lao Chai – Ta Van village
You can grace the life of ethnic minorities, admire the spectacular natural scenery with the terraced rice fields when you come to Lao Chai- Ta Van village. Coming to this village you know how they make their traditional clothes, handicraft, indigo… During the time in Ta Van village, you are recommended to taste some special dishes of ethnic Giay such as roast fish, horse meat, sticky rice, enjoy festivals, folk games: Nao Cong, Roong Pooc…or participate in tours of the village. Of course, the biggest valley which you shouldn't miss as it offers to the awesome landscape of the golden rice terrace field in Vietnam. Continuously, coming to Ta Van which is a small group of Dzay people in Northern Vietnam, they still keep a rich and traditional culture.
Fansipan peak
Fansipan Mountain is famous for over 2,024 floral varieties and 327 faunal species. Fansipan is called as "the Roof of Indochina" with the height of 3143 meters, the highest peak of the Indochina. These activities will give you the feel of challenging and winning, especially when you are at the peak.
The topography of Fansipan is varied. At the lowest altitude maybe from 950 to 1,000 meters, Muong Hoa Valley is created by a narrow strip of land at the base on the east side of the mountain.
Bac Ha market
Bac Ha market is located in 80 kilometers from Sapa, which is famous for its. This market is a trading center and meeting place for couples, friends, and relatives in every Sunday. It is the largest market in the area and attracts tourists and offers foods, animals, clothes and household goods. Bac Ha Market is not only the place for exchanging the goods, but also a place for exploring the culture. On the market days, all paths and mountain roads are full of people and horses pouring to the market. People usually eat a soup pan. There are many different ethnic groups like Flower H'mong, Phu La, Black Dao, and Nung minorities come here to buy and sell local products that cannot be found elsewhere. It ensures that you will enjoy the "fresh" meat in the direction of strict vegetarianism.
Though tourists were not in short supply, they were not the focus. The potent moonshine is decanted by vendors from large white plastic jugs to used bottled water containers. If you doubt the ability of a vendor's hooch to peel paint or light your senses on fire, you can try a shot for free.
One suggestion for you is to try "thang co" blood porridge, a popular dish of the H'Mong and other local people. The Flower H'mong' s colorful dresses are a beautiful sight. Let's once visit Bac Ha Market and you will be able to experience a wide range of different colorful ethnic minorities and more interesting things of life in the mountains…
Terraced rice fields
In Sapa, terraced rice fields were known as one of seven most beautiful of Asia so you shouldn't hide. Rice terraces in Sapa are very interesting as many slopes claimed from nature for cultivation in the mountainous areas. It was created by mountain cliffs often stock water. Thus, the weather is suitable for local ethnic minority people raising the rice and establish terraced rice fields, one after another, from the foot to nearly top of mountains. From afar, the terraced rice fields look like a picture of natural beauty. This picture has its color like the green rice grows. Not only that the field is lush with ripening rice.
The surface of terraced fields likes a mirror reflecting the contrast of the reddish brown of soil, the blue of the sky and the green of surrounding forests in both of April and May. The terraced rice fields with fully-grown paddy rice and forest trees spread the green out to the entire area in July and August. Next time, tourists can feel prosperity all over the area as rice in all terraced fields is ripe, giving the gold color. From afar, the terraced rice fields make the mountainous landscape astonishingly beautiful for travelers.