Two weeks in Vietnam and Cambodia is enough to visit the highlights like the attractive destinations. The best time to visit Vietnam depends on your plan for trip, but the most popular time is spring and autumn, when it is not too hot or cold, especially, there is less chance of heavy rain. See below the schedule of the best Vietnam Cambodia itinerary 2 weeks.
Day 1: Phnom Penh – one of the attractive destinations in the best Vietnam Cambodia itinerary 2 weeks
Starting your itinerary in vibrant Phnom Penh, which is a center of culture, especially. The city is famous for a chilled riverfront, bars and restaurants and a bustling night market. In Phnom Penh, there are three destinations such as the infamous Tuol Sleng Museum, the National Museum and the Royal Palace all within walking distance. The national museum houses a large collection of Khmer history and art before a visit to Wat Phnom, the city's namesake. After that you can visit the central market and buy local cuisine from creamy coconut curries to fried maggots and even tarantulas (apparently good for medicine).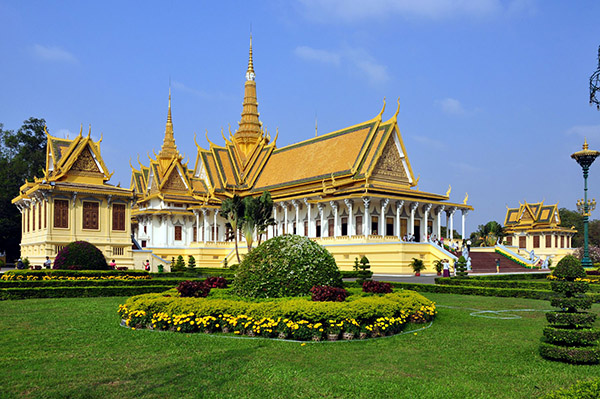 In the evening, you can wander along Sisowath Quay, the riverside esplanade or take a sunset cruise along the mighty Mekong.
Suggestions for food: Steamed pork bun, Chive cake, Lok lak,…
Day 2-3: Discovering Siem Reap with the inspiring Angkor temples
Fly to Siem Reap, the gateway to the inspiring temples of Angkor. You can move between sighseeingss by tuk-tuk, which cost about $20 per day. Angkor Wat is officially the largest religious structure in the world, and one cannot help but absorb its spiritual flare upon gazing at its beauty. Next, Bayon temple is at the heart of Angkor Thom. This temple has many traditional elements of Buddhist temples, but the integration of elements of Hindu cosmology into its ornamental carvings sets it apart.
In the evening, you can stroll around Angkor Night Market. It is a time to relax after a day full of visits. You can experience foot massage service at the fish spa to relieve and make your best spirit. You also can choose products made from recycles materials like bags, wallets, purses and pouches as gifts to present relatives when coming back.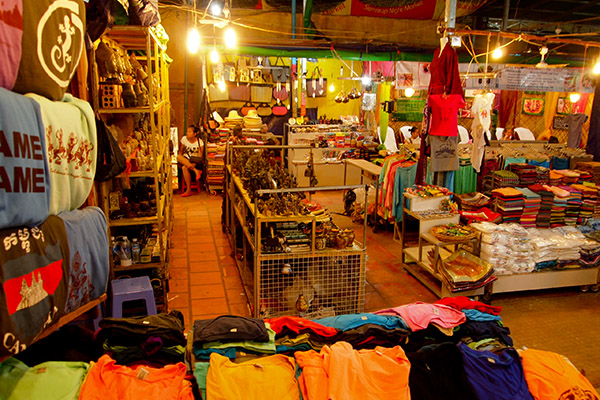 If you have more time in Siem Reap you can consider to visit the West Baray Lake, which is Cambodia's largest Baray, formerly used as a water reservoir during the Angkor period. Or Phnom Kulen National Park. It is a good place for anyone who is looking to explore the wildlife of Cambodia. It is located roughly 45 kilometers from Siem Reap, so it offers a refreshing change of scenery.
Suggestions for food: Trang Bang noodle, Prahok, Amok Fish, Green Mango Salad,…
Day 4: Tonle Sap Lake can't be missed in the best Vietnam Cambodia
From Siem Reap, you travel by land to the lake for a boat trip to visit floating villages. The Tonle Sap Lake is the most prominent feature on the map of Cambodia. It is a huge dumbbell- shaped body of water stretching across the northwest of the country. Moreover, this is the second largest freshwater lake in the world. Take a tour by boat to see floating houses, floating schools and even a floating hospital.
Suggestions for food: Chili Fried Insects, Cambodian BBQ, Khmer Cakes,…
Day 5 – 6: Welcome to Ho Chi Minh City to enjoy the best Vietnam Cambodia itinerary 2 weeks
After landing at Tan Son Nhat airport, welcome to Ho Chi Minh city which is the largest city in Vietnam. Here you won't be able to escape this fact for better or for worse. There are a lot of famous destinations in Saigon. For example, Saigon Opera House has been constructed since 1898 by the French architect. Ben Thanh is the largest and most well known of the markets. By visiting the market you can enjoy the delicious foods and seek the demand goods as well. Independence Palace and War Remnants Museum are two historical places of special interest for veterans.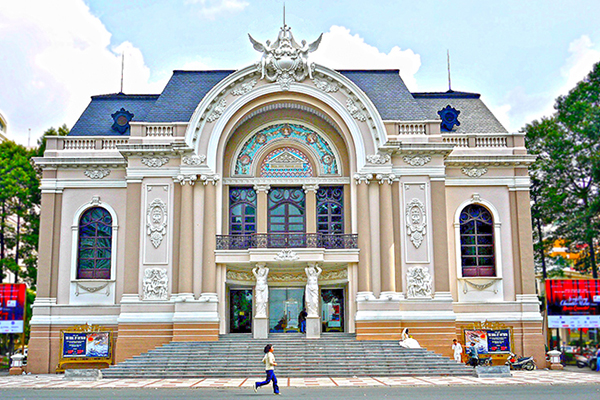 Cu Chi tunnel is as well as the Reunification Palace and the War Remnants museum, for an alternative look at the history and impacts of the war. The villages of Cu Chi have been presented with numerous honorific awards, citations and decorations by the government. So they have been declared 'heroic villages' which is one of the most historical places.
Suggestions for food: Rice Paper Rolls, Noodles, Sweet Soup (Che), Com Tam,…
Day 7-8: Mekong Delta – the ideal place in this itinerary
There are two options for you choose to transfer either by bus or by motorbike. When you come to Mekong Delta, you'll see daily life on the river, as well as many of the agricultural practices here, from fishing to rice harvesting. You should take a boat ride along the river to grace the stilt houses and the fruit plantation along the river. Moreover, the best experience in your journey is enjoying a boat ride through Tan Thach natural canal in Ben Tre, cruising under the shadow of the water coconut trees. You also can visit a local family which epitomizes the idyllic rural lifestyle. After that, you take a delightful walking through the fruit plantation, village.
Take the morning boat trip to visit the Phong Dien floating market which is at its busiest at this time of day. You should keep cruising and visit a rice noodle making village. One advice for you is gaining experience the "Monkey Bridge" in the Delta.
Suggestions for food: Clean fruits, "Sliced Flour" Noodle, Bot Loc Cake,…
Day 9: Visiting other historical sites in Hue
The flight lasts over 1 hour from Ho Chi Minh city to Hue. Hue was the Imperial capital of Vietnam from 1802 and 1945 and remains Vietnam's principal city for higher education and learning. One of these is Hoang Thanh (Imperial City) for royal palaces and shrines, Tu Cam Thanh (Forbidden Purple City) for royal residences, Dai Noi (Inner city) and Tran Binh Dai, which exclusively ancient architecture. Secondly, featured in various songs and poems, Thien Mu Pagoda has become an essential part of Hue City. The pagoda is the perfect combination of artificial architecture and picturesque nature with the symbol of the octagonal 21-meter-high tower.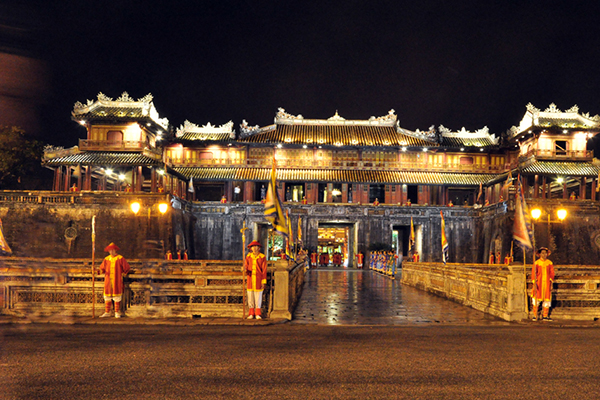 Suggestions for food: Mussel Rice (Com Hen), Flour Cake (Banh Bot Loc), Beef Noodle (Bun Bo Hue), Sweet Soup (Che),…
Day 10-11: The next amazing place in Central area is Hoian
The drive from Hue to Hoian along the Hai Van pass is one of the most scenic in all of Vietnam. The town is not just reminiscent of the past; it truly takes one for a slow enlightening journey to the past. Especially, Hoian is a place owning many historic houses and temples at night because of the colorful lantern.
One more attractive in Hoian is driving the bike around the ancient town. There are two options for you either hiring bike or booking bike tour to grace background of Hoian. Otherwise, if you want to buy the souvenirs for your family, let's get them in Hoian because this destination is truly a shoppers' paradise.\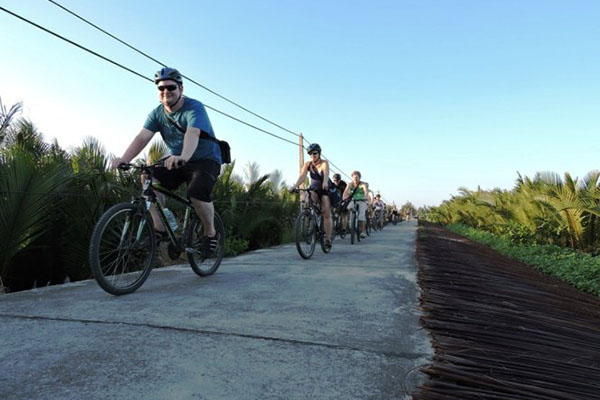 Suggestions for food: Ba Buoi Chicken Rice (Com Ga Ba Buoi), Cao Lau, Hoi An Bread, Tea,…
Day 12: Finding other culture in Hanoi in Northern area
One destination in the best Vietnam Cambodia itinerary 2 weeks is Hanoi which is a perfect place to begin a journey through Vietnam. The first place is Hoan Kiem Lake situated inside a complex of Ngọc Son Temple, The Huc Bridge, and Pen Tower that make a sparkling colorful natural picture. The second place is Temple of Literature which is the Vietnam's first university called Quoc Tu Giam (or National University). This historical temple was established within this temple to educate Vietnam's mandarin class in 1076. Otherwise, the best attractive place in Hanoi is The Old Quarter approved of a glimpse at the tradition and culture at the heart of Northern Vietnam. You should prepare for a half of day of walking street and take the locals' daily life, the old-style narrow streets and houses, the colorful souvenir shops.
Suggestions for food: Green Sticky Rice (Com), Ly Quoc Su Noodle (Pho Ly Quoc Su), Scrolled Cake (Banh Cuon), Bun Thang,…
Day 13-14: Halong Bay – discover the stunning views of one of seven wonders
One advice for you is traveling to Halong Bay by seaplane to save time and have an overview of scenery from overhead. Halong Bay one of the famous world places located in North area, where anyone shouldn't miss during an awesome trip. You should overnight on cruise to have more experience in there. You will discover a number of famous landmarks such as Sung Sot cave which is one of the largest caves and the most beautiful of Halong Bay. This time is for visiting the most beautiful place of Halong Bay through the unique islets with funny names such as Dog, fighting chickens, and incense burner. Besides, there are two destinations such as "Hidden Wooden" cave and "Heaven" cave, which usually attract more foreigners by amazing.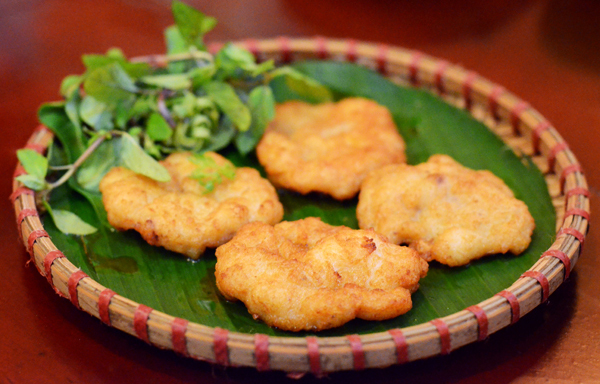 To deeply experience quiet atmosphere as well as scenic setting on the beaches, trekking and cycling will become great things to do for tourists. Many private operators close to the bay offer equipment on rent for these adventure activities.
Suggestions for food: Grilled Chopped Squid (Cha Muc), Crab Soup (Soup Cua), Steamed Shrimp (Tom Hap), …
Wow, we believe that the plan for the best Vietnam Cambodia package 2 weeks is very interesting for all tourists. If you have some troubles, let's send your request to us and give the satisfied answer.