Do you want to rest after hard work? Do you need to relieve pressure after a stressful school year? Or you are simply looking for a destination to discover the culture, the cuisine? Then, let's bring your backpack and start your experience immediately, to discover the majestic nature, admire spectacular views of magnificent landscapes in Vietnam. Here, we would like to introduce 3 must-visit places for a memorable North Vietnam tour.
Hanoi –  A Thousand Years of Culture and Civilization
Hanoi is definitely the first destination that you can not miss in your North Vietnam tour. As a place that preserves the history and culture of the nation for thousand years, Hanoi is not only famous for its historical sites, beautiful landscapes, unique cuisine, but also for elegant citizens.
Arriving in Hanoi, visitors can explore Hanoi's streets with some popular types of transport such as cyclo or tram. These are all environmental protection tools which help you easily explore this amazing capital.
The first stopping place of Hanoi in your North Vietnam tour is Hoan Kiem Lake. It is situated in the center of this city, so you can come here easily by private means or public transport. In the middle of the lake is the ancient Turtle Tower, surrounded by ancient cultural heritages such as Pen Tower, Ngoc Son Temple, The Huc Bridge, Writing Pad… These are the symbols creating a different beauty for Hanoi – the capital of thousand years of civilization. With the fresh atmosphere and picturesque scenery, this place is preferred by almost youth. It also becomes an ideal option to take wedding photos of many couples.
Moving Hoan Kiem Lake, you can come to the St. Joseph's Cathedral nearby. The St. Joseph's Cathedral is located at 40 Nha Chung Street, Hang Trong, Hoan Kiem, Hanoi. In general, this monument owns the architectural style of European Gothic, but still have the combination with the local architecture shown in the roof tile system, the interior decoration.
Hanoi St. Joseph's Cathedral is considered typical church architecture and one of the most beautiful Cathedrals in Vietnam.
After lunch with traditional foods in Vietnam such as Pho, Bun Cha, Banh Cuon, spring roll,… you can continue moving to the next destination in your North Vietnam tour: Ho Chi Minh places complex. This famous place is including Ho Chi Minh museum, Ho Chi Minh Mausoleum, his stilt-house, One Pillar Pagoda, Ba Dinh Square. This place is keeping the remains and honoring President Ho Chi Minh – the national hero. Coming to Ho Chi Minh places complex, you will have a good opportunity to discover memorabilia of President Ho Chi Minh, important historical landmarks of Vietnam, unique architecture of One Pillar Pagoda,…This is really a meaningful sightseeing for those who first come to Hanoi.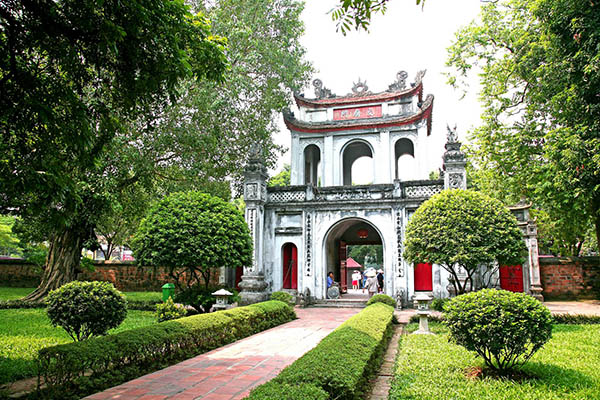 The last place to visit in Hanoi is The Temple of Literature. Known as the first university of Vietnam, The Temple of Literature is a famous historical site. It impresses both domestic and international tourists by the quintessence of historical periods of feudalism and the traditional values of Vietnam.
Today, The Temple of Literature is also the place where important literary competitions are held, where Vietnamese honors elite students. Moreover, in Calligraphy Festival, one of the most attractive traditional Vietnamese customs is to have an Ong Do (drawing scholar) write nice words in calligraphy with the hope of bringing good luck in the coming new year.
In the evening, you can spend all the time to visit  Ta Hien street, also known as foreigner street. Here, you can enjoy some interesting street food, drink a cup of beer and enjoy the fun, exciting atmosphere among visitors from all over the world.
Ninh Binh – The second destination in your North Vietnam tour
In recent years, Ninh Binh is gradually becoming a tourist destination attracts not only domestic visitors but also international tourists. Most visitors to Ninh Binh are extremely impressed by the gentle poetic beauty of wonderful spots such as Trang An, Tam Coc-Bich Dong, Van Long, … Each destination in Ninh Binh is all very unique and deep features, creating a highlight that attracts more and more visitors.
Hoa Lu – the capital of Dai Co Viet
Hoa Lu was the first capital of feudal Vietnam, associated with three dynasties: Dinh, Tien, Le. Previously, Hoa Lu was a stretch of land about 300 hectares surrounded by mountain ranges and rivers. The western side of Hoa Lu is bordered by Truong Yen. The south is protected by majestic Ngu Mountain. The north is the Huanglong River flows. The scenery of Hoa Lu is truly magnificent and picturesque, with high mountains, long rivers, typical architecture despite wars and catastrophes for centuries.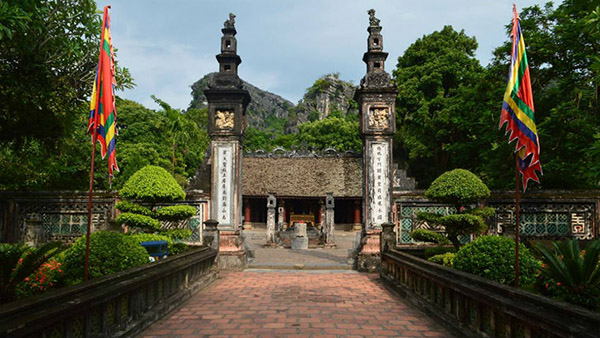 Thung Nham bird park
If you are a lover of nature and animals, you definitely can not ignore the beauty of Thung Nham bird park. With its rich ecology and pristine wilderness, this is truly a paradise for bird lovers. This eco-park impresses visitors with over 40 different bird species with nearly 50,000 birds. Coming here, tourists can pianissimo enjoy the feeling of sitting on the boat, watching each flock of white birds fly in the sky.
Trang An
Honored as a natural heritage and a world cultural heritage by UNESCO, Trang An is famous not only for domestic visitors but also tourists from all over the world. Between two majestic limestone mountains undulating, there is a green river look like a strip of silk. All of them create a majestic spectacular scenery that you should not miss in your North Vietnam tour.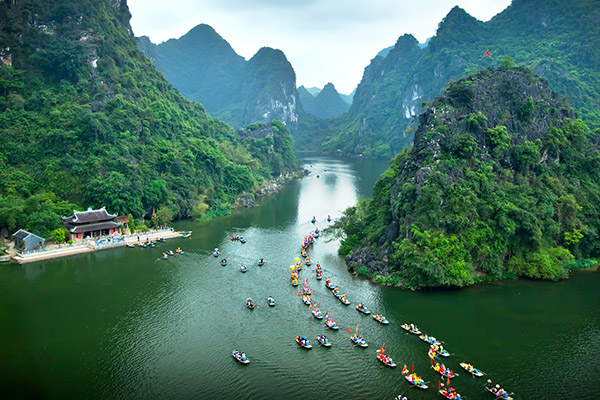 Tam Coc – Bich Dong
If you are a Hollywood lover, you definitely know Tam Coc – Bich Dong as one of three scenic spots of Ninh Binh appeared in famous movie Kong: Skull Island. Located 120 km from Hanoi, Tam Coc – Bich Dong is a part of the Hoa Lu limestone mountain range. Known as "Halong Bay on land", Tam Coc – Bich Dong preserved the primitive beauty that has attracted countless visitors. In the middle of the immense sky, you can admire the stunning views of endless golden fields, ancient temples interweaved with harmonious caves, mysterious old green trees,…
Sapa – the misty town
In the afternoon, your tour will come to the end. Then, you will be transferred to Hanoi. From here, you can come to train station to next destination in your north Vietnam tour: Sapa. One of the best ways to visit Sapa is taking an overnight train which departs at 8-10pm.
Fansipan – the rooftop of Indochina
The first tourist destination when referring to Sapa is Fansipan. It would be great to stand at 3143m, stretching out to breathe fresh air, enjoy the feeling of touching the clouds and admire magnificent views of Sapa below. You can get the experience in Fansipan by the world's longest cable system. The ticket price per cable car is 600.000 VND/ person. Fansipan cable has realized the dream of conquering the rooftop of Indochina for all tourists.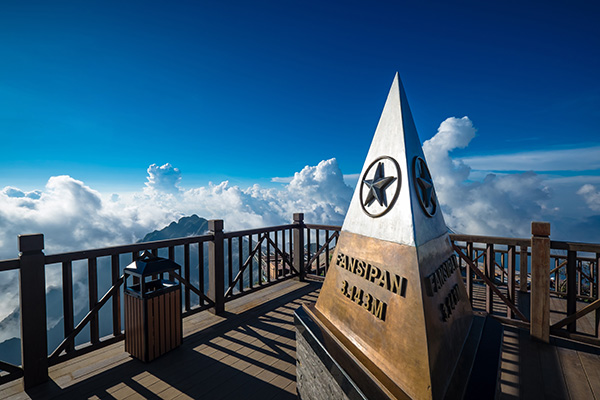 Ta Phin – the village of Red Dao
Ta Phin is an interesting place you should not miss while traveling Sapa. This is the residence of Red Dao ethnic people. The road to Ta Phin offers spectacular stunning views of endless green corn fields, lush terrace fields, colorful flowers, beautiful orchards,…The trek to Ta Phin will also an ideal option to discover Ta Phin Cave – one of the most attractive destinations in Sapa and experience the unique brocade artistry of Red Dao people living here.
Lao Chai – Ta Van
Unlike Ta Phin, Lao Chai is home of Black H'mong people. This small village is located in a beautiful valley. Coming to Lao Chai, you will have the opportunity to enjoy sensational spectacular views of Hoang Lien Mountains, Dragon's Jaw Mountain, beautiful terrace fields,…After watching this picturesque scenery, you can trek through Lao Chai, experience Black H'Mong daily life and discover how they make their traditional clothes, handicraft, indigo,…You can also ask local people to try making a handicraft by yourself as an unforgettable souvenir.
After visiting Lao Chai, we will walk through a narrow path to Ta Van village. 8 km from Sapa town, Ta Van is a small ethnic village of Giay people. The scent of rice blends into space with golden terraced fields creates a poetic picture of the mountainous Sapa.
Coming to Ta Van, you will have a great chance not only to admire the peaceful scenery of rustic ethnic rooftops but also to discover how ethnic people here forge their own production tools and silver carvings. Do not hesitate to chat with ethnic people here. The hospitality and friendliness of the Giay people can make you feel at home with your family. Here is also an ideal option for you to buy yourself some beautiful hand-embroidered products. Do not forget to taste some highland specialties such as grilled fish, winning try horse meat, pork armpit theft, Men Men,… Lunch experience in a local restaurant before going on the journey is truly a memorable experience.
Bac Ha Market – Northern highlands market
Last stopping place in Sapa for a perfect north Vietnam tour is the traditional market for colorful handicrafts. Sapa – Lao Cai owns many unique markets held at different times. Among them, Bac Ha market is known as one of the most attractive markets.
Located in the high mountains of Bac Ha district, Bac Ha Market is only held on every Sunday. This market impresses both domestic and international tourists by the original character and unique features of the highland ethnicity.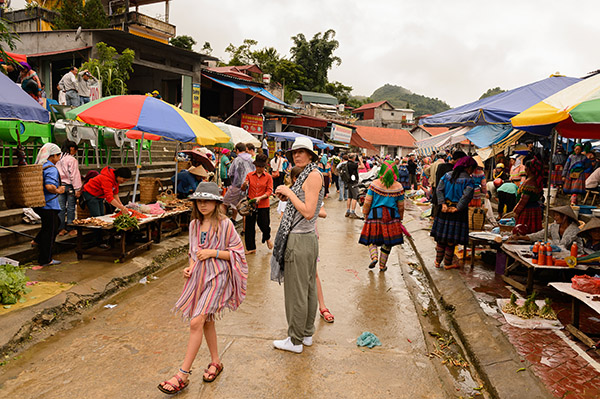 This large piazza is divided into several different areas. The vegetable and fruits area are always colorful with fresh agricultural products. In the cattle area, you can find lots of interesting animals such as horses, buffalos, cows, goats … But the area that attracts the most tourists is where sells brocade products embroidered by ethnic people. Here you can choose to purchase some beautiful dresses, towels, bags,…with delicate embroidery lines and unique patterns.
Bac Ha market is not only a place for buying and selling goods, but also for the meeting. People from different villages come here to meet, reunite after a long time away. Here is where young people find their lovers.
Going to Bac Ha Market, you need to taste some highland specialties like "steamed corn", Thang Co, Men Men, corn wine … They are found only in Bac Ha or some restaurants nearby.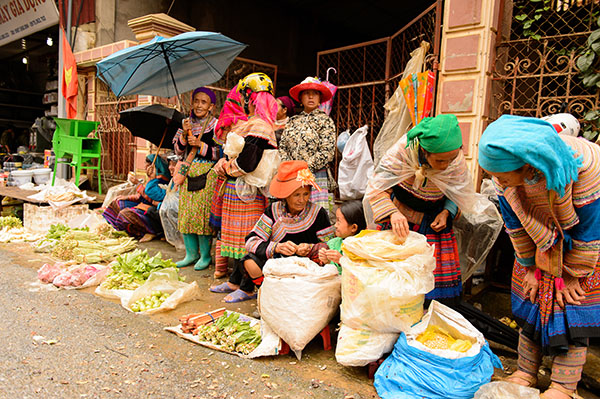 It is often said that a North Vietnam tour without checking in Bac Ha market will never be really complete. So if you have a chance, let's visit this interesting market.
In general, there are plenty of other attractive places and resorts in Vietnam such as Mai Chau – Hoa Binh, Moc Chau – Son La, Halong Bay, … besides the beautiful tourist attractions suggested above. However, with beautiful scenery, magnificent cuisine and unique culture, friendly and hospitable people, we ensure that this north Vietnam tour will make you completely satisfied.