The coastal town – Nha Trang has many local markets for travelers to explore. Among these, you will  find a Nha Trang night market in the city center. The night market is not only good for shopping for souvenirs and merch, but they also offer great insight into local culture. Here is some information on Nha Trang Night market, take your time and explore it!
Where is Nha Trang Night Market?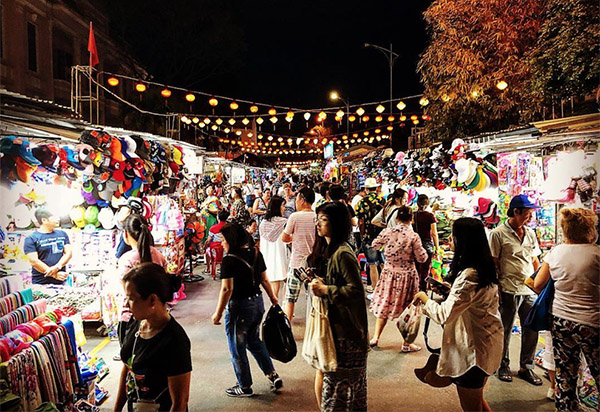 It is located in the center of Nha Trang and is separated into 4 main zones:
Walking street and night market – 46 Tran Phu Street

Nha Trang market – Tue Tinh street, Tran Quang Khai Street

Yasaka 9 market – Tran Phu Street

Tropicana shopping – Hai Yen hotel
Among these zones, Night market and walking street are the busiest. They are always full of visitors and locals during nighttime.
What is opening time?
The market has been in operation since 2010 in order to serve the demand for shopping, night activities or night dining of both local and tourists. From then the night market has attracted a huge of visitors.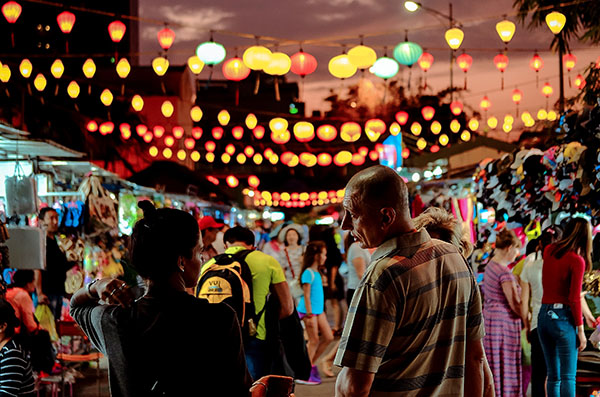 Every evenings, Nha Trang Night Market is usually crowded, and it will close until midnight.
What to buy at Nha Trang night market?
After a day of exploring the city, if you like to do some shopping or want to experience the street food, then this is a place for you. The market has around 50 booths, including 16 cuisine stalls. 
At the market, you will find a lot of interesting items like clothing, souvenirs, handicrafts, street foods… Let's buy some souvenirs, drink anything and enjoy the atmosphere here.
1. Souvenirs
Nha Trang has lots of popular souvenirs that visitors usually buy as a gift like pearls, art handicrafts, and postcards/photography… However, at the night market prices are definitely cheaper than any gift shops or souvenirs stores. Although the market scale is not large it has a wide range of size, type and price, you will be easy to find the best gifts for your need.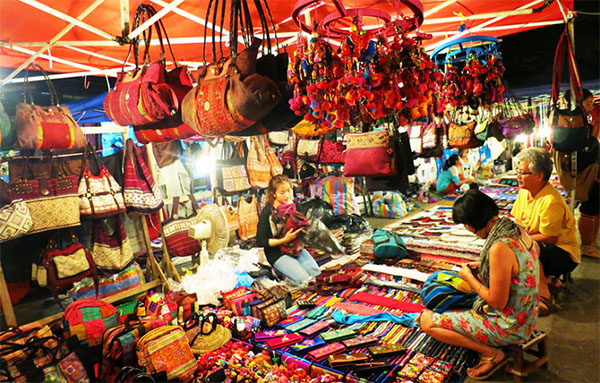 2. Clothing
Clothing is sold at every night market in Vietnam and Nha Trang is also. There are many types of clothing to buy. But the quality is not good at the cheap price. Don't forget to bargain to get the best price. However, almost shops at Nha Trang night market doesn't have a fitting room, so it is not convenient to find the best suit for you.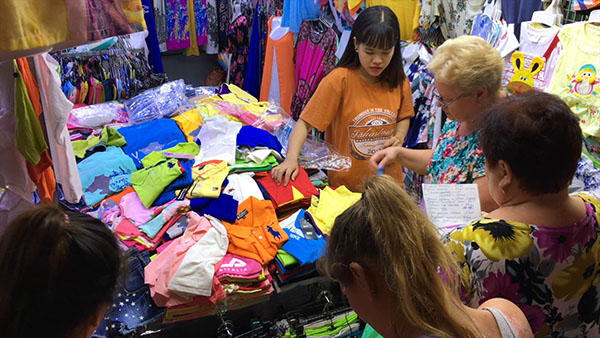 3. Street food 
Try street food at Nha Trang night market is a must for any visitors who travel to this scenic coastal town. It is obvious that due to the location of Nha Trang, the local specialties stress on the fresh seafood ingredients, savory fish sauce or distinctive sweet taste. 
Rice Vermicelli with Jellyfish or Fish
"Bun Cha Sua" is one of the well-known vermicelli soup with the fish broth in Nha Trang which is distinctive with the broth of jellyfish, rice vermicelli and freshly steamed sailfish. Moreover, this street food also includes other ingredients like crab meat, pork, and shrimp to make the food sweeter and satisfy the culinary tourists.
On the other hand, you can enjoy other popular versions of this rice vermicelli soup, it is "Bun Cha Ca". In this dish, you can be easy to see the mackerel and sailfish with a special broth from the pork bones.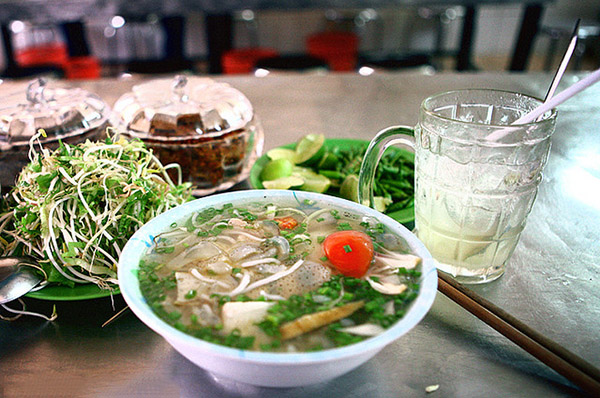 Enjoy 2 kinds of food here, you will get the authentic feeling of the coastal town and do not forget to relish a complete the bowl with vegetable, herbs, lemon, and chili.
As a coast city seafood is very popular in Nha Trang. You can find it from a luxury restaurant to a small corner in a street. There are variety of seafood like shrimp, snail, fresh fish, crabs…newly caught from the sea. And There are many cooking ways of the local people of seafood such as boiling, steaming, mixing with spices, stir-frying, grilling… that makes the food ultimately yummy and delicate.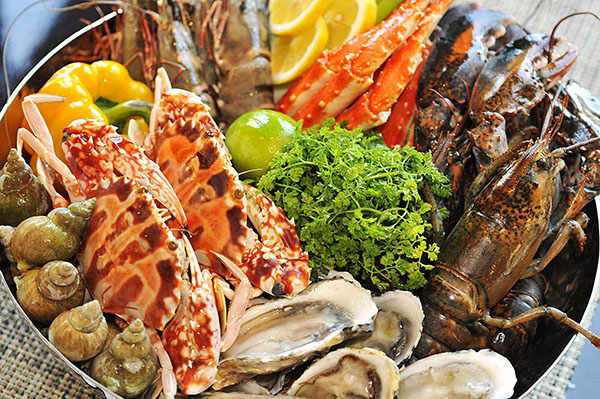 Mini Pancake with Egg, Squid, or Shrimp
"Bánh Căn" – this is like a mini pancake, made from a little rice flour, eggs, onions. It is a favorite food in Nha Trang and bought at the street, local market, night market or tourist areas by the local people. There are some versions of "Bánh Căn" – topped with quail eggs with pork and seafood (usually squid, shrimp) and the price is cheap with a street food. You will enjoy several pieces of mini cake with fresh vegetable, herbs and dip into the special sweet-and-sour sauce fish.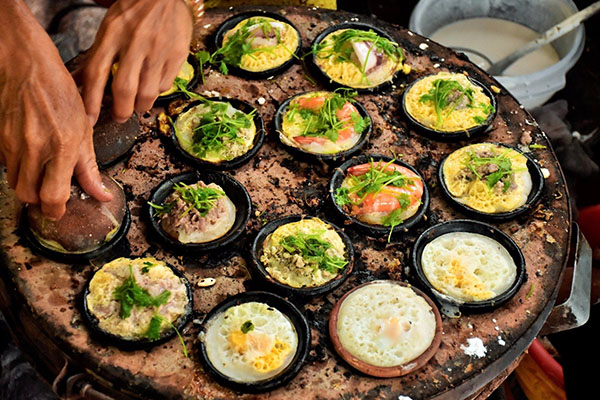 "Nem Nướng Nha Trang" (Nha Trang's grilled pork roll) is one of the top street food in Nha Trang thanks to its inviting smell and succulent taste. The pork rolls are grilled on the coal stove directly so that they own enchanting smell and attractive look. People enjoy it by rolling the pork roll, deep-fried rice paper wrappers, fresh vegetable, herbs and dip into the special fish sauce.
Night market in Nha Trang is really the best attractive places for tourists experiencing the local life as well as joining the nightlife activities of both the local and visitors here. Do you want to visit Nha Trang? Let us help you to plan a trip: