As an old French Hill station in the past, Sapa is now a beautiful and peaceful town in Lao Cai Province, Northwest Vietnam. Close to the Chinese border, the town has its name reputable for its unique weather, breathtaking natural beauty, and the wide variety of hill-tribes locals (Red Dao, Tay, Hmong, Xa Pho, and Giay). During a trip to the highland, there are many adventurous activities for tourists to experience, such as trekking, cycling, riding, or taking photos. Among them, trek Sapa is one of the most favorite activities there.
Spending time going trekking allows you to admire the wonderful landscapes at fullest, from deep valleys and rolling mountains to green forests and magnificent terrace paddy fields. Furthermore, a trip to the destination is also a wonderful chance to learn more about the real locals' lives, and mingle with a lot of the fantastic cultural festivals.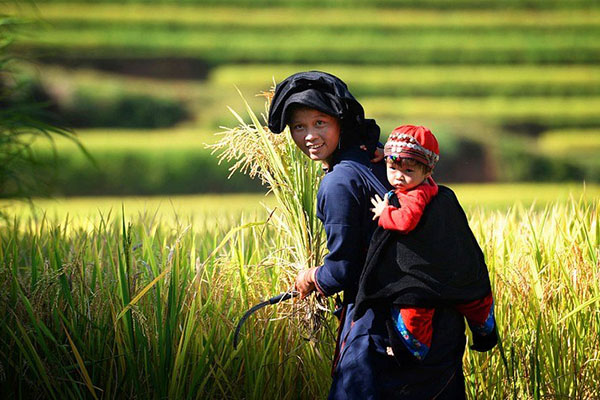 What types of trek Sapa tour should you know?
In general, there are some options for you to consider, namely easy trek, medium trek, and hard trek. If you are the one who loves leisure holidays or simply wants to gain a basic understanding of Sapa and the ethnic minorities' lives, then an easy trekking route to villages of minority people around the town can be a good choice. A few favorite destinations you should check in are Muong Hoa Valley, Cat Cat Village, or Y Linh Ho Village. Situated about 3 kilometers Southwest of Sapa, Cat Cat village is usually the most popular short trekking here. During the hiking, visitors can enjoy leisure walks through imposing mountains and picturesque scenery.
In terms of a medium trek, you are able to challenge yourself with some harder routes in Sapa, like Sin Chau Village, Silver waterfall, Lao Chai Village, or Ta Van Village. Ta Phin Village, located about 6 kilometers to the North of Sapa, is also a good idea for you. Further, from the town, Ban Ho Village and Ban Khoang Village are other famous destinations for multi-day trekking trips.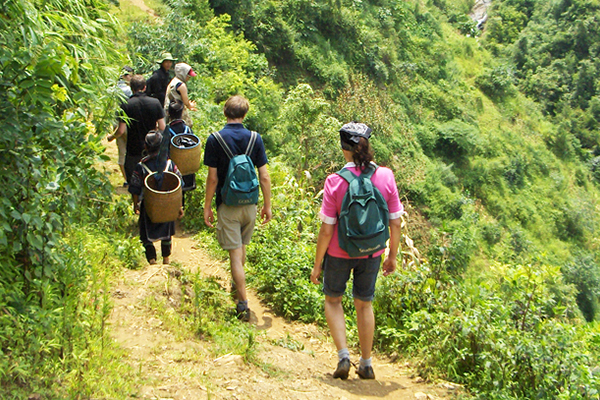 Are you a trekking lover? Then, the hardest trek Sapa tour will never let you down. Such trekking can last from 3 to 6 or 9 days, depending on your route and itinerary. Along with hiking across the remote villages and places, it is also the trek to the Roof of Indochina – the peak of Fansipan Mount. In that case, don't forget to hire a trustworthy local who has many years of experience and the deep understanding of the route. Once conquering the top of the mountain, you are quite able to marvel at the magnificence and the beauty of the panorama below.
Top destinations for 2-day trekking tour to Sapa
If trekking to Sapa sounds to be popped up in your mind after you contemplate the stunning pictures of towering mountaintops, cascading rice paddies, and wonderfully green plains, then let's make it come true right now! Booking for two days of trekking is a marvelous idea at that time. The following are our recommendations for spots you should not miss throughout a 2-day trek Sapa tour.
1. Mong Sen Village:
The first destination is Mong Sen village that is home to over 400 Black H'mong ethnic locals. It takes about 10 minutes by car and 30 minutes on foot to get there from the center of Sapa town. Generally, the ethnic minorities here are hospitable but shy. However, they are more and more opening up today since the number of tourists flocking to the area increases every year.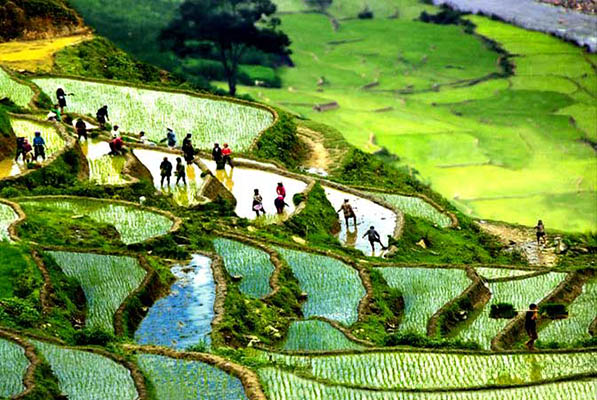 2. Ta Phin Village
From the Mong Sen village, you continue your trek tour ascending a dirt trail through the mountainous area. During the trek, it is quite possible to admire the prominent views over lush rice paddy terraces and great cornfields. After taking a short break for a lunch, you will then keep going hiking downhill toward Ta Phin where the Red Dao and Black H'mong minority people mostly make up the majority.
Coming to Ta Phin, a common sight you can catch up is the groups of Red Dao's woman and girls gathering together, gossiping and laughing, as well as making embroidery with a lot of colorful reels of thread and cloths. The area has officially been known as the "brocade village" since 1998, where visitors from many parts of the world may see the distinctively handmade brocades from ethnic locals. That's why a hike to Ta Phin brings you an opportunity to own one of the eye-catching products with numerous bright colors and patterns, such as scarf, purse, bag, skirt, coat and even backpack.
3. Cat Cat Village
Another perfect spot for a trek Sapa tour is Cat Cat village – home to Black H'Mong ethnic locals. They live close to each other along the mountainside. Their main jobs are cultivation, making traditional handicrafts, as well as manipulating gold and silver jewelry. In fact, the road leading to the village is considered an easy and fascinating route for trekking, which is only within 20-30 minutes of walking from the Sapa town. Furthermore, the hike through mountains will bring adventurers the wonderful spectacle of waterfalls, rice paddies, or even green forests.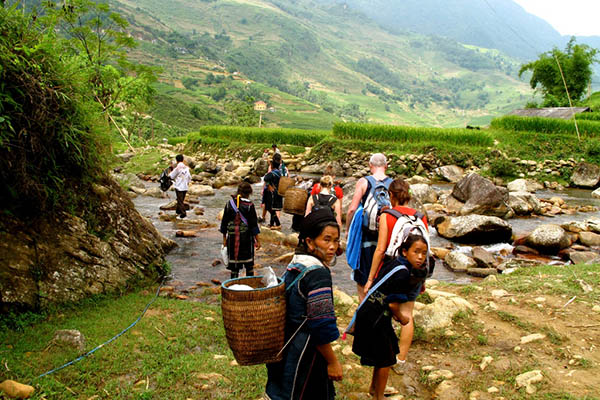 After hiking across Cat Cat, you have a great occasion to understand the daily life of local ethnic groups and partake in the traditional weaving fabric activity. Don't forget to buy some unique souvenirs and handicrafts from the craftsmen as impressive gifts for your beloved. Sampling some local food prepared by the locals or selling along the way is what you should try, too. It is a brilliant idea to learn more about the area's culinary art.
4. Y Linh Ho Village
Located 7 kilometers Southwest of Sapa center, Y Linh Ho village stands out as the next trekking spot for those who love peace and serenity as well as wishing to gain first-hand experiences of interacting with hill tribes, particularly the Black H'mong who majorly inhabit the area. The only way to reach the village is to go on foot, which means you have a chance to contemplate the charm of eye-catching valleys lying between mountains. Of course, the fresh and cool air does make the hiking route worth your time and effort.
Y Linh Ho is just a small commune where a lot of hamlets scatter through the tough mountainous terrains. The local ethnic people usually cultivate corn and rice on the steep hillsides as a way of earning their living. It is easy to notice them through their dark clothes in black and navy dyed with indigo. Don't hesitate to visit an H'mong family and admire their wooden- and bamboo-styled house. Then, learn their daily activities and enjoy a meal with them. They are very friendly and sociable.
5. Silver Waterfall
Also called Thac Bac, Silver Waterfall is one of the noticeable tourist hotspots in Sapa. It wins an award for its splendid landscape, magnificent waterfall, and the breathtaking views of the surrounding mountains and forests around the Hoang Lien National Park. A trek Sapa tour without checking in Silver Waterfall will never be complete. From distance, the waterfall just looks like silver white dragon flow that heavily dives down toward the ground. The scenery of Silver Waterfall varies in different seasons. The falls swells up in raining season and shrinks in dry seasons.
Adventurous visitors are recommended to climb to the top of the waterfall where they are able to enjoy a stunning and spectacular view of the surrounding scenery. If not, just wander around the bottom of the falls and have yourself immersed in the cool water.
6. The Heaven's Gate
Keeping hiking more, you may find the Tram Ton pass – the highest mountain pass of Vietnam, which is also widely known as Heaven's Gate. What makes the Heaven's Gate worth your while is that it is a flawless place to experience the stunning view of the Muong Hoa Valley and the West side of Fansipan Mount. Although the road to the peak is rough, unsmooth and dusty, the scenery and sense of adventure can get all of your tiredness vaporized.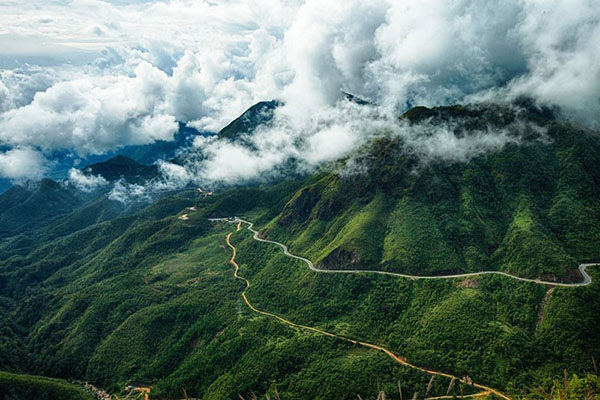 Conclusion
Trekking to Sapa certainly requires various fitness levels. And you should have the good physical strength to gain the best memorable experiences. It is possible to choose a 1-, 2- or even 3- day itinerary that suits your budget and demand. To be sure, joining in a trek Sapa tour means that you need to go on foot and overcome some mountainous or forest spots, which is quite dangerous. As a result, please equip yourself with much more useful information and have all necessary things prepared for your own good. Hope that you will be satisfied with our above itinerary! Happy trip!