Are you sometimes a person who thinks it is almost impossible to have a perfect trip in rainy season? Hope, these below information will make a little change of your thoughts about travelling in Vietnam rainy seasons.
Overview of Vietnam rainy season
In the North of Vietnam, rainy season is not as clear as the south, but there will be the time when the rain can last for 2 -3 weeks.
In the spring, the humidity is pretty high because of the drizzling rains. As we can see, the amount of rain of drizzling rain is not much, it is just for creating a beneficial environment for the trees and flowers to bloom in spring. Therefore, visitors are recommended to visit Vietnam this time to not only experience the biggest holiday- Tet holiday but also admire the beauty of nature here.
Summer is not often considered to be the rainy season in the North, however, we might often encounter the downpours, which comes and goes fast in just about 30 minutes to one hours. The heat during summer is high, from 30 degree C to 36 degree C so the weather might sometimes get quite harsh.
In the Autumn, the rain often lasts up to one month. According to conventional wisdom, it falls on the 7th month of Lunar year, which means it often occur in August according to International calendar.
Legends has it that this month is when Nguu Lang and Chuc Nu, the two fictional characters, who love each other but can just see each other in this month of the year. The rain symbolizes their happy tears.
In science respect, because this month has the influence of the tropical convergence strip, the North and the North of the Central region have scattered rain and showers and some places have thunderstorms. The weather is quite cool, the average temperature is from 23-25 degrees Celsius; highest at 30-32 degrees C, the northern central provinces are a little hotter, in the range of 31-33 degrees C.
Vietnam Rainy Season according to regions
In the Central area of Vietnam, the rainy time is quite different in some provinces. Hoi An and Da nang often have the considerable amount of rain from October to the end of January. One thing you should notice is Hoi An often encounter the flooding scene in December, there was time people in Hoi An had to travel place to place by boat.
In Nha Trang and Hue, the rainy season often falls between September and December. Despite that, tourists can still enjoy their trip by taking tours to ancient mausoleums, royal tombs, palaces in Hue because the rain will not have much influence on this kind of tour and it even adds more vaporous and splendid beauty to these places.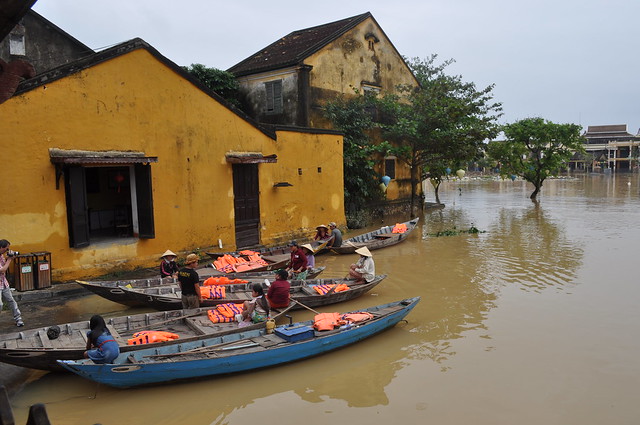 You might find it a little bit depressing when you've first heard about it, but hold on! There will be no cloudburst, no thunderstorm. There can be a flood. But this is actually a specialty of the South, especially the Western South. The water gradually rises during the flooding season and the local people get used to it.
You will see how calm they are when their houses are deluged. They even have life-savers to prepare for such a situation.
I suggest you should not choose to visit islands in the South during this time because the heavy rain might prevent the boats and ships from running and you might not be able to experience the full beauty and all interesting activities there.

Wonderful experience on Vietnam rainy season
"Every cloud has a silver lining". Although your trips are in rainy season, the rain cannot always be there to interrupt you journey and your tours can be very flexible according to the weather conditions. For examples, when it rains, you can choose to visit some indoors destinations, and when the rain stops you can visit your favourite outdoor ones when the air is refreshing and the weather is chilling.
Therefore, you can just be relaxed and pick out your favourite spots in Vietnam. And here are some suggestions on what can be the most perfect things to do on rainy days.
Admiring the beauty of the old streets, antique buildings in Vietnam rainy season
The beauty of these destinations hidden in the rain is one of a kind. The feeling of old time along with a little sadness feeling of the rain seem to bring us back the old time and the nostalgic feeling.
For somebody who is passionate about photography, this is a wonderful time to create some exceptional works of art.
Some destinations suitable for this kind of experience are Hoi An and the Old Quarter in Hanoi.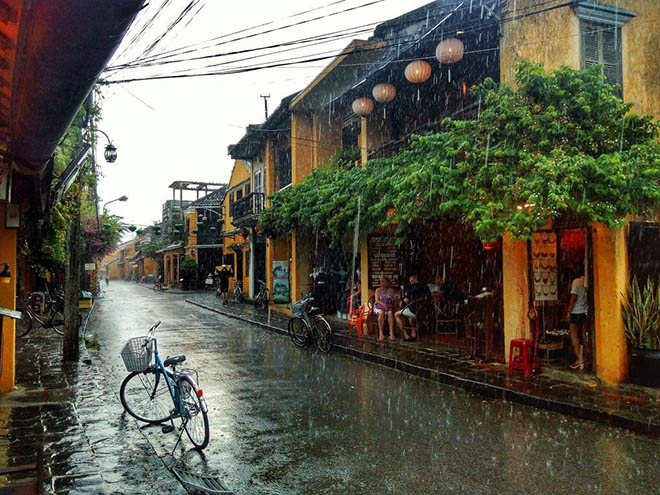 Visiting religious architectural works like mausoleums, churches and pagodas
Because almost all activities related to this kind of experience are indoor the weather cannot disturb your trip. This helps to bring you insights into complex of cultural and religious architect.
On rainy days, the sounds from the bell tower on the top of the mountain create a sense of sadness but not dullness.
You can visit these places almost every popular tourist destinations you come.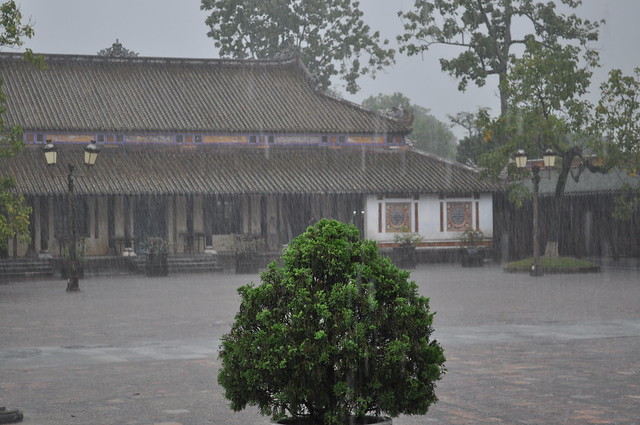 Enjoying a cup of Vietnamese coffee in highland areas or on a well-known lake
You can choosee a coffee shop located on the 2nd floor of an old house, and looking outside, where there is the rain covering on the old houses. I think all of these things is an unforgettable experience when traveling on the days rain.
You can also go to a floating restaurant near the banks of the Huong River, outside is the pouring rain. That's when you can feel the gentle, deep beauty of Hue in the rain.
Enjoying a cup of coffee on a well-known lake like Huong River or along the river bank of Han river is also an interesting experience, when the fragrance of coffee will blend with the scent of the rain and the warm heat of your coffee on your hand mixes with the chilling and cool air when it rains. Isn't a perfect match?
Visiting waterfalls in Vietnam rainy season
Many tourists come to Vietnam relax and visit the poetic and charming natural scenery, so why not waterfalls?
We all know how mighty all the waterfalls are let alone admire the strong pouring down flows after a heavy rain. I think your trip will be complete with such a experience.
Some renowned waterfalls are Ban Gioc waterfall (Cao Bang province), Love Waterfall (Sapa), Yang Bay waterfall (Nha Trang city), and many more.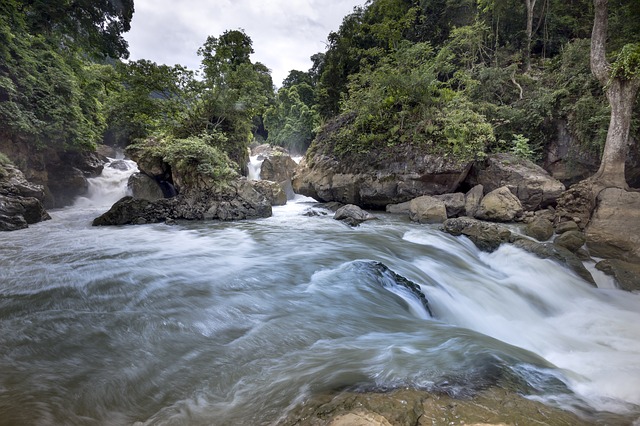 What to prepare for a trip on rainy season in Vietnam
– Check the information about the weather condition of the destinations before going. Although it is fine to travel during rainy season, you might not want to travel on such heavily rainy days. Or encounter any storms. So remember to check the weather carefully.
– Bring waterproof backpacks, small clear bag for important documents and papers to avoid getting wet when it rains. A pair of slippers should be neccessary as well.
– Remember to bring insect repellent because the wet season will create a beneficial environment for insects and mosquitos.
There is one big plus point for choosing visit Vietnam during this time of the year. That is the number of visitors will not be overwhelmed. Therefore, you can experience more reasonable prices, more comfortable journey and truly have a relaxing time.
In conclusion, don't miss the rainy season in Southern Vietnam. There are many appealing places that can make your trip unforgettable.
For more information about specific destinations and weather conditions, please reach us at
Tel: (+84-24) 66683333 / 37153977 | Fax: (+84-4) 3715 3978
Email: sales@travelsense.asia | Hotline: +84.899861177