Mid- Autumn is Vietnam's second most important festival of the year, which falls on the 15th day of the 8th lunar month every year. This usually coincides with the first full moon following the last big harvest of the year. 
This year, it occurs on September 13th according to international calendar.
Are you curious what is Mid – Autumn and why it is Vietnam's second most important festival of the year? Let's find out.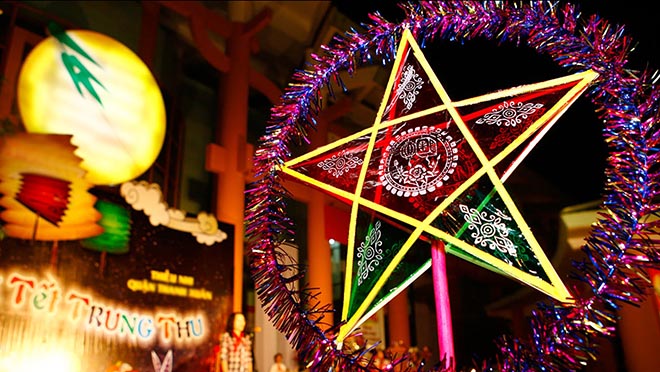 The Origin Of Mid-Autumn Festival 
Many people say that Vietnam's Mid-Autumn Festival originated from China but in fact when going into anecdotes, Vietnamese and Chinese people have different origins of the Mid-Autumn Festival.
The Mid-Autumn Festival in Vietnam dates back to ancient times when this event was printed on the surface of the Ngoc Lu bronze drum. According to the stele of Doi Pagoda in 1121, from the Ly dynasty, the Mid-Autumn Festival was officially held in the capital city of Thang Long with boat racing, water puppet and light procession festivals. In the Le – Trinh dynasty, the Mid-Autumn Festival was held extremely lavishly in the Lord 's palace.
The Mid-Autumn Festival originated from agricultural civilization of the Vietnamese people. At this time, the air is cool, the crops are waiting to be harvested; therefore, people hold the festival and celebrate this important day.

What Do Vietnamese People Do In Mid-Autumn Festival?
– Admiring the Moon:
During the Mid-Autumn Festival, most people will go to the streets to admire the beauty of the full moon. The moment when the moon rises is extremely sacred for many people because the moonlight is a sign of the reunion of family members together.
– Hanging multi-coloured lanterns:
Lanterns are often hung in front of the door because they symbolize good luck. Besides, lanterns are also popular toys for Vietnamese kids during the festival.
A lanterns shop in Hoi An
– Taking part in to lantern 'parade' for children:
The kids in a certain area will join a small lantern parade and walk around the neighbourhood or streets. The lanterns that were popular in the past were just a 5-star lanterns, but now they are made in many shapes and colour. During the parade, children also wear masks of popular characters in movies or comics as well.
– Setting 5-fruit tray:
Because according to conventional wisdom, there are certain types of fruit symbolize luck for human, many families choose 5 kinds of fruits with different colors to put in the tray on that day, in order to pray for health, peace and wealth.
– Eating mooncakes with family members: Mooncakes are considered to be the symbol of Mid-Autumn in Vietnam.
There are many types of mooncakes nowadays, but typically it has a soft thin crust with green bean stuffing or mixed stuffing and it tastes quite sweet. Vietnamese family often gather around and enjoy mooncakes together.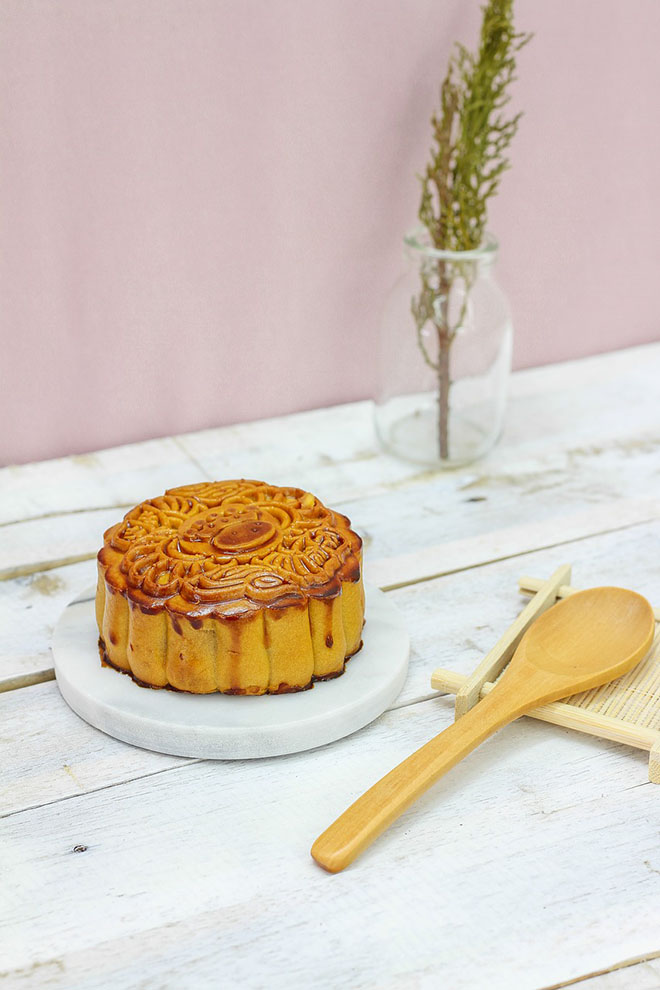 Mooncakes are considered to be the symbol of Mid-Autumn in Vietnam
Where To Go To Get The Best Mid-Autumn Atmosphere?
1. Lantern street of District 5 (Ho Chi Minh City)

Located on the main road, one of the central districts of Ho Chi Minh City. District 5 lantern street is a suitable place to have fun and take splendid picture with the colorful and unique lanterns in the Mid-Autumn Festival in 2019.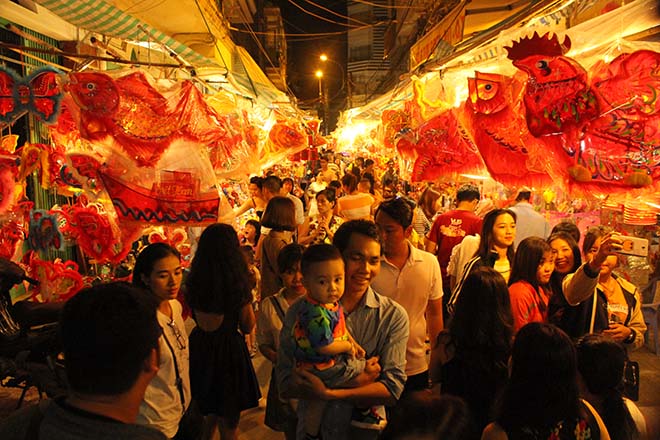 Lantern street of District 5 (Ho Chi Minh City)
2. Hoi An 
You might have known that one of the most famous feature of Hoi An is the lantern street. Not only do you have the chance to admire the beauty of this special street, you can also join a very specially traditional practice here: dropping the flower garlands and coloured lanterns to the river.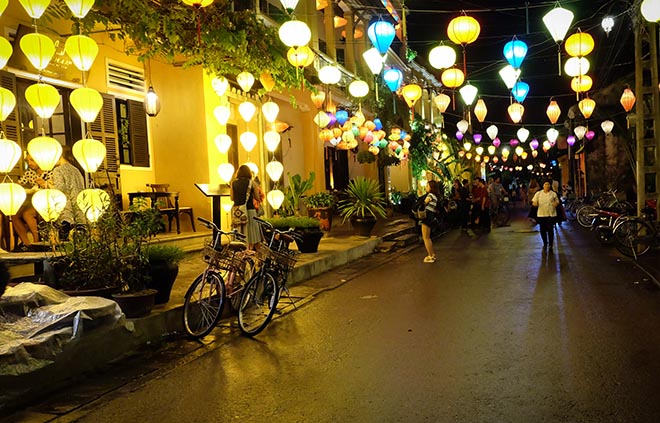 3. Hang Ma Street
Hang Ma Street is a place to display a variety of traditional toys such as star-shaped lanterns, traditional lanterns, unicorn heads, masks, … Prices range from VND 10,000 to VND 100,000. And some more elaborate crafts will cost more than 200,000 VND. However, you don't have to purchase those products to be here, you can just come and witness the join the dynamic and bustling atmosphere there during Mid-Autumn festival.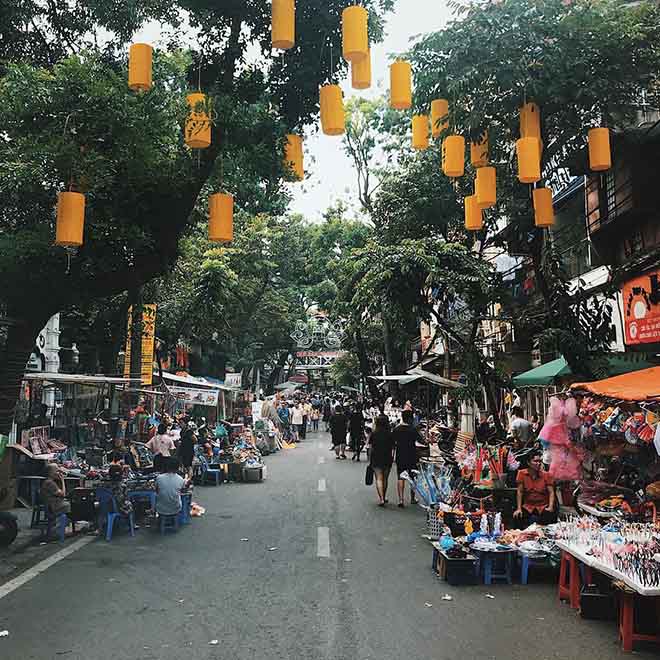 4. Ho Guom pedestrian zones
This place is often chosen to hold hamny events including musical events, club activities or cultural events at the weekends. So Mid-Autumn will not be the exception. This-year event occurs on Friday so it will be open with lots of interesting activities such as: lantern parade, Mid – Autumn musical show and so on.
If you wish to have deeper insight into Vietnam's cultural traditions, this festival is a must-go for you. You will understand more about Vietnamese people, their important morals and traditional activities on big and important holidays. We hope you have a nice trip coming to Vietnam this Autumn.