Vietnam is an awesome country where completely provides an opportunity to experience breathtaking beauty and explores a new culture, accumulate memorizing pictures and more. As a result, it also offers you a chance to discover the locals more closely. The souvenir shop systems are located everywhere in landscapes where you travel, so don't worry about what you need to buy the gift. Of course, every country wants to produce a special list of products which tourists are willing to buy souvenirs and Vietnam too has these which you should own after travelling to Vietnam. The article mentions the useful information where to buy the best Vietnam souvenirs.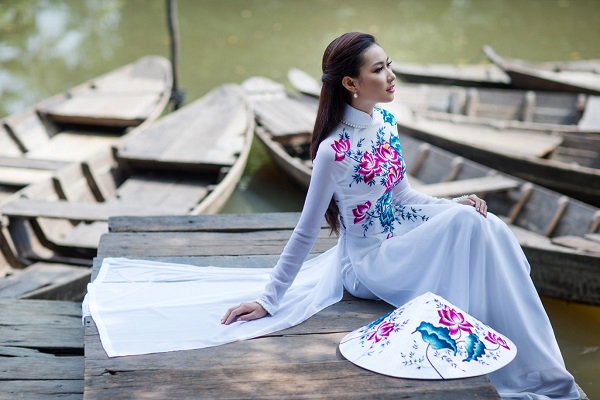 The best places to buy Ao Dai in Hanoi and HCMC
Ao Dai is one of the traditional costumes in Vietnam deeply which impresses people from all over the world. It is recognized as a national garment for female in Vietnam, it's a tight-fitted long dress with long pants. The style and traditional variety have accumulated for a long time. The beauty of Vietnamese women is honored by Ao dai, so it is hard to think of others better suited the Vietnamese than Ao dai itself. Hence, it is an ideal souvenir for foreign tourists before leaving Vietnam, which leads to remind them of a beautiful country that they have been to.
Price: at least 700,000 VND (over 35$)
Where: Ha Noi: Ao Dai Designer Boutiques at No.6 and No.8 or No.23 Luong Van Can street, Ao Dai Viet Nam (48 Trang Thi)
Ho Chi Minh: 163/25/17 To Hien Thanh street, Ward 13, Dist.10, Ho Chi Minh

The famous places to buy Conical Hats (Non La)
Non La is commonly known as the symbol of Vietnam which is water rice civilization. Non La appeared in the middle of 13th century. Being convenient and useful, Non La has been used popularly in daily life in Vietnam, specific in rural areas. Vietnamese people wear Non La to protect them from sunshine and rain. Especially, 'Non bai tho' (poem hat) – a famous Non Hue, has a picture of bamboo or even lyric lines of verse under the leaf layer sunk designs, which is only seen under the sunlight. The image of a young lady wearing Non la and Ao dai is a beautiful symbol of Vietnam which is also an object which, as part of the national spirit, closely links Vietnamese people, so many travellers enjoy taking a Non la as one of the best souvenirs from Vietnam.
Price: 60,000 – 200,000 VND (3$-10$)
Where: Ha Noi: Souvenir shops in Old Quarter Hanoi
Hue: Da Le Market, Dong Ba Market, An Cu Market
Ho Chi Minh: Binh Tay Market
Where are the most popular places to own Handicraft?
The art of hand-embroidered pieces of clothing and framed silk pictures is an old traditional handicraft in Vietnam. There are many different kinds of handicrafts such as embroidery, lacquer ware, vases, trays, rosewood boxes, wood-block prints, oil paintings, watercolor paintings, blinds made from bamboo, reed mats, carpets, ceramics and leather work. They are made by the skillful hands of the Vietnamese artists. The patterns are usually created about daily life of Vietnamese people so it is attractive to foreign people who are always curious about the life of an agricultural country. Tourists are frequently baffled by the variety of designs, offered in hand embroidery shops, the vibrant colors and the intriguing depths of the artwork.
Price: 500,000 VND – 2,000,000 VND ( 25$ – 100$)
Where: 258 Mai Anh Dao in Da Lat

Where you choice the best Silk?
Silk also belongs to the souvenirs from Vietnam which is a kind of animal protein fiber of insects so silk fabric is silky and soft. Users who wear this kind of fabric once will like using it on normal days and special cases. In Vietnam, you can find gorgeous silk scarves for men and women so they are popular souvenirs from this country. The silk is still made on traditional handlooms and the best place to buy is at the silk village in Hanoi (named as Van Phuc) and Hoian as well. Nowadays, Silk and its beautiful products are affordable, hence, tourists have a chance to choose their favorites and gifts to friends and family.
Price: 70,000 VND – 100,000 VND/m (about 4$ per meter)
Where: Le Minh Shop and Ta My Design in Hang Gai, Hanoi

The most common places to get Bamboo souvenir
Bamboo is symbolized the strong spirit and energy of Vietnamese people and the country, which you can only find in Vietnam. Bamboo products are used widely in Vietnam because they are cheap and friendly environment. Why do not buy a souvenir made of bamboo when you travel to Vietnam? You can buy many goods such as beautifully carved bamboo hats or salad bowls, trays, baskets and much more items made out of bamboo and wood, bamboo baskets are another specialty made by the Vietnamese people. Especially, the Bamboo and wooden products are quite light so it is easy to hold.
Price: 100,000 – 300,000 VND (4$ – 15$)
Where: Souvenir shops in Ho An, Night Market in Ha Noi and Night Market in Ho Chi Minh

Where are the best places to buy some kinds of Painting?
Sand painting is the art of pouring colorful sand and powdered pigments on a sticky surface and fixating it later with spray. The layers of sand form an enthralling piece of art, which looks stunning on every shelf and makes an excellent souvenir. If tourists are fond of products requiring meticulous skills, they can visit the Vietnamese souvenir shops which have lacquer paintings. It's said that high – quality lacquer products go through 20 stages of development and can be used to craft dishes, bowls, vases, and more with beautiful colors and intricate designs. Especially, Dong Ho painting, silk painting, rice painting and so on are unique souvenirs that you can buy in Vietnam. They are traditional products designed artistically and sophisticatedly
Price: Sand painting: 300,000 – 700,000 VND (15$ – 35$)
Lacquer painting: 40,000 – 200,000 VND (2$ – 10$)
Where: Ly Quoc Su Street, Hang Gai Street, Hang Bong Street,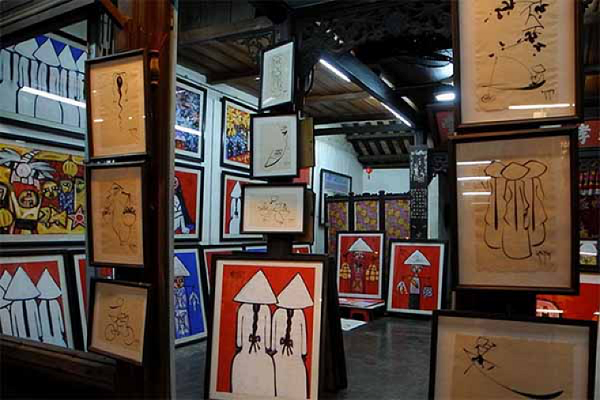 Where should tourists buy Ceramic?
Ceramic products are another popular Vietnam souvenirs which you can take home from Vietnam. The beautiful variable one can find quite simply appealing, but just travelling can be tricky where you must handle carefully. You can easily find here ceramic vases, lacquer vases and variety in the plethora of sizes, shapes and colors. All ceramic items are handcrafted by trained Vietnamese people who still rely on the traditional methods. Bat Trang village is very famous spots in Vietnam highlights tour for cultural and quality products, is where you completely made the gift by yourself.
Where: Bat Trang, Dong Xuan market, Night Market
Price: 20,000 – 1,000,000 VND ( 1$ – 50$)


Where do travellers buy Brocade?
The craft of weaving brocade has existed in hundreds of years ago. In recent days, brocades of Vietnam deserve to be celebrated as national treasures. Brocade items created by a wide variety of shapes, colors and purposes, are made by ethnic minority people from different regions of Vietnam. Brocades include clothes, scarves, towels and bags which are woven from a cotton thread in the high mountains. Hence, they are good choice for you to buy a souvenir in Vietnam.
Where: Souvenir shops and markets in Sapa – Lao Cai, Dong Van- Ha Giang
HaNoi: Hang Trong, Hang Bac, Ta Hien
Price: 20,000 – 400,000 (1$ – 20$)

Where foreigners buy the good dried foods?
There are hundreds of dried foods which are special in Vietnam. Some of the most popular foods are dried squid, beef jerky, fish jerky, dried jack fruit, dried banana, dried lotus seeds, dried coconut meat… All of them are delicious. Dalat is famous for its agricultural produce, so the best souvenirs are delicious snacks, hearty coffee and healthy herbal infusions. They also sell plants and oddly shaped root figures which make nice keepsakes.
There are many different brand names for these foods. You can come across many of them when you are in a supermarket or a market. Most of them are good but to pick out the best one, you can get advice from the shop owners. You can buy in grams and the sellers will measure and pack all later.
Where: Dalat, Dong Xuan Market, Ben Thanh Market
Price: over 60,000 NVD (3$)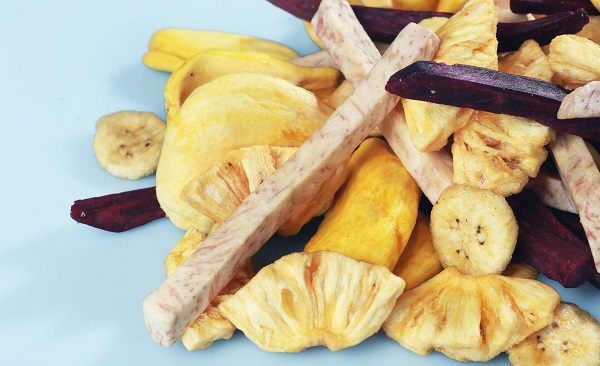 Vietnam, from Ha Noi to Hoi An and Ho Chi Minh City are flooded with diverse markets because of amazing mix and match of culture and tradition. All of shops are willing to provide awesome souvenir collections. Therefore, tourist should spend time to get amazed and enticed with the exotic and beautiful delights that await you as top Vietnam souvenirs.