Ho Chi Minh City is famous for the fantastic restaurant system serving a combination of French, Chinese, and local Vietnamese cuisine. It has made Vietnamese food famed around the world, and brings visitors the best feeling. When you tend to travel South Vietnam, you have a question about where to eat in Ho Chi Minh City (Saigon)? In this article, Travel Sense Asia offers several popular restaurants for you in order to get the unforgettable trip to Vietnam. With its many street food vendors and restaurants, the city has dishes with a pleasant ambiance, stunning views, and diligent service.
1. Duong's restaurant
Owner of Duong's restaurants is awarded in the top 3 Masterchef Vietnam. If you want to have experience in the almost Vietnamese foods, Duong's restaurants are the best places for you. This restaurant system offers both of traditional foods like Vietnamese noodle, the Vietnamese dish of grilled pork and noodle, Fried Spring roll… and French Fusion dishes.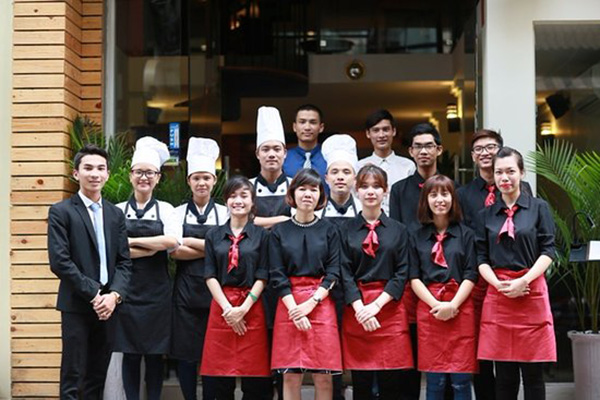 The view through the window front showed a clean space, clear design, not too stylish. A look into the card on the street convinced me to have a try. And what a pleasant surprise. Very friendly staff, explaining each served course. A tasty greeting from the kitchen. Nice glass of Australian white wine, sparkling water. Pea soup with Salmon and medium rare tuna steak with mashed potatoes, vegetables, and Chutney.
Additionally, you completely join in the cooking classes, the chef will show you how to cook any Vietnam dishes. It is very interesting.
Address: 27 Dong Du, District 1, Ho Chi Minh City
2. The Refinery Bar and Restaurant
The Refinery Bar and Restaurant are currently one of the most popular establishments in Ho Chi Minh thanks to colonial fixtures, interesting cocktails and a bistro type menu of mostly French-style favorites. But the main reason for coming here is because it is such a pleasant space. It is built with floral floor tiles, high ceilings and rows of wine and liquor displayed behind the bar. It is used to operate in the courtyard, and it's also how the bar inherited its name.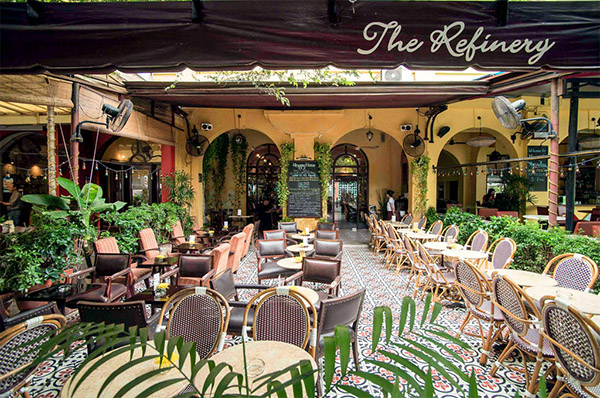 The menu offers the menu of wines, pasta dishes, and European salads. The Refinery has a secret to make the perfect wine list by the mix a decent range of cocktails, the mojito being a particularly well-balanced mix of boozy rum with biting lime.
Address: 74 Hai Ba Trung, District 1
3. Cuc Gach Quan
Cuc Gach Quan has become so popular that it's expanded its original premises and opened another space directly across the road as well. Cuc Gach Quan completely adopts the good ambiance, authentic and comprehensive Vietnamese food, non-intrusive service and all wrapped up in a historical building. The architecture and interior of a restaurant are designed to the traditional Vietnamese houses. The menu offers a wide range of national dishes. Thus, you are free to choose any foods you want in order to experience Vietnamese cuisine. If you want to know the various foods, you can ask the staffs who have a knowledge and good service. All the growth may have diminished the charm a tad but the food and atmosphere are still very good.
Cuc Gach Quan is the brainchild of an architect turned foodie. And equal attention looks to have been expended on the menu and the retro decor. The emphasis is on fresh ingredients and Vietnamese flavors and the vibe is warm and homely. Prices are reasonable, despite its celebrity status. Staff are friendly and helpful too.
Address: 10 Dang Tat, Ward Tan Dinh, District 1, Ho Chi Minh City
4. Quan An Ngon
Quan An Ngon is a place – where to eat in Ho Chi Minh City (Saigon) which is the housed in a renovated Vietnamese mansion with a tree-lined garden. This restaurant is designed with Chinese style. You are often delighted with the classically styled interior. If you are looking to try many casual Vietnamese such as spring rolls, black pepper crab, noodle soup, so on in a friendly environment then this is an excellent option.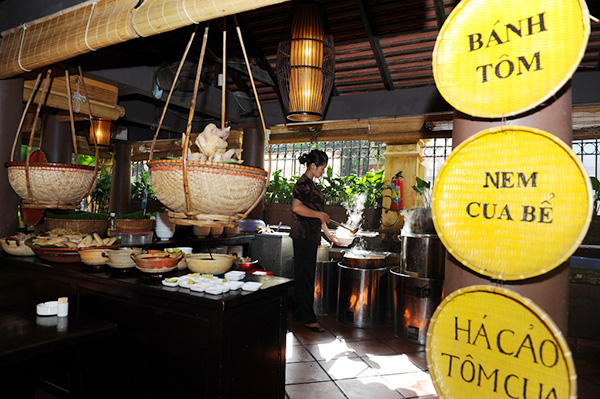 Chefs are busy cooking foods and blending fruit smoothies in the decor features. The menu is very easy to understand by English and Vietnamese descriptions and most have an accompanying picture. Following almost recommendations, Quan An Ngon is popular with locals as well as tourists by giving it a sense of authenticity. This restaurant has the team of staffs who speak English fluently and they will often recommend dishes with a simple explanation. The most special thing in Quan An Ngon is that you can enjoy all the delicious foods of Vietnam country in one sitting. In southeast Vietnam, there are mud snails in coconut milk, and spring rolls stuffed with shrimp, basil and spring onion. You will feel light and fresh, perfect. In central Vietnam, the menu offers many Hue and Hoian style noodles. Finally, in Northern Vietnam, it has beef noodle soup and crispy pastries filled with minced shrimp.
Address: 138 Nam Ky Khoi Nghia, District 1
5. Ben Thanh market
Where to eat in Ho Chi Minh City (Saigon)? Ben Thanh Market is one of the best places to enjoy the foods. Tourists to the market not only purchase goods or souvenirs but also have a chance to find particular images and characteristics shown in the daily activities of the inhabitants in the city. For long years, Ben Thanh Market is known as the retail market owning the largest scale. Here, you not only enjoy the traditional foods, but also you can find buy the souvenirs such as delicious food, all kinds of seasonal fruits, clothing, appliances, and others… Thus, Ben Thanh Market deserves one of the important markets in Ho Chi Minh City; it is attracting the enormous number of both domestic and foreign tourists.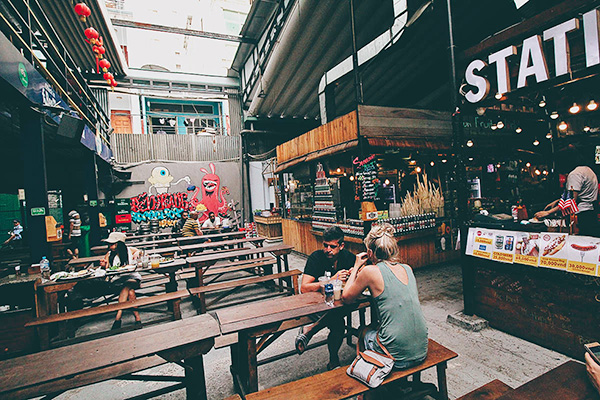 Here's the lady vendor preparing the bowl of bún thịt nướng. Bún thịt nướng is a cold rice-vermicelli noodle dish topped with grilled pork, fresh herbs, and vegetables, then drizzled with fish sauce. Rolled in bite-sized pieces, these are great to munch on with beer. You will enjoy the place as it not only adopt the demand for foods but also the reasonable price. Like in Singapore or Penang, the street food vendors are more and more attracting clients for decades. It ensures that you will love the best and most authentic places. Ben Thanh Street Food Market is nice, but it caters to tourists.
You will know the difference between authentic and touristy examples of Vietnamese food. Or you won't mind it as much. This market food is pleasant and comfortable. You can easily spend a few hours there just drinking beers and whiling away the time. You wouldn't think of doing that sitting on those tiny plastic stools by the sidewalk.
Address: Le Loi, Ham Nghi, Tran Hung Dao Avenues
6. Camargue
Another restaurant is designed to the French style within the courtyard of an old colonial-era opium factory in downtown Saigon. For distance, the villa-style Camargue Saigon is equipped with many goods such as exposed beams, beautiful theme, tiled flooring, interior, candles, and a private dining room. This restaurant ensures that the staff team is very professional to adapt all questions from clients which are perfect for an intimate evening with loved ones.
The chef of Camargue restaurant is Mickael Le Calvez who is French. Thus, this restaurant offers standout dishes such as sea bass and squid served with sweet chard, roast lamb with polenta enriched, chateaubriand with foie gras, and crispy pork leg marinated in a slight spice and caramelized artichoke. Trying to provide the perfect menu, Camargue Saigon always updates more dishes to keep things interesting. One more interesting of this restaurant is enjoying the meal at the terrace upstairs with an excellent wine. Because of the many attractive things in here, it's worth noting that the price range here is higher compared to most international restaurants in Saigon. One recommendation for you is to order before at least 24 hours due to the popularity of this fashionable restaurant.
Address: 74/7D Hai Ba Trung, District 1
7. Hoa Tuc restaurant
Hoa Tuc means opium flower in Vietnamese – reflecting the history of its setting in a former French colonial opium factory. It's one of the nicest restaurant spaces in Saigon with a large outdoor garden and a deco-style interior.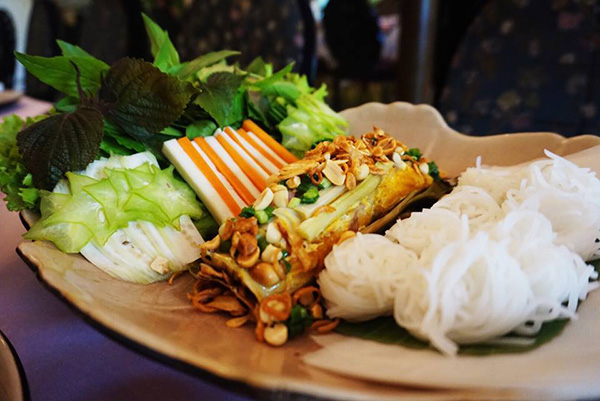 Its name means 'poppy' in Vietnamese; an apt name for a restaurant housed in an old opium factory! This excellent location, just steps from the Park Hyatt, features a tucked-away courtyard with greenery surrounding. Great high-end cuisine in a nice casual setting. Sit inside for air-conditioned comfort or outside for an almost European vibe with big fans and lots of chitter-chatter from the four restaurants in the same courtyard. My favorite dish is the green mango salad with crispy soft-shelled crab & crushed cashews.
Since opening in 2008, Hoa Tuc's become a favorite with expats and travelers – for good reason. The Vietnamese menu, served with a contemporary twist, is good and the staff are friendly and helpful.
Address: 74/7 Hai Ba Trung, District 1, Ho Chi Minh City
8. Propaganda Bistro
Only steps away from the Independence Palace, Propaganda Bistro embodies modern Vietnam. Almost local people come here for cocktails in the evening, and brunch on weekends. The restaurant is decorated in colorful war-era propaganda art, with the slogans altered to sentiments about healthy eating and lifestyle. The food here is just as fresh and colorful as the décor. Go for the fresh spring roll with tempura prawn & avocado, and the bun thit nuong – (vermicelli noodle bowl with grilled pork, herbs, vegetables, and fried spring roll).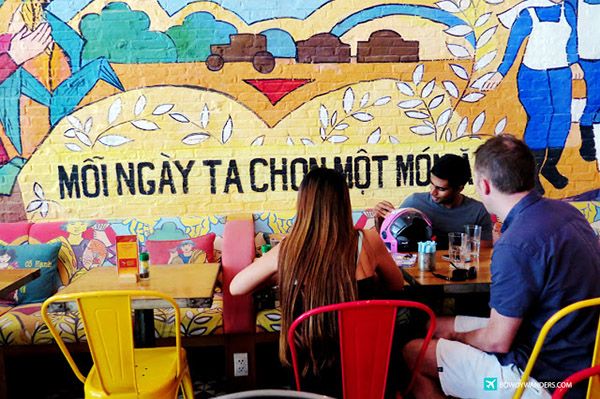 If you want to get a sense of Vietnam's street food traditions minus the street – plastic stools, traffic fumes and the like, Saigon's Propaganda will be a good choice. It's right by some of the city's big hitting tourist attractions like Notre Dame Cathedral and the Reunification Palace too.
From the people behind successful Saigon eateries like Hoa Tuc, Au Parc, and Blanchy St, Propaganda has a relaxed cafe vibe, friendly staff and a great outlook over one of Saigon's few downtown green spaces. It's located in a row of picturesque shophouses.
Popular Vietnamese dishes like bun thit nuong, banh mi bread rolls and a long list of others are lovingly served. Local purists might insist that these dishes always taste better on the street. But even if that's true, as a visitor you're not likely to notice. This is a nice space to spend some time – but it gets busy.
Address: 21 Han Thuyen, District 1, Ho Chi Minh City