Rong May glass bridge, which has just opened since mid-November, has become a special attention in Sapa. Scattering of waterfalls, staggering mountains, plains dotted with wild animals, Vietnam is breathtakingly beautiful if viewed from above.
While pinpointing some of Vietnam's most authentic spots (both untouched and man-made), note that these out-of-this-world landscapes and awe-inspiring wonders—from North to South—need to move to the very top of your travel list to Vietnam.
1. Fansipan – The Roof of Indochina
"The Roof of Indochina" is another famous name for Fansipan, which is located in the Hoang Lien Son mountain chain. That's right! Fansipan is the highest mountain in Vietnam and in Indochina, with the height of 3,143 meters. People coming back from our trip to this record-breaker destination shared that they have been on "cloud 9". Though to conquer this legendary site, you have to spend 2 to 3 days patiently climbing up hills and slopes, all the effort you put into it will be paid off. Soon as you reach the top and the whole scenery opens up with purifying, airy and glistening cloud floating around, with endless gradient blue of limitless sky, a feeling of fulfillment, satisfaction and all the positive adjectives one could find will fill you up completely.
For those who would want to see the top right away, Fansipan Cable Car is available. It takes only 15 minutes and then after 600 steps, you will get to the Roof of Indochina. 
Stunning View From Fansipan Cable Car
The period from September to March is suggested to be the most appropriate time for climbing. Yet the most fascinating time to visit Fansipan is late February when the blooming of enchanting flowers starts along the mountain. 
2. O Quy Ho Mountain Pass – King of the Mountain pass in the Northwest
Located right next to the National Road 4D running through the Hoang Lien Son range, which connects the two provinces of Lai Chau and Lao Cai, O Quy Ho pass is referred to as the Cloud pass since it is covered with white clouds all year round. This is among the highest and most majestic mountain passes in Vietnam.
On the route of O Quy Ho pass, it would be a huge miss if you forget to check-in at Silver Falls – one of the most beautiful waterfalls in Lao Cai or the breathtaking Heavenly Gate gazing out Fansipan peak. Another worth-seeing site is the newly launched Glass Bridge. Opened in mid-November, the Cloud Dragon Skywalk features a lifting system with a transparent glass cabin at an altitude of 2,200m above sea level and 548.5m above the top ravine of the Hoang Lien Son mountain range. Imagine walking on transparent glass at that much of a height. It could literally take your breath right away.
>> Read More: O Quy Ho Pass – Stunning Beauty of Sapa
3. Tu Le Terraces – Golden Staircases of Mu Cang Chai
The scenery is speechless. It truly is! Tu Le Terrace is pieces after pieces of sloped plane that has been cut into a series of successively receding flat surfaces or platforms, which resemble steps. When it is harvest time, all seems like a vast ray of sunshine covers every square meter of rice paddy fields.
Unlike other places, Tu Le lays a much closer feeling, rather than lying on hills or in the valley. Located along the highway, it's very easy to admire the transcendent beauty of Golden Staircases from the main road.
Tu Le sticky rice needs to go to your food list when visiting this place. The cooking technique is much different from other regions in Vietnam; it is more complicated, takes more time. And as more effort is put in it, this dish will not disappoint food lovers.
Harvest usually happens around 15th of September to the end of October. During the period, paddy is slowly coming into its bloom, radiating a slick and sweet scent that easily set anyone in the mood of relaxation.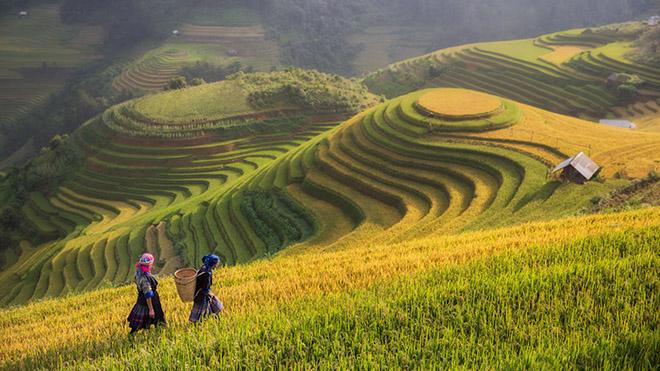 Tu Le Terrace is the most famous attraction of Mu Cang Chai
4. Glass Love Bridge – First 5D-effect glass bridge in Moc Chau
Located in Dai Yem Waterfall, Moc Chau district, the bridge, named Glass Love Bridge, measures 80 meters long and two meters wide, with 5D technology. It also boasts a photoelectric sensor system together with 30 special effects, such as flowers blooming, fish swimming, and heart shapes, etc.
Designed with the theme of love, with models of hearts and romantic spaces, including a Japanese-style village with cherry blossoms, this place secures an ideal place for couples and photography fans.
Spanning a river and surrounded by immense mountains, hills and forests, the bridge will offer an exotic view resembling a watercolor painting of the Moc Chau Plateau.
5. Ban Goc Waterfall – Top choice waterfall in Cao Bang
Located in north-eastern of Vietnam, along the Vietnam & China border, Ban Gioc Waterfall boasts an impressive natural sight with multiple levels and green jade water flowing down the vast lake below. Despite its irresistible charm, Ban Gioc still remain unknown to most tourists, even Vietnamese. Thanks to the low frequency of travellers here, Ban Gioc  still preserves its intact beauty, and is still considered an 'off-the-beaten-track' site in Northern Vietnam. 
The cave is nested in a grandiose setting of rock and primitive forest.  This site is so distinctive that one immediately knows it's Ban Gioc upon seeing it – the fall is gigantic with more than two levels of rock setting, white mist blowing up, a backdrop of green mountains and a big alluring blue mirror lake at the bottom.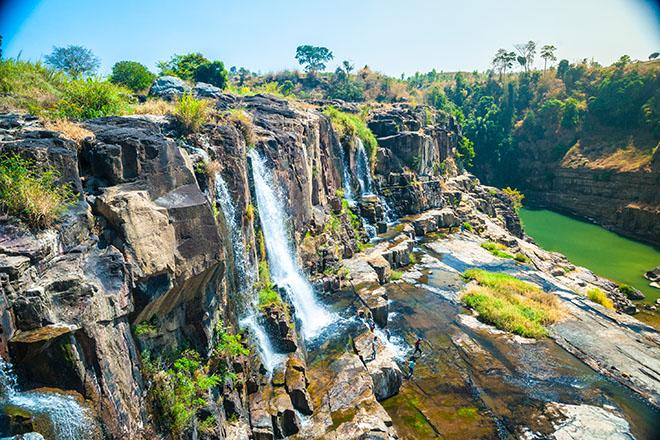 If you hire a bamboo raft, expect to pay about 50,000 VND or more for a 10-minute ride to get closer to the cascade. Do expect to get wet please preserve your electrical devices carefully.
6. Bach Moc Luong Tu Mountain – Newly discovered beauty of Lao Cai
Bach Moc Luong Tu is the fourth tallest mountain in Vietnam, trailed by Fansipan (3,143m), Pu Ta Leng (3,096m), and Pu Si Lung (3,076m). Lying between two northern provinces of Lai Chau and Lao Cai, the mountain with hasty and rocky terrain was newly discovered by adventurous tourists in 2012.
Here, you will experience different emotions when passing the terrains of bare hills, wood, bamboo forest or high sheer rock; reaching to authentic majestic "dinosaurs" spines. In the end, all your hard work climbing is deserved of the marvelous mountainous scenery.
The best time to explore Bach Moc Luong Tu is in the dry season which is from late October through April. During the winter months (November, December, January), it is extremely cold, and there may be snow, too. During November and December, you'll find yourself trekking amid "an ocean of clouds" with unreal scenery all around. In February and early March, there are rhododendron flowers, which add a delicate touch of nature to an already refined scenery.
7. Ma Pi Leng Pass – King of Vietnam's mountain passes
Yes it is true. Ma Pi Leng is widely known as the King of Vietnam's mountain passes. There are sheer drops virtually along the entire route and on top of that, enough hairpins to make a whirling dervish dizzy. Yet along the mountainside sees romantic and stunning scenery which serves as an ideal destination for riding motorbikes. A quick glance at the map at its sheer drops and serpentine twists and turns, confirms that we are not hyping this up.The 20-km-long climb has inspired travellers to "pack their backs" and witness its surreal beauty. You can see mountains under your feet, see local villages with their life far away from your seat.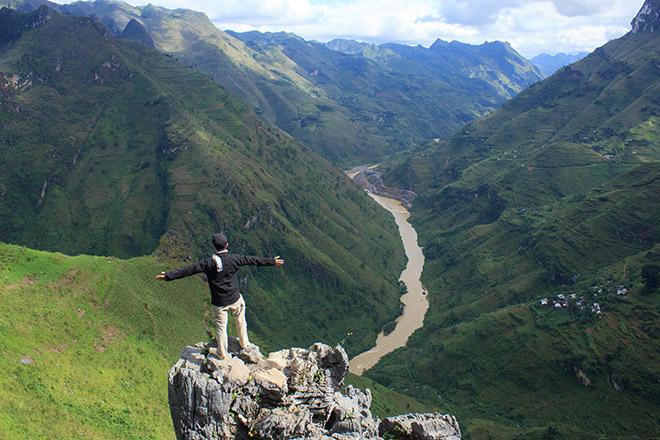 Riding motorbike on Ma Pi Leng Pass guarantees you exhilaration. However, we only recommend those who already have adequate riding experience to take on the challenge because the road following Ma Pi Leng is not a joke: it's winding, narrow and two-way.
8. Poem Mountain – Sublime view over Halong Bay
Located at an altitude of 200m with half lying on land, half lying on the sea, Poem Mountain (Bài Thơ Mountain) is one of the highest mountains in Ha Long. The whole panorama of Halong City reveals itself soon as you climb to the top of the mountain.
Despite not being the highest mountain in the coastal city, thanks to the side overlooking the bay, this site is considered the most ideal sightseeing spot here. It is surely not easy to conquer this mountain since the path up was flickered in the alley of the families on Hang Noi Street, Bach Dang Ward. The path is not too long but fairly steep. Yet thanks to solid stone steps built years ago, you don't have to worry, just focusing on walking up the stairs. Along 2 side aisles grows hundreds of plants from the limestone cliffs. Blessed with the melodic birdsong as if you're walking in a royal garden, you can also catch the sight of goats grazing on the slopes, or monkeys perching on tree branches.
After reaching the top of Poem Mountain, there it is: the Bai Chay Bridge where the building is equipped with LED lighting systems; the Cai Lan port with shimmering water in the distance; Tran Quoc Nghien road swarming with traffic;  Fairy Mountain; … Every houses suddenly become smaller with the roof undulating.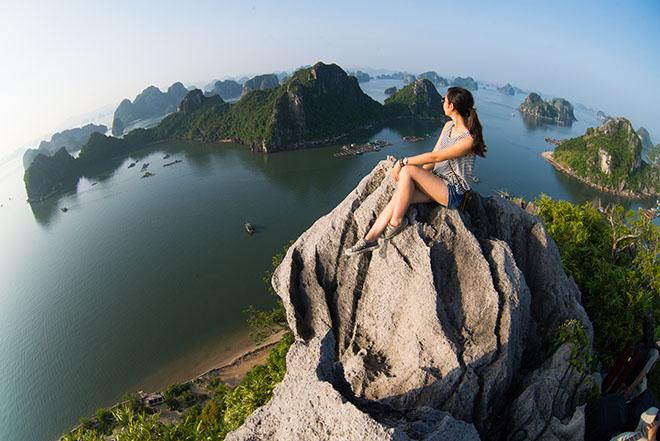 9. Mua Cave – Ngoa Long Mountain Ninh Binh – The Great Wall of Vietnam
Located in Khe Ha Village, Ninh Xuan commune, Hoa Lu District, Ninh Binh Province, the attraction is filled with peace, blessed with huge karst mountains and impressive landscape around.
The path leading to the cave is formed by a long stone staircase zigzags through the karst. Some have called this entrance "The Great Wall of Vietnam as it may seem similar to "The Great Wall of China ". 500 steps will always be there challenging any avid travellers. But believe me, no matter how tired you get or how impatient you'll be, as soon as you reach the top, the scenery will recharge every bit of energy inside. Only then is before your eyes the limitless expansion of golden rice crops, the microscope view of life happening far below your standing point. Hard work does pay off.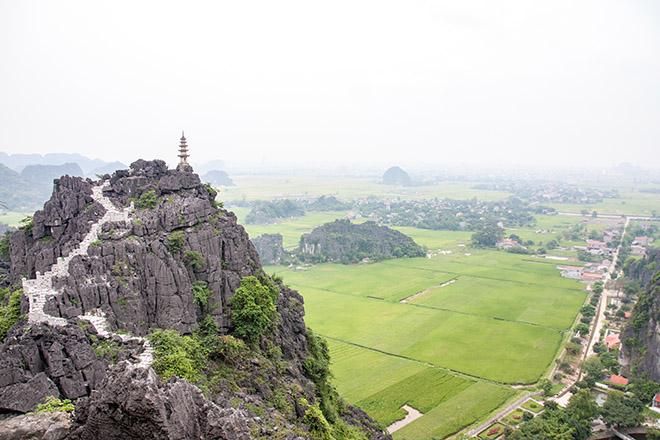 10. The Marble Mountains – Ngu Hanh Son in Da Nang
The Marble Mountains includes five hills made from limestone and marble in Da Nang. It's also a widely acknowledged pilgrimage site with peaks, caves, tunnels and temples all deserve recognition. Named after 5 elements: metal, wood, water, fire and earth, Marble Mountains exist in a coastal area renowned for stone-cutting and sculpture.
According to ancient folklore, a dragon emerged from the water on Non Nuoc Beach then laid an egg. After a thousand days and nights, the egg hatched, a beautiful girl appeared. The remains of the shell were left on the beach and eventually grew into the five mystical Marble Mountains.
Each hill of Marble Mountain owns a unique beauty. But among 5 hills we're talking about, Earth Hill and Water Hill are the 2 highest, biggest and perhaps most worth-seeing. 
Blessed by nature, the Marble Mountains are wonderful to visit at any time year around. Yet it is suggested that to best experience these tropical coastal mountains, travellers can set plan in the summer (June – August), the time of nature blossoming.
11. Ba Na Hill – A wonderful mix of international and classic beauty
Located on the high of 1.487 meters above sea level, the temperature of this place is cool, the average temperature in the summer is about 18 Celcius, Ba Na is an ideal eco – tourism in the Central Vietnam. 
There are many things to discover here: from Giant Buddha Statue to Le Jardin D'Amour – the French style garden to the Funicular tour – a Swiss style train and the Fantasy Park, which is 21,000 square meters of indoor fun and games. The landscapes are also top-notch as from the top of Ba Na hill, West is the Truong Son mountain, East is Hoa Vang rice field. From here, you are free to see the Son Tra Peninsula, Thu Bon River, Hoi An and Da Nang city. 
But that's not everything. The one specular site that grabs everyone's attention lately is the Golden Bridge. This phenomenal bridge has a rather striking appearance with two enormous stone-made hands holding 150-meter-long golden footbridges, showing vividly how creative architecture could get. The "golden" in its name is highlighted as the whole bridge is covered with metallic yellow paint. Inspired by the idea of a golden silk strip floating elegantly in the white clouds, its shape wows every first-time-visitor. 
To wrap up:
11 is not the final number of how many out-of-this-world landscapes there are in Vietnam. Every bit of Vietnam, from its authentic natural scenes to its unique culture, is still waiting for you and me to explore.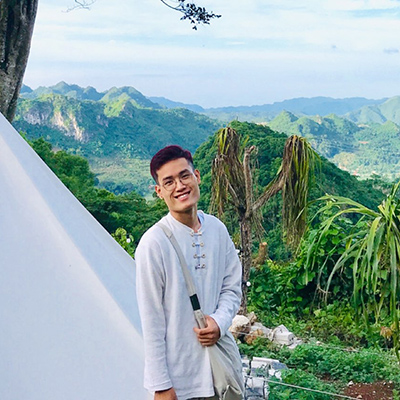 Anthony Icarus
I have always been an adventurous one since I was a little kid. My mom must have had a hard time making me sit still or just stay at home. Every travel to me, no matter long or short, low or high budget, always make me fall in love again and again with the magnificent nature, unique culture and endearing locals.
Travel With Us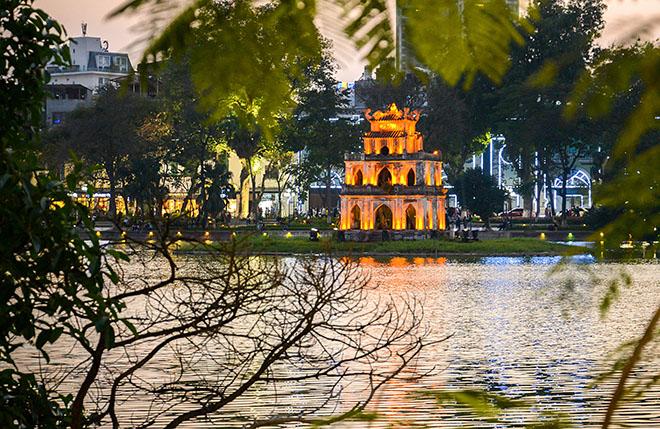 Vietnam Highlights Package 10 Days 9 Nights
The most popular destinations in Vietnam with all the highlights — all in Vietnam itinerary 10 days. Discover Hanoi with many foods, structure architecture and the stunningly beautiful UNESCO World Heritage Site of Halong Bay. Moving to culturally-rich Hue then spend time in incomparable and lovely Hoi An – one of the world's most charming towns. Finish the comprehensive Vietnam highlights tours in the South after Floating through the lush Mekong Delta, seeing vibrant Ho Chi Minh City. With same destinations in itinerary but you can start this trip from Hanoi or Ho Chi Minh city.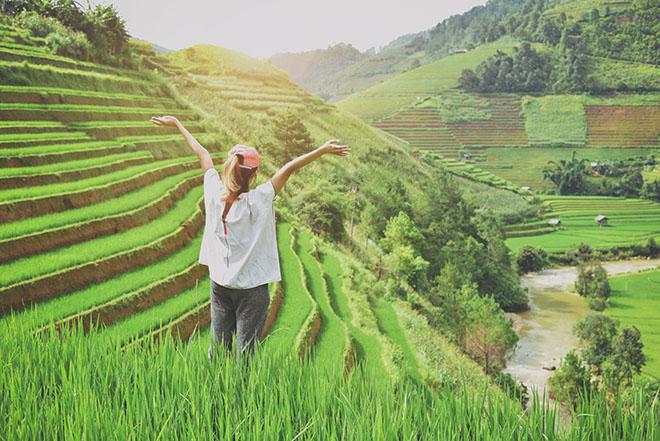 Essential North Package 7 Days 6 Nights
A fulfilling discovery of all Northern Vietnam signatures within a week is totally possible – with this tour. The package offers you a diverse experience of various attractive destinations in the area, from a tranquil mountainous Sapa to the splendid Lan Ha Bay, which will ensure both your natural and cultural exploration.
Or more Vietnam tours.