Laos is a well-known country with a rich and deeply traditional culture. Coming to Laos, you not only sightsee the ancient temples reflected on Mekong River, but you also have a rare chance to immerse in the delicious flavor of many special dishes. Obviously, cuisine culture is a special part of Laotian culture with distinct characteristics which are not mixed with any other cultures in the region. Laotian cuisine is quite similar to some neighboring countries such as Cambodia and Thailand with hot, sour and sweet flavours, however, it brings a very own distinctive style.
1. Laotian "Xoi"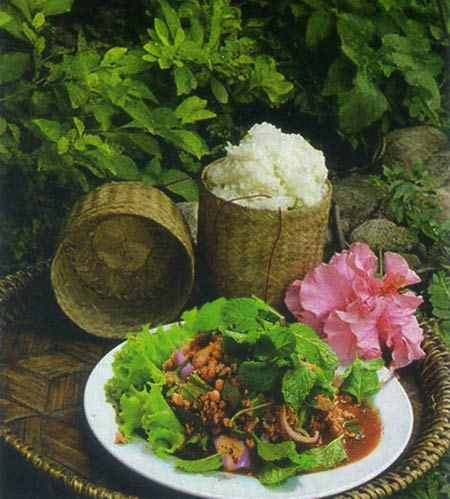 "Xoi" is an important daily dish of Laos. Lao people usually eat "xoi" in the parties or family meals. Today, many families have a habit of eating rice but it's not much. Laotian "xoi" is a delicious dish made of sticky rice cultivated on fields by the native people, therefore, it looks eye-catching with a variety of colors such as red, yellow, purple, green, etc. Lao people often eat "xoi" with grilled chicken, boiled vegetables and "cheo boong" – a kind of delicious sauces which is nearly same as Vietnam's sauces. "Xoi" is packed in bamboo baskets, so it smells attractive and tasty. You can enjoy this dish in almost restaurants in Laos.
2. "Lap"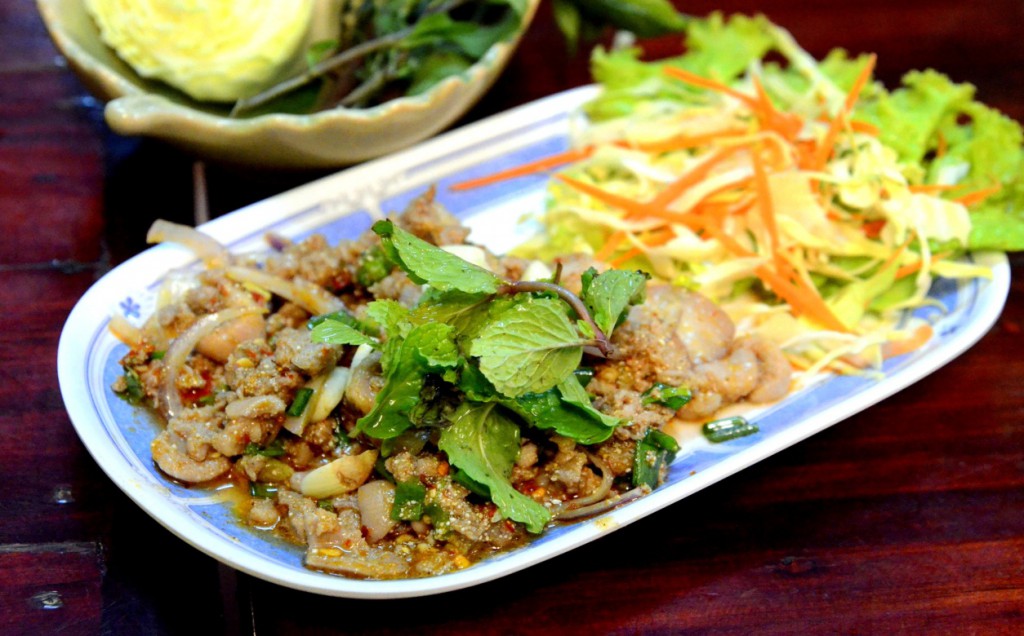 When mentioning to Laotian cuisine, you cannot fail to talk about "lap". "Lap" in Lao means the good luck. This is a traditional dish in the festivals of Laos and the most popular dish in all regions of Laos. This dish is made of beef, pork or chicken in a mixture with the mince of liver and some spices such as lemon juice, chilli, galingale, etc. People often eat "lap" with raw vegetables including salad, pea beans. All those ingredients are blended together to create a special dish with an extremely attractive taste. The sourness of lemon juice, the taste of chili and the flavours of spices make you unforgettable. "Lap" is sold in all large or small restaurants in Laos.
3. Savanakhet's Grilled Chicken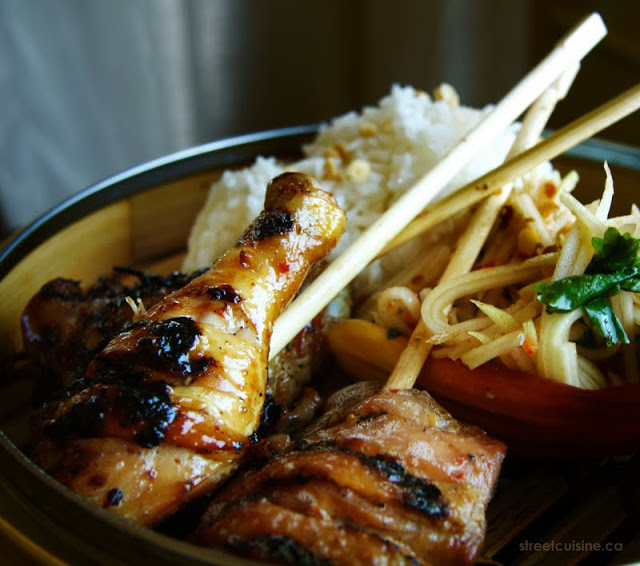 Savannakhet (in the South of Laos) is famous for grilled chicken. However, you can enjoy this tasty dish in many places in Laos such as Vientiane, Luong Prabang and many other regions without coming to Savannakhet. People often use a type of chicken left unbridled in the countryside to cook this dish, so its meat is very tasty and firm. After cleaning, people clamp the meat into skewers, and then put it on hot coals to grill. The kind of coals used to grill chicken is burned from the ancient wood, hence it creates this dish's unique taste.
People usually enjoy this dish with "xoi" and the sauce "chen boong". Each piece of grilled chicken seems to melt in your mouth with the flavor of the sauce that will make you never forget. You can eat Savannakhet's grilled chicken at Seno T-junction (Savannakhet) or in many restaurants on the way from Vientiane to Luang Prabang.
4. Food from insects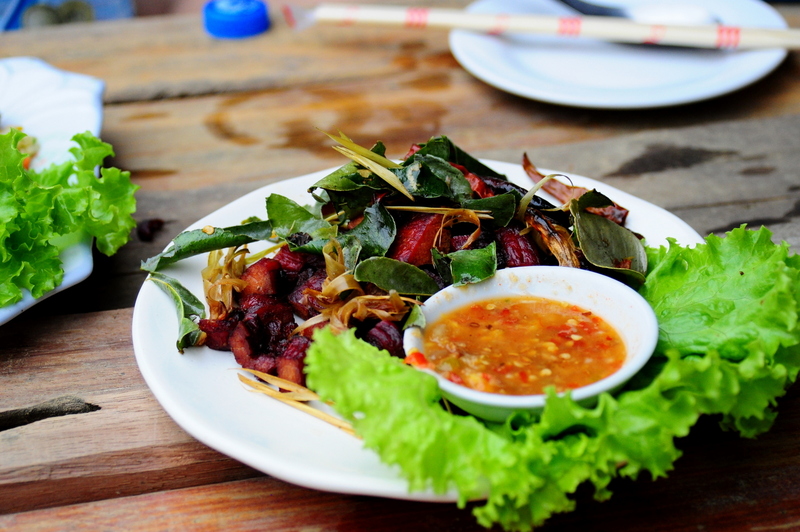 Like Cambodian and Thai, the Laotian also love the dishes made from insects. The dishes made from rice crickets, ant eggs, belostomatids and spiders are very tasty. The food from insects is very rich in protein and diversely cooked like its taste. This dish is not only greatly attractive but also quite strange-looking, especially with tourists who love exploring and enjoying the new features in this original cuisine culture. You can find this kind of food in every restaurant on the streets in Laos.
5. Papaya salad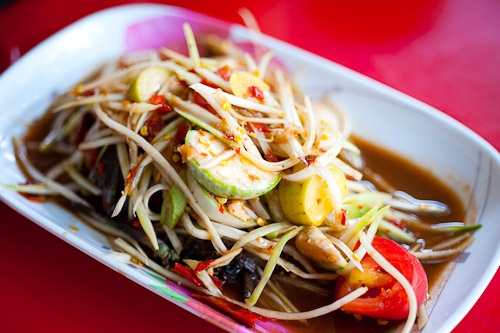 Papaya salad is also a fascinating kind of food in Laos. It's often called "Hung Tam Maak" in Lao. Papayas are scraped and then put into the mortar and grinded lightly. The chefs add some spices including lemon juice, shrimp paste, eggplants, pepper, and chilli into a mixture of scraped and grinded papayas. When eating papaya salad, you will get excited to specific flavour of the sauces blended with the sourness of lemon juice and the light sweetness of sugar. This dish is available in most restaurants and cafes in Laos. Papaya salad is almost indispensable in daily meals of Lao people.
Unlike the dry papaya salad in Vietnam, the Laotian papaya salad usually contains water in order that the customers can enjoy it with other dishes like "xoi" or beer.
6. Drinks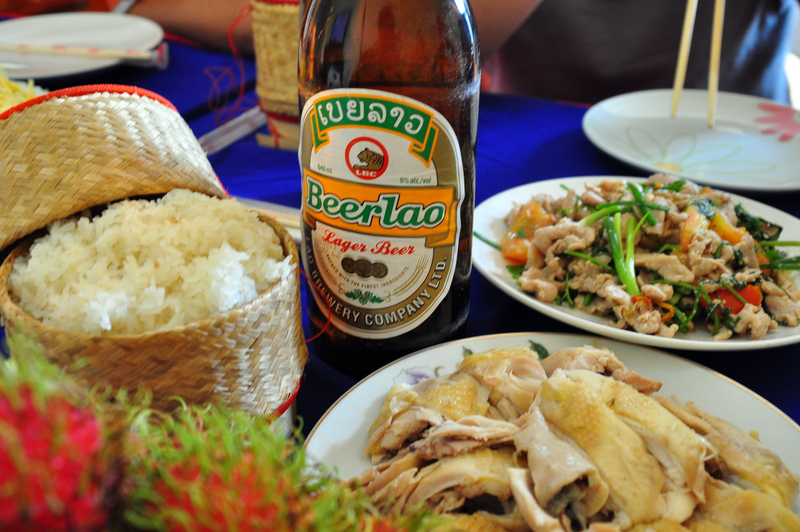 When refering to drinks in Laos, you will not be able to miss "Laulao" and "Beerlao". "Laulao" is a kind of light wine made from fermented glutinous rice in combination with a little lemon and pepsi. Laotian wine is easy to drink and difficult to get drunk. As a result, "laulao" also leave a deep impression on tourists who enjoy this drink even once. One of the other popular drinks which contributes to make the flavour of the Laotian dishes is "Beerlao". Laotian beer is made from the best kind of rice and barley, so it has a unique flavor. People usually drink beer with a variety of foods; especially, it's extremely tasty when eating with "xoi" or some traditional Laotian barbeque. Beerlao has been produced for the first time since 1973 and it has become a leading brand and best-selling in Laos. Furthermore, Beerlao is voted as the most delicious beer in Asia by Asia Magazine and also a type of drinks that visitors cannot ignore when travelling in Laos.
Summer is the best time for many tourists to visit to Laos, perhaps. Each Laotian dish or its name and each flavor also attach to the life of each Laotian and remind us of one of the traditional cuisine cultures of Southeast Asia. If you intend to spend this summer in Laos, it's wonderful for you to enjoy these traditional special dishes.
Recommended Tours