Ninh Binh and Hoa Binh are other two districts where some sport competitions of SEA Games 31 are held. These are also two well-known places with international tourist who are interested in the North of Vietnam.
3. Ninh Binh
90 km southeast of Hanoi, in addition to its rich potential in cultural and spiritual tourism, Ninh Binh province also boasts a charming natural landscape and many unique and amazing caves. It is an ideal destination to visit, as many tourists have found. This is also the place hosting Karate tournament from May 15th to May 21st, 2022 for SEA Games 31.
The province of Ninh Binh also has a rich diversifies tourist potential with a lot of world heritage sites. Surrounded by stunning landscapes like Tam Coc-Bich Dong, Trang An tourism complex, Bai Dinh pagoda – the biggest pagoda in Vietnam, Cuc Phuong National Park, Van Long Nature Reserve, Hoa Lu Ancient Temple,…, Ninh Binh has so much to offer tourists.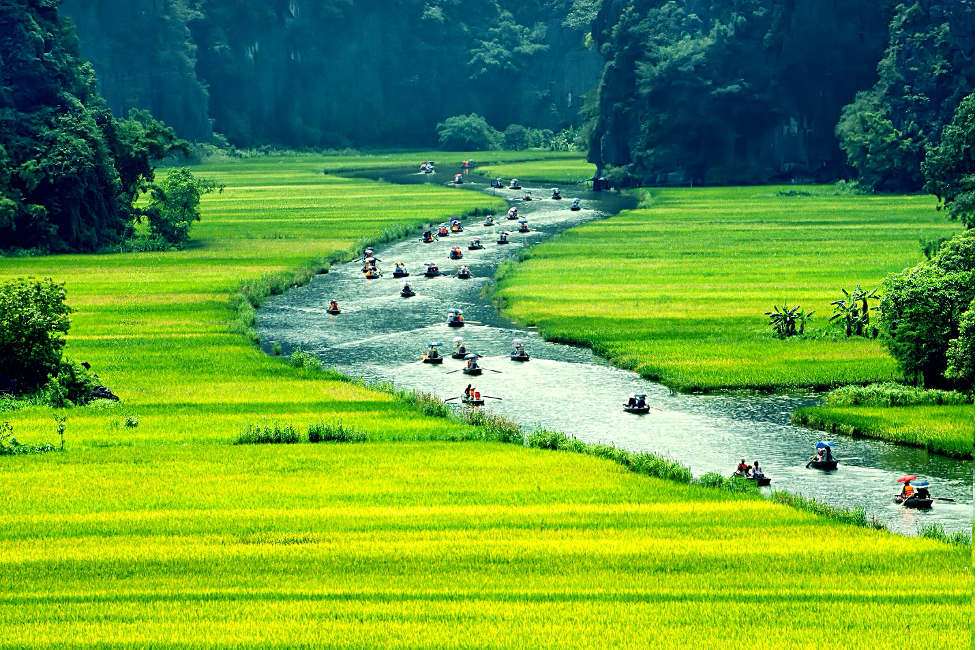 4. Hòa Bình
Located 82km to the Southwest of Hanoi, Hoa Binh is one of most beautiful mountain provinces that is closer to Hanoi capital. Hoa Binh Province is proud to be cradle for ancient Muong people with many significant cultural features, historical relics and landscapes.
With its ideal location, Hoa Binh is selected as the place to host competitions in mountain biking on May 14-17 and road cycling on May 19-22, with the participation of about 400 athletes.
This highland is home to many must-visit places. One of them is "Mai Chau", which is a very beautiful town to relax and get rid of tension of the busy city life thanks to its rice field and natural atmosphere.