Thailand is the intriguing country for visiting with a lot of wonderful landscapes, splendid pagodas and temples, unique and special festivals and good shopping opportunities as well. Coming to Thailand you can choose appropriate itineraries to enjoy full of attractions here, accordingly, you should not miss out on visiting attractive places below.
1, Touring in floating market
The dug-out boats moving up and down in rivers and offering local fruits, specialties become the highlight features of floating markets in Thailand's countryside. Rowing a small and charming boat along rivers, sightseeing views as well as colorful life of local people on riversides certainly bring interesting feeling to you. Floating markets in Thailand are eagerly discovered by foreign tourists; especially, they will be fascinated by neat little villages along two riversides matching with peaceful scenery here. Amphawa, Damnoen Saduak, and Khlong Lat Mayom are renowned markets that you should look in once in Thailand.
2, Visit the weekend market- Chatuchak
Chatuchak market is originally held on weekends only and designed mobile stalls in outside. This market opened from 8 am to 6 pm on Saturday and Sunday is considered as the shopping paradise in Thailand. The huge space of market stretches on 110,000 meters divided into 27 zones, this is a perfect place for those people who wish to buy sarong fabric, handicrafts, wooden interiors,..with reasonable prices.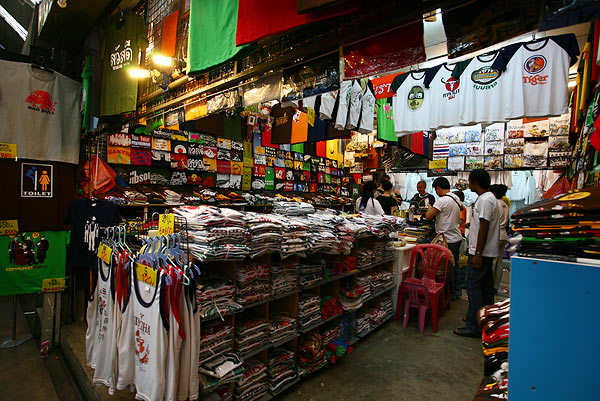 3, Promenade on the most beautiful beaches.
Regarded as the tourism paradise in Asia, Thailand is well-known for extreme nice beaches in Phuket, Phi Phi, Koh Samui, Hua Hin and Krabi island; no matter which season is, poetic beaches in Thailand always attracts a large number of tourists all year round. The quiet space, in common with white sand beaches, golden sunshine, and diversified coral reefs, marine ecosystems promise to be excellent places for visitors to look for characterized tropical summer vacation on seaside.
4, Admiring Thailand's Royal Palace
One of Thailand's tourism characteristics is to come from a series of ancient architectures: golden temple, golden tower, golden pagoda; perhaps it is because this reason Thailand is named the Golden Temple country. When referring to Golden Temple in Thailand, we will think about architecture complex in Royal Palace which are built by blending and combination of Thailand's ancient style and Western modern style. Coming to Grand Palace, you will admire the elites of culture and Thailand's architecture; furthermore, you are immersed in a glistening, marvelous, virtual and tranquil world here.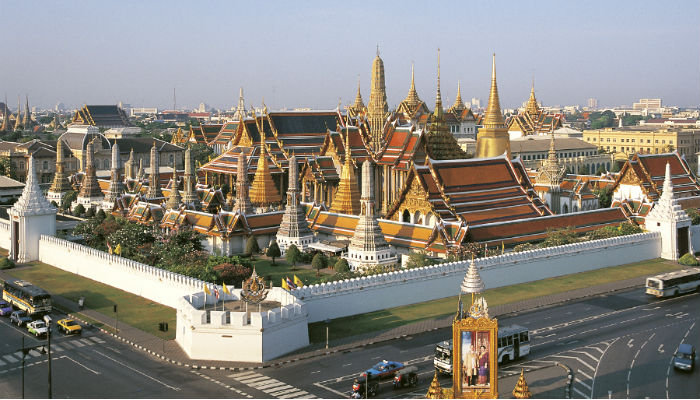 5, Shopping in the biggest MBK centre
MBK Center is a 8-floor building and known as one of the biggest shopping centers in Asia. There are more than 2,000 stores and services, including 150 eateries and main movie theaters. You can find the types of items that you can bargain here such as clothes, cosmetics, leather products, jewelries, electronics, ITs, theaters, karaoke, gaming machines…etc.

6, Riding elephant
Traveling to Khao Yai National Park, riding elephant and exploring the tropical forests of Thailand are wonderful experiences you had better not to miss when visiting in the "Golden Temple" country. Besides, you could also take time to visit the nature zoo named Safari World 12 kilometers far from Bangkok, Samutprakarn crocodile swamp ( 100 kilometers from Bangkok) or snake farm ( 20 kilometers from Bangkok).
7, Exploring Thailand's special cuisine
To mention about the cultural cuisine of Thailand is to taste acrid, sour, sweet, bitter and special spices like garlic, galangal, lemongrass, lime leaves…By the good and ingenious hands of Thai's people to mix ingredients has contributed to make Thailand's cuisine become one of 10 countries with a rich culinary culture around the world. The traditional food of Thais that all tourists will not definitely miss to try if they have a chance to visit Thailand are the papaya salad, sweet and sour shrimp soup (Tom Yum), spicy soup (Kang Phed)
The beautiful beaches, the skyscrapers in Bangkok capital, together with distinctive and exquisite culinary culture has captivated tourists from everywhere in the world. Enthusiastically, Thailand is awaiting you all to explore and experience!