Thailand is not only famous for beautiful beaches, unique architecture sites, bustle cities, cheap shopping paradises but also a paradise for Foodies. Tourists travel to Thailand can't miss these fascinating street foods. You should visit the following famous street food spots in Bangkok to explore the authentic local cuisine.
Yaowarat
Yaowarat is located in Chinatown, is one of the most renowned street food spots in Bangkok. It is really an active and colorful street with the Thai and Chinese neon signs in while roadways are filled with buses, trunks tuk-tuks and taxis. The Chinese have lived in here since 1782 when Rama I King moved the capital of Thailand to the east bank of Chao Phraya River. Although the shopping district of Bangkok's 21st century took a lot of customers from Chinatown, it is still the commercial center which is famous for the food paradise for the locals and foreign tourists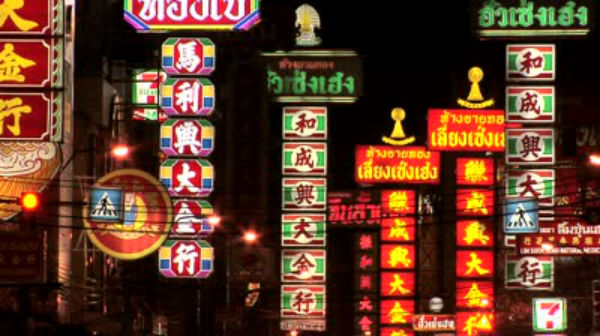 The street is always crowed by residents and tourists, especially after 6pm. Although it is the town of the Chinese, the specialty is the Thai traditional cuisine and Thai-Chinese. The food stalls on the pavements sell many kind of food such as crabs, fresh fruit, cabbage and coffee beans. Trok Itsaranuphap which is an alley sells foods including dried food and preserved food full of rich colors. For example, there are many kinds of tea such as green tea, jasmine tea, rose tea, O long tea and pu'er tea which origins in Van Nam, China and bring many benefits to human health.
The other stalls sell food like ginkgo, nuts, dried ginger, roast suckling pig, chicken feet and fried frog skin. Moreover, there are also appliances on sale, especially along Sampeng. At the north of the town, there are stalls selling paper votive items. If you a fan of seafood, let's visit Nay Mong restaurant which is famous for oyster. If you like fish, Chinese-Thai Tang Jai Yuu and Chiang Kii are the best choice for you. In addition, there are many restaurants you should try, especially Jek Pui restaurant with Thai curry dish in Chinese style.
With the hustle of the restaurants, market stalls, Yao Warat is an experience not to miss in your trip to Bangkok.
Sukhumvit
The second famous street food spots in Bangkok is Sukhumvit Street. This area has a lot of restaurants and food stalls. Starting from Soi 4(Nana) which located between the Middle East and Pakistan's shop is alleys full of flavor food. Specially, there are many Indian restaurants and European restaurants such as Italy, France, English and Germany in this food paradise.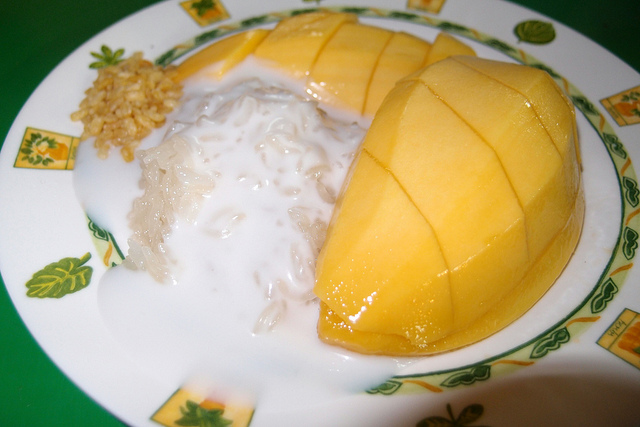 Sukhumvit Soi 5 is the place famous for Arabic dishes which are very cheap. This area is full of dishes from the Middle East, especially, Shwarma rolls only price at 40 baht. Sukhumvit Soi 33 is the ideal place for you to fully explore Thai cuisine. The food stalls are present along roads that you have many choices and enjoy. Tourists who come here often taste two famous dishes are Pad Thai and mango sticky rice.
Sukhumvit Soi 38 is located next to Thong Lor station, is the small street selling all the unique street food of Thailand. It always makes visitors confused by so many choices. You can go to Sukhumvit Soi 38 and enjoy all of Thai snacks. The most famous dish is Khao Na Pet (duck rice), Phat See-ew (fried noodles), Pad Thai (noodles), som tum (papaya salad) and mango sticky rice with coconut milk. This food paradise opens from 5pm until the early hours of the morning. The food is tasty, cheap and arrives quickly and most menus are in English making it easy to make your choice. Moreover, these street food stalls are pretty hygienic and the ingredients are fresh
Sam Yan
Sam Yan Market is another street food spots in Bangkok. It is famous for Thai street food, offers cheap Thai street meat and all-things-deep-fired. Just steps to the first quarter of the market you also feel the fragrance of the dishes which include stir fried dishes, Isan food, plus sweets and snacks. The food is not only attractive but also cheap. In addition to barbecue dishes, you can also enjoy fresh coconut cream with sweet sticky rice in the Suan Luang Market which is next to Sam Yan. Sam Yan market opens all days but there are some restaurants only open at nights.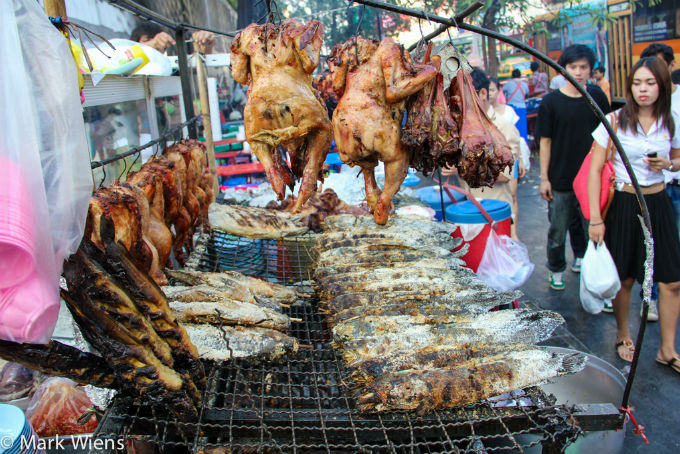 Let's coming to Bangkok and enjoying the cultural cuisine of Thailand in these food paradises.