Bangkok, the capital of Thailand, also known as Venice of the East or the City of Angels is one of the global top tourist attractions in the world. From dazzling architectures and night markets to unique cuisine and various forms of entertainment, Bangkok is the most popular destination alluring millions of visitors annually.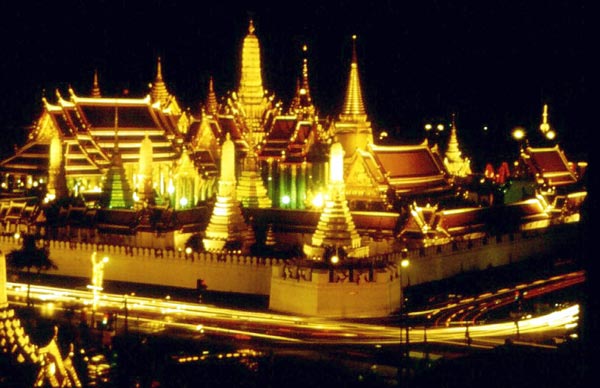 Arts and Architecture
Skyscrapers seem to be of a norm in many dynamic cities including Bangkok. However, Bangkok is also famous for many royal palaces, splendid temples (or wáts) and Old Town appealing to visitors of all languages and races. Indeed, Thailand is nearly 95 percent Buddhist; therefore, there are numerous different temples in Bangkok, serving religious function and aesthetic value. Typically, some of them are Wat Phra Kaew, Wat Pho, Wat Benchamabophit, Wat Mahathat Yuwaratrangsarit, Wat Saket, and Wat Traimit. Each of the temples has the Buddha image and is characterized by the native Siame styles. You will soon notice that the monks wake up very early in the morning and then pray, bringing the spiritual atmosphere for the city. After that, there is a daily alms round and you will see the monks walking around collecting food and necessary stuff from ordinary people on the street.
Besides temples, Grand Palace is also a must-see place when you come to Bangkok. This is home to the Thai King, his court and his royal government. It is of elegant mixture of eclectic styles including numerous building, halls, pavilions, gardens, and courtyards. What's more, Jim Thompson's House should be listed in the must-dos here. American Jim Thompson, an architect, somehow revived Thai silk industry by turning it into an extremely successful export business. What's special here is that he built himself a magnificent teakwood house where the east and west style meet. The house looks like a museum displaying some of the art, sculpture and porcelain.
Shopping
A wide range of things such as silk, gems, porcelain, sneakers, handmade leather stuff, and tailor-made clothes worth your spending are available in Bangkok's markets. While you can expect some bargains, these days you can get almost pretty cheap goods. The most popular markets in the city are Chatuchak and Bang Nam Pheung Market. Besides, there are many other markets such as Talat Rot Fai, Th Khao San, Pak Khlong Talat, and Thanon Sukhumvit Market. If you want to pick up some gifts for people back home, Chatuchak Weekend Market and Thanon Sukhumvit Market are highly recommended.
Eating
One special thing that some Asian countries have is the popularity of street food or open-air food stalls and Thailand is no exception. Nowhere in Thailand is the preference for food more apparent than in Bangkok. The smells of Thai cuisine will stick to you all day and night. Many visitors' favorite eatery is in the Old Town where you can find handful of food stalls, many of which serve decades-old family delicacy. Located to the southeast of the Old Town, Chinatown is considered as a food heaven for gourmets after the sun sets. You will be lost in tiny alleyways while enjoying street-side cuisine or in crowded markets. If you eat at some food stalls, you might grab a plastic chair and then enjoy yummy food in an informal atmosphere with locals chatting in their native language. That's incredibly amazing!
Some dishes are world-wide famous such as Tom Yung Gung soup served in a bowl with shrimp, mushroom, and tomatoes, Pad Thai, medium-sized rice noodles wrapped with fired egg and shrimps. In addition, there are a number of other renowned dishes that make people all over the world rave about, for instance, Kao Nieu Ma Muang (mango with sticky rice), Gang Som Pak Ruam (sweet, sour, spicy soup), Jim Jum (spot with porky broth and raw assortment), Kao Na Phet (rice with roasted duck), Kao Nieu Moo Yang (rice with grilled pork), and Gai Yang (grilled chicken).
Drinking and Nightlife
It's the best to enjoy a night out in Bangkok as you head for thumping discos, or rooftop bars. As you can almost see clubs and bars everywhere in the city so what you need to do is just choosing the right style and atmosphere. If you crave for global famous craft beer such as Brewdog, Hitachino, Skovlyst or Norrebro Bryghus, consider Brew Beers and Cider, Smith, Beervault, and Niche Beer Ville. If you want to listen to live music while sipping your favorite drinks, head for Thonglor's Iron Fairies, Parking Toys, Al Majlis, and Brown Sugar. Also, some bars such as Moon Bar, Sirocco Sky Bar, SkyTrain Jazz Club, and Nest offering ideal seats to see breathtaking views of the city from above. What's more, if you are curious about Thai-style whiskey, soda, or a bottle of Chang and about where these drinks are served, consider Sawaree Terrace, Maejong, Isaan Tawandang, Sofa So Good, and Jae On.
Spa Treatment
Bangkok is known as the massage capital of the world, which offers head to toe treatments. This traditional Thai massage along with hospitable well-trained therapists will give you utmost satisfaction as well as physical wellness. In Bangkok, various spa categories such as Destination Spa, Relaxation and Pampering Spa, Medical Spa, Day Spa, and Hotel & Resort Spa provide you with extensive range of treatments.
Spectator sports and activities
Just like baseball is associated with America, Muay Thai (kickboxing) is national martial arts in Thailand. It first appeared a long time ago and is considered to be one of the world's violent sports. There are two major stadiums, that is Ratchadamnoem and Lumphini where you can watch kickboxing matches. In addition to Muay Thai, golf, horse riding and horse racing are also prevailing here. The amazing thing is that betting on horses is legal and horse racing is held in two racecourses, that is Royal Bangkok Sports Club and Royal Turf Club of Thailand.
To go sightseeing around the city, you can pop in a taxi, motorcycle, or tuk-tuk (three- wheeler). Besides, you can also experience a trip by long-tail boats into canals, known as Khlongs. You just leave the hustle and bustle of the city behind and explore tranquility of the local area with houses and temples besides the canals. This provokes the image of Venice, so that's why people call this area Venice of the East. It's also an opportunity for visitors to chat with the friendly and helpful locals here.
It's hot and crowded; however, there are too many things that make Bangkok amazing. Diverse cuisine, various shopping venues, vibrant nightlife, exotic drinks, and heaven-like spas are the best that visitors from all corners of the world can't resist.
Recommended Thailand Tours