Hoi An is quite small in scale, but its cuisine is extremely plentiful. That is the reason why visiting whole old city, it is still difficult for you to taste all delicacy there. In this article, I want to introduce some special foods as well as addresses for tourists when coming to Hoi An.
1. Pho Hoi Chicken Rice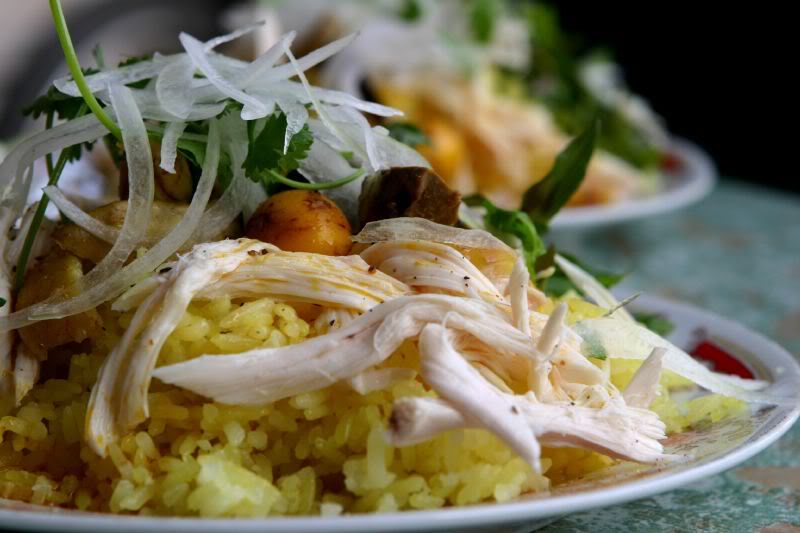 Ingredients are shown right in name of this dish: chicken and rice, of course, with some spices. Rice used to cook is tasty, fragrant, supply and selected carefully. Then, it is marinated with spices, cooked with chicken broth and pineapple leaves by firewood oven. Chicken must be still young, so that its meat is soft but not crumble with thin skin. After being boiled, chicken meat is shredded and crushed together with onion, fried onion, salt, pepper and laksa leaves. Rice is put in a dish in stead of bowl as usual, chicken meat tops it off. This dish is served with onion, papaya salad, herbs, soy sauce and chilli sauce. Besides, there is a bowl of soup cooked from heart, liver, kidney of chicken as a side-dish. This dish show meticulous characteristics of people in Hoi An.
Addresses: Tourists can enjoy Pho Hoi chicken rice at 26 Phan Chau Trinh.
2. Cao lầu
Cao Lau is usually translated as Hoi An Style Noodle. Nowhere else in Vietnam has this dish, except for Hoi An. It is rumoured that Cao lầu appeared in 17th century. Cao Lau is clearly derived from Japanese soba noodles. However, Cao Lau noodle has its own special favour and it is just special in Hoi An. Noodle is made very complicated and requires skill of chef. This dish is served with bean sprouts and traditional Tra Que herb and some slices of pork. We can feel all favours such as sweet, sour, bitter, acrid, favour of fish sauce in your mouth. Some people have desired to cook Cau Lau in other places, but unsucceeded. Maybe Tra Que herb and some other ingradients which are only in Hoi An make special favour of this typical dish.
Addresses: It is very easy to find a vendor or a restaurant serving Cao Lau. The most famous addresses are Ba Be and Trung Bac restaurant on Tran Phu Street.
3. Bánh Bao – Bánh Vạc (Dumplings)
This 2 kinds of cake are also typical dishes of Hoi An cuisine. It is quite small, white like rose so that it is sometimes translated as White Rose. It is one of the most popular name in menu of any restaurant in Hoi An. Banh Bao – Banh Vac are two different kinds; however, they are made and served almost similarly, put in he same dish, and dipped in the same sauce. Main ingredient is rice, but it must come over a sophisticated process to become required wheat. Rice after grinded, it is refined with water from 15 to 20 times. There is shrimp mixed with a little crushed pepper, garlic, onion, lemongrass and esoteric spices inside Banh Vac. Banh Bao made from pork, mushrooms, sliced onions with the same spices. They are steam boiled. Perhaps this esoteric spices is cause of unique favor of this cake.
Addresses: White Rose Restaurant on Nhi Trung Street
Recommended Tours:
– Hoi An Cooking Class 1/2 Day