The weather conditions in Vietnam are specifically unique in not only each region but also each season of the country. Therefore, it is essential for all tourists to have an overview of the weather feature for a year so that you can have a perfect plan to travel in Vietnam. That's why I am here to help you figure out the monthly climate pattern of this gorgeous nation. 

Overview Of Weather Conditions Of Vietnam Throughout The Year:
12 months of the year in Vietnam can be divided into 2 main seasons. In this article, I will specify the weather in two parts of the country: Northern and Southern area. Central Vietnam can be considered as a transferring area, so essential features of its weather have a lot in common with the other two.
From May to the middle of November:
This time of the year is when the Northern part of Vietnam go through Summer and Fall.
Summer often lasts from May to July. The weather becomes hotter, even scorching hot. If you don't fancy the wet weather traits of spring, this will be much more pleasant. In the beginning, there will still be cool summer breeze, the sky is clear and blue. But as time goes by, the middle of the summer season in June – July is considerably sultry.
The heat background is much higher, the temperature can reach a maximum of 42 degrees Celsius. However, don't be freaking out by the boiling heat. There are usually sudden downpours lasting for about 1-2 hours in the late afternoon to cool down the weather and prepare for an exciting night out.
From August to November is the Autumn season, when the weather has a quite stable temperature, mild sunshine, and occasional rains. In general, it's mostly nice and dry. The temperature fluctuates around 26-32 degrees Celsius.
However, there is one important thing you should particularly notice at this time of the year. Alongside the coastlines of the Middle part of Vietnam, this will be the typhoon season. Vietnam is hit by approximately ten storms annually, most of which land in the Central. So, check the weather carefully if you want to go during this time.
You can have more specific information about the storms in Vietnam here.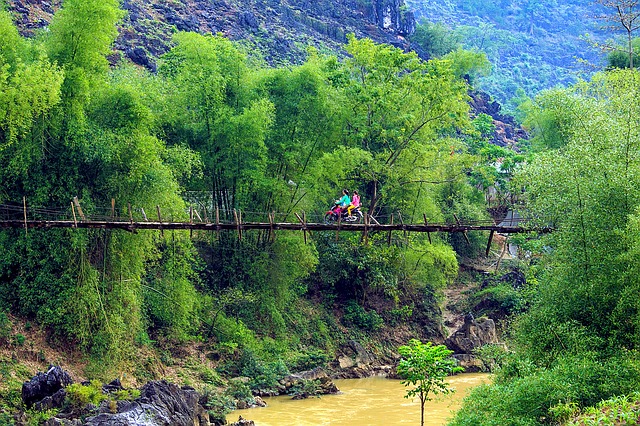 Northen Vietnam. Photo: Huynh Mai Nguyen/Pixabay 
The southern part of Vietnam endures the wet season from August to November. You might find it a little bit depressing when you've first heard about it, but hold on! There will be no cloudburst, no thunderstorm. There can be a flood. But this is actually a specialty of the South, the Western South.
The water gradually rises during the flooding season and the local people get used to it. You will see how calm they are when their houses are deluged. They even have life-savers to prepare for such a situation.
Therefore, don't miss the rainy season in Southern Vietnam. There are many appealing places that can make you think on the bright side.
Destination Suggestions For Summer And Autumn In Vietnam
So from what I have gathered above, here are some the ideal places to travel from May to November. You can consider visiting Ha Long Bay, Nha Trang, Co To, Tam Dao in May & June and early August.
Da Nang & Hoi An, Nha Trang or Da Lat heading to the Southern part should also be taken into account. Because they are not influenced much by the rainy season, there is light sunshine, moderate humidity and pleasantly cool air. Or you can choose to visit Ninh Binh, Quang Binh from August on.
Here's a small note: there is one special destination which is believed to be in its most beautiful appearance in fall season. Can you guess? It's Hanoi. Because this time Hanoi is not too cold and not too hot, the temperature is often from 23-27 degree Celsius, which gives us pleasant feeling when strolling around popular lakes like Hoan Kiem Lake, Ho Tay, and witness the change of leaves alongside many streets of Hanoi.

From middle of November to April:
This is the time for Winter and Spring in Northern Vietnam.
Winter gradually starts from early November when the weather starts to have a bit of cold blow, making the daytime temperature drop to 24-25 degree Celsius. Then it can be down to 9 – 10 degree Celsius, especially in highland areas during January.
The beginning of the spring of the Northern region is pretty unclear. Native people believe that the spring of Hanoi starts from the traditional Tet (Lunar New Year). It's when the dusk comes sooner, the day seems to be shorter. The locals hurry up to come back home for a family gathering during Tet. It is expected to have drizzling rain lasting for a week.
While the North is pretty wet, Southern Vietnam enters the dry season. Thanks to the brilliant sunshine, hot weather with little rain and not much humidity the dry season here is more intense than other regions. The temperature doesn't change that much. It hovers around 35 to 37 degrees. This is also perfect timing to taste an array of tropical fruits to reduce the heat. The South of Vietnam is widely known as a heaven for seasonal treats such as coconuts, grapefruits, mango
Destination Suggestions For Vietnamese Winter And Spring
Because of these above weather conditions, I would like to recommend these uniquely appealing destinations: Extreme east and northeast mountain and valleys such as Moc Chau plateau, Ha Giang, Sapa.
Because of Tet, temples and pagodas like Huong Pagoda (Hanoi) and Bai Dinh Pagoda (Ninh Binh) often receive large number of visitors in this season, you can also consider going there to get to know more about Vietnamese culture.
With such hot and shiny weather like in the Southern part, the first things that come to your mind must be beaches and islands, right? In the Southern part there are some nice beaches like Mui Ne, Tan Thanh, Ninh Chu and especially beaches in Phu Quoc island. Dalat can be an amazing place for you to avoid the extreme heat in Centre of Southern Vietnam.
Detailed Information For Each Month of Year: 
The month of the year

Weather features
Places to go

Holidays & Festivals

January

Northern: cold weather, the temperature can drop to 15-16 degree Celsius.

Southern: warm with a dry season

Southern province, Ho Chi Minh City, Moc Chau

Western New Year 

February

Northern: drizzling rain, cold weather

Southern: warm with a dry season

Beaches in the Southern

Tet Nguyen Tieu 

Lunar New Year

March

Northern: drizzling rain, cool weather

Southern: quite hot (27-29 degree C), low humidity, dry season

Temples and Pagoda 

Beaches in the Southern

Huong Pagoda Festival

International Women's Day

April

There is more rain than previous months, especially towards the end of the month in the  Northern and Southern regions.

It starts getting hot and humid all over the country.

Coastal areas in the Centre and the South of Vietnam

Hung Temple Festival ( 10th of March according to Lunar calendar)

May

The temperature rises to 32 degree Celsius in the North and up to 36 degree Celsius in the South

It's humid all over the country

Trang An, Ho Nui Coc, Ninh Binh

 

June

It's hot all over the country especially in the Centre and the South

 Tam Dao, Sapa and Dalat for cool and pleasant climate

– Hue festival (Late June to early July)

– International Firework Competition in Danang (often from June to July)

July

Often the hottest month of the year with extreme heat all over the country

Beaches, Island alongside the coastlines of Vietnam

– International Firework Competition in Danang (often from June to July)

August

A month of rainfall in the North and quite high humidity in the South

Hue, Hoi An, Nha Trang, Da Nang

 

September

The temperature cools down a little bit all over the country

Markets in Hanoi and Ho Chi Minh city

Full-moon celebration (Mid-Autumn Festival)

Independence Day (September 2nd)

October

The weather is pleasant with lower heat and monsoon wind.

Hanoi, Sapa, Tam Dao, Da Lat, Ha Giang

 

November

Northern cities and provinces get cooler while the Centre and the South remains warm

Rain in the Centre part like Hue Da Nang decreases

Centre parts of Vietnam

 

December

In the North, it's cold and pretty dry

It's warmer in the South but there's often sudden rain

Hanoi, Sapa, Ha Giang

 
 These above information is just general based-on the records of previous year. There can be little difference in specific time for each year, for better updated news, reach out to us at 
Tel: (+84-24) 66683333 / 37153977 | Fax: (+84-4) 3715 3978
Email: sales@travelsense.asia | Hotline: +84.899861177