In night market, strange-looking, interesting and country's specific products are displayed in small and simple store surely attracts travelers. Thailand is not an exception. Let's discover famous night markets in the beautiful city- Bangkok of "Golden Temple Country"- Thailand!
1. Khao San Road
Night market on Khao San Road is a popular destination as most of universal backpackers can find characteristic items of Thailand such as Thai dishes, pull shirt as well as other souvenirs. Besides, Khao San is known as the holy land of unique clothes and jewelry with very good price. Khao San night market opens all days in week and food stores open from morning to serve for tourists to late at night. Specially, when sun sets, the sound of music starts resounding, everywhere in Khao San Road becomes busy and crowed till 11 P.M
Position: Between Chakrabongse Road and Tanao Road, after walking end of Ratchadamnoen Klang, you can ask taxi-driver and they will show the way for you.
Opening time: Everyday, travel agency and food store open from morning, but the road is the busiest and noisiest at night from sunset time to 11 P.M
2. Silom Road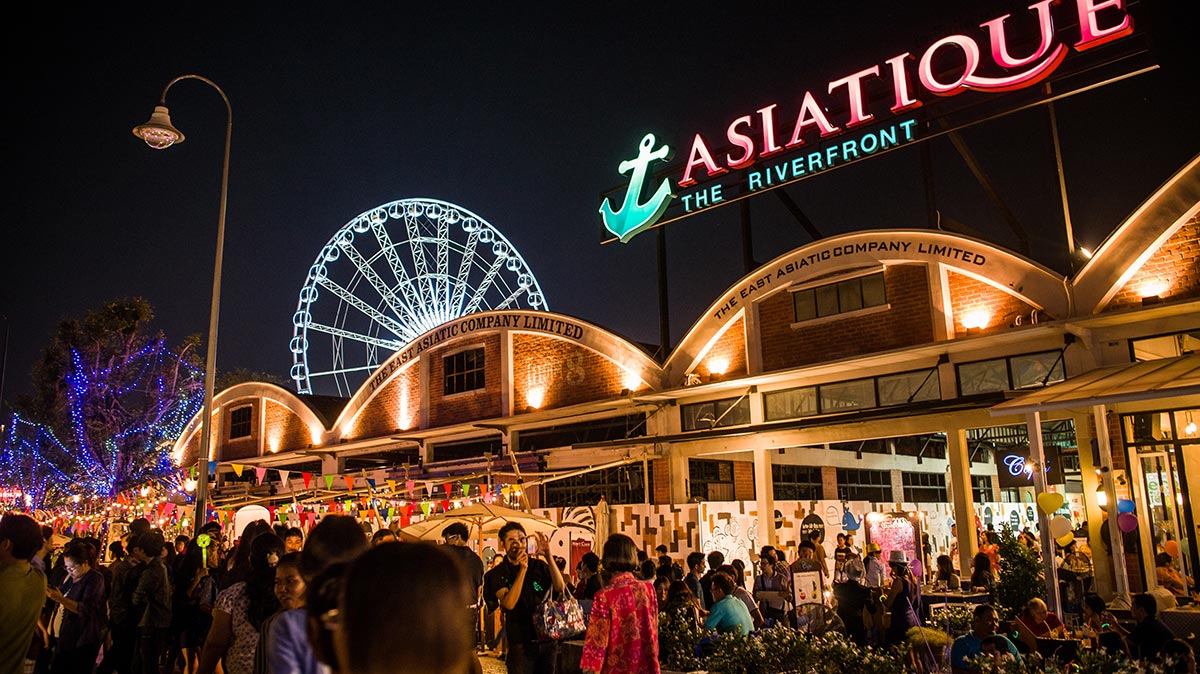 To be an animated business area during the day, but Silom Road turns into a center to serve foreign tourists at night. The makeshift stores on two ways of roadside are selling mainly souvenir and jewelry for visitors. Silom is situated parallel to Patpong which is noted as the shopping and entertainment center. This street comprises more than 100 bars, massage salons, karaoke and a big night market serving varied souvenir items. Silom road stretches throughout Dusit Thani Hotel at the corner of Dusit Thani Road to river bank of Charoenkrung Road. You can easily catch taxi, train to this bustling road
3. Pak Khlong Talad Night Market
However being well-known as the traditional market area in Bangkok, Pak Khlong Talat is also an exciting stop for everyone to relax comfortably while walking around market and sightseeing, smelling aroma of innumerable colorful flowers. The fresh flowers and bonsais are flocked to this market by truck at night. As traveling in the market, you will freely admire beautiful flower from marigold, jasmine, rose are strung according to Thailand's tradition to orchid, and other local flower are particularly shown in flower shops. Once more, we can catch plenty of people buying vegetables, fresh fruits and some of mobile beverage stores on a special corner of the market.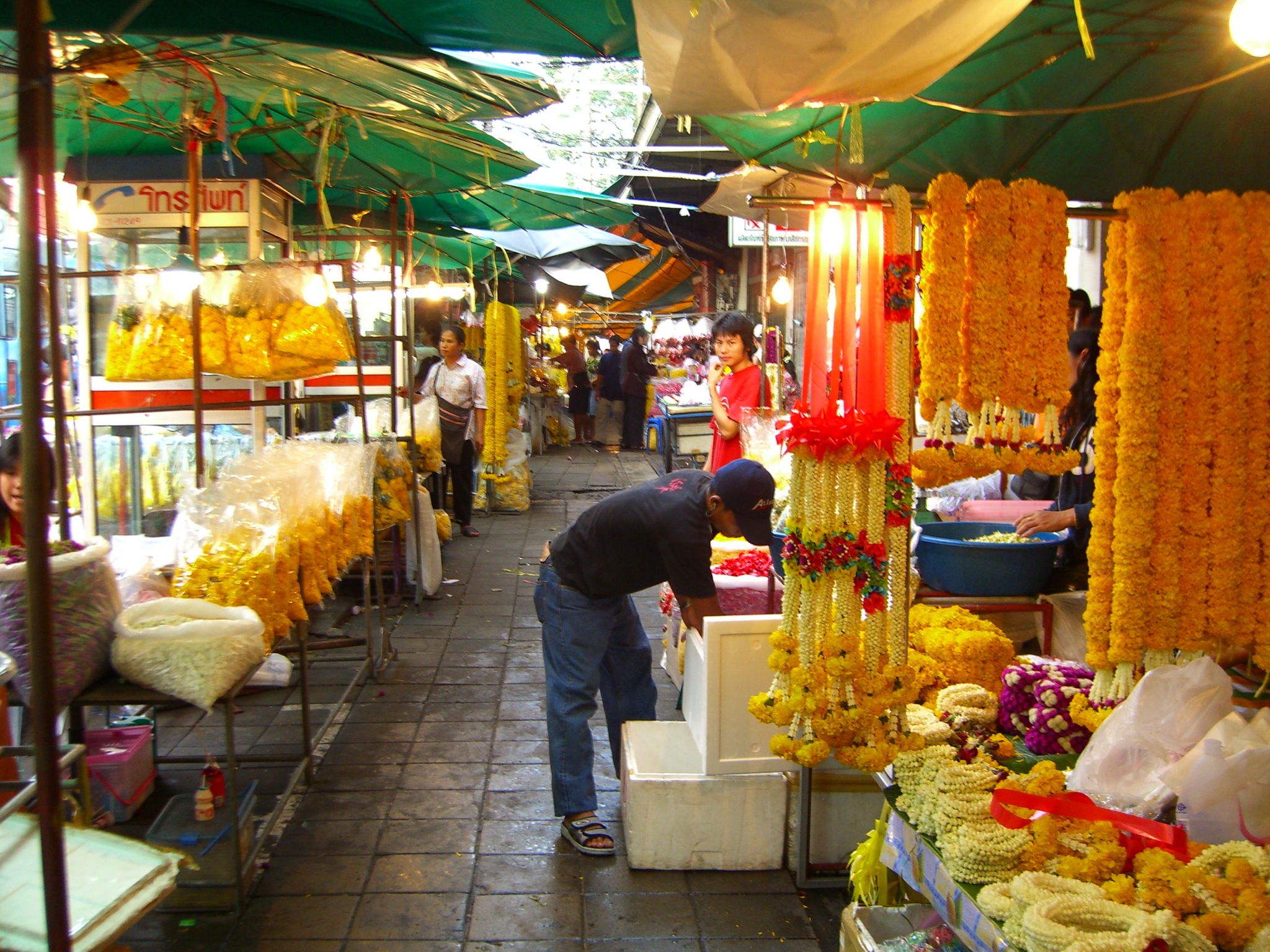 Position: Along Maharat Road, near Chakraphet Road and Sanphan Phut night market shortcut.
Opening time: All days in week, flower market operates till 2 a.m
4. Rot Fai Night Market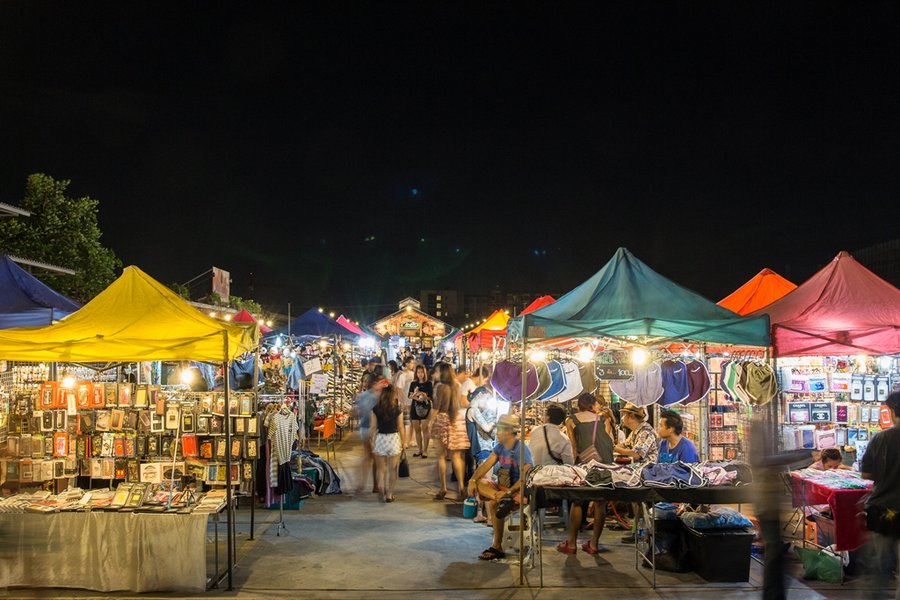 Rot Fai, which is in the location of Prawet district to the Southeast of Bangkok, is one of the most attractive nigh market in Bangkok. When night falls down, most obviously, you can see and feel cheerful beauty of the market with full of colors: green, red, purple, yellow…etc. as well as sounds of laughs, bargain, steps of local people and visitors in stores. Also, because of its classic and artistic stamps, photographers choose Talad Rot Fai Night Market to be background for their masterpieces.  Not only be a shopping area but also ideal destination for food-try, you are advised to drop in roadside food stores of Rot Fai nigh market and enjoy Thai delicious street food or sip a cup of coffee in a unique architecture coffee shop.
5. Asiatique Night Market
If you desire to visit a complex place of shopping mall and night market, Asiatique is really perfect choice for you. The place is opened from 5 P.M and contains 1500 stores and over 40 restaurants for diversified selections. Uniquely, the market is divided into separated parts and each part has itself characteristic, vintage costume area or designed clothes area is an example.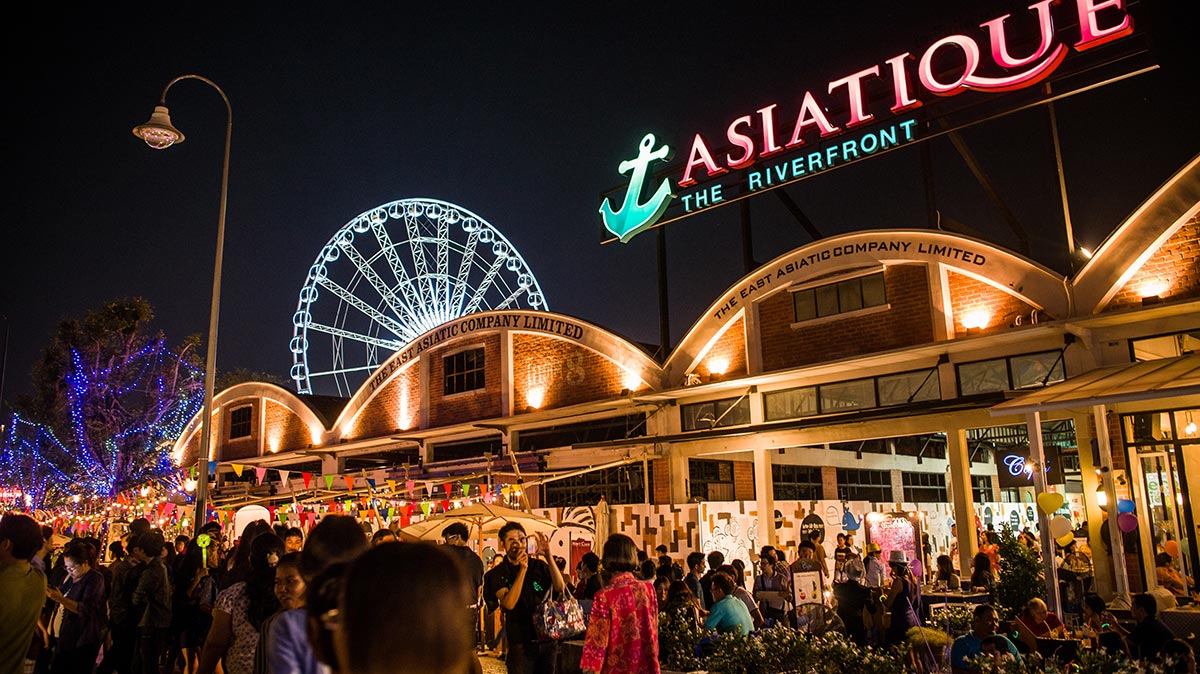 Position: Asiatique is located on the Chao Phraya river bank so the most convenient way is to go by boat. It takes around 15 minutes to go from Saphan Taksin station to Asiatique by boat. Do not worry if you come late at night because boats operate from 4.30 P.M to 11.30 P.M. You are recommended not to travel by taxi because the way to Asiatique usually gets stuck.
6. Chatuchak Night Market
Chatuchak in Thai's language means "weekend market" because the market is only held on every Saturday and Sunday. Chatuchak market was built in 1940s, passed rise and fall and displaced; nowadays, it is lying on 1-kilometer total area on Phahonyothin of Bangkok center. This is the famous shopping place to both Thais and foreigners, Thais people from everywhere in the country come here and bring to local shops, tourists come and buy gifts, souvenirs for family and friends. Truly, there is no doubt that Chatuchak night market is a shopping paradise for tourists in Bangkok.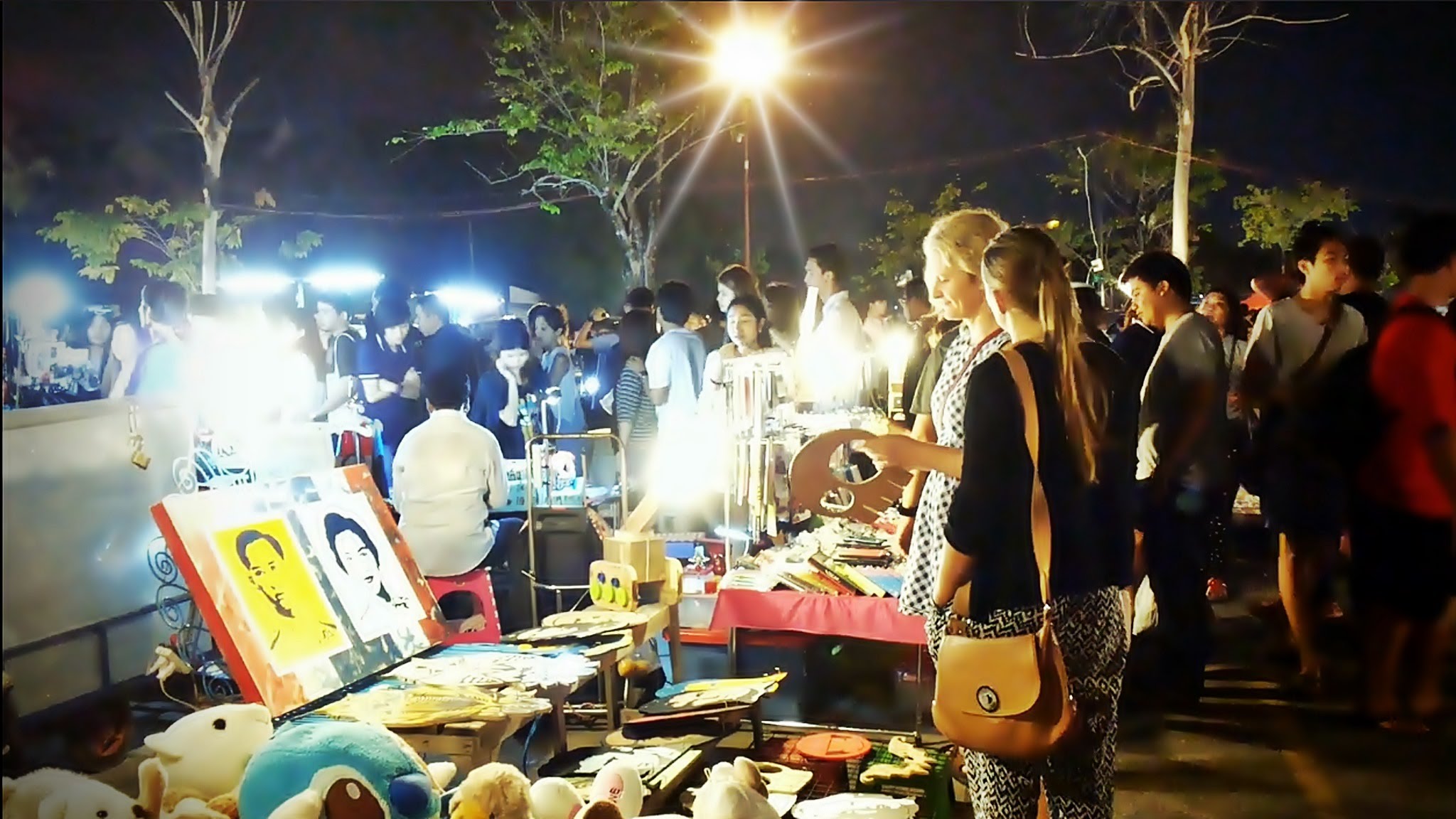 Position: Near Chatuchak Park, tourists can go by skytrain or subway to Chatuchak park
Opening time: 9 A.M to 6 P.M on every Saturday and Sunday.
7. Ratchadapisek Night Market
Ratchadapisek is still secret in Bangkok to travelers. It is just opened on the evenings of Friday and Saturday, weekly. As reaching to the market, we will sight a parade of shops displaying special and old items with cheap price. Here, you may find antique and valuable things such as old camera, CD, gramophone, phone dialer, auto parts to first version of Thai's famous books.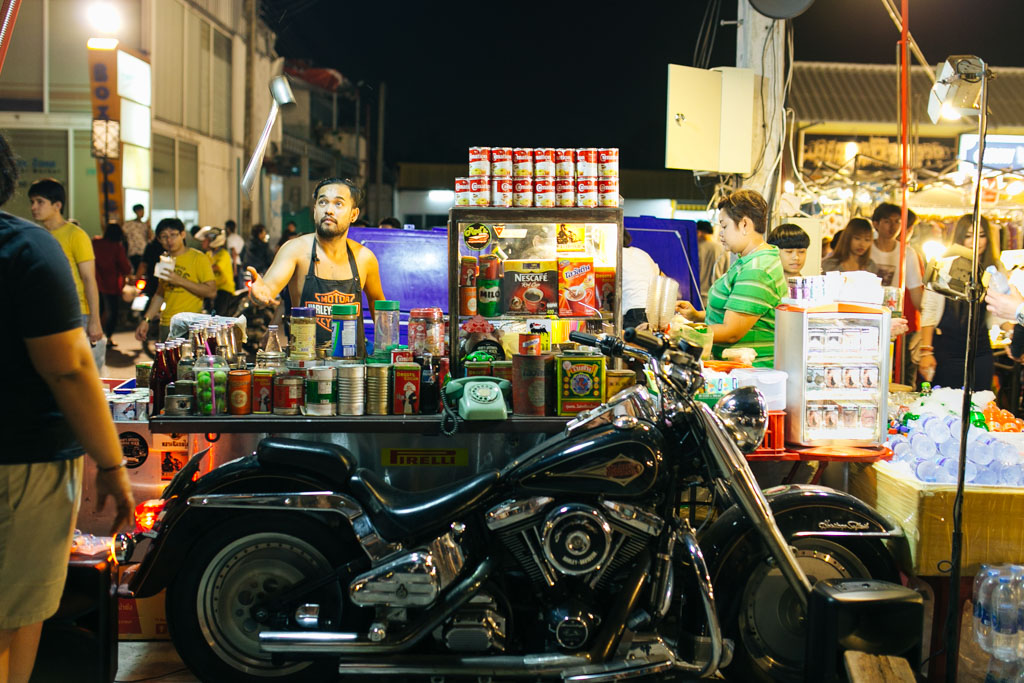 Position: To get in Ratchadapisek, you will catch subway to Ratchadapisek station in gate no.2, then you turn left. You will see the market after minutes of waking.