When offering to culinary culture of countries, we commonly think of their renowned dishes such as Italian's famous spaghetti dish, British's popular fish and chips, Japanese's traditional sushi….And Vietnam having long cultural history is also well-known for the diverse and fascinating cuisine. When coming to Vietnam, you should not miss out on trying delicious food such as noodle soup, vermicelli and grilled chopped meat, steamed rolled rice pancake,…especially fried spring rolls regarded as one of the most excellent specialties in Vietnam. Vietnamese fried spring rolls dish is served all year round so you will possibly taste it whenever you visit our country.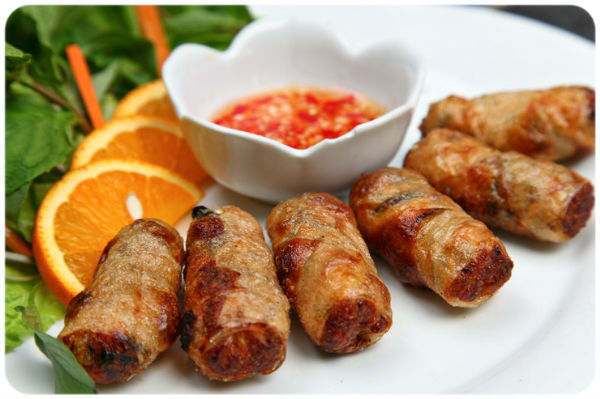 Vietnamese Cuisine: Long-standing tradition
For a long time, fried spring rolls have considered as a speciality of Vietnam, coming from the north. These Vietnamese fried spring rolls are wheat-free and can be served anytime and particularly they are good as appetizers during main meals and perfect as snacks, thus it has served in Vietnamese meals for a long time. Previously, fried spring rolls were only for Kings, nobles, and wealthy people, not for peasants, so when the colonial coming to Viet Nam and had chances to enjoy it, the French translated its name into rolls set for a very chic French name, whose nobility was "Pa-numbing royal" (Pate Imperiale).
The fussy, meticulous steps to make the rolls led them to be one of unique specialities of Vietnam aristocracy time ago. Only on rich and luxurious New Year or other important anniversary or solemn weddings the fried spring rolls were just prepared for the wealth and high-class like heads of commune and district and so on. Peasant might only have chances to enjoy this wealthy dish on New Year only, when it was Eve's meal with a more simple ingredients. "Nem" was a specialty of Vietnam entirely and should not be misunderstood into the Chinese's since Chinese was more simple and cheaper rather than the Viet's sophisticated and unique ones with a lot of expensive ingredients. Dictionary of Alexandre de Rhodes era in 1651 has been compiled from "nem» – the Vietnamese dishes and Larousse French dictionary "nem" was recognized as speciality of Vietnam (specialite Vietnamienne). This affirmed that fried spring rolls were the quintessence of the Vietnamese cuisine with its longstanding tradition.
Vietnamese Cuisine: How to make fried spring rolls
If you visit Vietnam for some days, you are advised to come along a Vietnamese's house and learn how to make the delicious spring rolls dish. How stimulating the feeling is! Spring roll's ingredients blended harmoniously not only makes for a scrumptious dish, but also ensures that it is healthy and has a good balance of the yin and the yang. Vietnamese people really like natural herbs and vegetables; therefore, they always choose freshest ingredients to make spring rolls. Going to market in the early morning is a good guide for you to select fresh meat and vegetables. To make spring rolls, you need to prepare ground pork, peeled and de-veined shrimp, dried wood ear mushrooms soaked in hot water and finely chopped, shredded carrot, diced onion, minced garlic, chopped green onion- basil- cilantro, sugar, salt, fish sauce, black pepper, and finally spring roll wrappers. After preparing, you will continue to mix all ingredients thoroughly and add fully spices. Later, you learn to wrap up spring rolls for frying. Actually, Vietnamese women are so skillful at cooking that they make beautiful spring rolls. However, when you start to learn, you may have difficulty in wrapping up spring rolls, but it is quite easy once you get the hang of it. After wrapping a few, you may start to feel like an expert.
Firstly, fill a shallow bowl with some tap or filtered water. Take a piece of rice paper wrapper and immerse it completely in the water. Make sure that the wrapper is completely wet. Put the wet wrapper on a large empty plate. You are recommended not to use hot water because the wrapper may not work in your favor if you are new at it. Secondly, Wait about 30 seconds for the wrapper to soften. It will turn soft and start to stick to the plate but that's ok. Place three heaped teaspoons of the filling about an inch from the edge of the wrapper, on the side closest to you. Next, fold the edge of the wrapper closest to you so that it covers the filling. Make sure that this first fold completely covers the filling, and pull the edge of the fold slightly under the filling making a taut, small parcel. You will use both your hands, fold the right side of the wrapper towards the center, stopping where the filling is. And then, do the same for the left side of the wrapper. You continue folding the wrapper by grabbing the enclosed filling and turning it over until it reaches the end of the wrapper (you need to make sure there are no loose ends on the wrapper). Finally, you need to put spring roll into a plate to prepare for frying.
Vietnamese Cuisine: Enjoy the yummy spring rolls dish
Each Vietnamese dish requires a particular recipe of fish sauce. The good quality bowl of fish sauce for spring rolls dish demands the good balance of flavors such as lemon juice, sugar, chili and pepper. You should wrap the fried spring roll with lettuce, dip into sauce and take a bite that surely leave its perfect taste in your mouth. It is not fortuitous that the Vietnamese traditional spring rolls dish becomes a famous appetizer popping in menu charts across the world. It does not only bring traditional value, quintessence of Vietnamese Cuisine but it is also a yummy dish which readily fascinates all gastronomists.