Vietnamese people love visiting pagoda on important occasions as a tradition. They go there to pray for a year of happiness, health and wealth. However, most of Vietnamese people do not know how a praying manner is. Therefore, the foreign tourists when travel to Vietnam are hardly guided about such important manners. This entry will inform you fully about the manners of pray in a Buddha pagoda or temple.
1. Dress appropriately
You should take simple clothes such as jeans, shirts or pulls due to the fact that the Buddhism honors politeness and discreetness. Try not to wear dresses or indecent costumes.
2. Please whisper in the pagoda!
Pagodas are spiritual places so noises should be restricted insides. You can feel the freshness and relaxation if you focus your mind on the structure and atmosphere there.
3. Enter the pagodas: Even Vietnamese people act wrongly
The traditional rules for entering a pagoda or passing through its gate are quite simple. First, you have to know there are usually three gates as an entrance for a pagoda. Use the right gate for entering and the left gate for leaving. The middle one is used by leading and noble people, according to our ancestors; hence, the normal people should not pass through it.
To be more polite, try not to step in the platform in the gate or door insides. Bend your knee a little bit when you do a prayer.
4. Priorities in making prayers
First, you should pray in Tam The Hall. Tam The Hall worships three Buddha statues of Amitabha, Shakyamuni and Maitreya Buddha. Amitabha is a Buddha representing the present life whereas Shakyamuni for the past and Maitreya for the future. Based on their meanings, you can easily have a wish. Around 3 Buddha, there are 8 Dharma protectors and 2 masters of Buddhism: a monsignor and a sage.
Second, you go down to see Avalokiteshvara who is a female providing care and happiness to mortals. Legend has it as she is kind-hearted and humane who protects people and helps them to overcome difficulties. I always stand in front of her to wish for safety and peace to my family.
Finally, end the trip by receiving some gifts from the abbots. Actually, in Southern Vietnam, people do not take anything from the temples while Northern ones always desire something from pagodas as a merit in their house.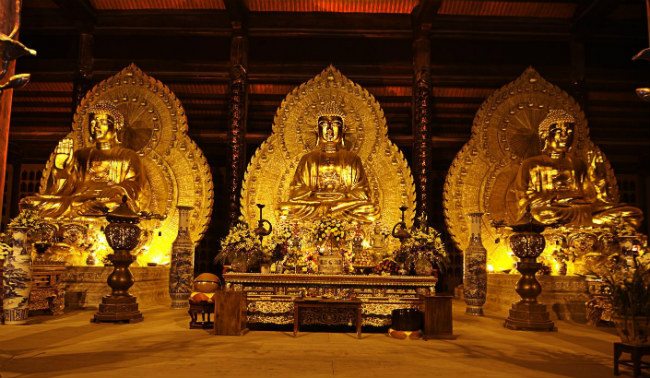 I hope that this pocket guide will be helpful for those who want to enjoy Buddhism solemnly. I will do my best to have more posts on interesting destinations soon.
Recommended Tours