I love being a stranger in Hanoi.
I remember one of my friends once said: "You may not find Hanoi an interesting place to spend your vacation. People come to Vietnam not to, or should I say 'should not', visit big cities like Hanoi or Ho Chi Minh". I myself thought she was wrong.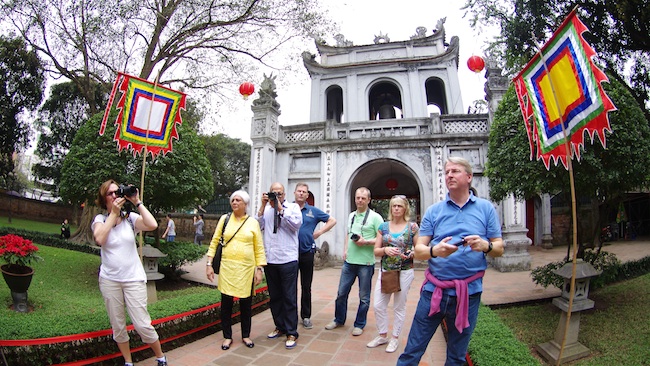 Tourists in Hanoi, of course if they get themselves a wholeheartedly tourguide, have their privilege to see this city in the way that no local people could do. When you finally decide that you travel to this city to get yourself in an Asian adventure rather than to spend your day in a hotel room and be afraid of all the frenzied traffic or being overcharged, which you might have to go through both if you travel alone or unpreparedly; your courage will not make you disappointed. You surely will be surprised at how easily one can fall in love with this city, in every season of the year, like one can not help following an exquisite Indochina girl on the street with his eyes for a second or two. Hanoi elegantly exposes to its passers-by all its beauty of modernization mingling with the antique features it has kept inside for decades.

Take a walk around Hoan Kiem Lake, a precious bright gem in the heart of Hanoi, you find yourself such a wonderful feeling to witness with your own eyes Tortoise tower, Ngoc Son temple, and The Huc bridge. All these are the symbol of a 1000-year old culture of the capital of Vietnam. Its beauty, for the first time, wholely appearing to visitors beyond the crowed noisy streets, is surprisingly touching. We find our peace and quiet in the middle of the placid lake that strange as it may seem, we want to stay in town a little longer.
Old Square, especially exciting and lively but in its strange sluggish way, is another place to wander around in Hanoi. There are so many stores selling all kinds of souvenirs for tourists, such as brocade bags, forest honey, traditional medicine, paintings of Hue girls on Huong River,… However, after all, there is only one thing everyone will find worth trying the most in this city: traditional cuisine and architecture of old Hanoi. Never compare those houses in Old Square with skyhigh buildings in any other places you have ever seen. People, even the local, love the place since it is a total package of the remaining traits of many Hanoi's generations living here for decades. The traditional cooking recipes, handed down from generation to generation of native Hanoi people, has successfully kept a very special Vietnamese taste.
Otherwise, besides all those things that you can taste and see, maybe just walking along the streets, with a little bit of delicateness, you can feel a breathe of a very different Vietnamese lifestyle.
Just like that, the idea of hustling in the midst of horrible traffic streams on every main street on a Saturday night to eat at a well-known restaurant will never be that terrifying.