Both unknown and familiar feeling is what top paradise islands in Thailand bring you to. For traveling connoisseurs, they may have experienced about well-known destinations as Bangkok, Chiang Mai and would not forget to explore beautiful islands of Southern tropical area, of course. Being favored with endless white sandy beaches, crystal blue water, and cool weather for sea-diving, parachuting, all wonderful beaches Koh Samui, Koh Tao, Koh Pha Ngan, Koh Lipe, Koh Phi Phi are promising to give travellers exciting and unforgettable moments!
1. Koh Tao – the ideal place for hiking, sea-diving and watching coral reefs
Koh Tao is regarded as "the island of year" by Trip Advisor. This island is holy land for those people who like sea-diving by the appearing frequently of very big but mild sharps and dolphins are really pleasure to many adventurers. So that, it will be not surprised to know there are 35 dive sites and 60 dive schools in Koh Tao for tourist's choosing. Besides, Koh Tao attracts tourists to its other highlights such as: to conquer tough roads with different hard levels, cross forests, go over mountains then hugging overall splendid beauty of Koh Tao picture. Definitely, climbing adventurous mountains, enjoying barbecue party on the beach…all are great memories that you never forget even I have reached only once.
Noted: Koh Tao is a small island and easy to explore via the roads or by boat which you can get you to some of the most solitary areas.
2. Koh Lipe – pristine island remained
Just early year of 1990, Koh Lipe had been discovered that it still remains valuable pristine features with cool fresh air and very clean water. From the point of Koh Lipe, visitors are recommended to row Kayak to Adang archipelago of Tarutao Nature Reservation where possesses immense forests, a lot of superb waterfalls as well as nice and quiet beach is like a lively paradise for wanderlust travellers. However, one tip to put in your pocket is to book room around one month while you plan to drop in Koh Lipe because of lacking room position during visiting season here (from December to February yearly, especially, on New year's eve or Christmas).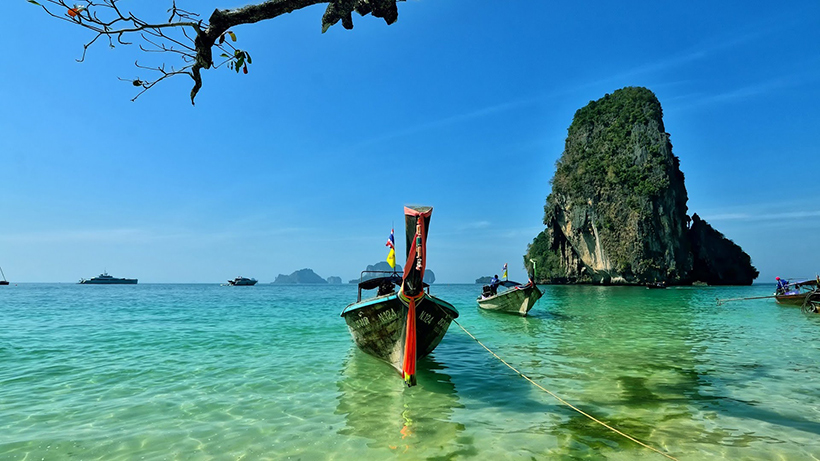 Noted: Koh Lipe's white sandy beaches are perfect for relaxing and snorkeling right all of them. Tourist can sleep in simple bamboo huts or plush luxury resorts with a swimming pool. A great variety of restaurants on the island serve from tasty Thai street food to delicious international cuisine.
3. Koh Phi Phi – appeared scene in "The Beach" film
Ko Phi Phi is a small archipelago in the Krabi Province in Southern Thailand. Nowadays, Koh Phi Phi is known as one of the most beloved islands in Thailand for the reason of its dreamy scene on the film called The Beach. The Koh Phi Phi beauty is deeply like a fantastic picture of legend by combined harmoniously between turquoise sea-water, white sand beach, and spectacularly amazing cliffs, and comfortable climate around year. If it is the first time you reach to, you will not avoid being astonished by wonderful picture when the sun falls down this lovely island in late of afternoon, you will have restful time and enjoy total fresh flavor of sea through your body.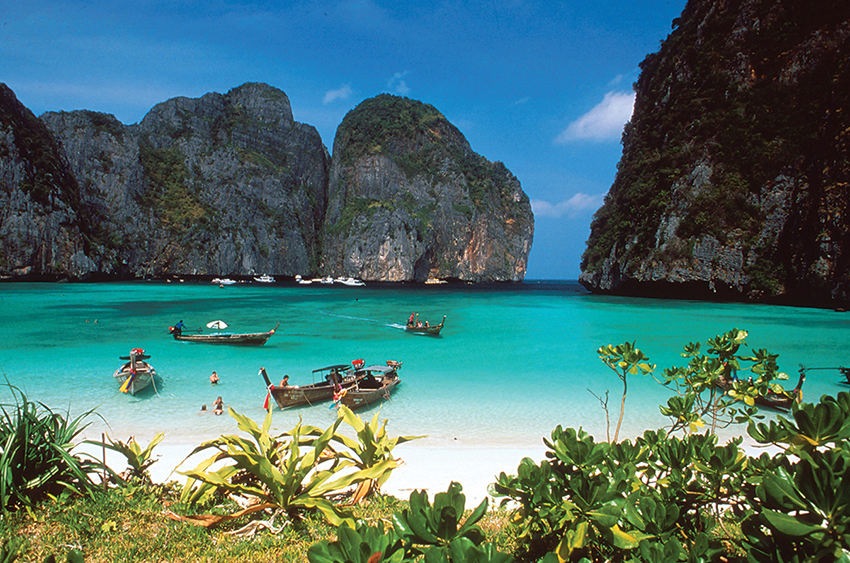 Noted: Hotels in Koh Phi Phi have wide ranges of styles, from cheap yet comfortable guesthouses to mid-range prices bungalows therefore, it is not difficult to find suitable accommodation style for you.
4. Koh Pha Ngan – beach party overnight
Ko Pha Ngan is an island in the Gulf of Thailand, halfway between the islands of Ko Samui and Ko Tao. It is most famous for Full Moon Festival, organized once in month nearby Haad Rin beach and draws over 20 thousand tourists all over the world to immerse in overnight party with cheering dances that makes the beach became a huge club for a while. After enjoyment of dances, you can sit down on beach for relaxing and listening to sounds of serene waves. In addition, your trip will be fulfilled with experiences like joining in fishing journey on sea through night, trekking by elephants, sea-diving, parachuting, or admiring spectacular waterfalls…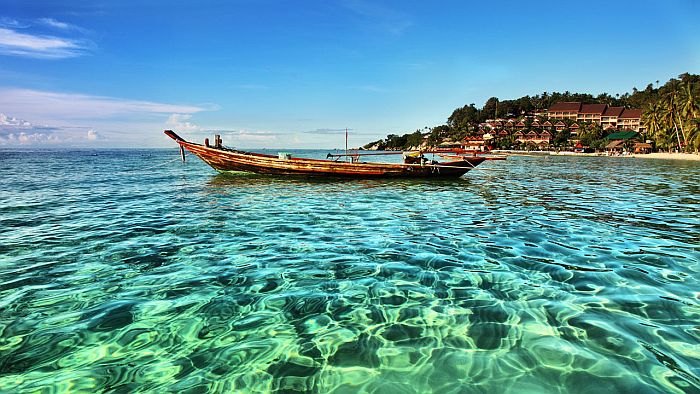 Noted: There is a great variety of restaurants and bars to cater for everyone's taste, if you are keen on eating Thai food, head to the village of Sri Thanu for cheap seafood, Isaan food and noodles; there's also a few restaurants serving top quality European foods in the region as well.
5. Koh Samui- the ideal destination for family vacation
Koh Samui is renowned as haven of rest for families. Tourists coming here perhaps are startled by the stunning beauty of the endless white sandy strips, pure blue water and lush green tropical forests as well. The resorts in Koh Samui have sea-facing room design which gives guests a wonderful view. Moreover, this nice island is not only a place of rest of the family but also the perfect choice of couples during their honeymoons.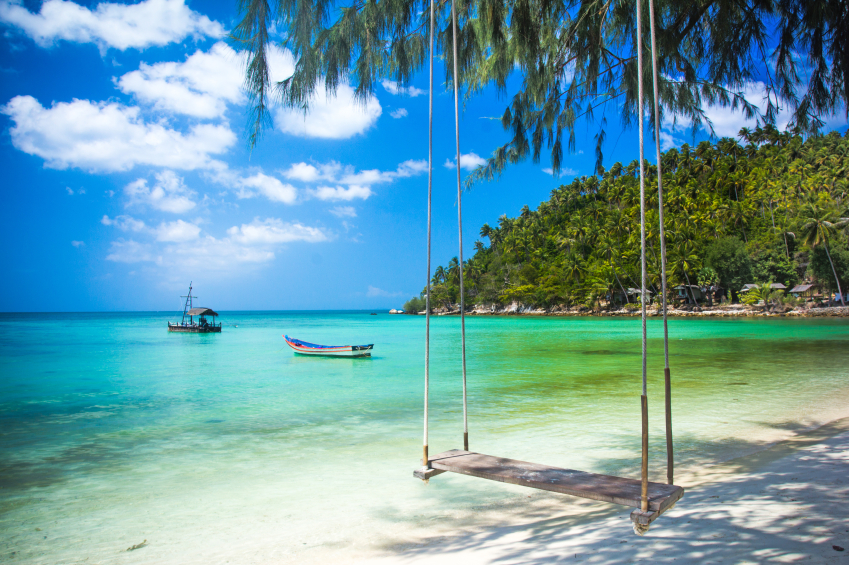 Noted: over 700 hotels and resorts, and hundreds (if not thousands) more private villas and beach bungalows – Koh Samui's 228.7 square kilometers are very easy for all tourists to find an ideal place for staying.
Thailand Highlight Tours
Thailand is one of the most highlights for tourism in Asia countries. Pass five regions of Thailand, you will find your variety feeling change in your heart and your soul following each geographically distinct. Each region contains unique culture, historical, natural scenery from Chiang Mai,Chiang Rai where overflowing with wildlife and home of exotic hill tribes to "Rice bowl of Asia" in central and amazing beach, island in southern includes Phu Ket and Samui… Click here to see all Thailand Tours