The image of three-wheel transports running on the street is a popular thing when you travel in Southeast Asian countries. This transport is Tuk Tuk, the iconic image of this region that you should try at least once when visiting there.
In order to help you have more information and good preparation for catching a Tuk Tuk when traveling to Southeast Asia, Travel Sense Asia will share with you about this vehicle.
Tuk Tuk: the auto-rickshaw in Southeast Asia
Tuk Tuk is very general in Southeast Asia countries: Thai Land, Cambodia, Laos, the Philippines, Indonesia, etc. Especially it is well-known for the iconic symbol of Thailand due to its popularization in this nation.
It is said that this vehicle derives from a Japanese company importing firstly in Thailand. However when importing in other Southeast Asian nations, it has changed in structure and design. The "Tuk Tuk" is named after the sound of the engine in its operation.
This vehicle is quite similar to the rickshaw in the appearance but is used as a taxi. It can carry about 4- 6 passengers in cabin and often does not glass doors in two sides of the cabin. Despite the lack of glass doors, it still attracts the curiosity of travelers to experience grazing cool wind and sightseeing vividly the streets in the whole trip.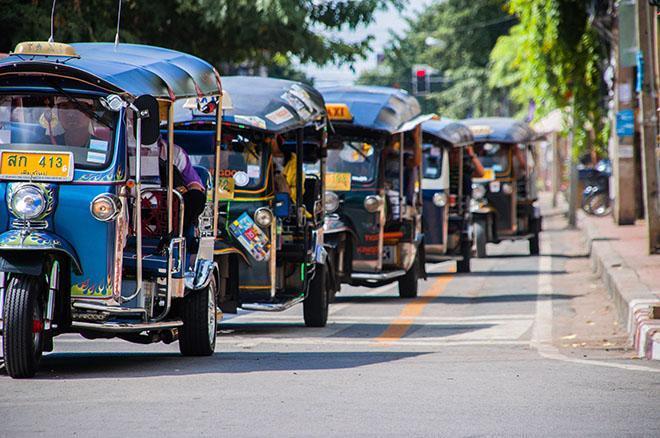 Photo by Chris Arthur-Collins on Unsplash
Differences of Tuk Tuk among Southeast Asian countries
Tuk Tuk appears in almost countries of Southeast Asia especially in Thailand, Cambodia, and Laos. All versions are quite similar in function. However, in each country, there are strikingly special patterns in the structure and appearance.
This three-wheel vehicle in Laos owns a large engine to pull a medium cabin up to 12 passengers. It has higher top speeds than their cousins. The driver's seat is set up on the top of the engine and the passenger cabin is situated after the driver's seat. In Laos it is often decorated in blue, red and yellow stripes and appears majorly in Vientiane and Luang Prabang.
The Tuk Tuk in Cambodia has a totally different structure as compared with its sibling in Laos. Cambodia's Tuk Tuk comprises a motorbike attaching with a cabin of 4 seats through the gear of the motorcycle. This auto rickshaw looks like the horse-drawn carriage. The driver operates the motorbike pulling the cabin behind while the passengers sit in the opposite rows.
In Thailand, Tuk Tuk has another name "Sam–Lor", it is one of the iconic symbols of Thai tourism . This vehicle appears every corner of Thai streets. The structure of Thailand's Tuk Tuk is quite similar to Laos's one but various in the design. The auto-rickshaw of Thailand is a one-piece vehicle that the driver cabin attaches directly to the passenger cabin without any trailers. Thailand version has lower efficiency than Lao's version but owns a newer engine and more eco-friendly.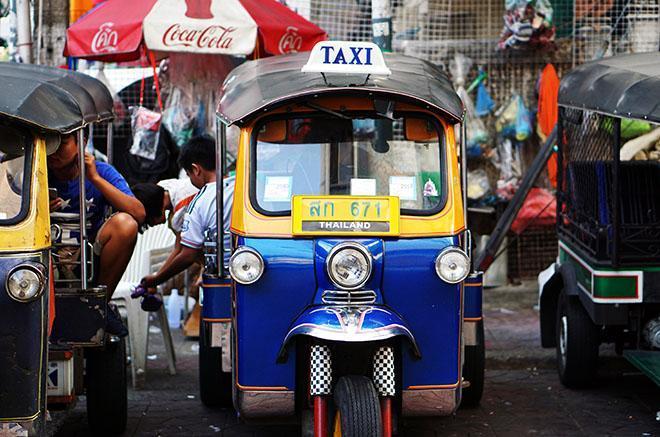 Photo by Lauren Kay on Unsplash
Experiences of traveling in Tuk Tuk
The first impression when catching a Tuk Tuk is that you can find it nearly everywhere in big countries of Southeast Asia. And in just one minute, you can start your journey. At the first moments you can be quite scared with the unsafe structure without the grass door and with a little fence in two sides of the cabin. But do not worry. You can absolutely set your mind at rest because the it runs at a quite slow speed and its structure is not insecure as you imagine. 
On the whole trip, you will experience the wonderful sense that you cannot have when catching a taxi to go sightseeing streets in Southeast Asia. Sitting in the cabin, you can feel the cool winds passing your face and a typical atmosphere of streets in Southeast Asia. The smell of vehicles dissolves with the smell of street foods; the sound of vendors harmonizes with the street music. That is so fantastic. Your trip will more interesting when you can have companions as local people and a local driver who can speak a little English and be ready to be an amateur guide for you.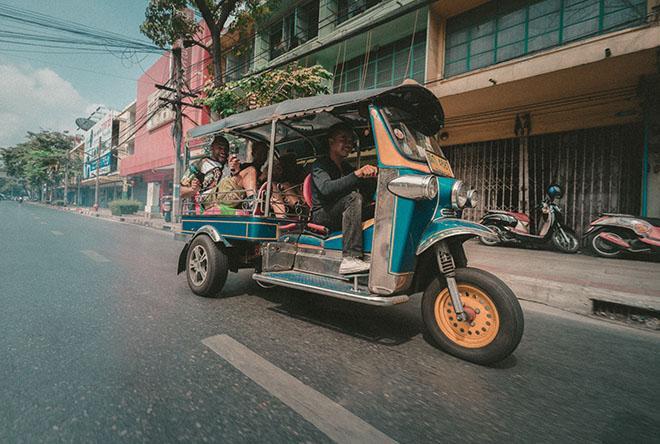 Traveling on a Tuk Tuk is a great way to feel the atmosphere of streets in Southeast Asia. Photo by Jakob Owens on Unsplash
Tips
Firstly you must negotiate the fare before getting in it. Different from the taxi it does not have meters that means the driver maybe inflate the fee for your carriage up to many times. Therefore, you should refer the reasonable fee beforehand. When the driver gives you a price, you must negotiate a reasonable fee before beginning your trip with Tuk Tuk.
Secondly you should bring your local maps, both an online map and a handy map that can show your destination. With the map, you can describe for the driver about the destination you want to come more easily. Therefore, the driver can determine exactly which route is best to reach and you can save the time. In case you are missed because you catch a fake Tuk Tuk, you can guide the driver the right way to your destination or turn on the GPS and determine your situation on your online map to escape.
Finally you should avoid the Tuk Tuk scams. An example is that some drivers will recommend you to call on a souvenir store on your way. In this case, you should say no with the driver. Because you maybe become the victim of the overprice stores. Your driver is promised to be tipped if he takes you to these stores.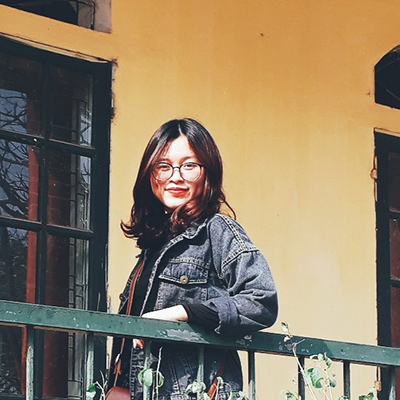 Tracy Luo

After my long trips to the strange lands, I really understand the meaning of the Alfred D'Souza's quote 'Happiness is a journey, not a destination'. My happiness is journeys that let me explore the new lands, new features of the culture there and new colors in your soul. And now I want to share this happiness with you through my article about my experience in the trips. Hope that they will give useful things to your next trip…