Magnificent temples, beautiful landscapes, picturesque sandy beaches and friendly smiles and unique culture… All of these make Thailand one of the most attractive destination for tourists. Thai culture is deeply under influence of both Buddhism – official religion of the country and waterborne lifestyle. It seems not to be hard to realize highlights hidden under traditional festivals, behaved culture, folklore, architecture or even transportation .
Folklore in Thai culture
Myths, tales, legends, folks… are priceless treasure in Thai's original literature. Well-known poems of Thai people mentioned as xong chu xon xao (in Thais language: สโงหชอุโสนสาโ)) is really worth listening. Thai people are keen on singing and dancing. Especially, method of chanting poems with accompanying, dancing at the same time becomes special symbol of Thailand that every tourist wish to experience when travelling to Thailand.
Communication culture of Thai people
Being honest, hospitable are characteristics you can easily feel about Thai. However, you need to know some customs of local people to express your politeness, respect and friendliness as well to them.
Firstly, to follow Thais traditional greeting is 1st guide for you. Thai people always put gently their palms together in front of chest while bending head down toward hands.
Secondly, Thai people think that deities reside on front door so that it will be offensive if you trample at the door. In this case, the best way is to put off your shoes outside and avoid trampling at the door.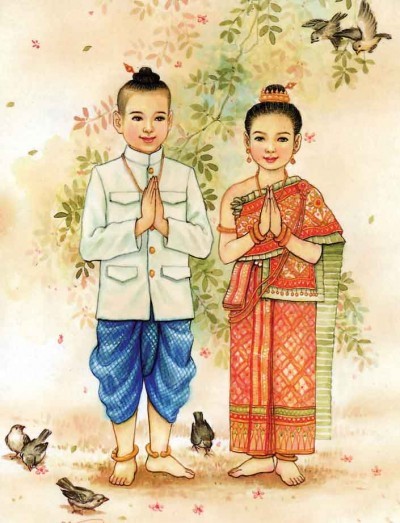 Thirdly, due to religion reason and long-standing cultural life, Thai people abstain from touching on other's head. Thus, it is wiser for you to remember not to touch children's heads or people's shoulders.
Lately, Thais are very friendly and hospitable to welcome tourist, so that, you had better keep respectful as well as courteous attitude to them.
Transportation culture in Thailand
Although Thailand's development based mainly on agriculture, the country bears its modernity, civilization with evidence of quite perfect transportation system.
Thailand's government encourages people to use car to be safety hence, families mostly have at least a car for traveling. At the rust hour, the roads crowded with vehicles, eight through lanes covered with full of cars, taxis, motorcycles in queue.
In spite of crowded traffics, transportation in Thailand is not chaos anymore, people always obey traffic law. In visiting places as Royal Palace, professional staff will instruct tourists to across road.
In addition, in Thailand, there are systems of subway, sky train to reduce means of transportation loading on the ground. So, how can we explain for this well-organized?
The most suitable reason is that 90 percent of population followed Buddhism. People are educated to be gentle, patient and calm since they were children . Polite behavior and respect for other people are things whih are easy to see in Thais. Truly, deep influences of Thailand's special, traditional culture make Thai culture distinguished in almost faces of society including transportation.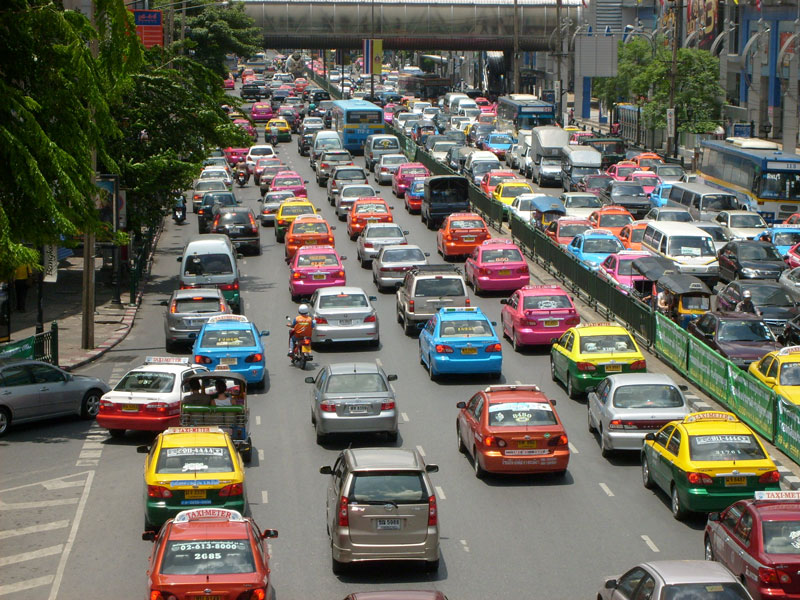 Traditional cultural festivals of Thailand
Like other countries in the region, Thailand also has manny occasional festivals, holidays with diversified customs.
Songkran festival or also named water festival isfalls on the 13th, 14th, and 15th of April every year. That is the New Year of Thai people. It is the biggest and most awaiting festival in year of Thais.
The word Songkran derives from Sanskrit meaning to move or step forward. On this occasion, the more times people are splashed water, the more luckiness they will receive in the New Year, as local people's conception. By participating in this festival, tourists could experience how animated, friendly and warm-hearted people here are. And, of course, we will understand why Songkran festival is one of the most fascinating festivals around the world.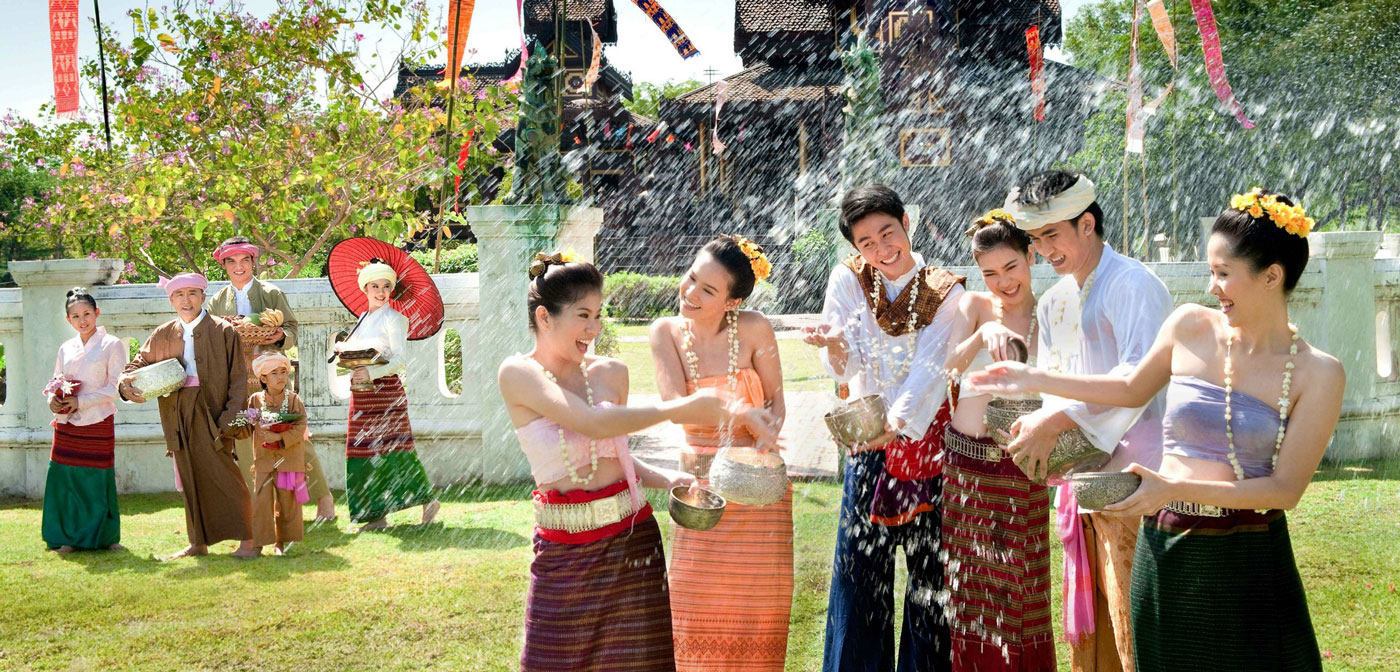 Loy Krathong festival holds on the night in November that is a spectacular show of colors and lights. Thai people celebrate this festival with a variety of activities such as parades, musical performances, folk games or fireworks, especially to float lanterns on the river or to fly twinkling lanterns into deep sky are unforgettable memories to everyone.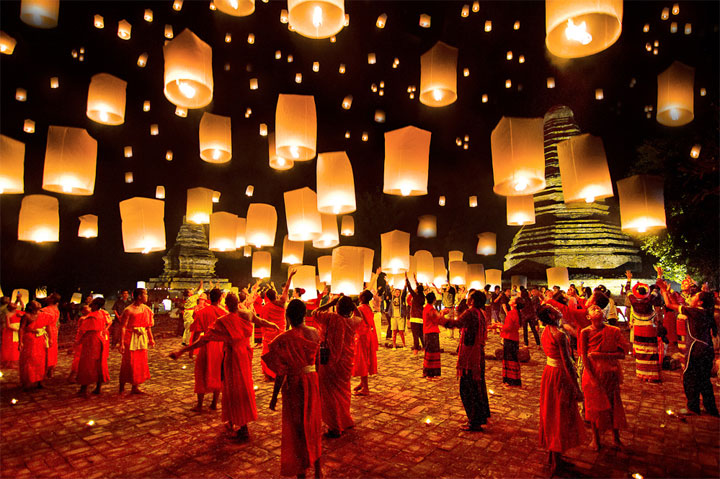 Khao Phansa festival is a very big Buddhism festival in Thailand. It marks the start of this year's three-month Buddhist Lent period. The festival starts on the first day after the full moon of August. On this occasion Buddhist will visit temples and pray.
Royal ceremonies are also very important to Thai people because Thailand is a constitutional monarchy. Although prime minister is the leader of goverment but the King and royal family still get respect by all Thai people. For example, King's and Queen birthday are celebrated in a very grand style. On this occasion public area is decorated strikingly, having fireworks and other formal rites.