Coming to dine in Bangkok, the question is what, where, or even when to eat. Visitors always want to look for the best style and flavor in each dish. It is really a memorable time when you can enjoy your meal and view a magnificent cityscape. The rooftop bars and restaurants in Bangkok, Thailand were listed as the must-go places if you prefer sipping wine, enjoy the fantastic dishes and the favorite songs. There is the list of 5 most beautiful open-air restaurants in Bangkok, Thailand that you should know.
1. Lebua's Breeze
Address: 1055 Silom Road
Lebua's Breeze is an outdoor restaurant and bar but it also has canopy so you can enjoy your meal and be overwhelmed yourself in the beautiful cityscape without fear of rain. It is located in State Tower which includes two open-air restaurants and a bar on the rooftop of the building.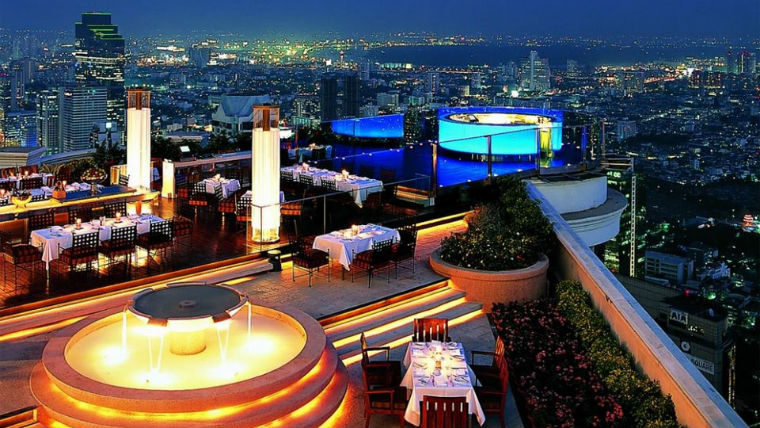 On the 63rd floor, Sirocco Restaurant serves authentic Mediterranean fare with the freshest ingredients from the world's finest markets. You will have gastronomic experiences in this restaurant with homemade pappardelle pasta, black truffle, crustaceous-banyuls jus, slow-cooked breast of French Moulard Duck in an orange sauce with poached egg and asparagus. Especially, the desserts with exclusive ingredients including chocolate, coffee and almond are created by the famous chefs.
On the 52nd floor, Breeze Restaurant with a design of half indoor and outdoor serves the Asian-style seafood. The modernist design is accented by water features, mirrors, the cityscape and the Chao Phraya River. Diners can choose to dine on the terrace, indoors or in a private dining room for up to 14 guests. You can taste the Asian cuisine with the popular Tasting Menu including wasabi prawns with mango and ebiko, crispy Chilean sea bass with GH Mumm champagne sauce and Hunan-style wok-fried Maine lobster.
After an impressive dinner, you can taste the cock tail and overwhelm yourself in striking atmosphere and spectacular in Sky Bar. Sky Bar is the highest bar in the world with the height of 820 feet in the air. More specially, it has received worldwide recognition and numerous awards. It is an unforgettable evening under the stars, the beautiful cityscape and the excusive dishes and drink.
2. Vertigo & Moon Bar
Address: 21/100 South Sathorn Road
Vertigo Restaurant and Moon Bar is on the 61st floor of the famous Banyan Tree hotel, is one of the best ways to end a long day in Bangkok.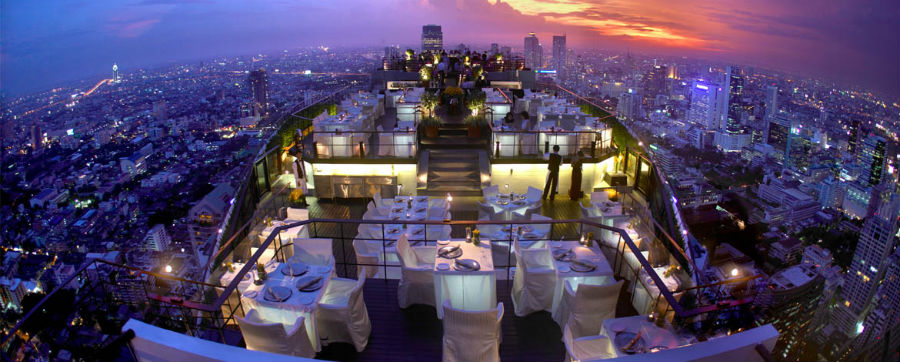 Vertigo Restaurant is the place you can indulge in a variety of Western-style fresh grilled seafood and premium steaks with some pretty amazing views. It starts to serve up at about 6 o'clock. The famous appetizer in here is Marinated Tuna Tartar with avocado, tomato, sour cream and salmon roe. You can enjoy the appetizer while looking over the panoramic views of Bangkok from the very height. What about the main courses? Let's enjoy Pan Seared Scallop, Thai style green mango salad, Crisp lotus roots huge one. Moreover, if you are a beef lover, you can try Grilled beef striploin served with jelly none marrow, green asparagus, roasted cherry tomato and sautéed spinach. If you are fan of fish dishes, you can enjoy Roasted snow fish, warm capers with olive vinaigrette and roasted butternut squash to eat with, or Roasted wild salmon fillet served grilled with asparagus and dill-cream sauce. To your meal become more perfectly, let's have some desserts on this rooftop view. Black forest trifle, Black current sherbet or Baked cheese cake, Fruit coulis would be nice. Mikan ice cream is also very good with fresh orange ice cream smells.
After having the perfect meal in Vertigo Restaurant, you can come to Moon Bar within some steps. The design and decoration of Moon Bar is understated sophistication. The central island bar has a lighted façade with a black counter top on all sides. The timber stools are arranged along both sides of the deck leading up to the raised bar platform. In addition, there are many comfortable seating on the upper deck. Moon Bar starts to serve up at 5pm, you will have a wide selection of cocktails, wines by the glass and non-alcoholic drinks while being overwhelmed in breathtakingly spectacular view.
3. Blue Sky
Address: 999/99 Rama 1 Road
Blue Sky is located on the 24th floor of the Centara Grand Lad Prao Hotel, is a stylish and intimate rooftop bar and restaurant in the northern part of Bangkok. In here, you can overlook the view of downtown Bangkok with endlessly streaming car lights and leafy Chatuchak Park immediately below.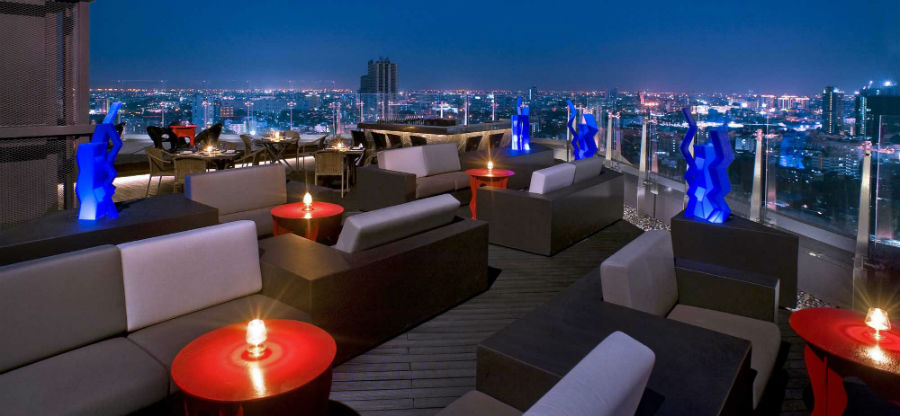 The restaurant in Blue Sky is decorated by the neon blue lighting scheme which creates a dreamlike atmosphere without being too formal. The outdoor area is an uncomplicated deck with low brown couches and round, red tables. The inside is very charming with several nooks and small private rooms. This restaurant offers Italian and French influence cuisine and pretty portions. They also do a list of Asian dishes. Enjoying the meal in Blue Sky, you may be amazed by the abundant menu from sophisticated seafood dishes to the turf dishes.
After 21:00, there is a transition from restaurant to bar as well as from diner to drinks. The drinks include extensive wine and cocktail which you can't miss.
4. Long Table
Address: Column Tower, 48 Sukhumvit Soi 16, 25th floor, Bangkok
Long Table Bar and Restaurant is located in the 25th floor of Column Tower with luxury. It was opened in 2008 and quickly became a popular place for the gourmet. Long Table is designed to posh minimalism and is the view of Bangkok's skyline. Both sides of the dining room are lined by trademark bed seating, while screens tuned to video art bring the requisite touch of edginess. Moreover, the balcony outside is a perfect place for smokers and the viewers.


Long Table serves Thai food that tastes delicious and looks amazing because of the artful presentation. A real plus point for Long Table is that they are really considerate with the chef's wonderful innovation. Each dish is pleasingly aromatic and the flavors are distinctly Thai. You will have an extensive selection of the drinks such as wines, beers and cocktails.
5. The Nest
Address: 33/33 Sukhumvit Soi 11
The Nest is a bar and restaurant on the rooftop of LeFenix Hotel in Bangkok. Its design is casual and relaxing with comfortable seating around table in a garden setting or at high tables around the bar area. Visitors can view the spectacular cityscape across the lower Sukhumvit skyline.

The menu is a mix of Thai and International dishes with seafood or tapas-style snacks while the drinks include a number of signature cocktails, wines champagnes and beers. Candle light, open sky, chilled music and the exotic flavor of cocktails make a perfect night in The Nest.
Recommended Tour: Thailand Tours